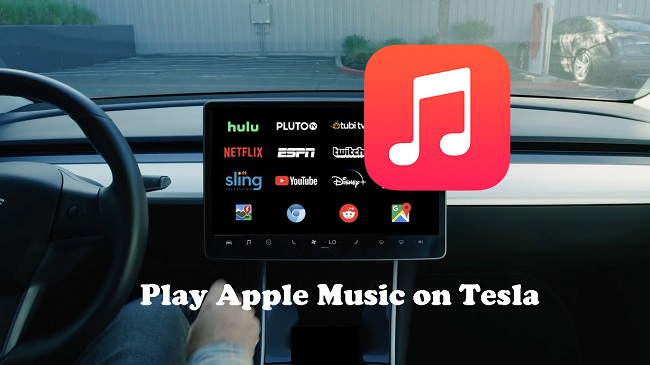 Tesla's 2022.44.25 Holiday Update was a game-changer for Tesla owners. Among its highlights was the eagerly anticipated addition of the native Apple Music app. A big deal, considering Telsa previously partnered with Spotify and Tidal.
Here's the scoop: Now Tesla owners can smoothly access and stream their favorite Apple Music tunes and playlists while on the move, thanks to this integration.
The experience is seamless and user-friendly, offering the full scope of Apple Music features. Navigating through songs and albums is more straightforward than with Spotify. However, keep in mind that iTunes Match content access isn't available, and lossless and Dolby Atmos features aren't active in Teslas - at least not yet.
To access this Apple Music integration, make sure your Tesla boasts the 2022.44.25 Tesla Holiday Update. This new feature is a testament to Tesla's dedication to enhancing your driving experience. Of course, there're various ways to bring Apple Music into your Tesla beyond just the Apple Music app. Even if you wish to switch from this integration to others like Bluetooth, you won't be disappointed.
Part 1.

How to Add Apple Music App to Tesla

Tesla is making Apple Music work right alongside its own music player. So, you can enjoy Apple Music without leaving your Tesla setup. You'll use Tesla's controls and voice commands, while playing all the songs from Apple Music. It's all about keeping things familiar and easy for you. Here's how you can connect your Apple Music account with Tesla: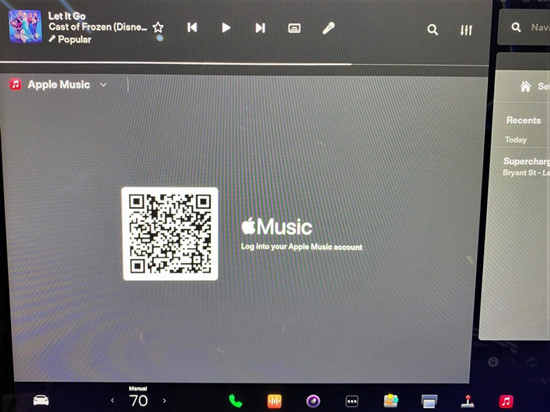 Connect your Tesla is connected to the internet and make sure your Tesla software is up to date to access the Apple Music integration. This is essential for accessing the Apple Music integration. To update your Tesla software, navigate to the "Software" section in settings > Software Update (if available).
In the infotainment system in your Tesla, touch the car icon at the bottom of the touchscreen display.
Choose the "Media" option (vertical 3 dots icon). This is where you'll manage your audio and media sources, including Apple Music.
In the Media menu, you'll notice that Apple Music is now available as a media source.
Select Apple Music within the Media menu, and a QR code will appear on the screen.
Take out your iPhone and launch the camera app. Use the camera to scan the QR code displayed on your Tesla's screen.
You will be prompted to sign in with your Apple ID and password.
Once signed in, the Apple Music app will be refreshed on the touch screen display. You're now ready to explore the vast collection of songs, albums, and playlists available on Apple Music right from your Tesla.
While the integration of Apple Music into your Tesla opens up a world of musical enjoyment, there are a few considerations and issues that you should be aware of:
Limitations:
Lossless and Dolby Atmos not supported: The current Apple Music integration does not support lossless or Dolby Atmos.
Default blocking of explicit content: Apple Music explicit content is blocked by default in the Tesla's Apple Music integration (Edited: version 2023.6.8 or later works).
No song downloads to the vehicle: Unlike some other music streaming services like Tidal, the Apple Music integration in Tesla does not allow for downloads.
Issues:
Random skipping in Shuffle Mode: Apple Music skips songs randomly while in Shuffle Mode.
Media source selection upon reentry: Every time you return to your Tesla, you need to select Apple Music as a media source.
Logout and login for Media Source switching: When switching between different media sources, you may need to log back in to Apple Music by scanning the QR code.
Bad interface: The Apple Music interface is less than ideal compared to other media sources.
Limited song play in Shuffle Mode: Apple Music only plays songs on the first page, even in Shuffle Mode.
Part 2.

How to Play Apple Music on Telsa through Bluetooth

Given the current state of Apple Music integration in Tesla, you may find a return to Bluetooth connectivity a favorable option. With certain limitations and issues outlined, such as the absence of lossless and Dolby Atmos support, reverting to Bluetooth ensures a more seamless and reliable audio experience. This alternative approach enables Tesla owners to continue enjoying their favorite tracks without encountering the complexities associated with the current integration.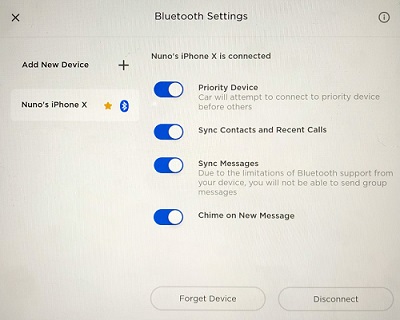 On your Tesla touchscreen, touch the Bluetooth icon in the status bar.
Turn on Bluetooth on your phone and set it to discoverable mode.

For iPhones: Go to Settings > Bluetooth. Turn Bluetooth off for about 5 seconds, then turn it back on. In your car, pair with your iPhone.

For Android phones: Swipe down from the top of your phone screen, ensure Bluetooth is on, and hold down the Bluetooth icon to find [Your car's name] under "Available devices." Or tap the More button > Refresh to locate it. Tap [Your car's name] to connect both devices via Bluetooth.

On the car's touchscreen, press the Start Search button. The touchscreen will scan and display a list of available Bluetooth devices.
Tap your phone's name on the car's touchscreen to establish the connection. A random number will appear on both your phone and the car's touchscreen.
Verify that the number on your phone matches the number on the car's touchscreen. Confirm the pairing on your phone.
Launch the Apple Music app on your phone and select the song you want to play. Enjoy your chosen Apple Music playlist through your Tesla's audio system.
Keep in mind that this method is simple but requires your phone to be connected. Also, if you intend to stream your Apple Music playlists, you'll need to use your phone's data connection.
Part 3.

How to Play Apple Music on Tesla with Android Auto/Apple CarPlay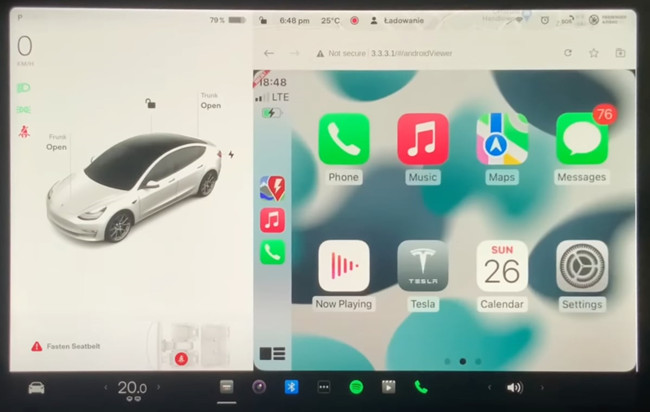 Thanks to a Polish developed named Michał Gapiński, now Tesla owners can use Apple CarPlay or Android Auto in their Tesla cars. For starters, you'll need the new release of the Tesla Android Project and go into the 15-step process to make this work. If you are interested in this workaround, you can go to the website of Tesla Android and make this work before Tesla's test with Apple Music app integration is over.
Part 4.

How to Play Apple Music on Tesla via USB

You also have the option to play the Apple Music files on Tesla using the Tesla Media Player. However, streaming music services such as Apple Music adopt the DRM technology to encrypt their music. Even you have download them to your device, the Apple Music downloads are only playable in the Apple Music app. Currently only the iTunes purchases in AAC format are DRM-free. So if you want to get your desired Apple Music contents on Tesla, you'll need a powerful Amazon Music Converter help remove the DRM from Amazon Music tracks. This method won't break your bank.

Here you meet a powerful Apple Music converter called ViWizard Audio Converter. It can decode Apple Music and convert it to open formats like MP3, AAC, FLAC, and others. You may choose the output format according to your requirements. Furthermore, ViWizard can save original audio quality at a 30x quicker rate. The information for the songs will also be saved. Moreover, ViWizard also supports converting iTunes audiobooks and Audible audiobooks.

Key Features of ViWizard Audio Converter
Free Trial
Free Trial
* Security verified. 5, 481,347 people have downloaded it.
Convert songs, albums, and playlists from Apple Music to MP3
Remove DRM protection from Apple Music, iTunes, and Audible
Save the converted audios with the original quality and ID3 tags
Support the conversion of up to 100 audio formats to others
How to Listen to Apple Music on Tesla with ViWizard Audio Converter
For playing Apple Music on Tesla, you'll need the help of ViWizard to convert Apple Music into MP3. Before we start, remember to download ViWizard from the link and make sure you have installed the iTunes app on your Mac or Windows computer.
Step 1

Upload Apple Music You Like to ViWizard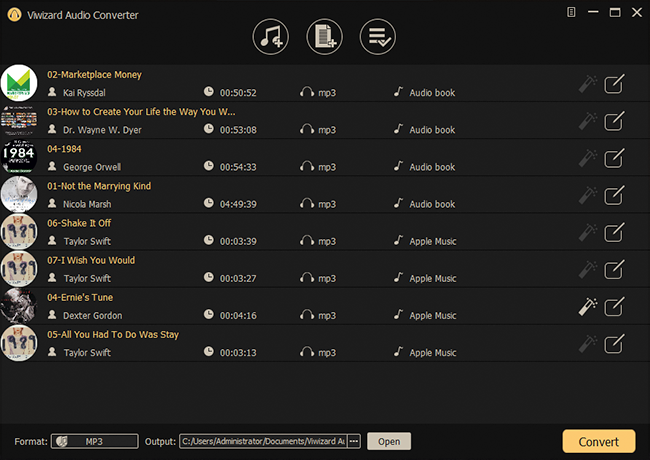 Open ViWizard and from the main interface, you will see three icons on the central top of the main screen. Here's what they for:
1)

This Load in iTunes button is for importing DRM audios to the Converter.
2)

This one is to add local audio files to the Converter.
3)

This is the Converted icon. When the conversion is done your converted music will be showed under this list.
Open ViWizard Apple Music Converter on your computer, clicking the Load in iTunes button or dragging and dropping the local music files from the folder on your computer.
Step 2

Tune Parameters and Format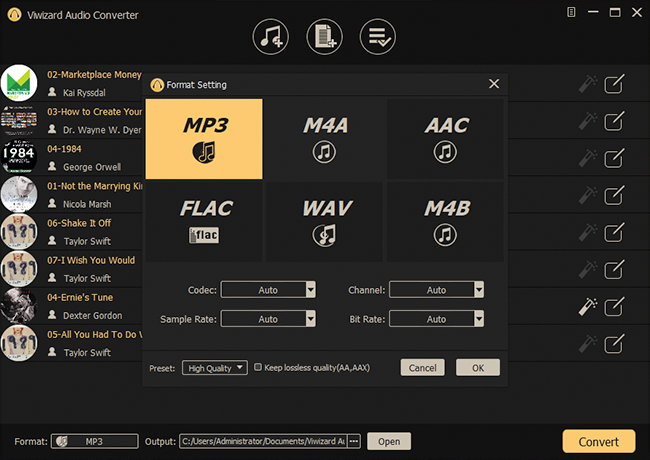 Next, click the Format panel to set an output format. We suggest select MP3 for Tesla. Right next to the Format is the Output Path option. Click on

to choose a file destination for you converted songs. Remember to click OK to save.
Step 3

Free Apple Music with ViWizard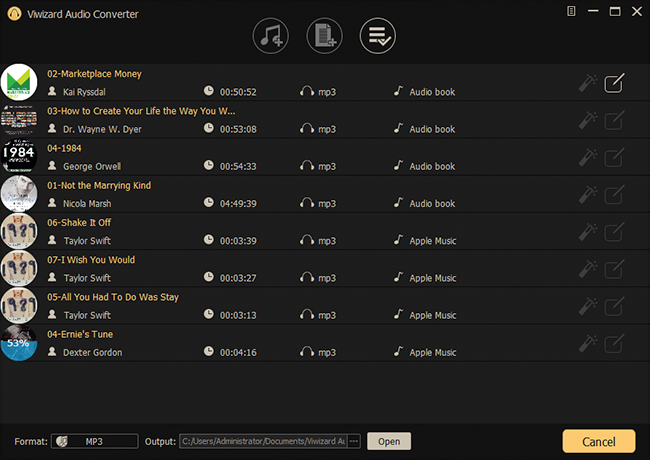 After you've selected your output format and parameters for Apple Music, click Convert button. The conversion speed may reach 30 times faster. When the conversion is done, you can also go to the Converted list and use

to view the converted music.
Step 4

Transfer the Apple Music Files to Tesla

Now you can get the converted Apple Music files on your computer. You can simply transfer the music files with a USB drive.

1) Plug in a USB drive to your computer.

2) Open the folder that have all the converted Apple Music files in it, copy and paste them to a folder under the USB drive.

3) Once the transfer process is finished, disconnect the USB drive and plug it in the USB to the Tesla touchscreen.

4) The stored Apple Music files can be found on the Tesla media player.

Now you can play the Apple Music files under the folder of the USB drive on the Tesla Media player.
Summary
Now with Tesla's Apple Music integration, you can play Apple Music in Telsa's media player. Of course, you can use Bluetooth to connect your phone and the player to stream Apple Music online. If you don't want to use your phone data, ViWizard Audio Converter is a good choice. You can use it to download and transfer Apple Music to the Tesla Media Player without much effort. Click the download button below to learn more about ViWizard now.