If you ask me "what is the best presentation program online?" I will say Google Slides is the one. Google Slides is a free online presentation tool for personal use. The biggest difference between Google Slides and the classic Office PowerPoint or Apple Keynote is that Google Slides is available as a web application and it lives in the cloud so you don't have to download or install it. And it even saves you a lot of clicks to save your changes since it automatically records all the changes you make. Another thing that must be brag about is that Google Slides allows users to collaborate with other users in real-time.
Music is not a necessary option for presentations but the music certainly can help you draw attention from the audiences and liven things up. For those who are not confident enough and easy to get nervous, background music can be used to soothe or cheer up yourself during the presentation. Can music be added to Google Slides? Yes! To choose the background music that perfectly matches your presentation, you might need some resources. Apple Music is home to 75 million songs and it makes a perfect resource.
The topic we will talk about today is how to set Apple Music as Google Slides background music. Fortunately, we have 2 simple workarounds here to solve the problem.

Method 1. Upload Apple Music/iTunes Music to Google Slides from Google Drive
Google enables you to upload music from Google Drive to Google Slides. Thus, you can transfer Apple Music to Google Drive first and then import them to Google Slides. This doesn't require Apple Music membership except for the first time. And you can also backup your favorite songs from Apple Music to Google Drive. But before you upload iTunes music or Apple Music to Google Drive, you'll need to convert them to a proper format with ViWizard Audio Converter, since Apple Music and iTunes songs are protected in M4P, which is not admitted by Google Slides and most of apps.
With ViWizard Audio Converter, you are capable of converting iTunes and Apple Music to common audio formats including MP3, WAV which are available on Google Drive with 30X faster speed with ID3 tags kept. Besides, ViWizard also supports converting iTunes audiobooks, Audible books as well as any common audios. Here are the detailed steps for how to add Apple Music to Google Slides. Before that, you can try the free trial version of this tool with the Download button.
Step 1

Import Apple Music Songs to the Converter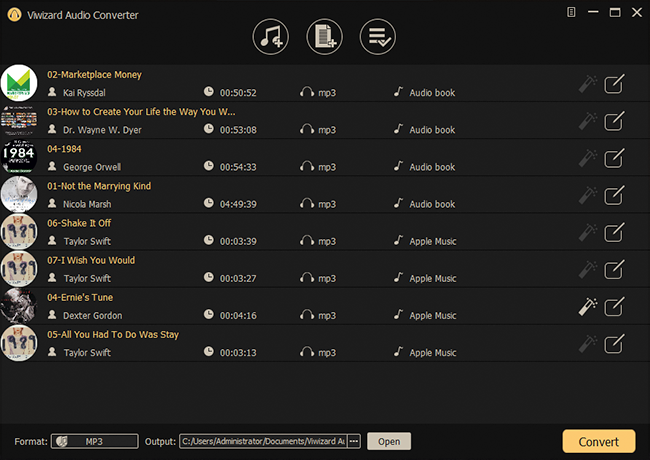 Launch ViWizard Apple Music Converter. Then you can add the downloaded Apple Music songs by either clicking Add Files button or dragging the files from the folder where you store those files on your computer.
Step 2

Set Output Format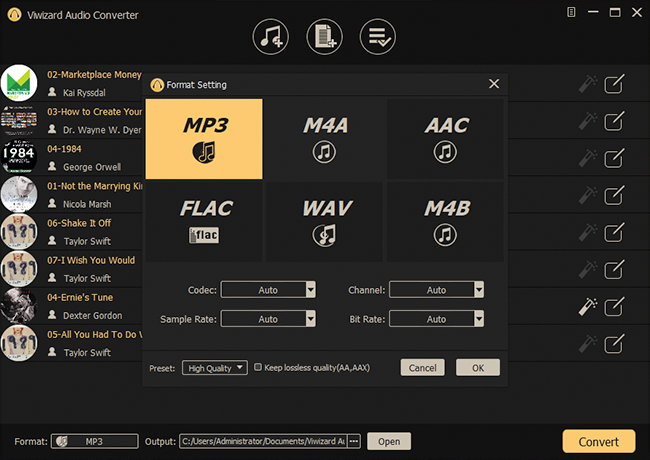 Once the songs are added successfully to the software, you can choose the output format according to the file formats that are supported by Google Drive. Since Google Drive supports MP3, MPEG, WAV, .ogg, .opus. You can choose MP3 or WAV in this step.
Step 3

Convert Apple Music to MP3 or WAV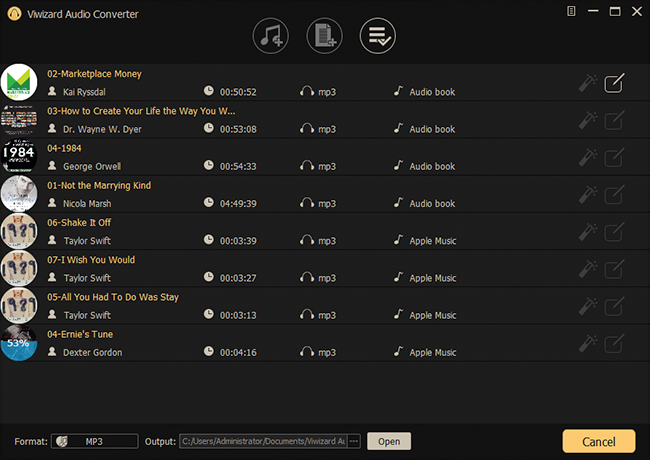 When everything is ready, you can click the Convert button to start converting the Apple Music M4P to MP3 or WAV.
Step 4

Upload Apple Music to Google Drive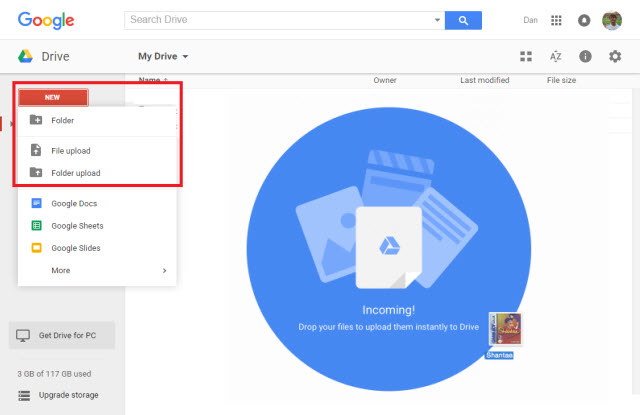 Sign in to the Google Drive website with your Google account. Then you can transfer Apple Music songs to Google Drive in two ways, including simply dragging the files or folder over the top of the Google Drive window or clicking on New in the top left corner, and then selecting either File Upload or Folder Upload.
Step 5

Add Apple Music to Google Slides from Google Drive

Once the Apple Music songs are uploaded to Google Drive, you can then upload Apple Music from Google Drive to Google Slide.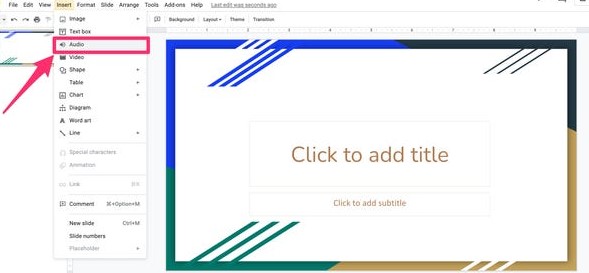 Open your presentation on Google Slide. Go to Insert > Audio > My Drive. Click the files and click the Select button. A sound icon will appear on the slide. Hover your mouse over the icon or click on it, and a playback bar will appear and you can pause, play, or fast-forward the Apple Music audio with it.
Method 2. Insert a Link to Stream Apple Music on Google Slides
This method requires access to Apple Music, in other words, you need to subscribe to Apple Music since only subscribers can listen to and use Apple Music. And you also need to make sure there is good internet connection when you show your presentations. If you cannot meet these 2 requirements, switch to the first method. If this is a piece of cake for you, then you can insert a link to your Apple Music songs to the presentation. Following will be the step-by-step tutorial answering how to add music to Google Slides.
1. Open the presentation on Google Slides. Decide which slide to add and stream Apple Music.
2. Find the Insert tab on the top of the surface, click it and point to Shape from the drop-down list, then choose any shape you like, say an arrow. Click on the shape you want to appear on the slide and draw the shape onto the slide. You can also use an image or text to replace the shape.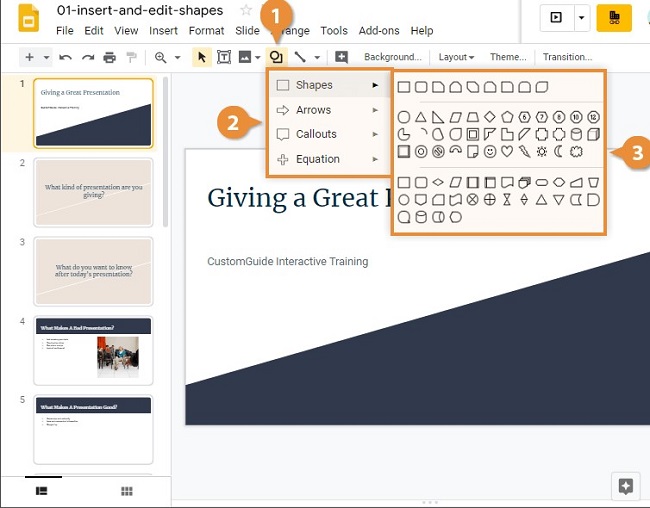 3. Go to Apple Music and copy the link of the song you want to stream to Google Slides.
4. Go back to the presentation, click the shape you choose, open the Insert menu again and click Link. The alternative hotkey here is Ctrl+K.
5. Then the insert link box will pop up. Paste the link to the box and confirm by Apply to add music to Google Slides.
6. When you run your presentation, click on the shape with the link. The Apple Music will open in another browser window and begin playing the song you choose. The music will run until it is finished or until you end it.
The Bottom Line
Adding Apple Music links is a quick way to add Apple Music to Google Slides, but this requires the stable internet connection and Apple Music subscription. While converting Apple Music and uploading to Google Drive means a lot for future use, and you do not need Apple Music subscription. And you can also use your presentation offline. If you use the first method, you are able to use these Apple Music tracks after canceling Apple Music. This is also a good backup solution. That's why I prefer to convert Apple Music songs. I am sure no matter which way you choose to enrich your presentation, it will be much more memorable for your audiences.