A euphonious PowerPoint background music is something that can certainly improve and light up your presentation, which is frequently used in our study and work-life to demonstrate your research outcome or present your business strategy. So how come you still stick with those tedious built-in audio tracks in PowerPoint. To attract your audience, you need something more impressive.
How about Taylor's song to warm up before the presentation? For that, you can only find it in Apple Music. If you are an Apple Music user, I bet you would love to add your favorite track to the PowerPoint while DRM restriction on Apple music discourages you from doing that. In this article, we will show you how to add Apple Music to PowerPoint within simple steps. Let's dive in.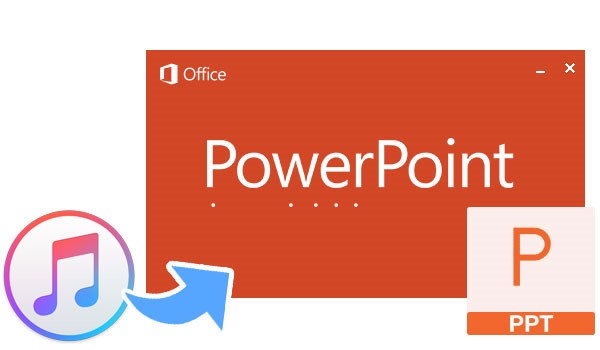 Part 1. How to Add Apple Music Recordings to PowerPoint Slide
For starters, you can choose to record the Apple Music that you want to add to your PowerPoint slide.
How to record Apple Music in PowerPoint with Microphone
You can choose to record Apple Music for PowerPoint with microphone support. To do this, please prepare a microphone on the computer devices to create Apple Music recordings.
1. On the computer device, launch the PowerPoint. Open or create a presentation.

2. You can now create Apple Music recordings for the slide. Select "Insert" from the top to choose Audio > Record Audio.

3. Enter the name of the recorded sound. Prepare the Apple Music song you wish to add to PowerPoint on either mobile device or computer device.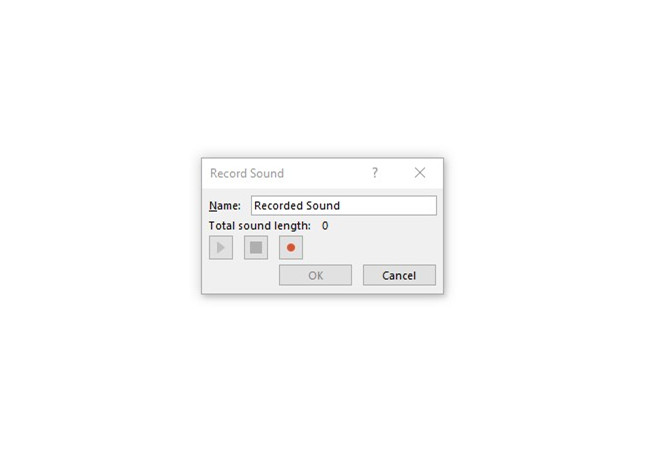 4. Click the Record button and begin to play the Apple Music song.
5. When it's done, click the Stop button. You can click the Play button to listen to the Apple Music recording. If you want to rerecord the Apple Music song, repeat some steps to record the song from Apple Music until you're satisfied.
How to insert Apple Music Recordings to PowerPoint
You can now click the OK button to insert the recording to the slide. There're more options to play/pause it, move back/forward 0.25 seconds or mute it. The added Apple Music recordings will play automatically when the slide show is presented.
Why Apple Music Can't Be Played in PowerPoint?
Music downloaded from Apple Music is encrypted in M4P or M4A format. These DRM-ed format audio files cannot be played in PowerPoint for two reasons: First, they have DRM protection. Second, both M4P and M4A are not the formats supported by PowerPoint.
Let's see what kind of formats of sound track can be used in PowerPoint:
MP3, WAV, WMA (Windows Media Audio), AU (UX Audio), MIDI and AIFF (Audio Interchange File Format).
So, if you want to set apple music as background music of PPT, you need to remove the DRM protection of Apple Music and convert it to the supported audio formats of PowerPoint, such as MP3 and WAV. For a stable conversion, you will need a professional Apple Music converter. Don't worry, we will find a good option for you in the next part.
Part 2. How to Download Apple Music Files for PowerPoint Slide
Now that you know we have to strip DRM at first and then convert M4P or M4A format to the format PowerPoint allows us to use. As the flagship among all DRM audio converters, ViWizard Audio Converter can help you achieve these two processes at one time. ViWizard can download and convert encrypted M4P Apple Music files to MP3, WAV, AAC, M4A, M4B, and FLAC. You can choose the popular output formats as your need. And ViWizard also will retain the original audio quality and the ID3 tags of the Apple Music while the conversion.

ViWizard Audio Converter Key Features
Convert M4P to MP3, AAC, and other universal formats
5x high conversion speed
Preserve and support editing ID3 tags
Audible books can achieve lossless conversion
Tutorial of How to Convert Apple Music to MP3 or WAV with ViWizard
To add Apple Music to PowerPoint, converting the Apple Music songs is the key point. ViWizard can finish it within simple steps. Remember to download ViWizard Audio Converter through the link above. Now, just follow the tutorial below to see how.
Step 1Import Apple Music to ViWizard Audio Converter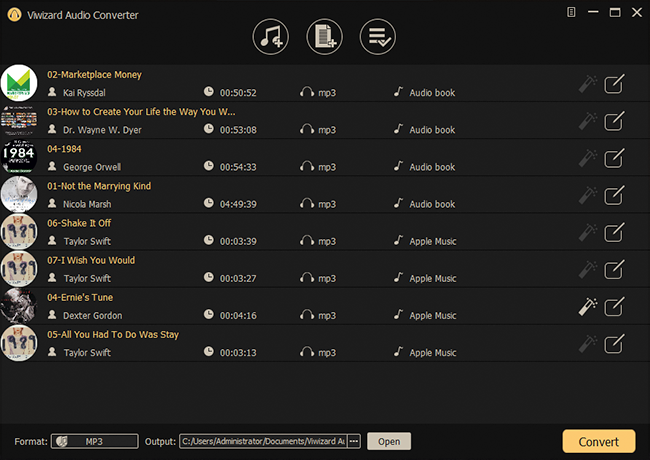 Before everything starts, please make sure that the sound track can be well-played in Apple Music. First you should install and launch ViWizard. Then use the Load from Library icon on the top of the window to import the sound tracks to the ViWizard surface. Wait until the files are successfully uploaded, which won't take too much time. You can also drag and drop the downloaded Apple Music files to the converter.
Step 2Pick the Output Format and Adjust Audio Settings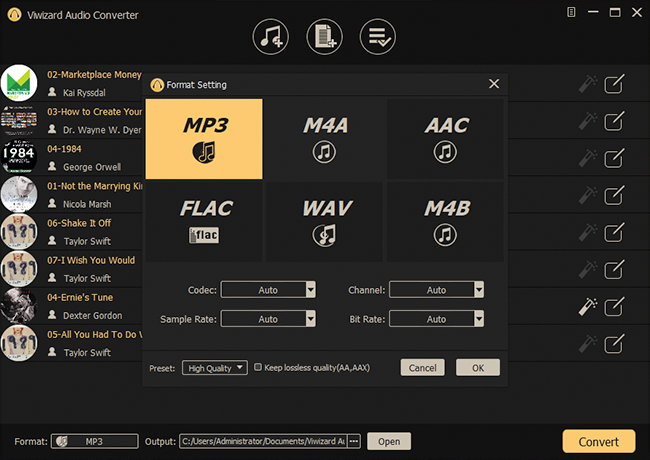 After the first step finished, click the Format panel on the left bottom to choose MP3 or WAV as output format. In addition, in this panel you also get to adjust the codec, bit rate, channel, sample rate of the output audio. When you are done with the settings, press OK to confirm the changes. You can click the Edit icon at the end of each column of the audio track to rewrite the ID3 tags of the files.
Step 3Remove DRM and Convert Audio files to MP3 or WAV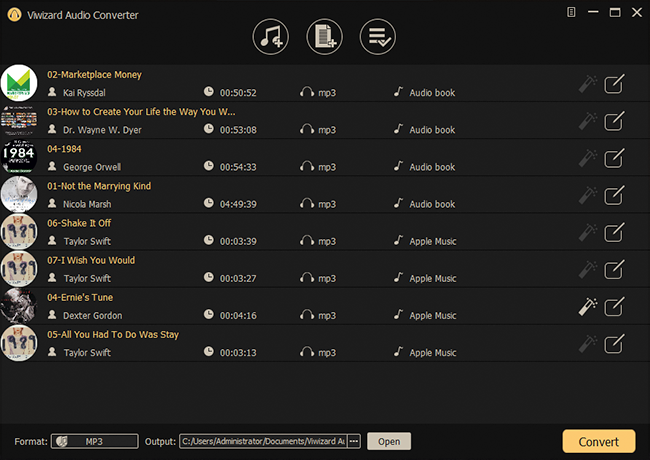 When you are all set, click the Open button to choose a right folder for your output files. Last thing to do is to hit on the Convert button to run the program. After the conversion is finished, you can locate the files in the folder you choose. You can also click the History icon to check the converted audios.
Part 3. How to Add Apple Music Files to PowerPoint Slide
Through the tutorial above, you may get the converted Apple Music on your PC. If you are wondering how to insert Apple Music to PowerPoint slideshow, here's the answer. Let's have a look.
How to insert Apple Music audio files to PowerPoint
1. Launch PowerPoint, then open or create a presentation.
2. Choose Insert from the top, then select Audio > Audio on My PC. This will open an "Insert Audio" window in PowerPoint.

3. Go to the converted Apple Music file that you want to add to your PowerPoint slide. Click the Open button.
4. An audio icon and controls will appear on the slide.
How to change audio playback options in PowerPoint
After the audio is inserted, click the Audio icon on the slide. You can now access the Audio Tools at the top to change some audio playback options for Apple Music.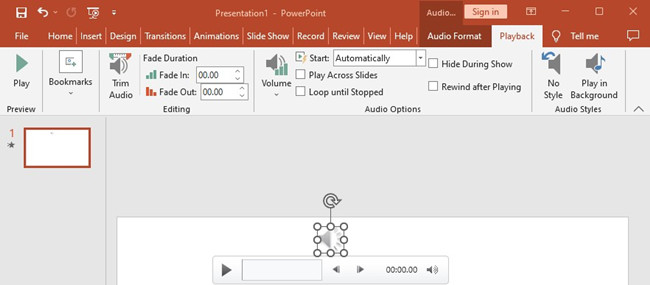 To adjust the length of the audio clip, you can use the "Trim Audio" option.
To change how your audio fades in or out, you can use the "Fade Duration" option.
To change when your audio starts during your presentation, you can use Audio Options > Starts to choose "In Click Sequence", "Automatically" or "When Clicked On".
To make your audio play during every slide, you can use the "Play in Background" option.
Summary
Now you may know how to get Apple Music on Powerpoint. It's not a rocket science, so don't be afraid. With the help of ViWizard Audio Converter, you can convert Apple Music for PPT without much effort. It can convert Apple Music-protected files into an open format in a fast speed and high quality. Just click the download link to give it a shot rightnow!