Like Google Slides and Microsoft PowerPoint, Keynote is a presentation software application. It is included in the iWork suite developed by Apple. It runs on iPhone, iPad, and Mac computers. To make impressive presentations, adding effects, music, and videos, is an inevitable way. Now Keynote allows you to add videos from YouTube and Vimeo to your presentations. That's great. What about music? You can upload your own music to Keynote, such as those you purchased from iTunes.
If you are looking for some free music for Keynote, Apple Music is a good music source for Keynote. Unfortunately, failure always comes to you, when you are trying to add Apple Music to Keynote. Apparently, Keynote does not support Apple music tracks. The good news is that we find a solution to solve this problem. Now follow this post to acquire the best solution to add Apple Music to Keynote.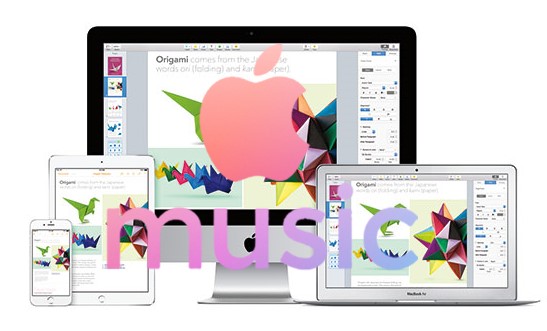 Part 1. Can You Apple Music to Keynote?
If you have an Apple Music subscription, you can download songs from the Music app onto your device as offline files. However, you may encounter with the compatibility issues when trying to use the downloaded music to your slides within Keynote. The downloaded songs are encoded in M4P format, which is protected in Digital Rights Management (DRM) and restricted to use in Apple Music platform only. When you try to import the DRM-protected M4P audio file to your Keynote slide, you'll receive an error that you cannot use a protected file.
From here you'll need to make sure you have the supported audio file that you want to use from Apple Music to Keynote slides, that's in MPEG-4 file format (with an .m4a extension) and is not DRM-protected. To use Apple Music with Keynote, it's necessary to convert and download Apple Music to M4A by using an Apple Music converter called ViWizard Audio Converter.
| | |
| --- | --- |
| | Audio formats: |
| Music from Apple Msuic | M4P (DRM-protected) |
| Keynote supported: | M4A |
| ViWizard output supported: | MP3, M4A, M4B, M4V, AAC, FLAC |
Best Solution to Add Apple Music to Keynote Slide: ViWizard Audio Converter
ViWizard Audio Converter is a dedicated Apple Msuic converter to remove the DRM protection from Apple Music tracks and convert the M4P format to MP3, AAC, FLAC, WAV, M4A, or M4B. And the lossless audio and full ID3 tags will be kept with the audio files, ensuring the performance with your Keynote presentation as expected. Once converted, the audio files can be added to your slides using the "Media" function within Keynote.
Besides Apple Music, ViWizard also converts and download iTunes music, files, podcasts, audiobooks and even Audible audiobooks for offline use. Just download and install the Mac version of ViWizard to the computer and follow these steps to start converting Apple Music to M4A.

ViWizard Audio Converter Key Features
Convert Apple Music audios to MP3, AAC, WAV, FLAC, M4A, M4B
Convert Audible audiobook & iTunes audiobooks in high quality
Convert M4P to MP3 and other common formats
Retain ID3 tags of audios
Part 2. How to Convert Apple Music for Keynote
To select Apple Music tracks, the iTunes software on Mac that runs Mojave or earlier is required. Please ensure to download and install the iTunes app to the computer.
Step 1

Load Apple Music to ViWizard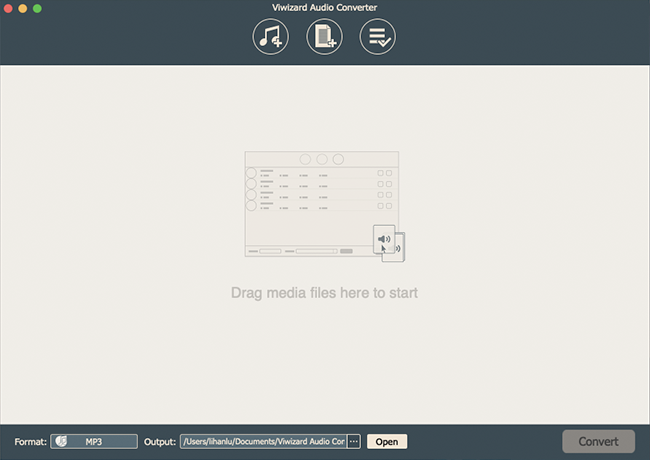 Download Apple Music songs to your computer. Open ViWizard Apple Music Converter desktop on Windows or Mac computer. Click the Add Files icon at the main interface to add downloaded Apple Music songs files to the ViWizard. Alternatively, you can simply drag the Apple Music files to the Apple Music converter.
Step 2

Set Output Format for Apple Music Songs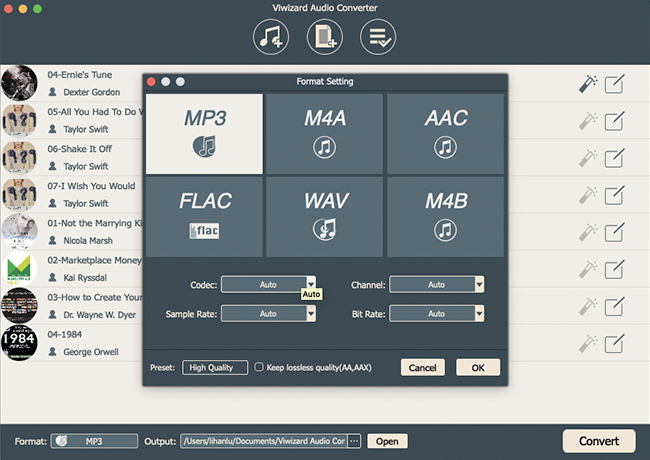 In this step, you are required to choose an appropriate output format for your Apple Music songs. Keynote provides support for MOV, MP3, MPEG-4, AIFF, and AAC files, so you can choose MP3 or AAC here. Click the Format panel. Here we can choose MP3 which is quite widely used. According to your needs, you can also adjust the parameters, such as codec, sample rate, bit rate, etc.
Step 3

Convert Apple Music to Keynote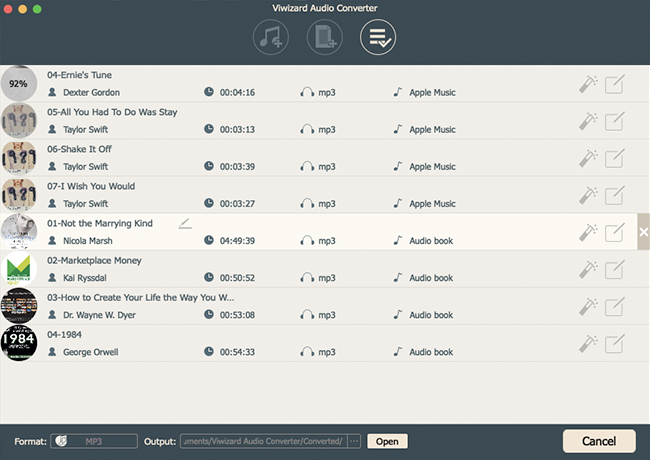 Once all the settings that you want to edit are done, you can click the Convert button. This will make ViWizard start to convert Apple Music songs to MP3 format at a 30X faster speed. Wait until the converting process of the ViWizard Apple Music Converter ends. Then press the Converted button to find your Apple Music files.
Part 3. How to Add Apple Music to keynote on Mac
Now it's easier than ever to add Apple Music to your Keynote slides on Mac by using the Media function within the software.
Add m4a audio file to Ketone Slides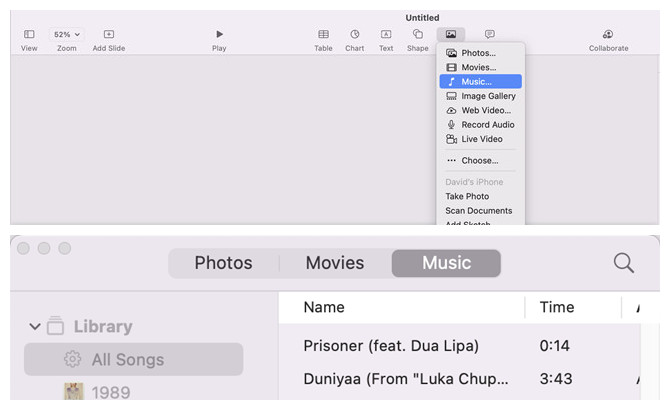 1. Launch the Keynote application on your Mac.
2. Either create a new presentation or open an existing one where you want to add the downloaded Apple Music audio file.
3. In your Keynote presentation, navigate to the slide where you want to add the audio.
4. To add the audio to your Keynote slide, click the Media button in the toolbar > Music, then navigate the audio file and select it to add onto the slide.
Edit the added audio in Keynote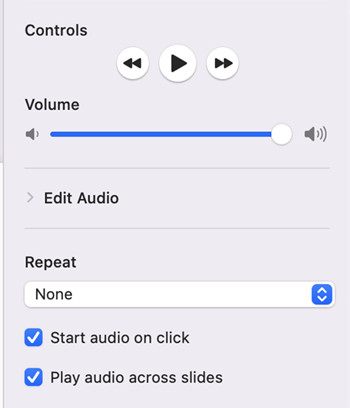 1. You can select the added audio button and make some further adjustments. For example, click the Format button, then turn on "Play audio across slides", then the audio will play across the next slide, even if you turned the setting off on the next slide.
2. Turn off "Play music across slides" for the last slide you want to play the file across.
3. You can preview the audio and adjust the volume, then play the presentation from the beginning or the slide where you added the audio file.
Part 4. How to Add Apple Music to Keynote on iPhone/iPad
If you create your Keynote presentations on iPhone or iPad and want to add the audio file to some of the slides, you'll need to transfer the audio files to your device.
Sync m4a file from Mac to iPhone or iPad
1. Launch the iTunes application on your Mac.
2. If you haven't added the downloaded m4a file to iTunes, now select the Apple menu > File > Import, and navigate to the m4a files to open.
3. Connect your iPhone or iPad to the computer.
4. In the Finder on your Mac, select the device in the Finder sidebar > Music > Sync music onto [device name], select the checkbox and turn on syncing of your music with the m4a file.
5. When you're ready to sync, click Apply > Done.
Add m4a file to Keynote Slide on iPhone or iPad
1. Open the Keynote application on your iPhone or iPad.
2. Either create a new presentation or open an existing one.
3. Tap on the Add button > Insert from, and locate the audio file then open.
4. Place the file where you want to appear on the slide. You can also resize it.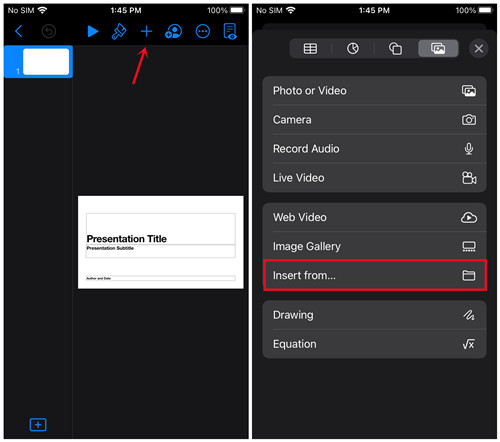 Edit m4a file in Keynote Slide on iPhone or iPad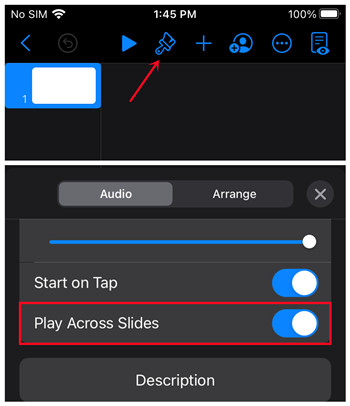 1. On the slide where you have added the audio file, tap the audio file to select it, and tap the Format button.
2. Turn on "Play Across Sliders", and turn off "Play Across Slides" that you want to play the file across.
The Bottom Line
To import Apple Music to Keynote, converting Apple Music to MP3/AAC is the best method. It is easy to use and will save the money for you to buy songs to add to Keynote. And these converted songs can be added to any device or player including MP3 players, smart TVs, smartwatches, and more.
More DRM removal tips for streaming music