"I'm trying to make an intro for a video, but I'm unable to add songs from my iTunes music library from which I've downloaded songs. When trying to add audio through iTunes to Adobe Premiere Pro or any other video editing software/application, it's all grayed out. Would appreciate any help."
We've disscussed how to add Apple Music to videos. If you're making a video on Premiere Pro, there's nothing easier to make your video a lot better than adding a background song in it. There always are better quality songs on iTunes or Apple Music. Since Apple boasts to have more than 75 million songs in its library, you can always find what fits your taste. But the question is how to add iTunes music to Premiere Pro?
Part 1. How to Use Apple Music in Premiere Pro
You can use music from Apple Music or iTunes in Premiere Pro as long as you have the necessary permissions and the music in a compatible file format. As you may know that music from Apple Music or iTunes are protected by Digital Rights Management (DRM), which restricts the usage of the audio files within Apple Music or iTunes platform only.
To use Apple Music in a third-party software, such as Premiere Pro, you will need to download the music from the platform with your Apple Music subscription, then you'll need to ensure that the music is in a compatible format for use as follows:
| | |
| --- | --- |
| | Audio Files |
| iTunes/Apple Music downloads | M4P (DRM protected) |
| iTunes purchases | AAC (unprotected files) |
| Adobe Premiere Pro import supports: | 3GP, 3G2 (.3gp), AAC (unprotected files), AIFF, ASND, OMF, BWF, M4A, MP3, and WAV |
| ViWizard Audio Converter output supports: | MP3, M4A, M4B, WAV, AAC (unprotected files) and FLAC |
If you only wish to wish a selection of songs in Premiere Pro, you can choose to buy them from the iTunes Store to get the AAC files that are DRM free. However, if you want to use your entire iTunes or Apple Music library in the program, you'll want to download and convert it to compatible audio formats in MP3, WAV, or ACC using ViWizard Audio Converter.
Best iTunes/Apple Music to Premiere Pro Downloader - ViWizard Audio Converter
Added with the DRM-removal function, ViWizard Audio Converter can download and convert the desired music from Apple Music and iTunes and into MP3, WAV and AAC for Premiere Pro. The best part is that it can preserve lossless audio quality and ID3 tags, ensuring the positivie usage of your audio files in Premiere Pro.
In addition to Apple Music and iTunes songs, other Apple Music contents such as iTunes audiobook, podcasts, and even your iTunes files you added to iTunes from other sources are supported to convert. With a super faster conversion speed of 30x, both the Windows and Mac versions of this service work fine to finish the task.

ViWizard Audio Converter Key Features
Convert all kinds of audio files with the lossless audio quality
Remove DRM protection from iTunes Music
Download Apple Music and iTunes music and make it available for Premiere Pro
Customize and personalize your audio files according your needs
Part 2. How to Download Apple Music to Premiere Pro
First, you will need to download the correct version of both ViWizard Audio Converter and iTunes on your PC or Mac. Then, you will need to ensure that you download and convert your selected music tracks to compatible audio files by adjusting the output format. The most commonly supported formats are MP3 and WAV. If you don't know how to use this tool, don't hesitate to follow these steps.
Step 1

Open ViWizard Audio Converter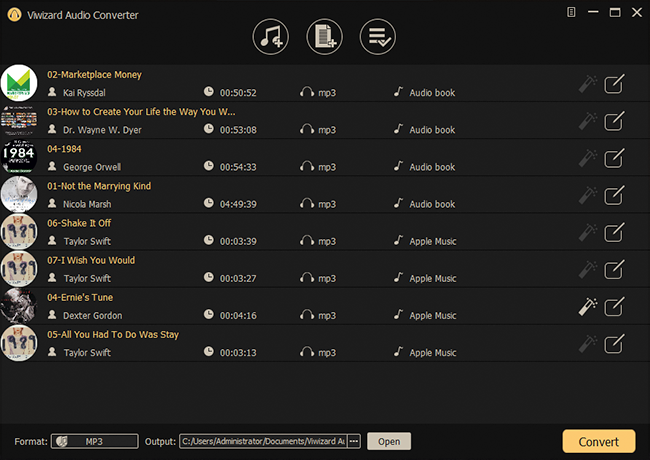 Open ViWizard software on your computer after you have ViWizard software installed on your computer. You will see three buttons like

,

, and

at the top menu bar of ViWizard and click the

button to add music downloaded from iTunes to the conversion list of ViWizard.
Step 2

Set the Output Format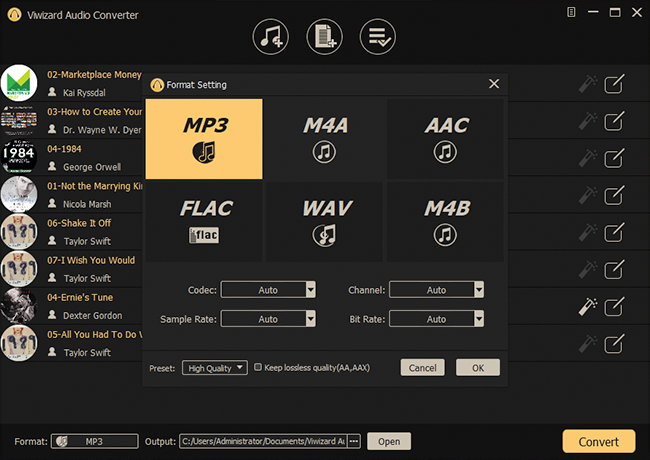 Now you can configure the output audio parameters of your iTunes music or Apple Music by clicking the "Format" panel. For Premiere Pro, choose MP3, MAV or AAC. You're also allowed to adjust the audio quality like codec, channel, sample rate, and bit rate according to your personal needs.
Step 3

Convert iTunes Music to Premiere Pro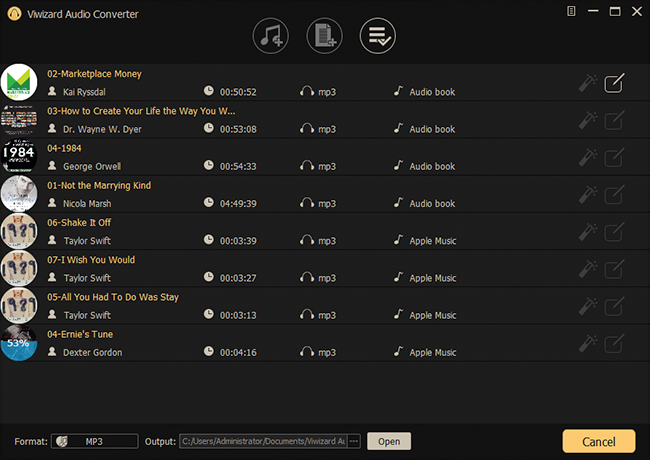 When all the parameters are set ready, you can click the "Convert " button at the lower right corner and let ViWizard start the conversion of iTunes music format immediately.
Part 3. How to Add Apple Music to Premiere Pro
Once you have the music in a compatible format, you can import it into Premiere Pro by selecting "File" > "Import" and then selecting the music file from your computer. You can then drag and drop the music into your project timeline and use it in your video project.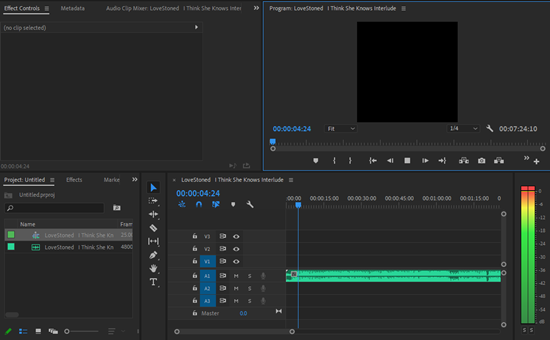 1. Open Premiere Pro and create a new project or open an existing one.
2. In the Project panel, locate the folder or directory where you have stored your audio files that you want to import.
3. Click on "File" and select "Import" from the dropdown menu. Navigate to your audio files and select the one(s) you want to import.
4. Click on "Import" and the selected audio files will be added to your project in the Project panel.
5. To add the audio file to your timeline, simply drag and drop it from the Project panel onto the timeline.
6. You can then adjust the volume, duration, and other settings for the audio clip in the Audio Track Mixer panel or in the timeline itself.
That's it! You have now successfully added an audio file to Premiere Pro and can begin editing it as desired.
Extra Tip: How to Balance BGM & Sound Effects in Premiere Pro Project
If your video contains voiceover or other sound effects, the background music might overwhelm these sounds. But you can easily auto adjust the volume of background music and make your voiceover stands out and when it's finished, the background music comes back normal again. Here's how to do it: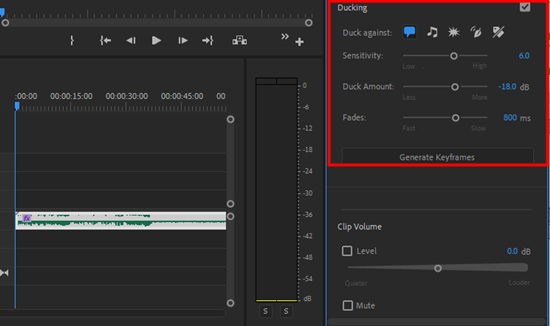 1. In Premiere Pro, click the Window option on the top menu bar > Essential Sound. A window should appear on the right side of the screen.
2. Click the BGM on the timeline > Music under Essential Sound.
3. Tick the cube next to Ducking to enable it, then choose the sound to duck against. Under that, choose to adjust the parameters to make the audio transition smoother.
4. You'll also need to click the voiceover or sound effects on the timeline and tag them under the proper tags.
Summary
In this post, we conclude how to import iTunes music into Premiere Pro. You only need ViWizard Audio Converter. Using this converter, you can not only convert iTunes music but also Apple Music to MP3. The converted audio can be imported to Premiere Pro or iMovie, Final Cut Pro, or other software directly.
More iTunes music DRM removal tips