I'm trying to make an intro for a video, but I'm unable to add songs from my iTunes music library from which I've downloaded songs. When trying to add audio through iTunes to Adobe Premiere Pro or any other video editing software/application, it's all grayed out. Would appreciate any help.
If you're making a video on Premiere Pro, there's nothing easier to make your video a lot better than adding a background song in it. There always are better quality songs on iTunes or Apple Music. Since Apple boasts to have more than 75 million songs in its library, you can always find what fits your taste. But the question is how to add iTunes music to Premiere Pro?
In the following parts, I'm going to show you how to add iTunes or Apple Music songs to Premiere Pro without any limitations.
Why You Can't Directly Add Music from iTunes or Apple Music to Premiere Pro
Before you get into the process, the protected M4P format of iTunes and Apple Music songs comes in the way to block you from downloading any content without limits from iTunes. Of course, you can directly download iTunes songs to your computer, but all the downloaded files come with protection. So what you're going to do technically, is to convert M4P to unprotected formats so that you can use iTunes songs anywhere you want (personal use only).
There used to be many tools on the internet, but as iTunes gets updated frequently, most of them are invalid now. So today I'm going to introduce you one of the best iTunes music downloaders and I'm sure you'll have a blast with it.
With ViWizard iTunes Music Converter, you can download iTunes songs to your computer 30 times faster than the playback speed. So, you can get MP3 off iTunes to Premiere Pro, or you can download the iTunes or Apple Music songs in other formats like M4A, AAC, FLAC, WAV, or M4B. And the ID3 tags will also be saved by ViWizard. You can download and install this converter for free now.

ViWizard Audio Converter Key Features
Convert all kinds of audio files with the lossless audio quality
Download Apple Music and iTunes music and make it available for Premiere Pro
Customize and personalize your audio files according your needs
How to Convert iTunes Music/Apple Music to Premiere Pro
Here's a step-by-step breakdown to download iTunes songs to your computer and put them to Premiere Pro. Make sure you already clicked the Download button of each song you want to get on iTunes before going to learn how to get Apple Music into Premiere Pro.
Step 1

Open ViWizard Audio Converter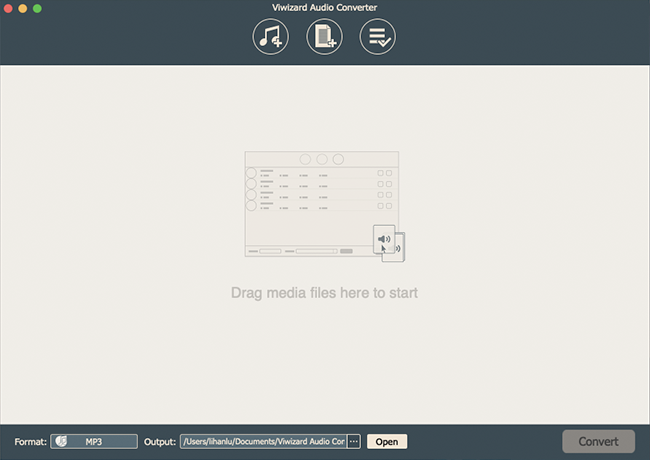 Open ViWizard software on your computer after you have ViWizard software installed on your computer. You will see three buttons like

,

, and

at the top menu bar of ViWizard and click the

button to add music downloaded from iTunes to the conversion list of ViWizard.
Step 2

Set the Output Format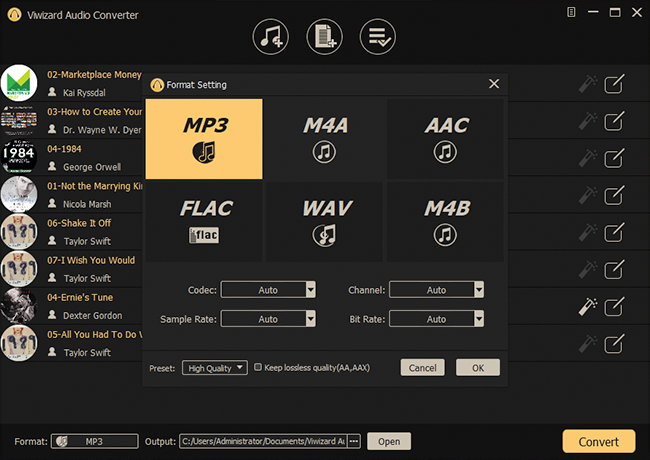 Now you can configure the output audio parameters of your iTunes music or Apple Music by clicking the "Format" panel. You can pick a format among MP3, M4A, AAC, FLAC, WAV, and M4B. You're also allowed to adjust the audio quality like codec, channel, sample rate, and bit rate according to your personal needs.
Step 3

Convert iTunes Music to Premiere Pro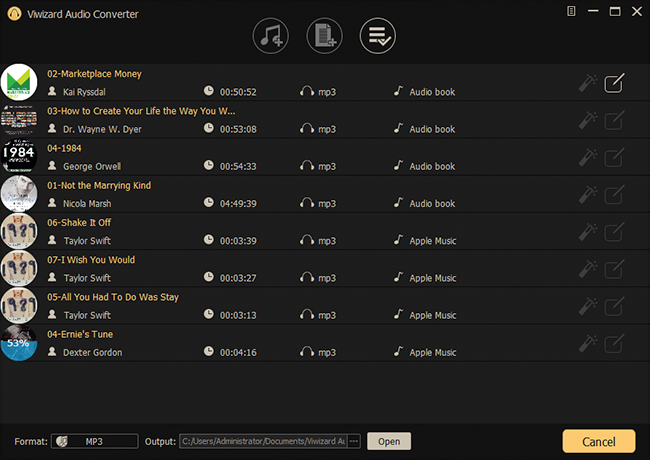 When all the parameters are set ready, you can click the "Convert " button at the lower right corner and let ViWizard start the conversion of iTunes music format immediately. After the conversion, you can navigate to the converted history to browse all the converted tracks by clicking the "Converted" button at the top menu bar.
How to Add iTunes Music to Premiere Pro
Next, we need to get iTunes to Premiere Pro. The method is the same as importing common audios to Premiere Pro. You can follow this guide.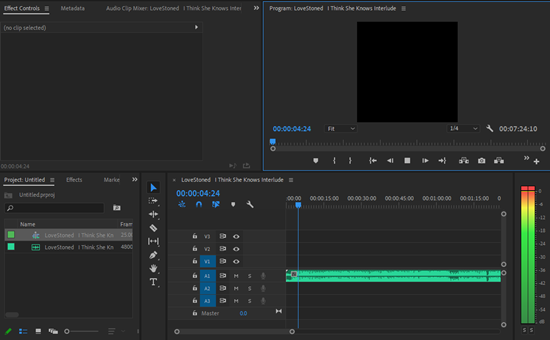 1. Open Premiere Pro on your computer.
2. Click the "File" button on the top left corner and the "Import" button.
3. Choose the downloaded iTunes music files and then click the "Open" button. Or you can directly drag the files under the project panel of Premiere Pro.
4. Drag the song to your timeline and edit it without any limitations.
Video Editing Tip: How to Balance Background Music and Sound Effects
If your video contains voiceover or other sound effects, the background music might overwhelm these sounds. But you can easily auto adjust the volume of background music and make your voiceover stands out and when it's finished, the background music comes back normal again. Here's how to do it: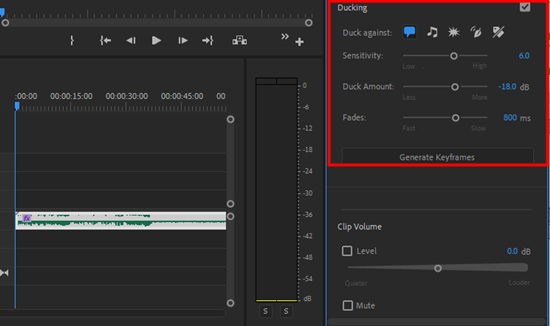 1. On Premiere Pro, click the "Window" option on the top menu bar, then click the "Essential Sound" option. A window should appear on the right side of the screen.
2. Click your background music on the timeline, then click the "Music" tag under the "Essential Sound" option.
3. Tick the cube next to Ducking to enable it, then you can choose what type of sound you want to duck against. And under that, you can adjust the parameters to make the audio transition smoother.
4. Also you'll need to click your voiceover or sound effects on the timeline and tag them under the proper tags.
Summary
In this post, we conclude how to import iTunes music into Premiere Pro. You only need ViWizard Audio Converter. Using this converter, you can not only convert iTunes music but also Apple Music to MP3. The converted audio can be imported to Premiere Pro or iMovie, Final Cut Pro, or other software directly.
Download iTunes Music Converter for Free
More iTunes music DRM removal tips