I own 500 songs in my iTunes library which are all in M4P format. I want to convert them to M4A. Is it possible? What tools do I need and what are the specific procedures?
If you listen to iTunes songs, you might have seen the M4P format many times. And you will find that the audios in M4P format are usually protected, while M4A is usually for unprotected audios. M4P is a kind of file extension that is encoded with advanced audio codec (AAC). M4A is also a file extension that is encoded with AAC. M4A files has small size and good quality so that M4A files are liked by many people.
M4P audios can only be played on iTunes and computer that is authorized with iTunes. This brings much inconvenience to the listening of iTunes songs. To bypass this problem, many iTunes users intend to convert iTunes M4P to M4A, which can be played on VLC Player, Google Play Music, Poweramp, BlackPlayer and more players. How to convert M4P to M4A? Not everyone knows the method for it. The good news for you is that we find 2 methods to transfer M4P to M4A, which everyone can use. Just read ahead to get these methods and our detailed guide.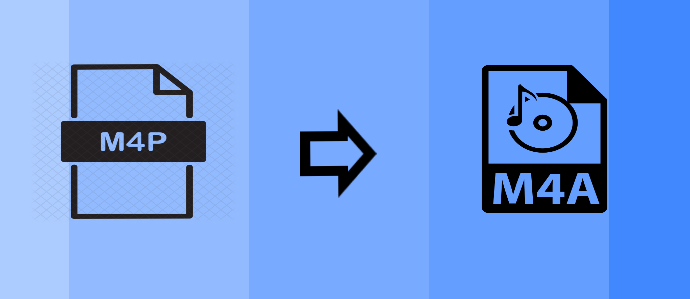 Part 1.

What Are M4P and M4A?
1.1 What Is M4P?
M4P is a digital audio format commonly associated with songs purchased from platforms like iTunes. This format was developed by Apple and is known for its use of Digital Rights Management (DRM) protection, which restricts the ability to freely copy and distribute the content.
When you download Apple Music or iTunes music from your Apple Music library or iTunes Store, Apple Music stores your downloads in M4P format. Typically, you can find the M4P files (your iTunes downloads) in the "iTunes Media" folder by going to this folder location:
C:\Users\Yourusername\Music\iTunes\iTunes Media
However, M4P files are encoded with DRM protection, which limits their playback on authorized devices and accounts. While M4P files offer high-quality audio, their restricted usage can be a limitation for users who wish to enjoy their music collection on various devices and platforms. This means they are not transferrable to your other playback devices like iPad.
1.2 What Is M4A?
M4A is an audio format developed by Apple that offers a balance between audio quality and file size. Unlike M4P, M4A files do not incorporate DRM protection, allowing for more flexible use across different devices and platforms.
M4A files lack DRM protection and can be played on a wide range of devices, media players, and operating systems. The M4A format is widely recognized for its ability to provide superior audio quality while maintaining manageable file size. Due to its lack of DRM restrictions, users can freely transfer and enjoy their music on different devices and applications without limitations.
1.3 M4P vs M4A: Which Is Better?
Summary Table: Comparing M4P and M4A Formats
| | | |
| --- | --- | --- |
| Feature | M4P | M4A |
| Compatibility | Tied to the Apple ecosystem (iTunes) | Compatible with a wide range of devices, media players, and platforms |
| Compression | Generally compressed | Highly compressed |
| Audio Quality | High-quality audio | High-quality audio |
| File Size | Relatively larger file size | Smaller file size |
| File Extension | .m4p | .m4a |
| DRM Protection | Yes, DRM-protected | No DRM protection |
| Usage Flexibility | Limited to authorized devices/accounts | Versatile for playback and sharing |
While M4P offers a secure and legal way to acquire music, M4A's versatility, compatibility, and lack of DRM make it a more practical choice for users who value flexibility and audio quality. Ready to convert M4P to M4A? You can take advantage of two professional M4P to M4A conversion tools.
Part 2.

How to Convert and Download M4P to M4A

The first method is to resort to an audio converter - ViWizard Audio Converter. This software is a M4P to M4A file converter. Except for iTunes M4P audios, ViWizard Audio Converter can also convert audiobooks or music tracks from Audible, iTunes, Apple Music, and other unprotected audios to M4A, MP3 AAC, WAV, M4B formats. The conversion speed of this tool is surprisingly high - 30X faster speed. After the conversion, you can play them with any device at any time. It enables you to edit the ID3 tags of your audios to tidy and manage the audio library.

There are many more features for this tool and you can better know them by trying this audio converter. Download this software for free and try it with the guide below.

Key Features of ViWizard Audio Converter
Free Trial
Free Trial
* Security verified. 5, 481,347 people have downloaded it.
Convert songs, albums, and playlists from Apple Music to MP3
Remove DRM protection from Apple Music, iTunes, and Audible
Save the converted audios with the original quality and ID3 tags
Support the conversion of up to 100 audio formats to others
How to Convert M4P Files to M4A With ViWizard Audio Converter
ViWizard Audio Converter is a powerful audio converter that can convert M4P to M4A. You can now see the detailed steps by following the tutorial below.
Step 1

Launch M4P to M4A Converter

After you download and install this audio converter, launch this software. Choose the Add Files button to load the M4P songs you have downloaded on your computer. Or you can just drag and drop the M4P files to the converter.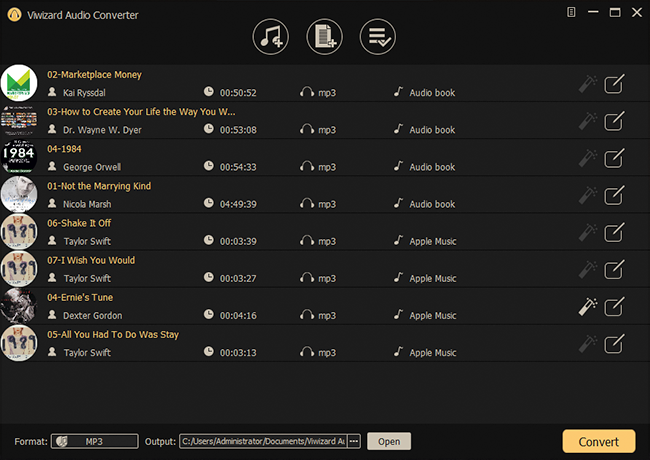 Step 2

Set Output Format for the M4P Files

Open the Format panel by clicking on the Format button. You can find M4A in the format list. You can also change the codec, channel, and other parameters of the M4P files below the format choices. Click the OK button to save all the settings.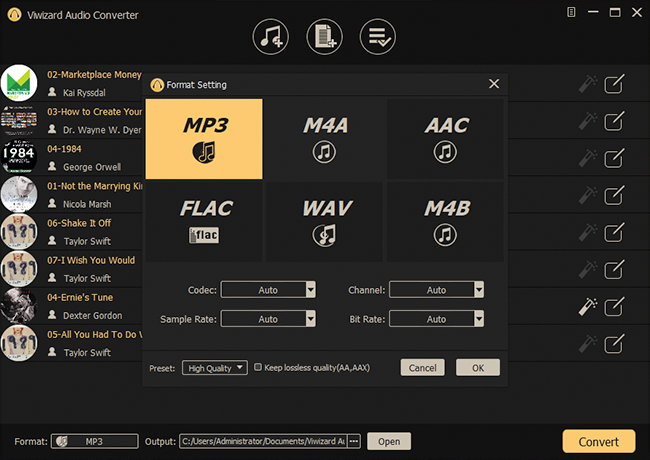 Step 3

Convert M4P to M4A

Click the Convert button to convert your M4P files to M4A. After the conversion, click the Converted button to open your converted M4A files.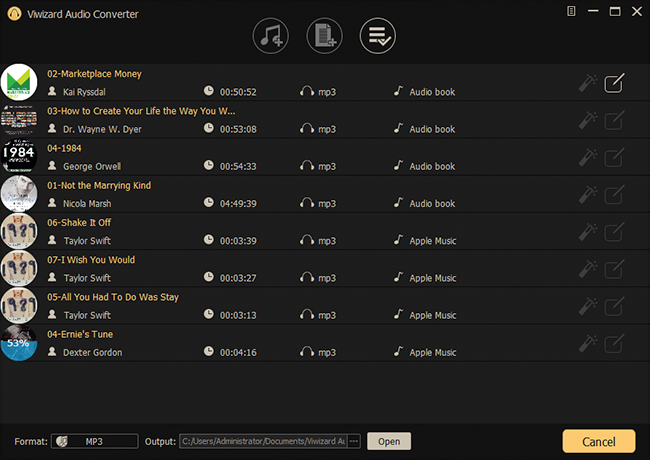 Part 3.

How to Record and Export M4P to M4A

There is another method which is to record iTunes M4P audios with an audio recorder and then save them in M4A format. By doing so, you can also convert M4P to M4A.

ViWizard Audio Capture is such an audio recorder. This tool records any audio the computer plays including sounds in computer games, audiobooks, streaming music from Tidal, Apple Music, YouTube Music, and more. It supports both web players and media apps like Windows Media Player, iTunes, QuickTime. ViWizard Audio Capture can save these audios in different formats such as M4A, MP3, FLAC, AAC, and others. You can download some music tracks at the same time to save time. This tool also offers a choice for you to edit the ID3 tags of your audios just like the former software.

To know more about this streaming sound recorder, download and install it for free now! Follow the 3 steps below to use ViWizard Audio Capture to capture M4P audios and save them in M4A.
Step 1

Open TunesKit Audio Capture

Launch this tool on your computer. There are some programs already on the screen. Choose the icon for iTunes. If there is no icon for iTunes, click the Add Programs button to add iTunes to the list.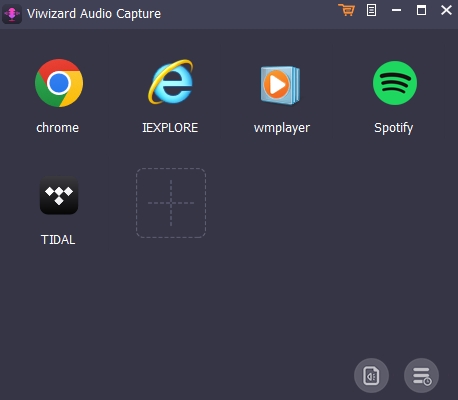 Step 2

Set Format for M4P Audio

Click the Format button to choose the format for your audios. Since you want to convert M4P to M4A, you need to choose M4A here. You can also change the codec, sample rate, and other settings of iTunes M4P audios.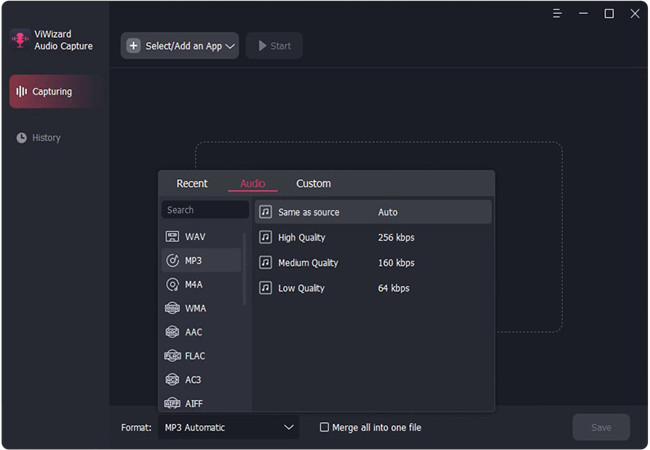 Step 3

Capture M4P Songs

Return to iTunes and play the M4P audios that you want to download and convert to M4A. The software will add a recording track automatically. The moment you stop playing the music, TuensKit will stop the recording. Choose the Save button to export the M4A audios.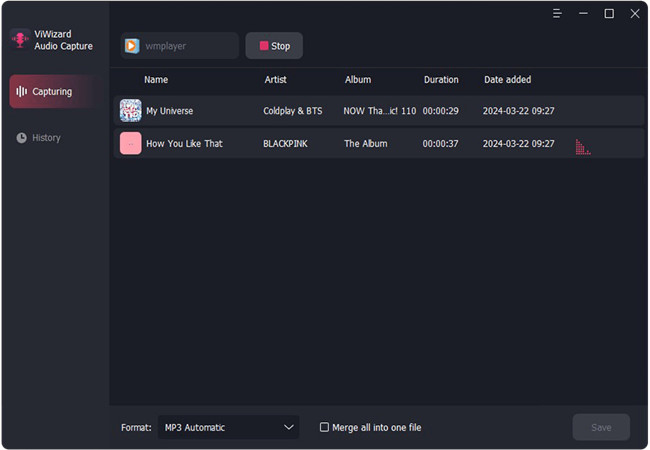 Final Word
With both two methods, you can convert M4P to M4A and get high-quality audios finally. But there are still some differences. ViWizard Audio Converter has a faster speed. The conversion with the audio converter is 30 times faster than that of the audio capture. And the advantage of the audio capture is that you can record any streaming sound from Amazon Music, Tidal, YouTube Music, and more. Just choose the one you prefer.