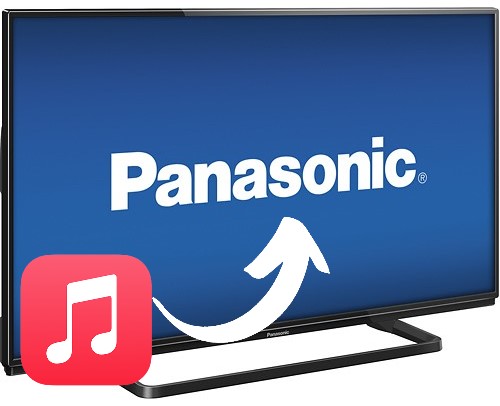 What device do you use to listen to Apple Music? Smartphone, MP3 player, computer, or car? Sometimes listening to music from your phone does not suffice. Panasonic Smart TV is loaded with a powerful speaker so that you will get an awesome listening experience. But the problem is that you cannot find an Apple Music app from Panasonic TV and most smart TVs. Is there any other way to stream Apple Music on Panasonic TV? Here we got two.
Part 1. Best Solution to Listen to Apple Music on Panasonic TV
The best solution to listen to Apple Music on Panasonic TV without a native app is to make the desired Apple Music compatible with the device. Yes. You must convert the Apple Music M4P audios to an audio format file that's supported on Panasonic.
Please make sure the audio files are compatible with the Panasonic TV:
Audio: AAC, FLAC, MP3, MIDI, Ogg Voris, AMR-NB, AMR-WB, PCM/WAVE, WMA, AC3, DTS.
Apple Music offers the AAC version of a selection of music in its iTunes Store. However, there's the best alternatives for Apple Music users to save costs on it. You'll need a useful Apple Music converter called ViWizard Audio Converter to take care of the rest.
With one ViWizard Audio Converter - a safe and clean Apple Music converter that works fine on both Windows and Mac, Apple Music users are able to convert and download Apple Music contents in 6 audio format files: MP3, M4A, M4B, WAV, AAC and FLAC. To make Apple Music compatible with Panasonic, please ensure the output format settings of the ViWizard software is customized in MP3, FLAC, WAV or AAC.
Expect for the Apple Music tracks, ViWizard also support iTunes files, iTunes audiobooks and Audible audiobooks download, and the conversion is at a 30x super faster speed with all the ID3 tags kept. Once downloaded, it's simple to use an USB drive to make them available on the Panasonic TV.

ViWizard Apple Music Converter Key Features
Losslessly convert Apple Music & iTunes songs
Convert M4P to MP3, AAC, WAV, FLAC, M4A, M4B
Retain 100% original quality and ID3 tags
Convert Audible and iTunes audiobooks to MP3, M4B, AAC
Convert between common audio file formats
Part 2. How to Download Compatible Apple Music Files with Panasonic
Step 1

Add Apple Music Songs to ViWizard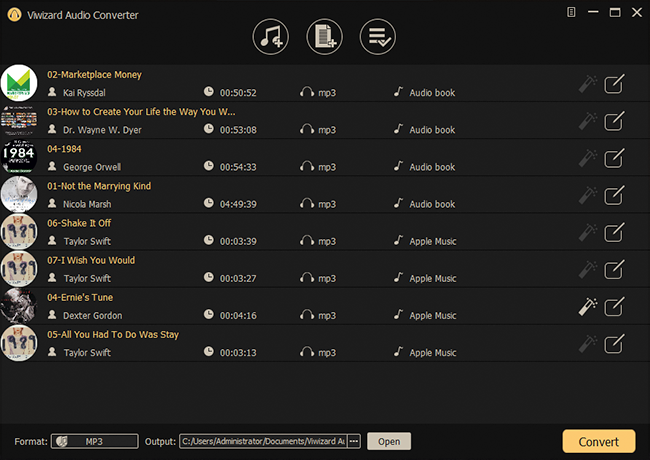 Go to the official website of ViWizard or you can download from the download link above. Afterward, launch this Apple Music converter on your Windows or Mac computer. Drag and drop the Apple Music songs to the ViWizard screen to import them; or else, you can add from the Add Files button.
Step 2

Set Audio Parameters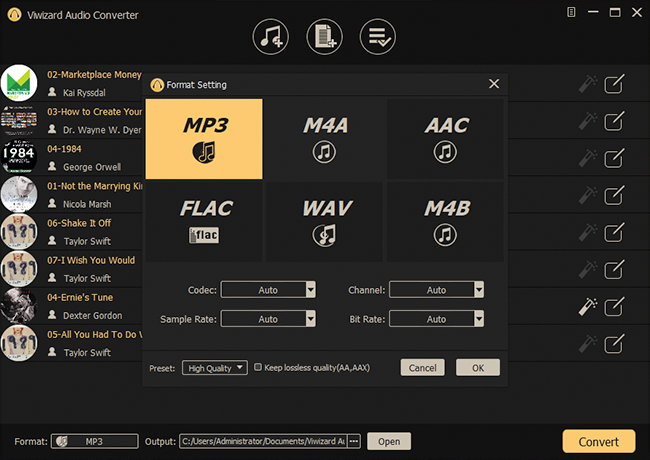 Once the Apple Music songs are imported to the converter, you can begin to choose the format of audios and customize the audio parameters according to your need and taste. The default output format is MP3. If you need, you can choose to switch to other audio formats. You can also change the sample rate, bit rate, channel, and more of the Apple Music songs.
Step 3

Convert Apple Music Songs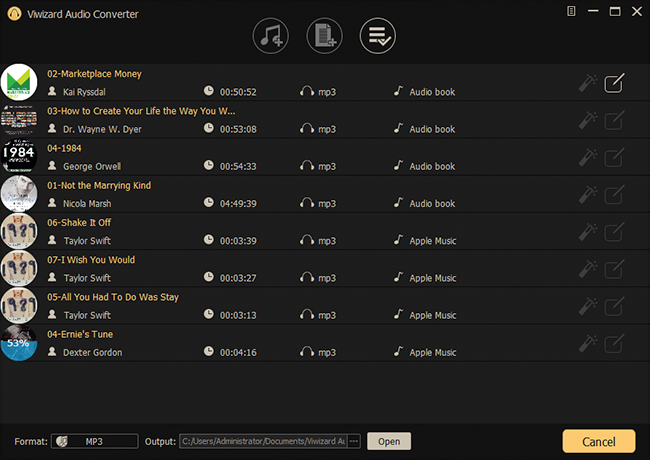 Get everything done? Great! I think that you are ready for the final step - converting Apple Music audios. Simply click on the convert option. ViWizard will convert the songs with 30X faster speed. When you find the songs are converted, hit the Converted icon to find them.
Part 3. How to Listen to Apple Music Files via USB Drive on Panasonic
Now please follow the steps to prepare a formatted USB drive with FAT32 to transfer Apple Music files to USB and activate them on Panasonic.
Step 1. For starters, ensure your USB drive is formatted with FAT32 file system. You can use the remote to select the Gear icon > Device Preferences > Storage. Select your USB drive from the list > Erase & format as device storage. This will format your USB drive and will make it work fine on your Panasonic TV afterwards.
Step 2. Now connect the formatted USB to your PC to start to transfer the converted Apple Music files to it. Make sure you use ViWizard Audio Converter to have the AAC, FLAC or MP3 version of the Apple Music files. You can start to copy the files/folders and paste it on your USB drive. Once transferred, disconnect it from your PC.
Step 3. Inset your USB in the "USB IN" port on the back of your Panasonic TV.
Step 4. On your TV, use the remote to select Media Player. If you don't have it on your Panasonic TV, you can download the app to your device. Press the Home button on your remote > Apps > MediaPlayer (or similar).
Step 5. Select Audio as the media type you want to play on Panasonic. You're able to listen to those Apple Music files.
Part 4. How to AirPlay Apple Music with Roku Streaming Sticks on Panasonic
If you have iOS devices on which Apple AirPlay 2 is available, you can choose to AirPlay Apple Music from your device to your TV with some streaming devices like a Roku Ultra. On iPhone or iPad, it's simple to stream, share and control the Music app from the screen mirroring to your Panasonic TV.
Step 1. For starters, ensure the iOS device and the Panasonic TV are using the same Wi-Fi network.
Step 2. Press the Home button on the remote. On the TV screen, scroll to Settings > System > System update > OK > Check now to make sure the OS is up-to-date.
Step 3. Back to Settings > Apple AirPlay and HomeKit. This will open the Apple AirPlay set-up on the screen.
Step 4. On both the iOS and TV devices, make sure AirPlay is ON. From the Home screen of the iOS device, open the Settings app > General > Apple AirPlay Settings, then turn "Apple AirPlay" on.
Step 5. On the iOS device, return to the Home screen to open Control Center > Screen Mirroring. Under the Screen Mirroring section, select the streaming device, such as "Roku Streaming Stick".
Step 6. Now the AirPlay Passcode appears on the TV screen. On the iOS device, enter the exact code. Tap on the OK button to confirm.
Extra Tips: Panasonic TV - Recommended Audio Settings
Apple Music now works fine on the Panasonic TV, and it's good! You can choose to improve the listening experience with some audio settings on the TV device!
Please note: Take a look at the settings on the TV because some of the settings might not appear on the screen. Follow these steps to make the enhancements and features work for you!
1. A.I. Sound: press the MENU button > Audio > Advanced Audio > Low.
2. Surround: press the MENU button > Audio > Advanced Audio > Off.
3. Distance to Wall: press the MENU button > Audio > Advanced Audio > Over 1ft/Up to 1ft.
4. TV Speakers: press the MENU button > Audio > Advanced Audio > Over 1ft/Up to 1ft.
5. HDMI in: press the MENU button > Audio > Advanced Audio > Set to Digital.
Bottom Line
If you do not use an iOS device, you'd better use the first method - convert Apple Music songs. When you have iOS devices, you can choose from ether solution to play Apple Music on Panasonic TV. I prefer using the converting tool, since, after the conversion, these songs can be saved forever, even without the Apple Music subscription!