Q: "Perhaps I'm missing something. Spotify allows me to add songs to a queue regardless of whatever playlist I'm on, however, Apple Music does not allow me to add a song to 'Play next' if I'm not in the currently playing playlist. Is there something I'm overlooking? It's quite annoying."
Apple Music allows you to queue up music on your iPhone so that when the current song concludes, the app automatically goes on to the next song you choose. This allows you to simply create unique playlists while listening. Today we would like to tell you how to queue songs on Apple Music effortlessly. We will also give you a tip to make Apple Music playlists playable after the subscription.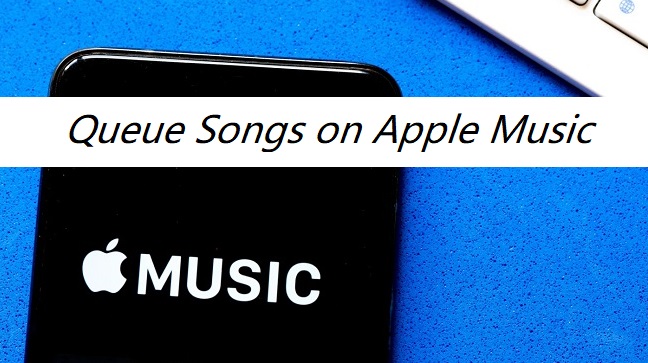 Part 1. Something about Apple Music
Do you like listening to music? Apple Music is an excellent streaming service for music, podcasts, music video and others. It has collected over 90 million songs and offers music of super high quality. If you are a premium account, you are able to download Apple Music songs for offline playing. These years, Apple Music has also kept improving the audio quality. Now you can enjoy the Lossless quality and Spatial Audio in Apple Music which makes your listening more fun.
Part 2. How to Queue Songs on Apple Music
In this part, we will tell you how to put songs on queue on Apple Music with different devices. Actually, it's not so complicated. All you need to do is to follow the guide below and you will find the answers.
How to Queue Songs on Apple Music with iPhone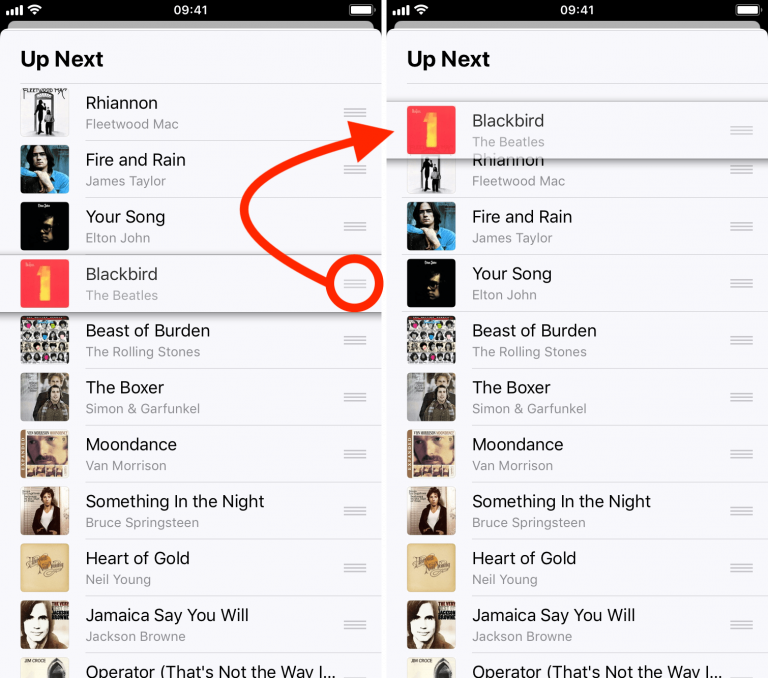 1) Open the Music app and open a playlist.
2) Under the playlist, play any song you like.
3) Tap the playing bar to open the Now Playing page.
4) Click the List icon on the bottom right to enter the Playing Next list.
5) Find the song you want to listen to next, then press and hold the three horizontal lines to the right and drag it to the desired location.
Now the Playing Next queue will simply play songs in the order they are listed, from top to bottom.
How to Queue Songs on Apple Music with Android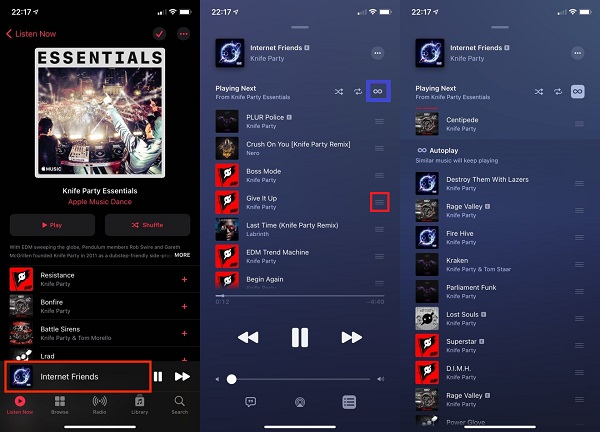 1) Launch the Apple Music app and navigate to a playlist.
2) Play any song from the playlist that you choose.
3) Click the playing bar to head to the Now Playing page.
4) To access the Playing Next list, click the List icon in the lower right corner.
5) Find the song you want to listen to next, then drag the three horizontal lines to the right to the correct spot.
Now the Playing Next queue will simply play songs in the order they are listed, from top to bottom.
How to Queue Songs on Apple Music with a Computer
1) Use the iTunes/Music app to listen to music.
2) Play a song, album, or playlist.
3) Search and find the song you want to add to the queue.
4) Right-click and tap Play Next after the music that is now playing.
Part 3. Tip to Keep Apple Music Playable After the Subscription
Apple Music is a streaming music service, and Apple Music files are encrypted M4P files to safeguard their tracks. Only the Apple Music app can play these protected files. After the membership expires, the downloaded music will be unusable. Do you want to keep listening to Apple Music songs on your device even if you don't have a subscription? Here's the solution.
You only need ViWizard Audio Converter. You may quickly download and convert Apple Music to MP3, FLAC, M4A, AAC, and other simple formats using this program. The high audio quality and ID3 tags will also be retained. This converter allows you to convert audio in batches at a 30x quicker pace to save time. The audio settings allow users to tune up the Apple Music songs by channel, codec, sample rate, volume, etc.

ViWizard Audio Converter Key Features
Convert and save Apple Music permanently on your device with lossless quality
Convert Apple Music to MP3, WAV, M4A, M4B, AAC, FLAC
Remove the protection from Apple Music, iTunes, and Audible
Handle the conversion of audios in batch at 30× speed
Step 1. Load Apple Music Songs You Need to the Converter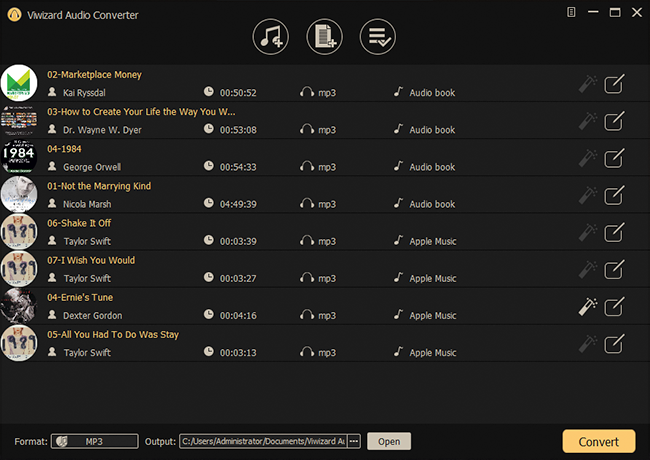 Simply start the ViWizard Audio Converter application on your PC after the installation is complete. Then, select Music Note from the top menu to load the Apple Music files to rip. Simply drag and drop your desired audio files into the Apple Music downloader.
Step 2. Tune the Apple Music Songs as Your Needs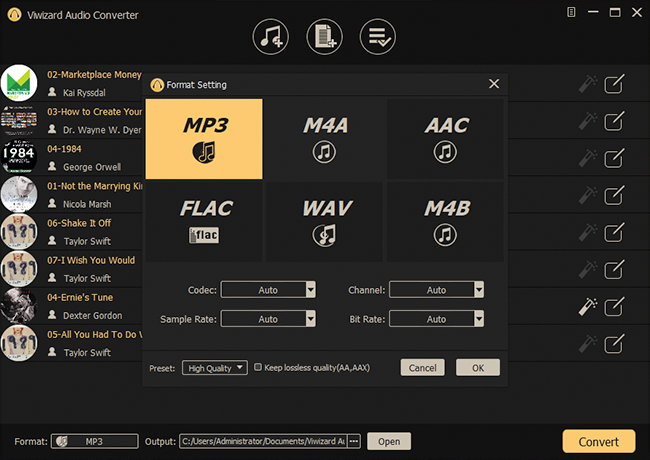 After adding the music to the converter, you can tap the Format option to select the appropriate output format. Generally, MP3 is the most used format for listening to Apple Music on other devices. In the format settings window, you are capable of setting the output audio characters such as sample rate, bit rate, channel, codec and so on. Finally, press the OK button to save your choices.
Step 3. Free Your Apple Music Playlists on Computer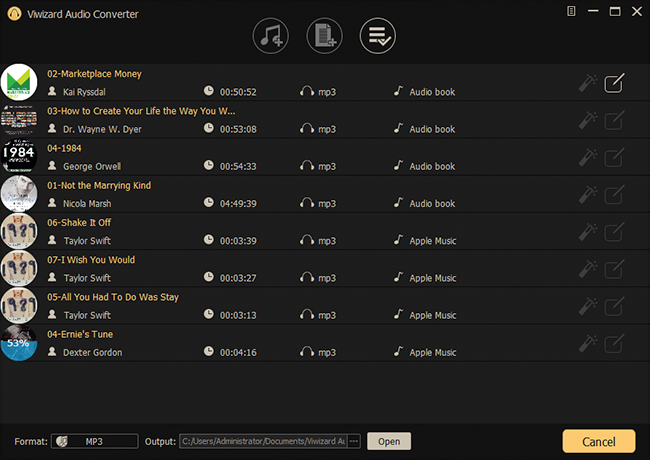 Then, to begin the conversion, choose Convert. ViWizard will start to ripping Apple Music to MP3 at 30x faster speed. Click the Converted button after a few seconds to identify and play all converted MP3 Apple Music files.
Summary
Apple Music allows users to queue the playing list on multiple devices. In this post, we have shown you how to add songs to queue on Apple Music on different devices. You can follow the guide above to have a try. If you want to make your Apple Music songs playable after the subscription ended, you will need ViWizard Audio Converter. This tool is capable of saving your Apple Music playlists on your device permanently.