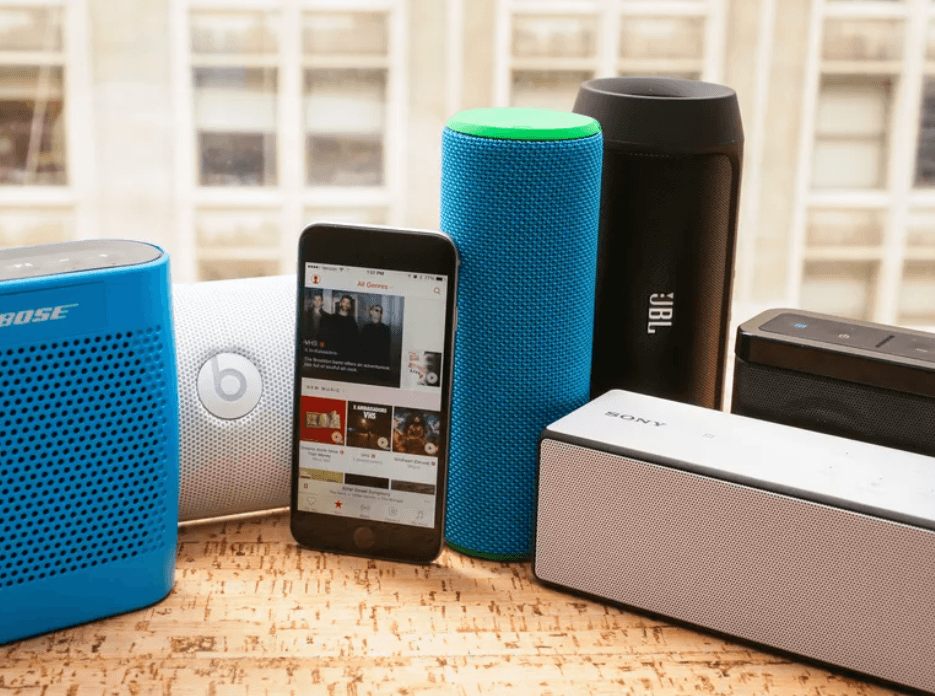 You wouldn't deny this: earphone or headphone is only used when you are outside of your home. When you are at home and trying to release your ears from the headset, the speakers on the iPhone and iPad are really not loud enough for you to enjoy the music.
Go get yourself a home stereo and start your musical life, be it a Bose SoundTouch, a Sonos, or a Beats Speaker.And now it's time for you to stream some Apple Music, turn up the volume and show off your new fancy home stereo!
Don't forget to subscribe an Apple Music Plan in advance and that's the only way you can get access to a wide range of genres of music and stream them on supported devices. Apple Music offers a three-month free trial for new users and when the trial's up you will be charged $9.99 per month for the Individual Plan and $14.99 for Family Plan. When you have done that, move on to see how you can stream Apple Music through your home stereo.
Use AirPlay to Stream iTunes Music
If you have an Apple TV, HomePod, or any AirPlay-compatible speakers, you can directly use AirPlay to stream Apple Music or iTunes music.
AirPlay Compatible Speakers:
Sono One
Bose SoundTouch
LG Speaker
Google Home
Dynaudio Music 1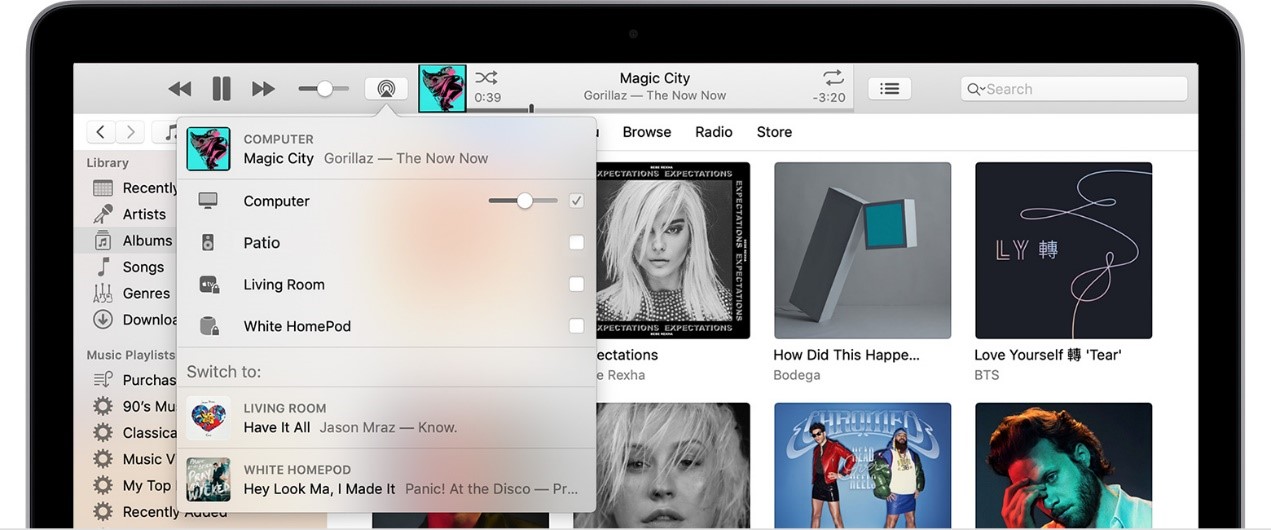 Here the steps:
1)make sure your HomePod, Apple TV, or AirPlay-compatible speaker and your AirPlay are on the same internet connection, whether it is Wi-Fi or ethernet network.
2) install the latest version of iTunes on your Mac or PC and then launch it.
3) To the right of the volume slider in iTunes, find the "Connection" icon and click on it
4) Select the speaker that you want to play iTunes music on, or click multiple speakers to stream audio across all of them at the same time.
Use Bluetooth to Pair Speaker with the iDevices
The first question is here is, what speaker can you stream Apple Music to? The answer is that you can stream Apple Music through any speaker with Bluetooth or Wi-Fi connection. Generally speaking, Wi-Fi audio quality is higher than Bluetooth. However, you also need to know that Bluetooth is now a standard feature for all wireless audio devices, so all iPhones, iPads, Macs, and current iPod Touch models are Bluetooth enabled.
While not all Wi-Fi speakers directly support Apple Music playback. Under the circumstances, you will have to download a third-party app to help.
Next, we will show you how to stream Apple Music to Speaker.
1) To pair your iDevice with a Bluetooth speaker, you can go to the settings of your iDevice and turn on the Bluetooth.
2) On the other hand, make sure your speaker or home stereo is in pairing mode. Keep holding the Power button is the common method for a portable speaker. For other devices, you better check the manual first.
3) When you iDevice discover the one you want to pair with, select it from the list to make a connection. Now you're all set and the speaker or stereo will play the song simultaneously with your iDevice.
Convert and Transfer Apple Music to the Speaker
If you have an old stereo without a Bluetooth receiver and you want to save some money for a new one, you will need some help from ViWizard DRM Audio Converter. This Apple Music converter can convert Apple songs to MP3 format, which can be played on your speaker or stereo. Let's see how to manage it.
Step 1 Add Apple Music to ViWizard DRM Audio Converter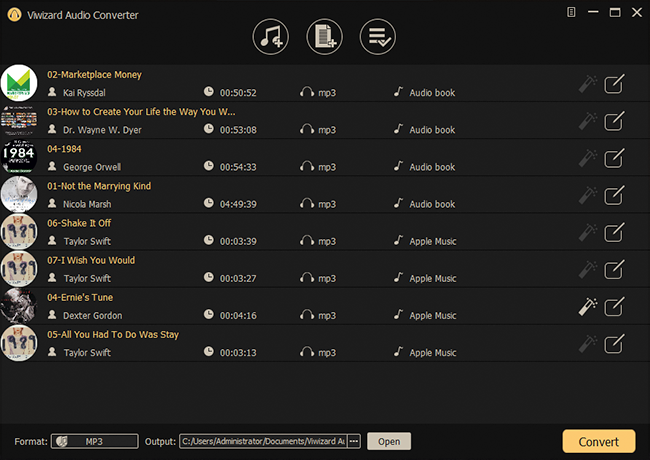 First, download and install ViWizard DRM Audio Converter from the above link. Then add the Apple Music to the ViWizard interface by clicking the "Add" button. There are two "Add" buttons, to convert Apple Music you should go for the first one on the top of the window.
Step 2Customize Audio Output Format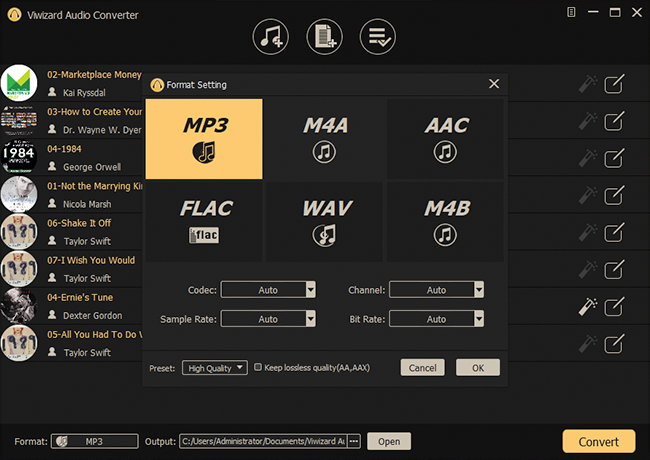 When the songs are successfully uploaded, click the "Format" panel at the left bottom of the surface and there will be a pop-up window. Select "MP3" format and click "OK" to confirm the setting.
Step 3Convert the Apple Music to MP3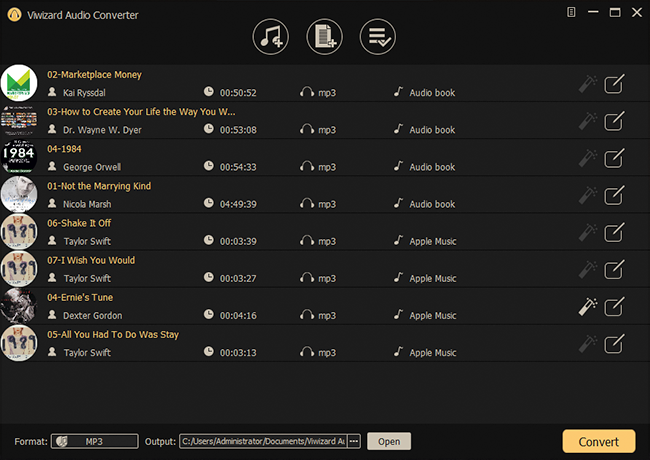 After that, simply press "Convert" and wait for a few seconds. When the converting process is done, the converted files can be found in the history folder. Transfer the songs to a USB and plug the USB to your speaker or stereo. Then you can play Apple Music through home stereo.
Apple Music in Every Room
With these aforementioned methods, now you can let Apple Music stream to every of your room using these wireless sound systems. No matter you are reading, cooking or doing the laundry, you can enjoy music freely.