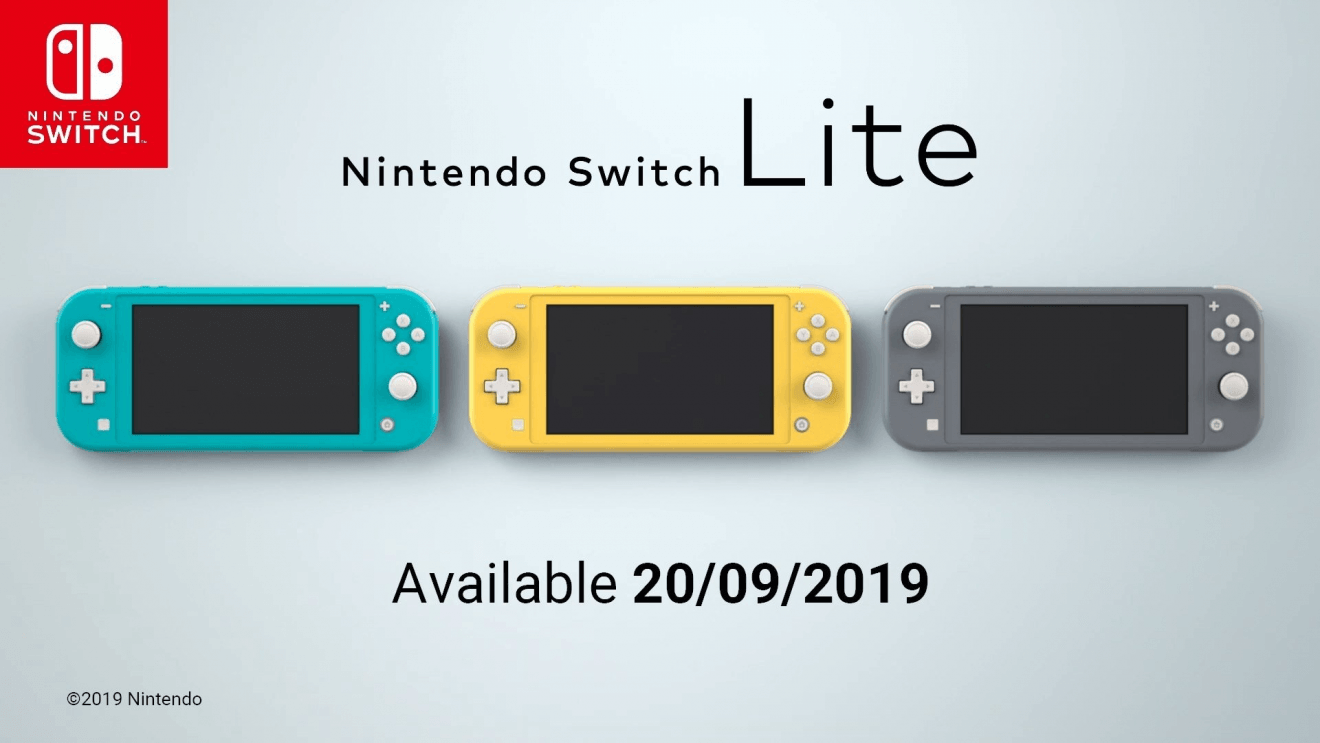 Yesterday, Nintendo surprised the world with its newest portable game console – Nintendo Switch Lite, a light and budget version of Switch. Expected to release in September this year, 2 years and a half after the release of Switch, Switch Lite will come in three lighter colors, yellow, gray and turquoise. With the price set at $199, Lite is $100 cheaper than Switch, Lite can surely attract more users. There also will be a special edition of Zacian and Zamazenta launched on November 8.
In the advertisement video, the general producer Koizumi says that "Lite differs a big from Switch". The following passages make us think that Switch Lite is not just slightly different from Switch.
Differences Between Switch Lite and Switch
Smaller, Lighter, Compact, and Portable
At first sight, you can see that Switch Lite has a smaller, lighter yet compact and solid appearance. Compare to Switch, Switch Lite lose 31% of the weight mostly by taking off the detachable Joy-Cons and replace the 6.2-inches touchscreen with a 5.5-inches one, but the 720p resolution remains the same. This makes Switch Lite a better handheld game console than Switch.
Switch Lite doesn't Switch
In fact, Switch Lite's market niche does focus on handheld game players. This strategy also leads to the biggest difference between Lite and its Processor, which is, Switch Lite doesn't "switch". Unlike Switch, Lite is not a two-in-one TV game and handheld console but a handheld console only. With no dock and no HDMI cable, it doesn't support the TV mode and Tabletop mode.
This makes perfect sense as many people play Switch in handheld mode all the time, so why not create a Switch with handheld version only? The battery life has been improved for that purpose. 3-7 hours, a little longer than Switch' 2-6 hours.
Hardware
One more thing needs to be noticed is that Switch Lite no longer has the HD rumble, automatic brightness sensor, and the IR Motion Camera. By that, there will be no rumble when you are playing Mario Kart or Super Mario Odyssey and you need to adjust the brightness manually.
Games
Switch Lite shares most of the games that Switch can play. The exception is that Joy-Cons needed games or games doesn't offer a handheld mode obviously not available on Switch Lite given that Switch Lite does not have Joy-Cons and does not support other modes. If you insist, there are still ways to play a game through wirelessly connecting compatible controllers (sold separately) to Nintendo Switch Lite. If using separate Joy-Con controllers, users will need to have a device to recharge them, such as the Joy-Con Charging Grip. However, the system doesn't have a kickstand like the original Switch, so it'll have to be propped up somehow.
Fresh Blood for Handheld Console
The switch has been well-received in the past two years. The popularity of Switch reveals that handheld console is still promising. Even with various mobile games popping up every day, consumers still willing to pay for the marvelous games like the Legend of Zelda. So, Nintendo redesigns Switch to be the fresh blood for and to fill the gap of the handheld console market. Since Nintendo also realizes that it actually did a better job in the handheld console when competing Switch with Sony's PS4 and Microsoft's Xbox.
For those who don't care about playing games on TV, Switch Lite is their best choice. The idea of taking and playing games anywhere is fascinating enough. Plus, the affordable price makes it worth trying. Let just wait and see what new trend Switch Lite will bring us.
If you are interested in how to watch movies on Switch, please check:
How to Stream M4V Videos to Nintendo Switch Easily
More iTunes music DRM removal tips

Rick Lee has written about business and consumer technology for nearly 25 years. He is the author of more than a dozen books.