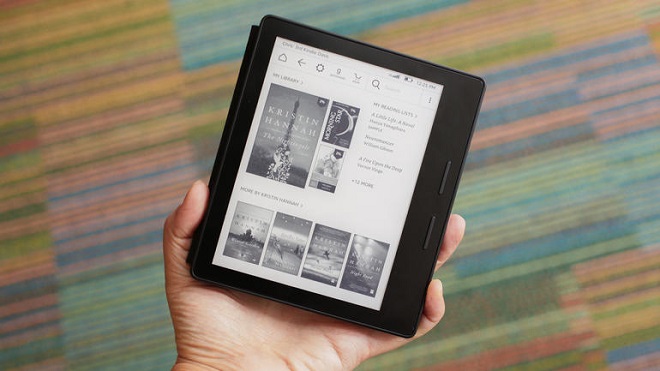 Amazon Inc. one of the largest Internet retailers focused on electronic commerce and Cloud computer all over the world, officially released its ninth-generation Kindle tablet, Kindle Oasis (2nd generation) October 31. Kindle Oasis also known as all-new Kindle Oasis marks Amazon ten-years-milestone since the release of the first Amazon e-Reader, Kindle on November 19, 2017. With the highest resolution screen, a waterproof design, and Audible integration, this all-new Kindle Oasis (2017) could be the best e-reader compared to other e-book Readers that this company has ever created.
When this Kindle Oasis came into the market, it has been considered as luxury product by the customers, since it starts from £229/$249.99 for an 8GB model and £259/$279 for the 32GB version. But in terms of functionality, you will find out it worth the extra money. Now, let's have a detailed review of this stunning Kindle Oasis.
All-new Kindle Oasis - Design
Featuring the 7-inch, 300ppi E Ink screen with a high resolution, the Oasis has three narrow bezels to just 3.4mm thick, and another side has a larger bezel next to a duo physical page-turning buttons, which is available on left or right. And which side to choose depends on your habit. This design aims to make Kindle users more comfortable to hold on Oasis while reading books. Plus, in order to make you free to read in more place, Kindle has applied finally water resistance in Oasis, as the first Kindle e-Reader with waterproof. Amazon says that when you are in the tub, the pool, or even the ocean, you can take Kindle Oasis, since it is designed to work after sink full of water for up to an hour.
All-new Kindle Oasis – Batter Life
It's worth mentioning that the Oasis equips with a powerful cover, available in three colors, Black, Merlot, and Walnut, which adds a second battery. Thanks to this cover battery, Amazon claims that Kindle Oasis can last up to eight weeks based on 30 minutes of reading a day with wireless off and the light setting at 10. Besides, the battery can be charged fully in only three hours. So it's very convenient for use Oasis to read downloaded books on the trip. It's really welcome improvement.
All-new Kindle Oasis – Audible Integration
Apart from the water resistance, another excellent feature of this year's Kindle e-Reader is that Kindle Oasis can support for Audible, the world's largest library of audiobooks. If you have already purchased Audible audibooks and Kindle books, now, it's time for you to show up them on your new Kindle Oasis. In briefly, you can use Oasis to access to thousands of e-books by making deals from Amazon Audible directly. Please note that there are no built-in speakers in Kindle Oasis. But don't worry. Instead, you can use a Bluetooth headphone or Bluetooth speaker to listen to books through Amazon's Audible service. Luckily, it's very easy to pair with Bluetooth headphones.
More Tips: Read DRM iBooks on Kindle Oasis
From what we mentioned above, you can't wait for getting this extraordinary Kindle e-Reader on hands? If you would like to switch Apple ecosystem to Amazon ecosystem, you will find out that this Kindle Oasis can't support iBooks DRM eBooks directly due to FairPlay DRM technology. So what you will do? You can only give up millions of iBooks files and turn to Kindle Oasis? Not Really! Now, you can read on this article to learn how to make iBooks DRM eBooks readable on Kindle Oasis with ease. For the purpose of reading iBooks eBooks on Kindle, the first tool you need is an iBooks DRM removal solution, called ViWizard iBook Copy for Mac, which can remove DRM protection from e-Books purchased from iBooks store with near 100% original quality preserved. When you get the iBooks DRM-free eBooks, the last thing you should do is to use the free eBook converter, Calibre, to convert iBooks ePub files to Oasis compatible format, Mobi with ease. Once you have finished both process, you will be able to read iBooks eBooks on Kindle Oasis freely.

Rick Lee has written about business and consumer technology for nearly 25 years. He is the author of more than a dozen books.