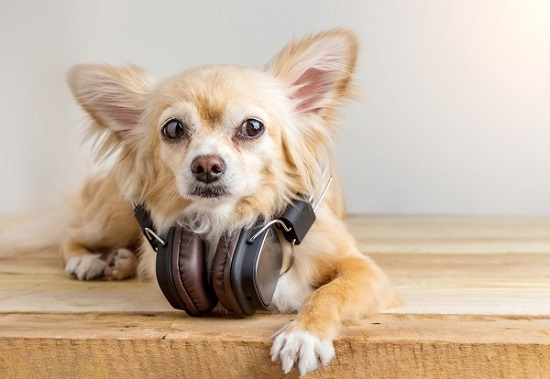 You might have played music for your dogs sometimes when they feel anxious. Now it appears things are gonna change a little bit. Inspired by a 2015 academic study revealed that audiobooks worked better than tunes to calm stressed-out pets, Audible teamed up with Cesar Millan, who has made a famous career of advising people on how to train and care for their dogs to launch Audible for Dogs, a new service designed to keep canines relaxed while their owners are away from home.
According to Millan's research at his Dog Psychology Center in Los Angeles, audiobooks are much more effective than music in relaxing dogs and reducing their stress, depression, and boredom at home. In his research, out of 100 puppy volunteers, 76 percent of dogs behaved in a more calm and relaxed manner after listening to the audiobooks over a four-week period.
"Dogs are social animals, so they need to engage with someone, and the purpose of Audible for Dogs is to make dogs feel there is someone with them," Millan said in a statement. "The person performing the audiobook is actually keeping your dog calm and taking the dog to a resting state, acting as an extension of you."
You can start with the free Cesar Millan's Guide to Audiobooks for Dogs. Other dog-focused audiobook titles are including Born a Crime by Trevor Noah, Pride and Prejudice by Jane Austen, The Art of Racing in the Rain by Garth Stein and A Dog's Purpose by W. Bruce Cameron. Each story features a video introduction by Millan, in which he explains why the book is suited for doggy ears.
If you are new to Audible, you should firstly sign up an account which provides a 30-day membership trial. To find out how to register Audible and listen to free Audible for Dogs selection, read this post: How to Download Free Audible Audiobooks.
Before you go...
When you download an Audible audiobook, you'll find that you can't play the book on certain MP3 players. That's because Audible audiobooks come with DRM protection that prevents you from copying and playing the books on non-approved devices. In this case, you should eliminate the DRM lock from Audible audiobooks. Here you meet ViWizard Audible Converter, a smart DRM removal app for audiobooks that can losslessly remove DRM from Audible books and convert the AA, AAX audiobook to common MP3, AAC, WAV, etc. You can download the free trial version below to convert the Audible books straightforward without installing iTunes.
More Audible tips & tricks

Rick Lee has written about business and consumer technology for nearly 25 years. He is the author of more than a dozen books.