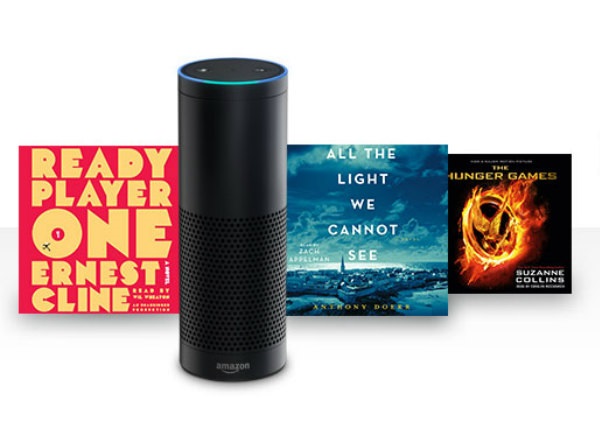 As for this week, Amazon is giving away one free audiobook to new Audible subscribers who own an Echo. In other words, if you are Echo owners, you can now ask your smart speaker to read aloud a full audiobook from Audible at no cost.
However, to gain this offer, you must be completely new to Audible, meaning you haven't signed up for Audible trial plan yet. Only Audible newbies are entitled to listen to the first audiobook for free on Amazon Echo. The best thing is that you don't even need a Prime account to Audible to get the audiobook.
After your first subscription to the trial, you will be free to choose any audiobook from over 400,000 titles in Audible library, even including the newest books and bestsellers. Simply say, "Alexa, read me …" along with the author and title of the book you want to hear, and then the title you want to hear will be played on Echo for free in full.
As for this free offer from Audible, it's regarded as Amazon's fight back to Google Play audiobook service which was introduced a few weeks ago. Since Google is allowing users easily listen to its audiobooks on Google Home with more affordable price, it's no big surprise to see Amazon pushes its own service now. Anyway, no matter what the reason is, it's all good news to Echo users.
If you however are not sure on how to join the 30-day free trial plan of Audible, you can visit this guide: How to Get Free Audible Audiobooks.
Final Words: More Tips for Playing Audible Audiobooks
It's easy to stream and play Audible books on Amazon Echo. However, as Audible audiobooks are encrypted by DRM, it's more twisty if you want to listen to the books on any other device or MP3 player. In this case, a smart Audible DRM removal tool will be needed to help you get away from DRM permanently.
ViWizard Audible AA/AAX Converter is such a reliable solution that can easily convert any of your Audible audiobooks from protected AA or AAX to MP3 or so. After that, you can freely share the DRM-free Audible books on any player without limit. For more details, this guide will help: How to Convert Audible AA/AAX to MP3.

Rick Lee has written about business and consumer technology for nearly 25 years. He is the author of more than a dozen books.