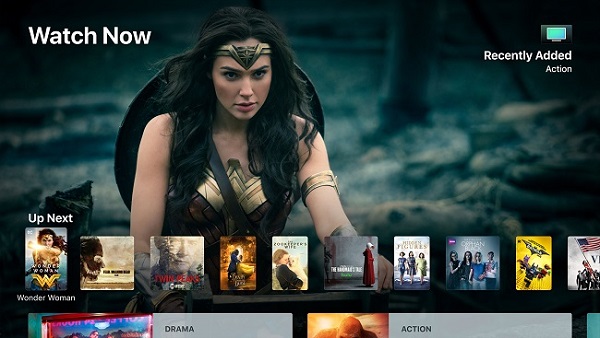 As expected, Apple finally released the new 4K Apple TV at its hardware event on Tuesday, aiming to deliver a stunning cinematic experience at home. With support for both 4K and HDR (High Dynamic Range), two most important picture technologies currently in TV world, Apple TV 4K can now work with the latest TVs, projectors and content formats for better pictures, brighter colors and generally improved visuals. Here in this review, let's check out the top new features brought by the new Apple TV 4K that you might be interested to know.
4K & HDR
Now with the coming of Apple TV 4K, viewers can enjoy a growing selection of 4K HDR movies on Apple's iTunes Store. iTunes users will find continuous upgrades of HD titles in their existing iTunes library to 4K HDR versions in the next few months. Announced by Eddy Cue, Apple's senior vice president of Internet Software and Services, Apple TV 4K will also offer 4K HDR content from other most popular streaming video services, such as Netflix and Amazon Prime Video, etc.
The new Apple TV 4K isn't just offering support for the industry standard HDR10 format, but also support the premium Dolby Vision format to ensure viewers can enjoy incredible-looking TV shows and movies on any HDR TV.
Apple TV App
Along with support for 4K output, Apple also brings live news and sports to the Apple TV app, with updated notifications that will alert you to close games, and that HD iTunes purchases will be updated to 4K for free, etc. The TV app is supposed to support more than 60 services and channels on Apple TV and iOS devices, with new services being added persistently. Therefore, you'll find it's easy to discover and watch any movie or TV show from multiple channels in one place only. Starting this month, the TV app will be available in US, Australia and Canada, while by the end of the year, it will expand to France, Germany, Norway, Sweden and the UK.
Apple TV 4K vs. Roku vs. Amazon ...
As we already know, neither 4K nor HDR are new tricks. In fact, back to a few years ago, other set-top boxes, such as Roku 4 or Amazon Fire TV 2 have already began to provide the support for 4K and HDR streaming. So how Apple TV 4K could compete with Roku, Amazon and more? We'll see.
What's the Price
The new Apple TV 4K will be open for sale on September 22. The date for pre-order is set to be September 15. It will start at $179 for 32GB and $199 for 64GB, joining Apple TV 4th generation 32GB at $149.
You may wonder how the 4K movies would cost in iTunes store. The surprise is that Apple will upgrade 1080p films that you've purchased in your iTunes library with 4K/HDR versions at no extra cost. The lower price, as time goes on, will somehow nudge competitors like Vudu to reduce their prices and offer free 4K upgrades as well. That's to say, even if you're not an Apple fan, you'll likely benefit. So cheer up.
More Useful Tips: How to Stream iTunes Movies to Apple TV 4K
Thanks to the new Apple TV, we can now play 4K iTunes movies on big screen at home. But as you should know, all iTunes movies are protected by Apple's DRM technology, so there are many restrictions that you have to pay attention to before streaming them to your Apple TV. For more details on how to stream iTunes movies to Apple TV, you are suggested to follow this tutorial: How to Play iTunes Videos on Apple TV. In case you'll need to play the DRM-ed iTunes videos on any other media player or streaming boxes, you can have a look at ViWizard DRM Media Converter, which will help you completely delete DRM lock from iTunes M4V movies and TV shows once and for all. To test it out, you can download and install the free trial versions as below.

Rick Lee has written about business and consumer technology for nearly 25 years. He is the author of more than a dozen books.