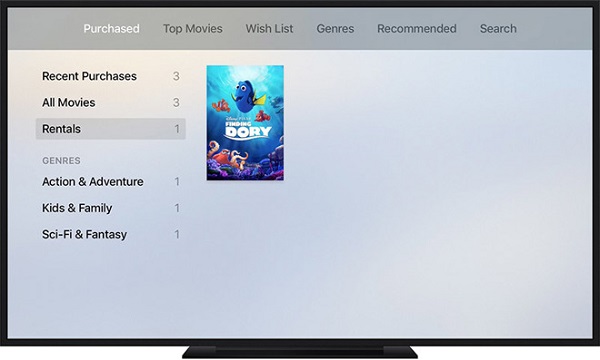 Noted by MacRumors, Apple has silently changed its iTunes rental policy in a support document alongside the launch of its new Apple TV 4K on September 22. Specifically speaking, iTunes users now got 48 hours to finish their rented iTunes movies in United States, while the previous time limit for iTunes movie rentals is only 24 hours. Now as the iTunes rental period has been doubled, it will be perfect for iTunes users who want to watch a movie over and over. And as always, iTunes customers still have 30 days to keep the rented movie before starting to watch it.
More about iTunes Movie Rental: Requirements & Restrictions
Before the update, U.S. users only had 24 hours to finish watching their rented iTunes films. However, in fact, iTunes has previously offered 48-hour rental period in other regions of the world except U.S. This is a long-awaited and welcome change for iTunes users who are living in United States. To help you understand better about iTunes movie rental, we are going to list some other essential requirements and restrictions you should know before renting the movies.
iTunes Rental Compatible Devices
iTunes movies can be rented on iPhone, iPad, iPod touch, Apple TV and a Mac or PC with the latest version of iTunes. For iOS devices, you should confirm they are running iOS 3.1.3 or later. Otherwise there could be some unexpected problems occurring during the process. Once rented, you're not restricted to the device you rent on. You can watch the rental on any supported device that you've logged into with the same iTunes account.
How to Rent iTunes Movies
To rent a movie from iTunes, simply find the target movie, then hit the Rent button next to the film. There is an option called Watch Later on Mac, PC and Apple TV, or Not Now on iOS devices. You can then download the movies to watch offline, with a tap on the little cloud and down arrow button.
Renting 4K HDR iTunes Movies
If you are attempting to rent the new 4K iTunes movies, you should be aware that the 4K titles can only be streamed and not downloaded locally. According to Apple's statement, 1080p movies can be downloaded. Besides, some "HDR and Dolby Vision versions" of movies might be available to save locally, but not 4K resolution.
More Tips: How to Remove DRM from Rented iTunes Movies
Before you go for the iTunes rentals, you are suggested to take a glance at the solution here which will help you get more out of iTunes movie rentals. As you know, movies in iTunes Store are protected by FairPlay copyright technology. In result, all iTunes videos, including the rented and purchased ones are not supported by other devices, but only sticked to Apple's only. In this case, if you want to take a full control of the rented movies and even get rid of the 48-hour time limit, you'll have to find a way to remove the DRM protection completely and permanently. That's what we are talking about here. ViWizard DRM Media Converter for Mac/Windows is such a smart iTunes DRM removal software that's specially developed to crack DRM lock from rented and purchased iTunes movies for good by preserving the original movie quality. For more details and complete guide to remove DRM from iTunes rentals with ViWizard, you can follow this instruction: How to Remove DRM from iTunes Rented Movies.
More tutorials you may like

Rick Lee has written about business and consumer technology for nearly 25 years. He is the author of more than a dozen books.