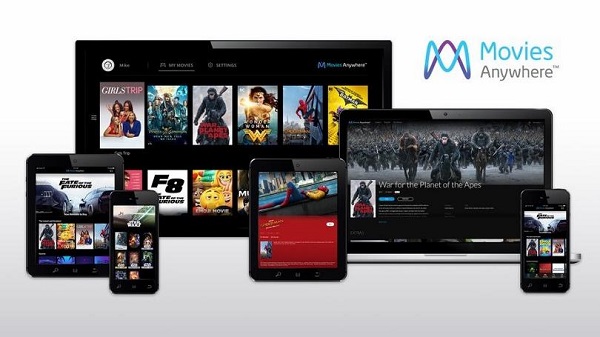 Still feel inconvenient that you can't play iTunes digital movies on Android or other non-Apple devices due to DRM protection? Not any more! With Movies Anywhere, you can now access your iTunes, Amazon, Google Play and Vudu movie libraries all in one place. As a new free streaming service launched on October 12 by Disney, Movies Anywhere acts like a digital locker for the movies you've purchased from various online retailers, such as iTunes, Amazon Video, Vudu and Google Play. That's to say, using a single app, you can now connect Movies Anywhere to your iTunes and other movie accounts in order to access all the eligible movies you've purchased from different retailers on various devices and operating systems.
Movies Anywhere: What is It?
Disney first launched Disney Movies Anywhere app in 2014 allowing people who purchased Disney movies to watch them online or on a mobile device. Four other major studios, including Twentieth Century Fox, Sony Pictures, Universal, and Warner Bros joined this plan to make it possible for you to watch all movies you've purchased on all of your devices from one app.
The new Movies Anywhere is a revamped app that combines different movie streaming services together on one device. Thanks to Movies Anywhere, digital movies you've purchased or digital codes you've redeemed will now be available across all of your platforms and services.
How to Sign Up Movies Anywhere Account
At launch, Disney is offering five free movies, including Big Hero 6, Ghostbusters (2016), Ice Age, Jason Bourne (2016) and The Lego Movie for users who sign up Movies Anywhere and link two or more supported accounts to this service.
Currently it's only available in the U.S. If you live in United States and have multiple supported accounts, you can follow these steps to set everything up.

Step 1. Go to Movies Anywhere website and sign up for an account. You can register with either Facebook, Google account or an email address and password.
Step 2. Once logged in, click on your User profile in the upper right corner of the website. Then click Manage Retailers and you'll find the list of supported accounts. Simply select any service you want to connect to Movies Anywhere and click Connect button next to the accounts. As mentioned before, if you connect at least two services to Movies Anywhere, you'll score five free movies.
Note: If you're using a desktop browser to set up your connection to iTunes, you'll need to have the desktop client of iTunes installed on your computer.
Step 3. After connecting your iTunes and other accounts to Movies Anywhere, you can start watching all movies on almost all popular device through Movies Anywhere app.
What Devices Support Movies Anywhere
You can access Movies Anywhere on both computer and mobile devices as well as media streaming boxes. It's supported by almost all popular devices and platforms, including iOS, Apple TV, Amazon Kindle, Android, Chromecast, Roku, PC and web browsers.
Tips for iTunes Users - Watch iTunes Movies Everywhere including VLC, WMP ...
Although Movies Anywhere makes it easy for you to enjoy your iTunes movies on all kinds of devices, it still lacks some commonly used platforms. Here we mean the media players like VLC, WMP, KMplayer, etc. What if you want to watch iTunes movies on PC with those media players? Don't worry. All you'll need is a smart iTunes DRM removal tool like ViWizard DRM Media Converter, which will help you remove iTunes DRM and convert those iTunes movies from protected M4V to common MP4, MOV, etc. formats supported by VLC and other media players. For more details about iTunes movies and DRM, you can read on the following tutorial to find out how to losslessly remove DRM from iTunes movies on Mac and Windows.

Rick Lee has written about business and consumer technology for nearly 25 years. He is the author of more than a dozen books.