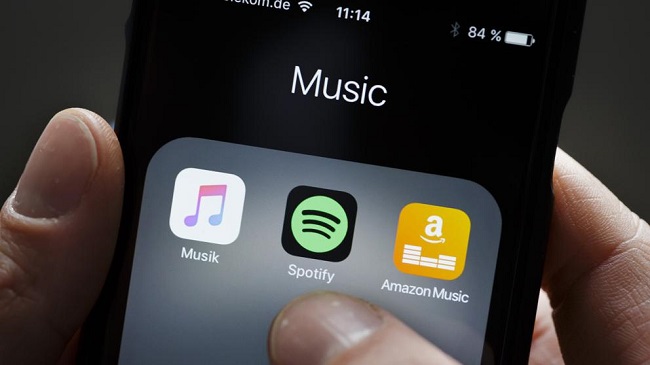 With the rise of streaming music, people are able to listen to all popular songs and compositions at homes, offices, or any place where their devices can connect to the internet. Reports say that there are already more than 100.4 million paying subscribers in streaming music market by the stroke of midnight on the 31st December, 2016. As that number is still growing fast while there is a large number of music streaming services, it's getting more important to choose a better one among them. So if you're just one of those 100M subscribers or thinking about giving it a try, how should you choose the streaming music service? What factors do you mainly consider about? Or in other words, how do you know whether you are using the best streaming music service? To answer these questions quickly thus to help you choose the best music streaming service from all of them, such as Spotify, Apple Music, Pandora, Tidal, etc., here we collect some useful tips that may help you in choosing the best online music service.
Price & Subscription Fees
For most people, the cost to become a member could be the first main consideration before signing up. Fortunately, the top online music streaming services have similar monthly subscription fees, say, around $10 per month for access. You won't find much difference in price between the various services if you're a single user. However, the features offered at each tier may vary. For example, Spotify offers a family plan for $14.99 per month with up to 6 family members. Google Play Music offers an identical package for an identical price, as do Tidal and Apple Music. The biggest providers also offer student discounts, some as much as 50 percent.
Music Catalogue & Exclusives
As the costs are more or less similar for those top players, music library appears to be the most important consideration when choosing the streaming service. To tell which music streaming service provider could be your best choice, the first thing you should confirm is your music taste. That's to say, the music service you are choosing should match up with your favorite music style. For example, although all popular streaming music services own millions of songs in their libraries, Spotify is well-known for making it easy to discover smaller bands and upcoming artists, while Apple Music has quickly established a reputation for guiding you towards the biggest names in the music world.
Besides, the "artist exclusives" offer counts a lot if you are those music enthusiasts who are yearn for fresh releases at first hand. Some new albums are being pre-released on a particular service months ahead of both the public release and the release onto other platforms. For example, Drake's Views, Frank Ocean's Blondes, and Chance the Rapper's Coloring Book were all Apple Music exclusives, while Beyonce and Kanye West put Lemonade and The Life of Pablo on Tidal.
Music Sound Quality
Music quality can't be a big problem to consider if you listen to the songs through regular headphones. If you're an audiophile who care much about the quality with an expensive smart speaker system installed, then when signing up a music service, you need to subscribe to a platform which offers high-quality audio. For instance, Tidal is the most well-known high-fidelity music streaming service. But if you have a Sonos system, you can subscribe to Deezer Elite, which encodes the music in FLAC (16-bit and 1,411 Kbps). Similar options include Qobuz and OraStream. In contrast, the highest quality provided by Spotify's streaming only gives you 320 Kbps while Apple Music sticks to a lower 256 kbps.
User Interface & Ease of Use
Another factor that should be taken into consideration when choosing music streaming service should be the user experience. In other words, the user interface and the convenience to control the music. That also depends on the frequency you use the service. If you're using the music app every day, then a user-friendly app could be a priority to choose over some complicated ones, as you should know that dealing with serious annoyances can be enough to make you cancel your subscription one day. The biggest piece of advice we can give you is to do your research before committing to a particular streaming music service with those questions in mind: do you value more for function or appearance? Do you need to access a particular song more easily? Which part of the user experience is most important to you? ...
Compatible Devices & Available Regions
Although most services offer a web app along with both Android and iOS releases, you should think more about your preferred way to listen to the music before you make a decision to subscribe any music service. For example, if you like listening to music while you're traveling or driving, you need to be able to download the songs onto your device so you can keep listening even when you are under poor network coverage. But not all music plans offer offline listening. Besides, for those who support offline listening, such as Apple Music, you'll find it's impossible to copy and offload those downloaded songs to other devices and platforms for listening, nor will you are allowed to burn those offline music streams to CDs.
Additional Tips: In fact, the playback limit you got from Apple Music is caused by the technology created by Apple, that is the well known FairPlay DRM copyright protection. But don't be upset. If you subscribed to Apple Music and want to get rid of the DRM lock so that you can play the offline songs on any media player, then you can simply use a third-party DRM removal tool for Apple Music to convert the M4P songs to MP3 or other common formats. Here you are suggested to try ViWizard Apple Music Converter, a smart DRM M4P converter software to help you easily convert your downloaded Apple Music tracks from M4P format to DRM-free MP3, AAC, M4A, M4B, WAV, FLAC, etc. on both Mac and Windows OS. For the complete guide, please vistit: How to Convert Apple Music to MP3.
Further more, most of those music streaming services are location-dependent. You won't be able to sign up to a plan if you live outside a supported region? For example, Spotify is unavailable in much of Eastern Europe. Similarly, Google Play Music is available in Australia but lacks support in much of Southeast Asia.
Conclusion & Suggestion
You see, it's not that difficult to choose the best streaming music service right for you. All of the available services have their strengths, and all of them let you play music on demand. You should simply decide which part of the music streaming matters the most for you. If you still can't make up your mind, taking advantage of the free trial will also help you decide if that music streaming service is good enough for you to use.

Nick Orin is a review writer, software geek and Mac OS enthusiast. He spends all his free time in searching useful software and gadgets to share with others.