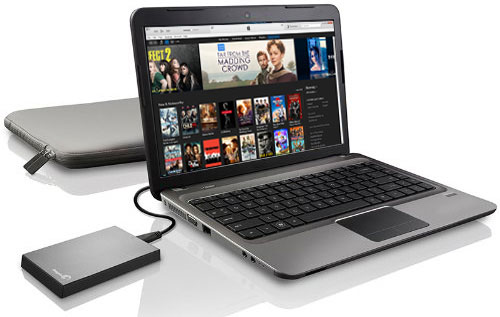 It's always necessary to make backup of your iTunes movies and other media files if you have a large and increasing iTunes library that could gradually swallow your computer hard drive space. Another important reason to back up iTunes media regularly is that you can make the iTunes files more safe in case your local copy getting lost or damaged. With a thorough backup of iTunes, you don't have to manually re-build or re-buy thousands of tracks if you accidentally deleted them. So, to make sure you never lose any of these content, you need to perform periodic backups for iTunes library. Fortunately there are many easy yet effective ways to back up your iTunes library. In the following article, we'll introduce 4 most popular solutions for you to back up your iTunes library, especially the iTunes movies and TV episodes. You can choose any method according to your own needs, mainly depending on your choice of destination for saving those files.
Method 1. How to Back Up iTunes Movies to Cloud Storage
Apple's iCloud puts an emphasis on integration with iTunes. It can be used to store any media that you purchased on iTunes so that you can enjoy any of the videos you download, rent, or buy from iTunes on an Apple TV, PC, or iPad by using your iCloud account wherever there's internet. Your iCloud backup includes information about the content you purchased, but not the purchased content itself. When you restore from an iCloud backup, your purchased and rented movies will automatically downloaded from the iTunes Store. Initially you get 5GB of free storage in iCloud and you have the option to choose a plan for up to 2TB. More iCloud storage means more space to store your movies so they're always available from any device.
Of course, you can also take a backup of iTunes movies with other cloud storage services, such as Dropbox, Google Drive, Amazon Cloud Drive, etc. Take Dropbox as an example. Firstly, you should ensure there is sufficient memory space available in your Dropbox account to save the iTunes movie backup. If not, you would either need to free some space or buy additional memory. You can either log into your Dropbox account via the website or desktop app. Find the Upload button and you can freely choose as many as iTunes movies from iTunes Media Folder on your computer and upload them to Dropbox for backup.
Method 2. How to Back Up iTunes Movies to External Hard Drive
Another popular way of backing up iTunes movies is saving iTunes library to external hard drive. The following guide will show you how to back up iTunes library to external drive step by step.
But when it comes to back up iTunes movie files to external hard drive, things become totally different, as iTunes movies are protected and encoded by Apple's DRM copyright policy. That's to say, when you are trying to copy iTunes movies from computer to the external hard drive, you'll be prompted with the error message stating the video format is not supported by the hard drive at all. When you meet this situation, the only workaround is find a special tool to crack the DRM lock from the iTunes movies and TV shows once and for all. Here we are talking about ViWizard DRM M4V Converter, an one-stop solution to remove DRM encryption from iTunes videos and convert the DRM-ed M4V to unprotected video formats supported by common external hard drives. It only takes a few clicks to bypass the DRM completely from the iTunes M4V movies and move all iTunes videos to external hard drive.
Step 1. Download and install ViWizard DRM M4V Converter for Mac or Windows according to your computer systems.
Step 2. Launch ViWizard iTunes M4V Converter and add the iTunes movies or TV episodes by clicking Add Files button. Or drag the movies to the conversion interface directly.
Step 3. Select output format as you like. Click Convert to begin removing DRM from iTunes videos.
Step 4. Once converted, find the DRM-free iTunes movies so that you can transfer to your external hard drive without limit.
Method 3. How to Back Up iTunes Movies to DVD
Burning iTunes movies to DVD discs is also a popular backup method. By choosing this method, it's necessary to find out a powerful DVD burner that could enable you burn the iTunes movies to the discs. However, as mentioned above, iTunes movies are protected by FairPlay DRM, it's impossible to burn those locked video files to DVD unless the DRM is removed. So if you want to back up iTunes movies to DVD, the first important thing is getting rid of DRM from the iTunes movies. In this case, ViWizard DRM M4V Converter will help you get it done with ease. You can simply visit the following guide to learn how to burn iTunes movies to DVD for backup with the assistance of ViWizard DRM Media Converter.
Method 4. How to Save iTunes Movies to USB Drive
Although it sounds similar to the second way, backing up iTunes movies to USB drive could however make it more flexible to enjoy the backed-up videos at anytime anywhere since the USB stick is smaller and easier to carry around. The same problem here is that it still needs you decrypt the DRM lock from iTunes movies before syncing them to USB flash drive for backup. You are not allowed to transfer the iTunes videos to any USB drive as the files are protected by DRM. Don't forget ViWizard. The smart iTunes DRM cracker is here to help. You can easily remove DRM from iTunes movies and back up them to USB stick by using ViWizard DRM M4V Converter. Here's the complete guide of saving iTunes movies to USB you can refer to.

Nick Orin is a review writer, software geek and Mac OS enthusiast. He spends all his free time in searching useful software and gadgets to share with others.