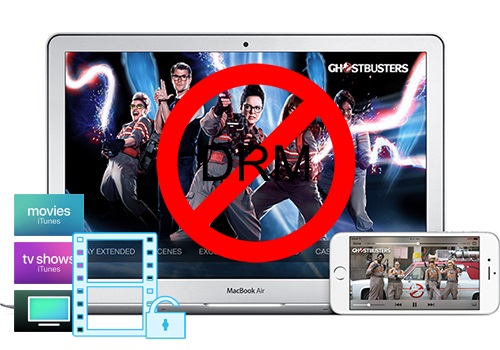 You may be unfamiliar with DRM, but you must have encountered the following scenarios if you buy digital media online:
Movies bought from iTunes can't be copied to any Android smartphone or tablet for watching.
iTunes movie rental disappear before you finishing watching it.
It seems impossible to transfer Spotify music to iPod.
Failed to share any Audible book to another account.
...
Yes, the cause of those problems is all by DRM, known as Digital Rights Management, because of which we have no right to decide how we should use our legally purchased media as we wish. As there are multiple types of DRM technologies right now, here we are going to focus on the major one named FairPlay that's widely used on iTunes movies and TV shows.
What's FairPlay DRM & How It Ruins iTunes
FairPlay is an encryption method created by Apple in purpose of protecting its iTunes media content, including movies, TV episodes, music videos, songs, books, etc. In result, all iTunes videos are encoded in protected MPEG-4 (also known as M4V) that can only be recognized and supported by Apple's devices. Worse still, for users who rent movie from iTunes Store, they only get 30 days to watch the film and 24 hours (in US) or 48 hours (in other countries) to finish watching it once started. Even for purchases, customers are only authorized to put the videos on up to 5 machines. From what we can tell, although the FairPlay does great help to preventing piracy and unauthorized sharing of digital items, it's somehow unfair for people who pay for the service. So a fight for a solution is just around the corner.
ViWizard vs. Requiem: Which Is Better for iTunes DRM Removal
To get away from FairPlay DRM, the key point is to find out a great tool that can completely remove DRM from iTunes movies. The good news is that there are so many iTunes DRM removal software out there. Among all the top-rated iTunes DRM removers, two of them stand out due to their amazing performance and quality, namely Requiem and ViWizard DRM Media Converter. One is totally free while the other is not. But before we get started to compare those two iTunes DRM removal tools, there are some background info you need to take a note.
"Requiem stopped at v.4.1 due to more complicated DRM enforcement included in iTunes 11 in 2012. Therefore, Requiem only works well with old iTunes 10.7 or lower versions. On the contrary, ViWizard DRM Media Converter fully supports the latest iTunes v.12.6.2."
Now we will make a head-to-head comparison between ViWizard DRM M4V Converter and Requiem 4.1 from different aspects, including ease-of-use, conversion method, quality, speed, etc. so that you can make better decision on which to choose when attempting to remove DRM from iTunes movies.
Part 1. Conversion Process: ViWizard is Easier than Requiem
Here we'll take Windows version of both programs as an example to show you the differences one by one. Firstly, let's look at ViWizard DRM M4V Converter.
By clicking the download link of ViWizard above, we can install the software in seconds. Upon launching the program, we can see a well-designed user interface with clear buttons and lay-out as below.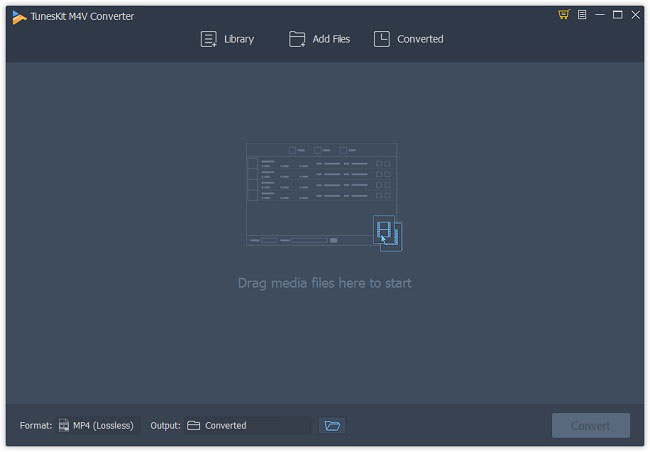 To remove DRM from iTunes videos (including purchased and rented movies) with ViWizard, you should authorize your iTunes account to play the videos in advance. Then you got two options to add the iTunes M4V files to the converter, including drag-and-drop and clicking "Add Files" button at the top center. Then navigate to Format part to choose an output format. Currently ViWizard M4V Converter for Windows only supports two lossless formats, including M4V and MP4 that's able to keep 100% lossless quality of the iTunes movies, including AC3 5.1 audio tracks, CC subtitles, and much more. Once the settings are ready, click "Convert" button and it will losslessly remove DRM from your iTunes videos at a super fast speed of 30X.
Tips: if you are looking for more output formats and profiles, the Mac version could be a better choice as it supports MP4, M4V, MOV, AVI, FLV, MKV, DVD, iPhone, Samsung Galaxy, HTC, Xbox, etc.
Now let's move to Requiem 4.1 that needs more time to install. As mentioned before, it supports iTunes 10.7 or older versions only. So we have to install iTunes 10.7 firstly. Besides, it requires Java so the Java Runtime environment should be installed too. In order to keep subtitles and other metadata for the iTunes videos with Requiem, you're suggested to run mkvtoolnix and CCExtractor before launching Requiem.
Once launched, Requiem will begin to scan your iTunes library for any protected files, then remove the DRM encryption. After that, it will delete the original iTunes movies by replacing them with the DRM-free versions it converted to.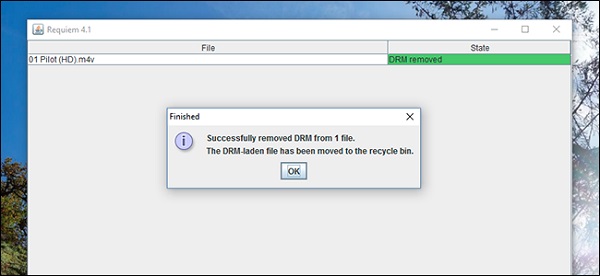 According to our test, the conversion speed of both tools for a same iTunes movie make no big difference.
Part 2. Output Quality: Requiem Promises True Lossless
When it comes to the video quality converted by both tools, there are also some differences need to be noted, although both claim lossless output.
Generally speaking, Requiem is doing better in this part as its conversion is truly lossless. To be specific, Requiem accesses a user's unique iTunes authorization keys and actually removed the DRM from the original file itself, similar to the process of decrypting an encrypted file, which result in a DRM-free file that was identical in quality to the original.
However, the DRM removal process of ViWizard will only be lossless for video and 5.1 track. That's to say, you won't lose any quality if the original iTunes video contains AC3 5.1 audio track. But when it comes to stereo AAC track, or the iTunes video with a stereo track only, ViWizard will encode the AAC track which will cause a small loss in the output audio quality.
Conclusion & Suggestion
To sum up, if you concern more about the video quality, you'd better use Requiem as it produces completely lossless quality without re-encoding at all. But if you don't want to go back to the ancient iTunes, ViWizard DRM Media Converter is the better choice. No matter which one you choose, you should make sure what factor you really care.

Nick Orin is a review writer, software geek and Mac OS enthusiast. He spends all his free time in searching useful software and gadgets to share with others.