Since its inception in 2008, Spotify has grown to become one of the most popular digital audio streaming services in the world. Today, you can access Spotify from over 60 countries across the globe. It has over 200 million users, making the no.1 audio streaming platform.
Notably, over the last three years, Spotify has been increasingly venturing into the podcasting world. In fact, plans are underway to update its application interface to facilitate easy access to podcasts by its users. The latest acquisition of Gimlet Media goes to show how sincere Spotify is in the quest to develop the podcasts platform for its fans.
As these efforts intensify, we are going to look at what Spotify has achieved as far as podcasting is concerned. This article will in great details attempt to establish the best Spotify podcasts of 2019. Am not sure what your best Spotify podcasts this year is, but for me there are a couple great podcasts that I have grown to love. Well, let's find out the top 10 best podcasts on Spotify in 2019. The countdown starts!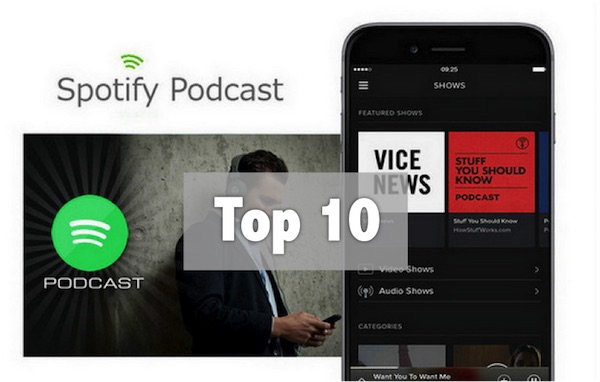 Hosted by the chief editor for 'The Fader', Naomi Zeichner, showstopper is an original Spotify podcast that attempts to shed light on the use of memorable music in TV shows. The content of the work is significantly dominated by interviews with a whole range of artists, music supervisors and production staff, as well as show runners involved creation of classic and iconic music. Showstopper episodes usually run for about 20 or so minutes. A new episode is released after every two weeks. Just make sure you do not miss out on inspirational interviews with Naomi.
The show is popularly known for a number of controversial public feuds 'beef' with renowned artists such as Eminem, Complex, Pusha T, Chance The Rapper to mention a few. Old school former rapper, Joe Budden has hosted the show since its inception in February 2015.  Initially, the show was called "I'll Name This Podcast Later," It has since then grown to be one of the most followed podcast on Spotify. Last year, Joe and his co-host signed a deal that gave exclusive airing rights to Spotify. This means that is only on Spotify that can catch the latest episodes of 'The Joe Budden Podcast'. The episodes air twice a week.
Like showstopper, Dissect is also a music-oriented podcast on sporty and equally one of the best Spotify podcasts 2019. However, things are done a little differently in comparison with showstopper. They profoundly look at one album per season and each track form one episode. For example, season one expounded on "To Pimp a Butterfly" on Kendrick Lamar. Subsequently, Season 2 looked at "My Beautiful Dark Twisted Fantasy" by Kanye West.
The particular podcast is significantly tailored towards establishing the current dynamics of both music and culture. This makes it one of the best on Spotify podcasts. More specifically, the Microphone Check podcast focuses on the interactions between hip hop music and the outside world. The podcast is chat-based. The show is co-hosted by Frannie Kelley (a journalist) and Ali Shaheed Muhammad (a founding member of Quest community); they interview different guests every week. The podcast does not have a fixed airing schedule. Sometimes it might be a week or even one month to view the next episode.
It is undeniably one of the most popular German-language podcast. It is so popular that even non- German speakers love watching it. Last year, the show featured as the topmost listened podcast on Spotify. We will probably see a repeat of the situation this year. In the off chance it happens, then Fest and Flauschig will be the best Spotify podcasts 2019. Comedians Jan Böhmermann and Olli Schulz host the show.
It is the podcast to watch especially if you are a Motosport fan. The podcast came along after collaboration works between Spotify Studios and Dorna Sports. In fact, the series started off the years and seen an incredible following. Currently, they have an ongoing interview with legendary racer Casey Stoner.
It is simply an R&B podcast. Two seasons have already been released in 2017 and 2018. The 2019 season is just around the corner. So much anticipation is building up. Are and Be podcast is managed by Spotify's Global Head of R&B and Soul.Currently, it serves as a platform where R&B artists share their experience stories. Usually, every episode goes for around thirty minutes.
This Spotify original podcast targets the LGBTQ community across the globe. David Olshanetsky, the TheShitneySpears.com founder host the show. Apart from discussing issues touching on the LGBTQ community, the show also sheds light on matters relating to the internet, pop culture among others. New episodes are available every Tuesday. If you can access one, then it means that they are on a break like they often do.
The podcast feature artists who have done cover versions of popular songs across the globe. Cover songs artists are invited to the show to share their stories relating to the creation and production of the covers songs. The show has brought on artists such as Shawn Mendes and Meghan Trainor where they discussed their cover songs "Use Somebody," and "Normal," respectively.
The show first aired on Spotify on June 2018 courtesy of Amy Schumer, an American stand-up comedian. The show is co-hosted by other three comedians Rachel Feinstein, Keith Robinson, and Bridget Everett. The show is mainly dominated by a whole range of topics from sex, to love, and politics among others. They also go further to gossip about themselves making the show very lively and exciting. So far they have two series, and a third is expected to air soon.
The Final Words
All you need now is to create an account with Spotify and get to enjoy the best Spotify podcasts of 2019 at the comfort of your room. If you are using the paid account of Spotify, you can easily download the podcasts onto mobile devices and enjoy them on the go. If you are free user but also want to listen to Spotify podcasts offline on any device, you should use ViWizard Spotify Music Converter, a 3rd-party Spotify downloading tool that can save and encode Spotify podcasts to offline MP3 or other common formats with the original ID tags preserved.
You can download the free version of this smart tool as below and follow this guide: How to Download Spotify Podcast with Free Account to listen to Spotify podcasts offline.
If Spotify is yet to reach your country, do not worry much. You can as well operate from a trusted VPN provider. Tell me your best podcast on Spotify on the comment box below.
More Tips You May Also Like

Matt Smith is an amateur writer engaged in ViWizard in 2013. He is a movie lover who write a lot of movie reviews for many websites and blogs.