People love to explore new things and get to hear new stories. Some love reading, others love watching, while majority love to listen. Listening to new stories is a great experience as you take a sip of your favorite drink in a cool corner. Spotify is one of the best websites where you can easily find your favorite audiobooks. It provides a variety of books and most of them are free. All you need is just get connected to the internet and start listening to the audiobook.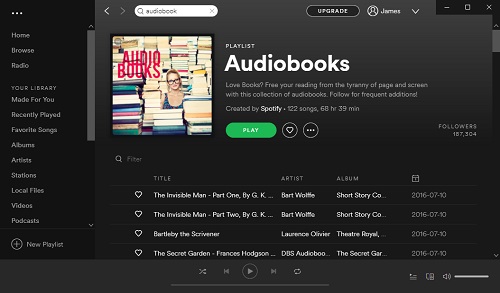 Why listen to audiobooks on Spotify? There are a number of reasons. Among them, one of the most important reasons is that the audios are of great quality with no sound effects or double voices. This article is going to show you how you can find audiobooks on Spotify and provide a list of top 10 audiobooks on Spotify. Here we go:
Part 1.

How to Find Audiobooks on Spotify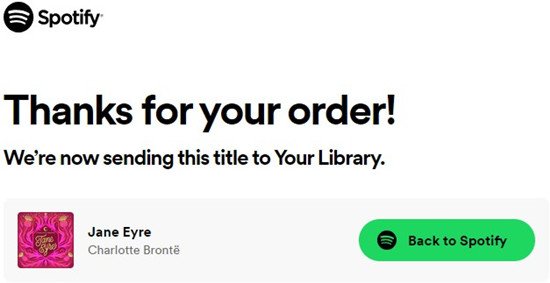 Are there audiobooks on Spotify? Yes, now audiobooks are available for listening on Spotify, and you can easily find them on its platform.
Step 1. To find audiobooks on Spotify, start by opening the Spotify app or web player on your device. Make sure to log in to a Spotify account. You can sign up for a free account with your phone number, Apple ID, or email address.
Step 2. You can find audiobooks on Spotify through the basic Search feature. Click on the "Search" button in the side menu.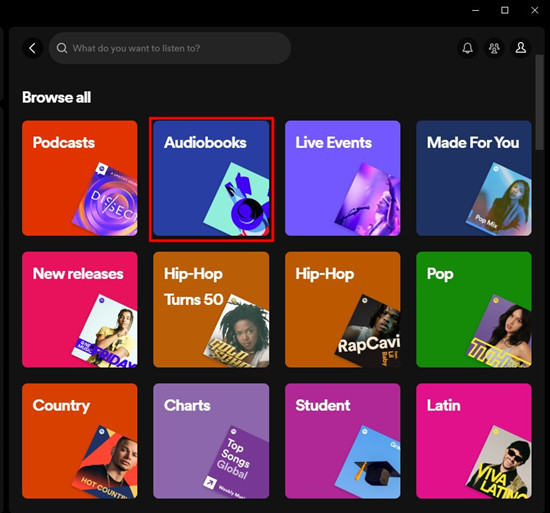 Step 3. You will see several genre category filters there. Look for a category filter called "Audiobooks" and click on it. Alternatively, you can type "Audiobooks" in the search field and hit Enter. From there you can go in to the Audiobooks genre.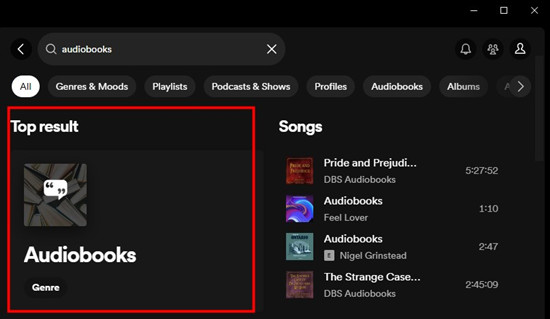 Step 4. Once you've entered the audiobooks' page, you can look at audiobooks that appeal to you. If you've found free titles, you can directly click the "Get" button to save them to your library.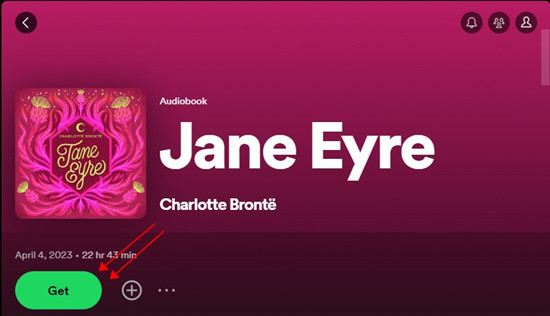 Part 2.

Top 10 Audiobooks on Spotify

Here we pick the best 10 audiobooks on Spotify that you can listen to at your free time, and the best part is some of them are free to listen to!
#1. "Little Women" by Louisa May Alcott, narrated by LibriVox Community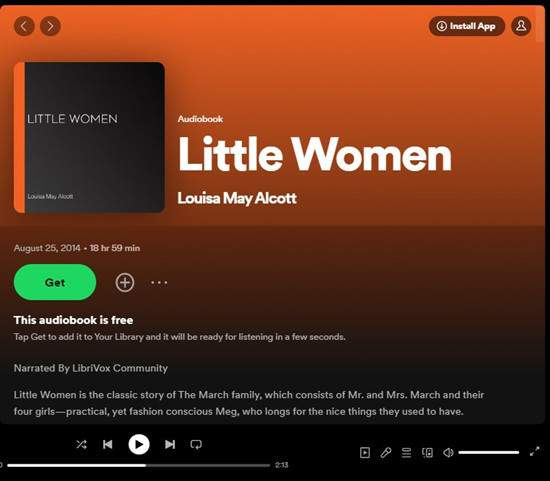 Step into the lives of the March family during the Civil War era. Follow the journeys of Meg, who yearns for her family's past comforts; Jo, an aspiring writer who defies societal expectations; Beth, a gentle soul with a love for music; and Amy, a young artist with dreams of grandeur. As their father serves in the Union army, the girls navigate challenges and build lasting bonds, forming friendships that transcend differences.
#2. "Me" by Elton John, narrated by the author and Targon Egerton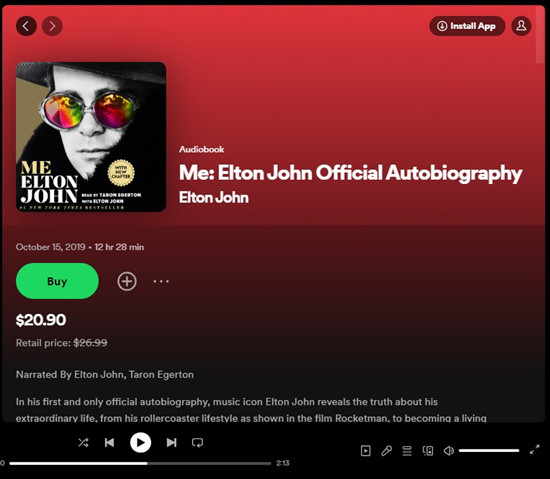 Immerse yourself in the candid autobiography of music legend Elton John. From his origins as Reginald Dwight to his meteoric rise in the music industry, Elton shares the highs and lows of his life. He delves into his iconic performances, personal struggles, and transformative experiences. This audiobook offers a unique glimpse into the world of a living legend, his music, relationships, and the evolution of his identity.
#3. "Room" by Emma Donoghue, narrated by Michal Friedman, Ellen Archer, Robert Petkoff, Suzanne Toren
Experience the remarkable story of Jack and his Ma, confined within the walls of "Room." As Jack's entire world revolves around this small space, his Ma nurtures his growth and imagination while shielding him from the harsh reality beyond. Their resilience and profound bond are put to the test when they embark on a journey toward freedom, confronting the unknown and facing the challenges of reintegration into the outside world.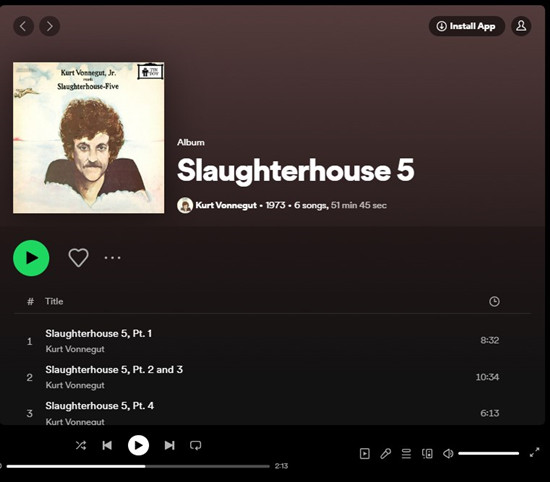 Immerse yourself in the unconventional narrative of "Slaughterhouse-Five," guided by the compelling narration of Santino Fontana. This anti-war novel follows the life of Billy Pilgrim, a soldier who becomes "unstuck" in time, experiencing moments from different periods of his life non-linearly. Vonnegut's distinctive blend of dark humor and poignant reflection presents a unique perspective on the horrors of war, focusing on the bombing of Dresden during World War II.
Through Billy's disjointed journey, the audiobook explores themes of fate, free will, and the lasting impact of trauma. Santino Fontana's narration captures the essence of Vonnegut's narrative style, making this audiobook an engaging and thought-provoking experience that challenges traditional storytelling conventions.
#5. "The Great Gatsby" by F. Scott Fitzgerald, narrated by Scott Shepherd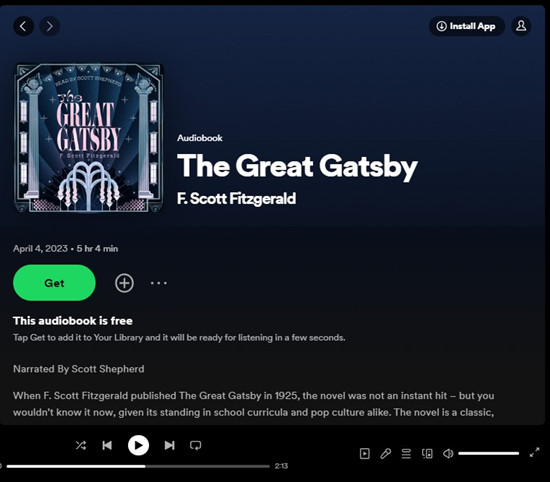 Immerse yourself in the opulent yet tumultuous 1920s through the eyes of Nick Carraway, who becomes entangled in the lives of the wealthy and enigmatic Jay Gatsby and the captivating Daisy Buchanan. F. Scott Fitzgerald's timeless novel explores themes of wealth, love, and the pursuit of the American Dream, painting a vivid picture of the Roaring Twenties and the complexities of human desires.
#6. "The Hunger Games" by Suzanne Collins, narrated by Tatiana Maslany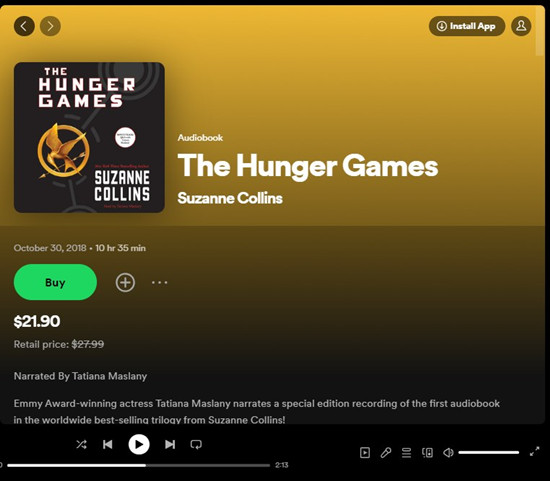 Enter a dystopian world where the Capitol reigns and the districts are under its oppressive rule. Sixteen-year-old Katniss Everdeen volunteers for the Hunger Games to save her sister, setting in motion a tale of survival, rebellion, and unexpected alliances. Tatiana Maslany's narration brings depth to the characters and the challenges they face, capturing the intensity and emotion of the gripping story.
#7. "The Raven Boys" by Maggie Stiefvater, narrated by Will Patton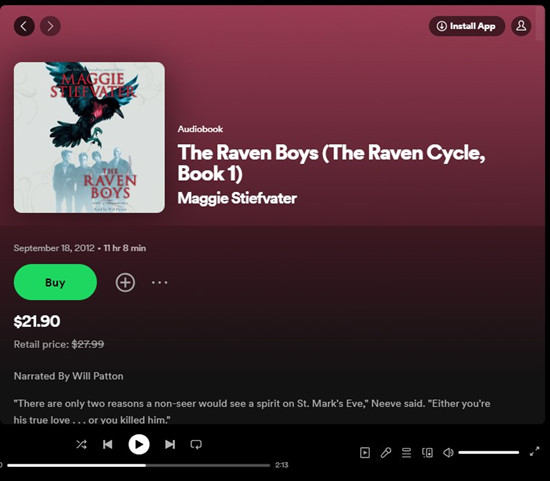 Immerse yourself in Maggie Stiefvater's mesmerizing world where Blue Sargent, born into a family of psychics, crosses paths with the enigmatic Raven Boys: Gansey, Adam, Ronan, and Noah. As they delve into the quest for an ancient Welsh king and encounter supernatural forces, their lives intertwine in ways that challenge fate and reveal the intricate bonds between them.
#8. "Frankenstein" written by Mary Shelley, narrated by David Dobrik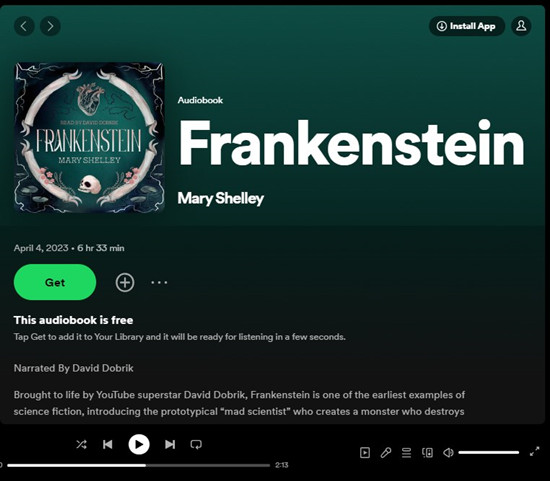 Explore Mary Shelley's groundbreaking work through the narration of David Dobrik. Victor Frankenstein's experiment to create life leads to unforeseen consequences as he grapples with his own ambitions and the ethical implications of his actions. This tale delves into themes of creation, responsibility, and the boundaries between science and morality.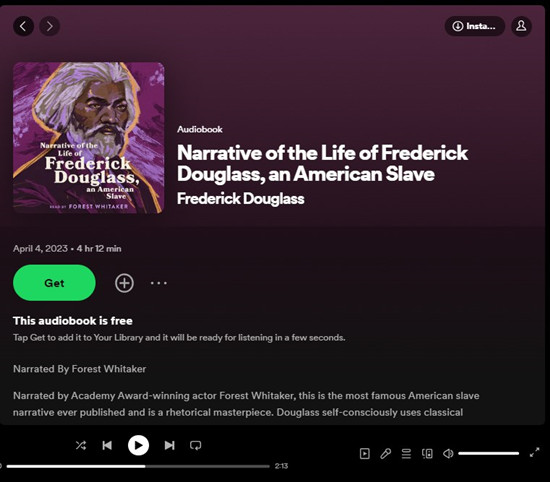 Forest Whitaker lends his voice to narrate the powerful autobiography of Frederick Douglass, a former slave who escaped to freedom. Douglass's narrative offers a firsthand account of the brutalities of slavery and the resilience of the human spirit. His journey from bondage to liberation serves as an enduring testament to the strength of those who fought for their freedom.
#10. "The Awakening" written by Kate Chopin, narrated by Hilary Swank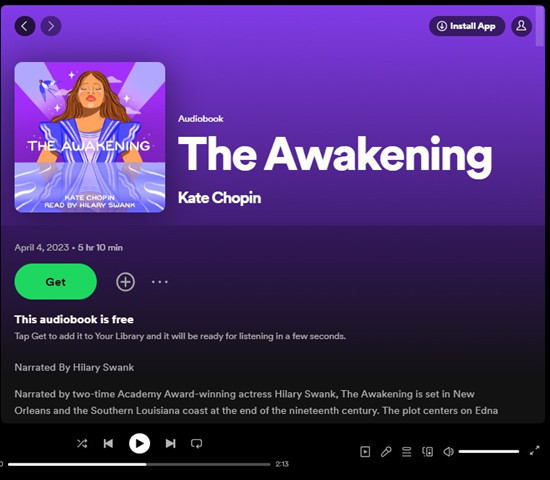 Narrated by Hilary Swank, "The Awakening" follows Edna Pontellier's exploration of self-discovery and societal norms. Set in the late 19th century, the novel delves into Edna's desires, her pursuit of identity beyond societal expectations, and the challenges she faces as she awakens to her own aspirations. Kate Chopin's work challenges conventional notions of femininity and offers a profound reflection on the human spirit.
Bonus Tip:

How to Download Spotify Audiobooks to Computer for Free

Audiobooks aren't part of Premium. Once Spotify sent the desired audiobook to your library after you buy it, you may want to save it for offline listening. ViWizard Spotify Music Converter provides a convenient way to enjoy your favorite audiobooks offline, making it an excellent tool for avid audiobook enthusiasts.

Key Features of ViWizard Spotify Music Converter
Free Trial
Free Trial
* Security verified. 5, 481,347 people have downloaded it.
Download Spotify songs, albums, playlists, podcasts, audiobooks
Convert Spotify music to lossless MP3, AAC, FLAC, WAV, M4A, M4B
Support playing offline Spotify music on any device at any time
Compatible with Windows and macOS, as well as, the latest Spotify
ViWizard Spotify Music Converter is a powerful and user-friendly tool designed to help you download and convert audio content from Spotify. Whether it's your favorite songs, playlists, or, in this case, audiobooks, ViWizard makes it possible to enjoy your content offline on your computer.