People love to explore new things and get to hear new stories. Some love reading, others love watching, while majority love to listen. Listening to new stories is a great experience as you take a sip of your favorite drink in a cool corner. Spotify is one of the best websites where you can easily find your favorite audiobooks. It provides a variety of books and most of them are free. All you need is just get connected to the internet and start listening to the audiobook.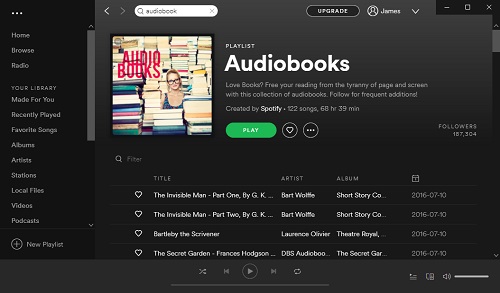 Why listen to audiobooks on Spotify? There are a number of reasons. Among them, one of the most important reasons is that the audios are of great quality with no sound effects or double voices. This article is going to show you the top 10 best audiobooks on Spotify that you can listen to at your free time. Here we go:
1. The Metamorphosis
This is a very interesting story by Franz Kafka. It's about a simple travelling salesman who wakes up one day and finds that he has turned into a large insect. That is how is life changed which in turn affects the family. It's uniqueness made it to appear among the best audiobooks in Spotify.
2. Adventure of Sherlock Holmes
Loved by many, whether in books, series or movie, this great piece done by Arthur Coran Doyle is very popular worldwide. This is a great opportunity to listen to it on Spotify. You can actually listen to it for free or download it from Spotify and listen to it later.
3. Dante's Inferno
This great and very popular poetry book by Dante Alighieri is freely available on Spotify. It's a very high quality audio. Loved my many who have heard about it, it ranks top best in Spotify. This is a must listen to audiobook.
4. Pride and Prejudice
This one of the most loved stories of all times done by Jane Austen. Though it was released sometimes back and has stayed a little bit longer in the store, it still ranks among the top best in Spotify. It's a British archetypal love story that talks about a beautiful woman by the name Elizabeth Bennett together with her four sisters who later experiences humor and sarcasm.
5. Robert Frost Read His Poetry
For great diehard fans of Robert Frost and classic poems like two roads diverged in the yellow wood or any inspirational poem, this piece done by Robert Frost could be a perfect match. If you're one of them then you'll really enjoy this audiobook, it is available on Spotify for all members. The playlist contain about 14 heartwarming poems that will put a smile on your face.
6. War of the Worlds
This fiction story was done by HG Wells. It's about an extravagant story of war between mars and earth at the time when Martians invaded the state of New Jersey. Listen to this audiobook and experience the humor and thrill therein. This audiobook is of great quality and you'll enjoy the great story telling skills as used by Maxwell Caulfield.
7. Alice's Adventures in Wonderland
A beautiful story done by Lewis Carol. It's a great audiobook to listen to especially if you normally get distracted constantly when doing your job and feels like you can't concentrate.
8. Treasure Island
This great book by Robert Louis Stevenson is one of the top most selling audiobooks in Spotify. The audio is of great quality with a nice voice, it talks about the sea, the shore and the dangerous pirates, mystery of maps and lost sea treasure. The audiobook is readily available and you can download to listen later.
9. Dubliners
This amazing book by James Joyce is a collection of 15 short stories. It was published back in 1914 and has continued to gain popularity since then, today it ranks top in among the best audiobooks in Spotify. The story represents the revolution characters which makes them rebellious. The first story is about the conversation between realists and symbolists.
10. Phantom of the Opera
This is a musical, drama and romance story by Gaston Leroux. It's about a lead that falls in love with a disfigured woman who is a musical genius and this makes the owners of the play to offer her the lead role. You'll enjoy the sweet voices of young singer and much more.
Conclusion
Spotify is a great place that offer best audiobooks. It's very simple to us and there are only five simple steps to follow. Just search, explore, pick the genre, and select the audiobook you wish to hear and download and listen to it at your comfort.
However, if you don't want to pay for the premium account of Spotify, you can only listen to the audiobooks via internet. But don't worry. For free users, you still get chances to download Spotify audiobooks offline if you use some 3rd-party Spotify converter such as ViWizard Spotify Music Converter, a professional Spotify tool that can download and convert any Spotify track into MP3 for both free and premium accounts. Why not get the free trial to test it by yourself?
More Tips You May Also Like

Matt Smith is an amateur writer engaged in ViWizard in 2013. He is a movie lover who write a lot of movie reviews for many websites and blogs.