Audiobooks are increasingly more oriented to lifestyle, and people prefer to choose an audiobook for listening to or an eBook for reading compared with the heavy paper book. A number of audiobooks services like Audible, Apple, OverDrive, and more are familiar to most people. But few people know that Spotify is also a nice place to discover and download streaming audiobooks.
So, how can you discover and get audiobooks on Spotify? How can you download Spotify audiobooks? How can you download Spotify audiobooks to MP3? Fortunately, all these topics will be displayed in this article. We will reveal how you can find audiobooks on Spotify and download audiobooks from Spotify no matter you are a free user or have a paid subscription. Just keep reading this post to get the answer you need.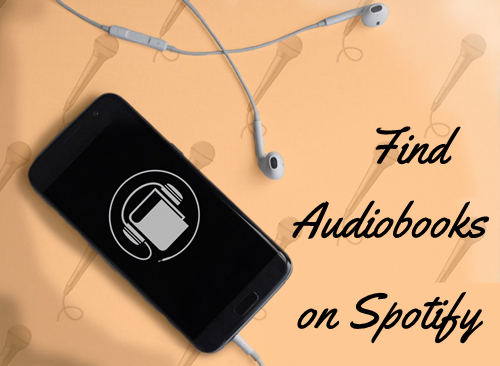 How to Search for Audiobooks on Spotify
You can find many popular audiobooks such as Harry Potter and A Song of Ice and Fire available on Spotify. But how can we find out these audiobooks on Spotify? Here are some methods you can try.
Go to Spotify Word
In addition to music, Spotify has much non-music content which contains audiobooks. These tracks are mostly in the Word category. You can find it at the bottom of the Browse page. You can also search Spotify Word in your browser.
Step 1. Go to Spotify and select Browse on desktop or Search on mobile.
Step 2. Scroll down to get the Word category
Step 3. Select Word and find out the audiobook you like.
Search Audiobook
You can discover audiobooks like going to a garage sale. Simply typing the keyword "audiobooks" into the search bar on the top of the Spotify screen can yield lots of results. You would see lots of classic literature and a host of others you have never heard of. Then you could scroll down the page and view "Artists" and "Albums" and "Playlists" to get audiobooks on Spotify that meet your need.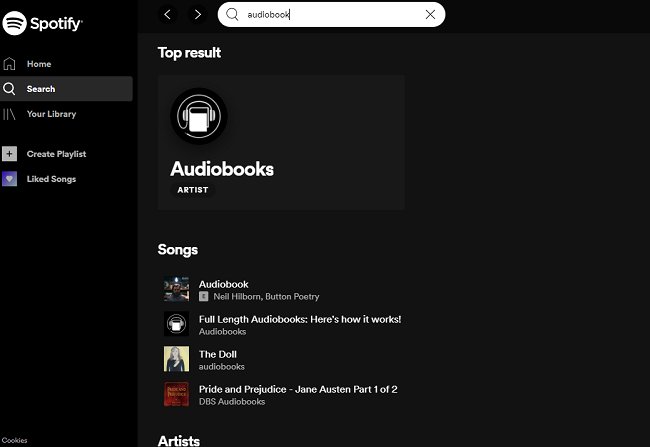 Search Title or Author of Audiobooks
If you have a specific audiobook in your mind, you just look for the audiobook by typing in its title. Or you can search for some audiobooks by typing the name of the authors. This method is by no means foolproof. You can see all the audiobooks of this artist on the artist page.
When you are searching audiobook playlists on Spotify, you may find that these audiobook playlists are arranged by individuals who have already gone through the trouble of curating audiobooks for you. You can also go to the makers of these playlists to find out more Spotify audiobooks made by them.
Some Audiobooks Available on Spotify
The following are some Spotify audiobooks I discovered, and you could search for them for listening on your Spotify.
1. Life of Pi by Yann Martel – Narrated by Sanjeev Bhaskar
2. The Adventures of Huckleberry Finn by Mark Twain – Narrated by John Greenman
3. The Grand Babylon Hotel by Arnold Bennett – Narrated by Anna Simon
How to Download Spotify Audiobooks with Premium Account
The welfare for premium subscribers is that they have the right to download all soundtracks including audiobooks on Spotify to their networked device for listening offline. If you view some audiobooks you want to listen to on the move for saving your cellular data, you can kick off the following instructions to get them with your privilege as a paid user.
Step 1. When viewing some Spotify audiobooks or audiobooks playlists that you'd like to listen to, you could tap the three little dots and click the Save to Your Library for Spotify audiobooks download. Then you can choose an audiobook playlist to download which you have saved in advance. You can also choose Go to Album option to reach the album to complete the Spotify audiobook tracklist.

Step 2. Toggle the slider marked Download in the upper-right corner of any playlist. Once switching the icon on, the audiobook will be downloaded. A green arrow indicates the download was successful. It will take some time to download all audiobooks depending on the number of audiobooks and just wait for a moment.
Step 3. Once all audiobooks have been saved, the playlist will be accessible from within the pane marked Playlists on the left. If you prepare to listen to these downloaded audiobooks on Spotify when without an internet connection, you should set your Spotify to Offline Mode in advance. In Offline Mode, you can only play Spotify audiobooks you've downloaded.
Note: You must go online at least once every 30 days and maintain a Premium subscription to keep your music and podcasts downloaded.
How to Download Spotify Audiobooks with Free Account
As we all know, you cannot download audiobooks or songs on Spotify if you are a free user. Also, Mobile Spotify Free only allows tracks to shuffle. This means that you will skip and miss chapters. However, with the support of ViWizard Music Converter for Spotify, all these issues will be solved. You could enjoy all additional features launched by Spotify for paid users only with less money. This converter works by downloading any Spotify tracks to MP3, AAC, WAV, or other formats with a premium or free account. After the conversion, you will get Spotify audiobooks in high quality and you can save them forever.

What Can Spotify Music Converter Do for You?
Listen to all tracks on Spotify without the distraction of ads
Download all soundtracks from Spotify to MP3 or other plain formats
Get rid of all digital rights management protection from Spotify
Configure all sorts of audio parameter like channel, bit rate and more
Here is the detailed guidance on how to download audiobooks from Spotify with a free subscription.
Step 1

Add Spotify Audiobooks to Music Converter for Spotify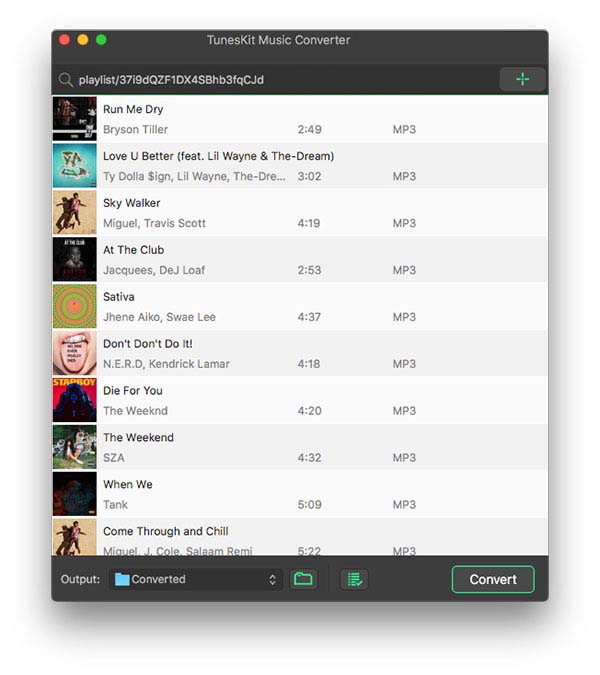 You should launch Music Converter for Spotify at first and Spotify will be opened automatically. You need to find your favorite audiobooks on Spotify and then drag and drop your selected Spotify audiobooks to Spotify Music Converter directly. You'll see all your selected Spotify audiobooks displayed on the main screen of Spotify Music Converter.
Step 2

Configure Output Spotify Audiobooks Parameters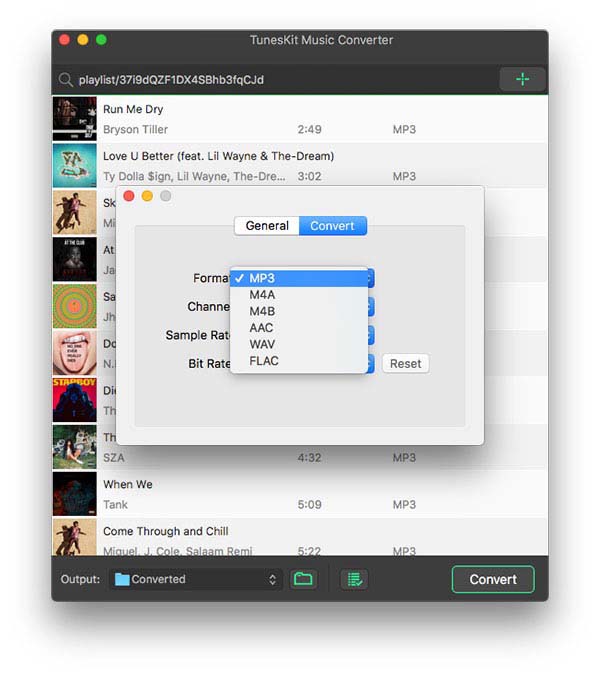 Before downloading these Spotify audiobooks, you are prompted to configure all sorts of audio parameters by going to the top menu and Preferences button. You need to set the output audiobooks format according to your personal demand. There are several formats like MP3, M4A, M4B, FLAC, AAC, and WAV for you to choose from.
Step 3

Begin to Download Spotify Audiobooks to Your PC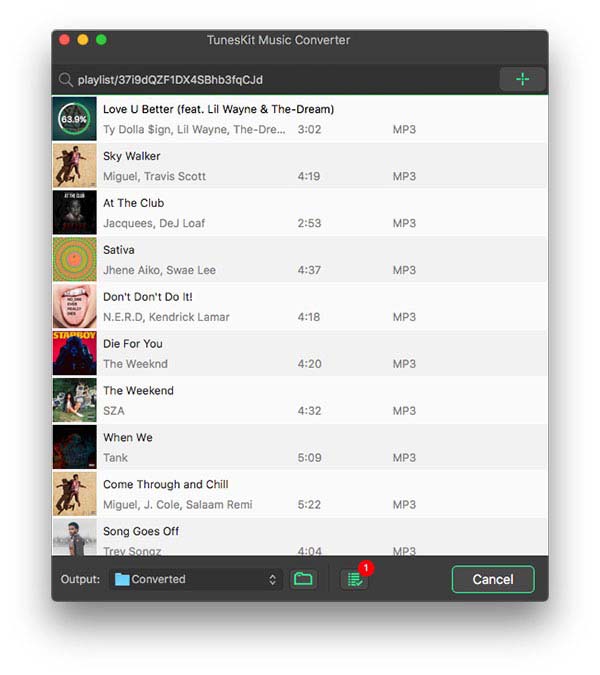 After finishing the setting of all audio parameters, you need to click the Convert button to begin to download Spotify audiobooks to your personal computer. Wait for a few minutes depending on the number of your selected audiobooks. When the downloading task is completed, you could click the Converted button to locate the local folder where you save your Spotify audiobooks.
More Spotify Tips & Tricks