Samsung Galaxy Watch is not just for measuring your sport movement or notifying you some important messages. It offers a smart and full-featured version of the Spotify app, so you can move your favorite songs. This is not just for playing Spotify music while you can pause, skip, and even download Spotify songs for offline listening. If you are a newbie, you may want know how to add Spotify to Galaxy Watch 4/5. Here's everything you need to know about Spotify on Galaxy Watch in the post. Let's explore how to play Spotify on Galaxy Watch 4/5 offline.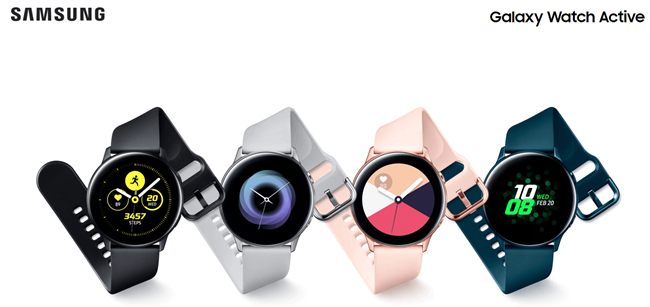 Part 1. Can You Listen to Spotify on Galaxy Watch?
As one of the big names in the streaming music industry, Spotify is a good option for you to listen to all types of music on your Galaxy Watch when you are on the go, in the gym, or more. Since Samsung established a partnership with Spotify, all users have chance to play their liked songs from Spotify on Galaxy Watch. Spotify supports Galaxy Watch Active 2, Galaxy Watch 3, Galaxy Watch 4, and Galaxy Watch 5.
Part 2. How to Install Spotify on Galaxy Watch 4 [Free Users]
Spotify, however, doesn't come preinstalled on the watch, including Galaxy Watch, even though it is compatible with those Wear OS. It doesn't matter! It is easy to install Spotify on Galaxy Watch. Now follow the below steps to install Spotify at first, then use it on your Galaxy Watch.
2.1 How to Get Spotify on Galaxy Watch
You can only download and install Spotify on Galaxy Watch using the Galaxy Store or the Play Store, depending on the watch's model. Check out the following steps to download apps directly to your Galaxy Watch.

Step 1. Run Galaxy Apps on the watch and then select the Apps category.
Step 2. Tap Entertainment or directly type Spotify into the search bar to find Spotify.
Step 3. Find Spotify in the homepage of the Galaxy Store app.
Step 4. Press the Install button on the Spotify app's page to start installing it on the watch.
2.2 How to Connect Spotify to Galaxy Watch
To access Spotify's library on the watch, you need to connect Spotify to Galaxy Watch first. Then you can browse those playlists created in Spotify using your watch and get recommendations from Spotify.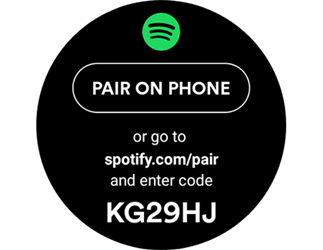 Step 1. Launch the Spotify on the watch and you'll be asked to link the watch app to your Spotify account.
Step 2. Power on your iPhone and open Spotify to log into your Spotify account then tap Device Available on the screen.
Step 3. Once signed in, you will be able to access your Recently Played music from your connected phone, Browse top charts and customise your Spotify settings.
2.3 How to Control Spotify from Galaxy Watch
After connecting Spotify to Galaxy Watch, you can play Spotify on the watch now. Follow the below steps to control Spotify on Galaxy Watch.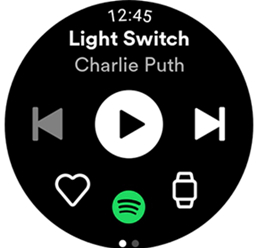 Step 1. Open Spotify on your watch and swipe left to select a song for playing.
Step 2. Tap the device icon and then choose to play Spotify through your watch.
Part 3. How to Play Spotify on Galaxy Watch Without Phone [Premium Users]
It's time to download your favorite Spotify songs on Galaxy Watch. However, this feature of Spotify Galaxy Watch offline requires a Premium account. With a Premium account, you can download these playlists and songs you like to the watch for offline listening.
3.1 How to Download Spotify Songs on Galaxy Watch
Once your Spotify Premium credentials are validated, all you have to do is to tap on it for opening. You can go to download music from Spotify Top Charts. Also, you can download music from Featured Playlists & Your Music for offline listening.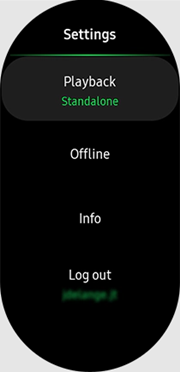 Step 1. Choose a Chart or a playlist you would like to listen to offline.
Step 2. Toggle on Download. Once a song has been downloaded, the green arrow will appear beside it.
Step 3. Tap on Settings, select Offline, and toggle on Go Offline. Now start listening to offline Spotify songs on the watch.
3.2 How to Connect Earphones to Galaxy Watch for Listening
Once you have added all the songs to your watch, you can simply swing out your earphones and connect them. Push your earphones in the pairing mode and then use the feature of Spotify standalone Galaxy Watch to access a great listening experience.
Step 1. Go to tap Connection on the watch and choose Bluetooth.
Step 2. Press the BT headset button and tap Scan to find your earphones.
Step 3. Choose to pair with your earphones and start listening to songs with your earphones.
Part 4. How to Download Spotify Music on Galaxy Watch [All Spotify Users]
If you have a premium Spotify account, you can easily take control of Spotify on Galaxy Watch and listen to your favorite songs on the go. Otherwise, you could download a collection of Spotify songs on your watch for offline listening. Indeed, the option to download is only available for those premium Spotify subscribers. But if you are using a Spotify downloader, donwloading and playing songs with a free account becomes possible.
4.1 Spotify Galaxy Watch: What You'll Need
At this point, ViWizard Spotify Music Converter lets you easily download music from Spotify with your free account. It is an easy-to-use yet professional music downloader and converter that helps you get offline Spotify songs. Then you can download Spotify songs to Galaxy Watch even without a Premium account, and transfer to your Galaxy Watch for listening on the move.

Importance of Spotify Music Downloader
Download music from Spotify to Galaxy Watch, Wear OS and more
Remove advertisements and format protection from Spotify music
Convert Spotify music to DRM-free music files losslessly
Configure the audio parameters like audio format, channel, and bit rate
4.2 Download Playlists from Spotify to MP3
The method to use ViWizard software for downloading Spotify songs is pretty easy. You just need to install ViWizard Spotify Music Converter on the computer and start using it to download Spotify songs with three steps. Then you can sync Spotify songs with your Galaxy Watch.
Step 1

Drag your preferred playlists to the downloader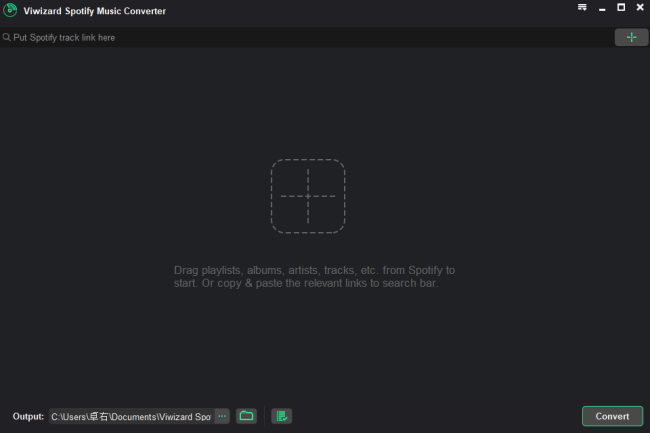 Once you have ViWizard Spotify Music Converter installed on your computer, pull up this program and the Spotify app will be automatically opend after severl seconds. Go to Spotify and locate your preferred playlists. Then directly drag them to the interface of the converter. If you want to download a collection of songs, just copy the playlist's URL into the search box.
Step 2

Choose to adjust the output audio parameters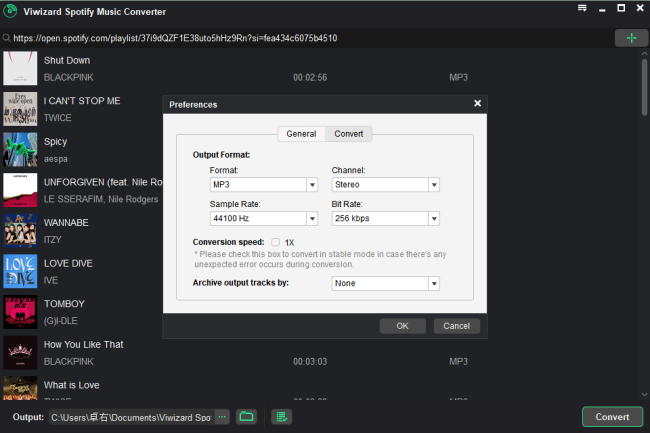 After uploading your favorite songs to the downloader, head to set the output audio parameters for Spotify. Click the menu bar, choose the Preferences option, and switch to the Convert tab. There are several formats to choose from and you need to set the audio as the Galaxy Watch supported format. In addtion, you can set the sample rate, bit rate, and channel.
Step 3

Start downloading Spotify songs to the computer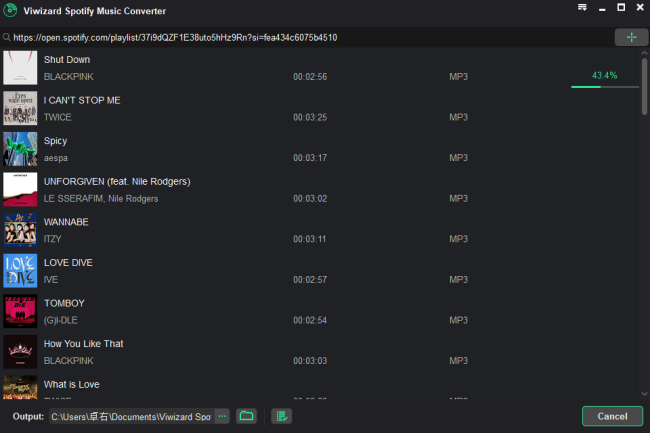 Upon passing over the setting of the output audio, then start download music from Spotify to the computer by clicking on the Convert button. Just wait for several minute and you will get your required Spotify songs. To view all the downloaded Spotify songs, click on the Converted button to locate the folder where you save Spotify music.
4.3 Transfer Spotify Songs to Samsung Galaxy Watch
When your Spotify songs have been downloaded and converted to those formats compatible with Galaxy Watch, you can freely move those Spotify music files to your watch and then listen to them offline. Check out the following steps to sync Spotify music to Galaxy Watch.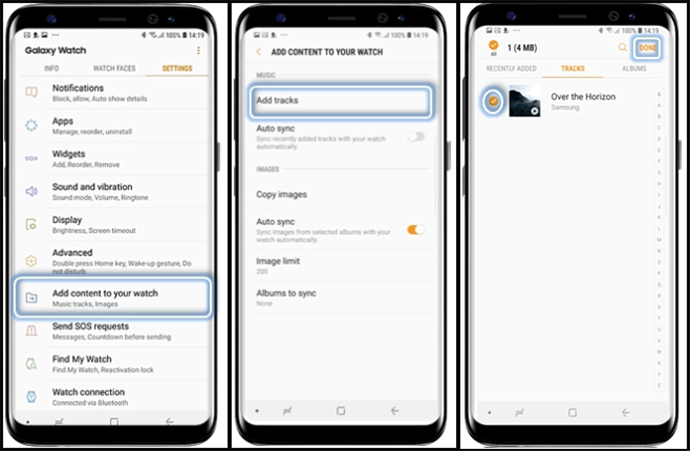 Step 1. Launch the Galaxy Wearable app on your mobile device. If don't have this app, install it first.
Step 2. Tap Home and choose Add content to your watch then tap Add tracks.
Step 3. Start selecting Spotify music files you want to add and tap Done to sync Spotify music with your watch.
Part 5. Comparison between Samsung Galaxy Watch 4 Offline Spotify
To enjoy offline Spotify, you can upgrade Spotify Premium or use ViWizard Spotify Music Converter to download Spotify songs. Here we've made a chart to demonstrate the differences between the two ways to play offline Spotify music on Galaxy Watch.
Play Spotify on Galaxy Watch with Premium
Play Spotify on Galaxy Watch with ViWizard
Listen to music in Offline Mode
✔
✔
Maximum songs for downloading
Up to 10,000 songs
Unlimited
Devices compatible with Spotify
Sync to 5 different devices only
All devices
Whether to keep Spotify music forever
❌
✔
Price
Individual: $9.99 / month
Duo: $12.99 / month
Family: $14.99 / month
Student: $4.99 / month
Individual: $14.99 / month
Individual: $39.95 / lifetime
Family: $49.95 / lifetime
Part 6. FAQs about Using Spotify on Samsung Galaxy Watch
No matter which way you use, you do have a collection of questions while playing Spotify on your Galaxy Watch. Here we've collected some frequently asked questions. Also, you can find the answer in the following part.
Q1. How to add the Spotify widget to your Galaxy Watch?
A: Adding a widget is one of the easiest ways to listen to your favorite songs. To add the Spotify widget to your watch, just long-press on the watch's screen. Tap on a Plus icon to enter the Widget Add page. Long-press on the Spotify screen and drag it to the widget.
Q2. How to solve Galaxy Watch Spotify offline not working?
A: Make sure that you have downloade all the songs to the watch. Then go to turn on Offline Mode in Spotify on the watch. Now try playing offline Spotify again on your watch.
Q3. How to fix Galaxy Watch Spotify remote not working?
A: If you want to control your Spotify music playing on the phone with your Galaxy watch, you could choose the Remote mode. To solve Spotify remote not working on the watch, just go to Settings and select Playback. Then switch to the Remote mode and you can control Spotify with your phone.
Q4. What to do if Galaxy Watch Spotify unable to login?
A: Depending on your watch, the way to get started may differ. For Galaxy Watch 4 and 3, just unlock the phone and your watch will automatically to the Spotify account. But if you are using Galaxy Watch or Active 1 and 2, go to log into your account on the phone and watch at the same time and then choose to pair your watch with the phone.
Conclusion
The feature of Spotify on Galaxy Watch has been rolling out to all Spotify users for a long time now. With the above steps, you can quickly install and set up Spotify on Galaxy Watch then start playing music on the go. For offline listening, you could log into your Premium Spotify account if you have. Or you can use ViWizard Spotify Music Converter to download Spotify songs to the watch.
More Spotify Tips & Tricks