The Samsung Galaxy Watch is not just for measuring your sport movement or notifying you some important messages. It offers a smart and full-featured version of the Spotify app, so you can move your favorite music. This is not just for playing Spotify music, while you can pause, skip and even download tracks.
If you are a newbie, you may want to know how to use Spotify on your Galaxy watch. Here's everything you need to know in the post. Go on to read details on using the Spotify app on Galaxy Watch and listening to Spotify music offline on the go.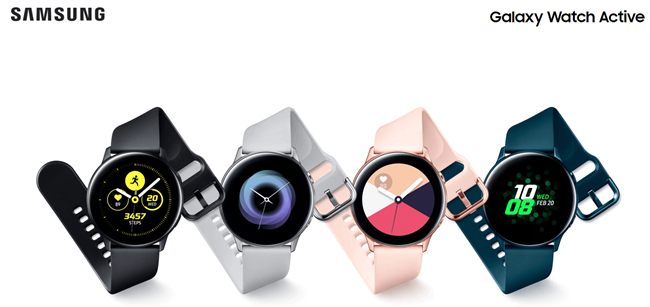 Spotify on Galaxy Watch: Use the Spotify App
One of the big names in the streaming music industry, Spotify is a good option for you to listen to all types of music on your Galaxy Watch when you are on the go, in the gym or more. Spotify, however, doesn't come preinstalled on the Galaxy Watch. If you want to use it on your Galaxy Watch, you need to install it at first.
Step 1. Install the Spotify app on Galaxy Watch
Run the Galaxy Watch app at first and select Galaxy Store to search for 'Spotify' in the search bar. You may well find it in the homepage of the Galaxy Store app. Then press the Install button on the Spotify app's page and it'll start installing on your Galaxy Watch.
Step 2. Link your Spotify account with the watch
Run the Spotify app and you'll be asked to link the watch app to your Spotify account using your phone. You'll receive a prompt on your phone where you can input your Spotify login in the page that pops up. Choose to trust it and it will let your Spotify account log in your watch.
Step 3. Add your favorite playlists on Spotify
Once the Spotify credentials are validated, all you have to do is to tap on it for opening. Then scroll down and select Your Music > Your Playlists.
Step 4. Add the Spotify widget to your watch
Adding a widget is one of the easiest ways to listen to your favorite songs. To add the Spotify widget to your watch, just long-press on the Watch's screen. Tap on a Plus icon to enter the Widget Add page. Long -press on the Spotify screen and drag it to the widget.
Step 5. Connect your earphones to your watch
Once you have added all the songs to your watch, you can simply swing out your earphones and connect them. Push your earphones in the pairing mode and then open Settings on your watch. Go to Connection > Bluetooth > BT headset and tap on Scan. Finally, tap to listen to your songs.
Note: It is not difficult to manage downloads on the Spotify app. Simply head into Your Settings > Offline, and tap on Delete Downloads.
Spotify on Galaxy Watch: Free Download Spotify Music to Galaxy Watch
If you have a Spotify Premium account, you can easily take control of your Spotify music on Galaxy Watch, and listen to songs on the go. Otherwise, you could download a collection of Spotify tracks on your Galaxy Watch for listening offline. Indeed, the option to download is only available for Spotify Premium users, but if you are using a Spotify music downloader, downloading music with a free account become possible.
At this point, ViWizard Spotify Downloader lets you easily download music from Spotify with your free account. You can easily get free Spotify music, and then transfer to your Galaxy watch for listening on the move. The method is pretty easy, and you just need to download Spotify music to your personal computer at first and then sync these tracks with your watch.

Importance of Spotify Music Downloader
Download music from Spotify to Galaxy Watch, Wear OS and more
Remove all advertisements and format protection from Spotify music
Convert the DRM-protected Spotify music to DRM-free audio files losslessly
Configure lots of audio parameters like audio format, channel, bit rate and more
Step 1. Drag your preferred playlists to the downloader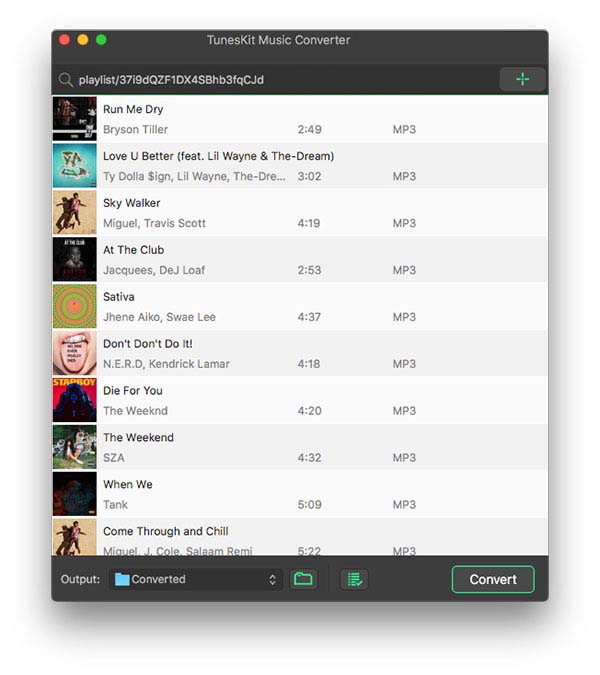 Once you have Spotify music downloader installed on your computer, pull up the downloader and the Spotify app will be automatically opened after several seconds. Locate to your preferred playlists on your Spotify and then directly drag them to the downloader.
Step 2. Choose to set the output audio parameters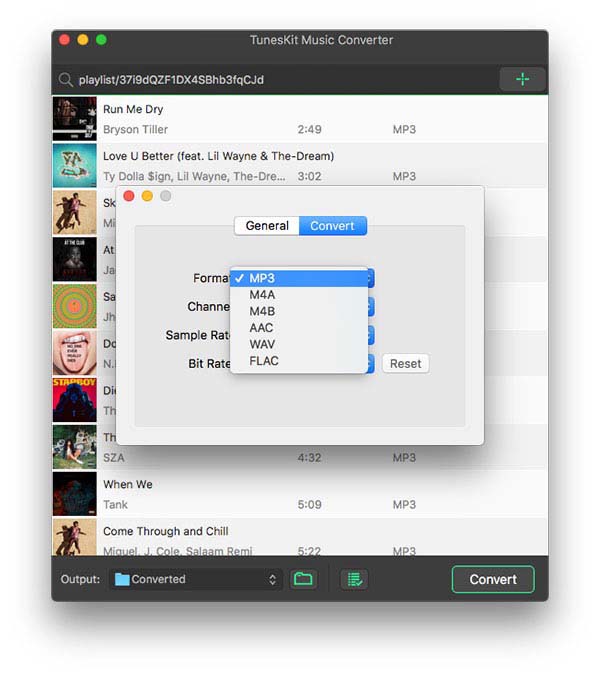 After uploading your favorite tracks to the downloader, begin to set the output audio parameters. There are several formats for you to choose from. You need to set the audio as Galaxy Watch supported format.
Step 3. Begin to download Spotify music to computer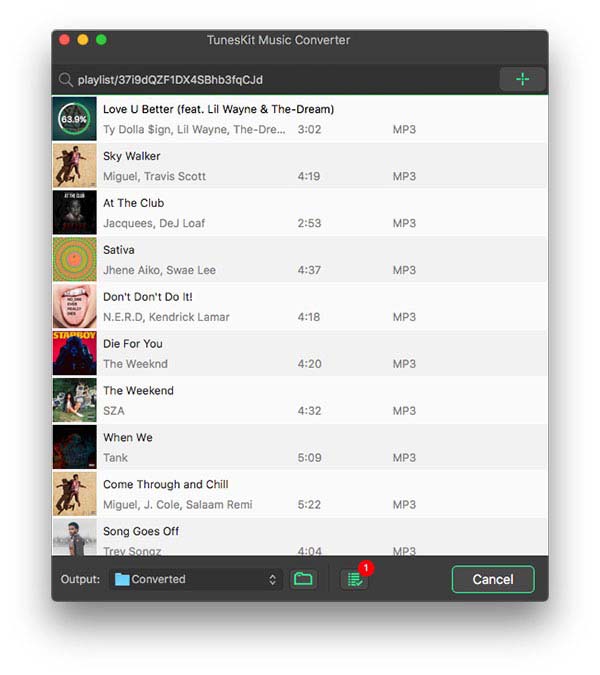 Upon passing over the setting of the output audio, choose to start downloading music from Spotify to computer by clicking on Convert. Just wait for several minute and you will get your Spotify music. Then click on Converted to locate the folder where you save Spotify music.
Step 4. Transfer the DRM-free Spotify music to your watch
Transfer all downloaded Spotify music to your smartphone and tap Apps > Samsung Galaxy Watch > Settings on the smartphone. Continue to tap Send content to Galaxy Watch > Select track. Then select files and tap Done. Open the Music App within your Galaxy Watch and locate your recently added music file.
More Spotify Tips & Tricks