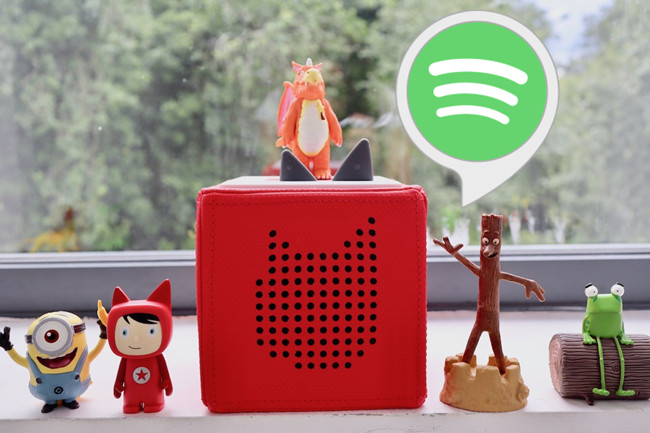 The Toniebox is primarily designed to play audio content from physical Tonie figurines, which are preloaded with specific audio tracks. If you wish to expand the audio options beyond the preloaded content, resources from a streaming music service is a good option. Streaming music from a service allows for a wider selection of songs, playlists, and personalized music experiences for you and your children, enhancing your enjoyment and engagement with the Toniebox.
So how can you play the contents you like from your favorite streaming music services, such as Spotify? Well, playing Spotify music on your Toniebox can be a little tricky. But you can still follow our guide to do the trick successfully. Let's get started.
Part 1.

How Can I Play Spotify on Toniebox?

The Toniebox does not have native support for playing Spotify directly. However, a Creative Tonie allows you to add your own audio content. You can take advantage of this support to customize a Creative Tonie, and play Spotify as uploaded content on your Toniebox, providing a fun and interactive experience for you and your children.

With the Tonie app and Toniecloud, you can add your own stories, songs, or other audio recordings to a Creative Tonie. However, as both the streaming music files and downloaded music files are protected by Spotify's digital rights management. This means users won't be able to access and upload them to a Creative Tonie directly, as the file types are not supported.

You're suggested to download your favorite Spotify contents into specific audio file types for uploading and playing on a Creative Tonie. The process will involve a Spotify music downloader ca lled ViWizard Spotify Music Converter.
Tool Required - ViWizard Spotify Music Downloader
The supported audio file types for Creative Tonies are AAC, AIFF, FLAC, MP3, M4A, M4B, OGA, OGG, WAV, and WAM. ViWizard Spotify Music Converter is designed for all users to download various contents types from Spotify into actual music files, including Spotify music, podcasts, and even audiobooks. It supports 6 formats: MP3, M4A, M4B, WAV, AAC, and FLAC. Once you downloaded them to your device, you're allowed to create personalized playlists or compilations for your Creative Tonie. With ViWizard, you can create a collection of your favorite Spotify contents for easy access and playback on Toniebox.
Start by downloading and installing either Windows or Mac version of ViWizard Spotify Music Converter on your computer, and then follow the step-by-step guide to download Spotify music into a supported file type, such as MP3.

Key Features of ViWizard Spotify Music Converter
Free Trial
Free Trial
* Security verified. 5, 481,347 people have downloaded it.
Download Spotify songs, albums, playlists, podcasts, audiobooks
Convert Spotify music to lossless MP3, AAC, FLAC, WAV, M4A, M4B
Support playing offline Spotify music on any device at any time
Compatible with Windows and macOS, as well as, the latest Spotify
Part 2.

How to Download Spotify to Tonies

To download the desired contents from Spotify using ViWizard Spotify Music Converter, follow these steps:
Step 1

Step 1. Select and add Spotify contents

Launch ViWizard Spotify Music Converter on your computer, and choose to launch or relaunch the Spotify desktop app. Once opened, head over to your music library or Spotify's vast music library and select music tracks to download. For music, you can add any song, playlist, album, or artist. For audiobook, you can add the audiobooks you've purchased on Spotify. Drag the desired music tracks and drop them to ViWizard's main interface.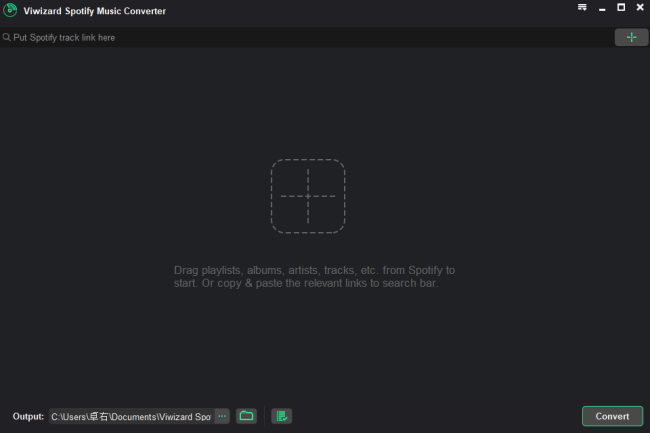 Step 2

Adjust output format

Spotify will display a list of music tracks. To adjust the output format, click the menu icon> Preferences > Convert, and open the drop-down menu of format, then select either MP3, WAV, or AAC. Once done, click OK to save.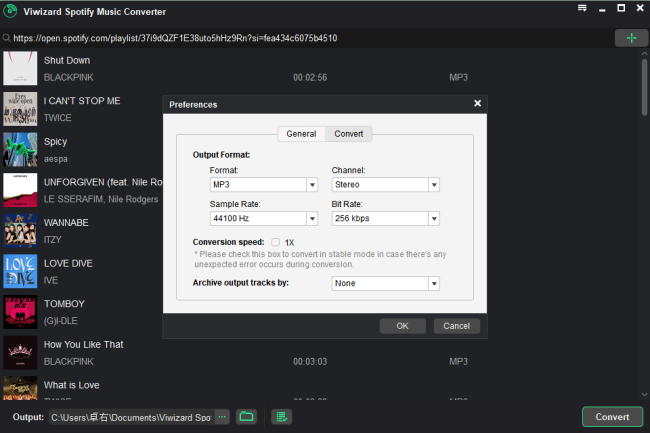 Step 3

Step 3. Convert and download Spotify contents

Back to ViWizard's main interface and you can now start the conversion by clicking on the Convert button, and wait until the conversion to complete at a faster speed. The output folder will be opened up on the screen to display the downloaded music files.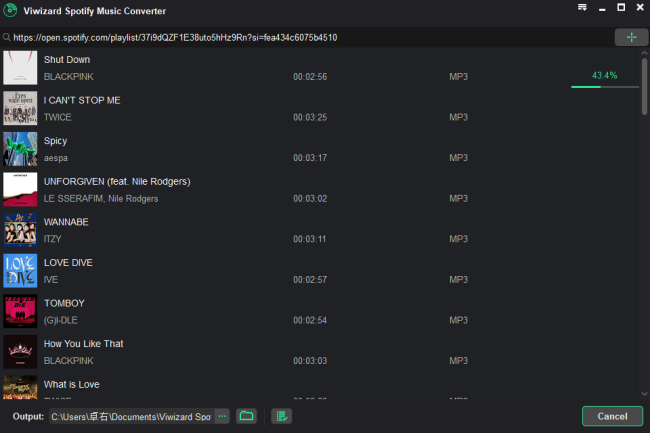 Part 3.

How to Add Spotify to Your Creative Tonie

There are two different ways to add content onto your Tonie, whether on your smartphone or my.tonie.com on your computer.
Step 1. Upload Spotify music files to Creative Tonie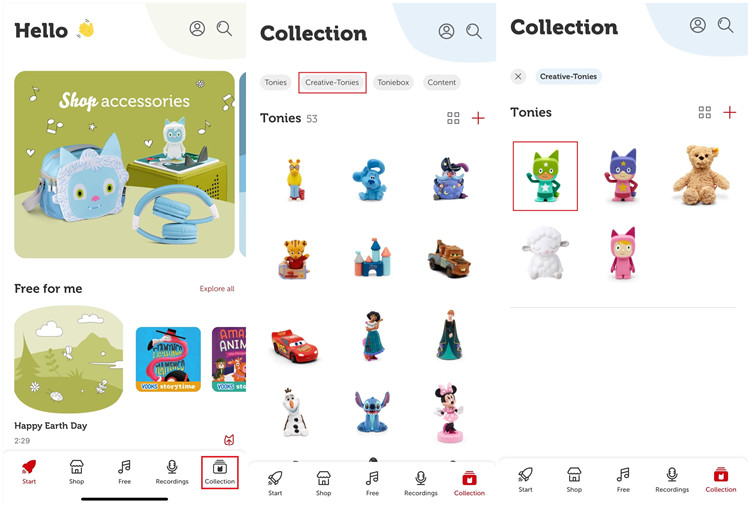 1. Connect your smartphone to the computer that stores all the downloaded Spotify music files, and transfer them to it.
2. To use the mytones app, open the app on your smartphone and that you are logged in to your Toniecloud account.
3. Tap the Collection tab in the bottom right hand corner.
4. Tap on the Creative-Tonies header, and select the Creative Tonie you want to add Spotify content to.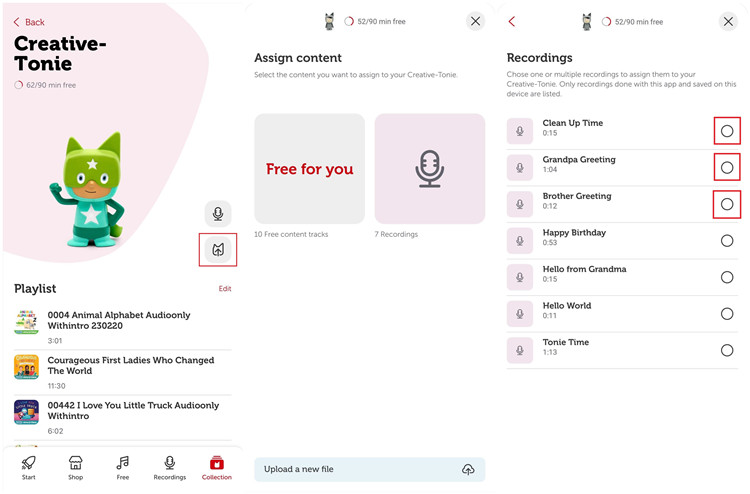 5. Once selected, tap on the Tonie-Arrow icon on the right side of the screen. This will open the assign content screen and you're allowed to choose which content you would like to add there.
6. Select Recordings. This will display a list of your currently saved recordings or files on your phone's storage.
7. Scroll through the list and locate the Spotify music files you would like to upload.
8. Tap on the circle on the right side of the screen next to the Spotify music files. Repeat the steps until you've selected all the files you want.
9. Tap the 'Assign # items' button at the bottom of the screen. The selected music files will begin uploading to your Creative Tonie, wait until the uploading to finish.
10. Tap Done on the top-right side of the screen.
Step 2. Sync Spotify music files to Toniebox
Once uploaded, you will need to sync the Toniebox in order to download the new content.
1. Ensure that your Toniebox is turned on and connected to the internet, such as a Wi-Fi network.
2. Pinch one of the Toniebox's ears for about three seconds until you hear a sound. The LED on the Toniebox will start flashing blue, indicating that it is in sync mode.
3. Keep the Toniebox in this stat with the flashing blue LED. It will initiate the sync process and star downloading the newly added content from the Toniecloud, namely the Spotfiy music files.
4. Wait for the Toniebox to complete the sync process. Once completed, the LED will turn solid green.
Step 3. Play Spotify music on Toniebox
Now your Toniebox is ready to play the new content.
1. Ensure that the Toniebox is turned on and has finsihed the syncing process with the newly added content.
2. Take the Creative Tonie with the uploaded content and place it on top of the Toniebox.
3. The Toniebox will recognize the Creative Tonie and automatically start playing the newly added Spotify music files.
4. If you've uploaded multiple Spotify music tracks to the Creative Tonie at once, you can control the playback by using the buttons or touch-sensitive area on the Toniebox, such as the play/pause or forward/backward.
Conclusion
By using the method in this post, you successfully download any Spotify contents you want for your Toniebox anytime, anywhere. All you need is our ViWizard Spotify Music Converter. Enjoy listening to Spotify on your Toniebox!