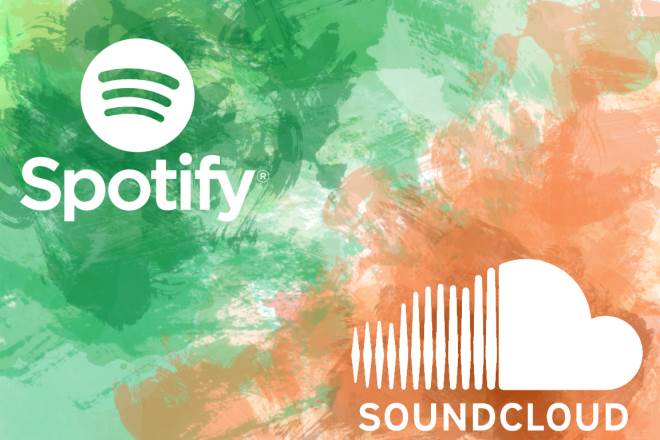 The evolution of streaming music platforms cannot be ignored and has been greater for all to see for the past several months. So far, there are more and more various streaming music services emerging on the market. Some of them like Spotify, Apple Music, Pandora and more are familiar to everyone. Meanwhile, we would face more choice regarding on the playing of music.
As a big fan of both Spotify and SoundCloud, I found myself not only attracted to their basic service but also other additional features. The prevalence of the social web, combined with the music's unique ability to bring people together, creates a compelling niche — one where like-mined individuals can share and discuss their favorite music. In this article, we are going to dive deep into the two of today's most popular music platforms and tell you how to migrate music between them.
Spotify vs. SoundCloud: A Detailed Comparison
In the music industry that is increasingly dominated by online streaming platforms, Spotify and SoundCloud are two of the most powerful driving forces. Most people who listen to music on the internet tends to use one or both services at some point, and even use them every single day. So, there must some people ask which one is better and which one you would pick. Both Spotify and SoundCloud have major appeal that make it difficult to judge them.
Music Library
There are more than 40 million songs from over 2 million artists on Spotify, so you don't need to wonder whether a song you like is available on Spotify or not. Most artists prioritize getting their music on Spotify first, and in turn have their entire discography available for your listening pleasure. However, SoundCloud has more than 180 million tracks by 20 million creators. Anybody who wants to upload a track can do it with a free account.
Audio Quality
Spotify concurrently supports two kinds of streams (Premium at 320Kbps and above and Free at 160Kbps). All song files from Spotify are encoded in the format of Ogg Vorbis. However, all songs on SoundCloud are 128Kbps in the format of MP3, and the standard of the songs on this platform is 64Kbps Opus.
Social Sharing
Users on Spotify have the option to integrate their Twitter and Facebook account, so they may publicly share what they listen to with followers on all connected social channels. This practice is perfect for music discovery and brand building. And this point is also reflected on SoundCloud which allows users to share their listening content with listeners and post a snapshot of plays to any social media platform.
Music Discover Ability
Spotify has a huge range of curated playlists, sorted by genre, mode, activity and popularity. Daily Mixes are put together specifically for you by the magic pixies at Spotify HQ and offer six genre-specific playlists. Yet, SoundCloud is the user-generated content. If you want to hear podcasts, remixes, or music from independent artists, you can get on SoundCloud.
Which one is better?
Both programs are user-friendly and intuitive. It is clearly known that Spotify and SoundCloud are really meant to do different things. Spotify is the clear-cut choice for the casual music listeners with an interest for finding out about they've never touch before. Music fans can find lots of official release of artists on Spotify. However, SoundCloud is the obvious choice for the person who want to record and publish audio content. SoundCloud is a haven for fans of those genres, and it offers a chance to hear about artists before they break out of SoundCloud into the mainstream. Perhaps the best option, rather than forcing a choice between Spotify and SoundCloud, is to embrace both platforms for different demands and different occasions.
Method to Move Spotify Music to SoundCloud
All music downloaded from Spotify are encoded in the format of Ogg Vorbis which is only accessible through special proprietary closed software – Spotify. Even if you are a Premium user, you are only allowed to play your downloaded music on Spotify by logging in your Spotify account. But all Spotify music downloaded through ViWizard Spotify Music Converter can be compatible with all devices and players.

ViWizard Spotify Music Converter Key Features
Strip all digital rights management protection from Spotify music
Caple of downloading Spotify songs, playlists, and albums in bulk
Enable users to convert all Spotify streamed content to plain files
Keep lossless audio quality, ID3 tags and metadata information
Here is the detailed guidance on how to migrate music from Spotify to SoundCloud.
Step 1

Launch ViWizard Spotify Music Converter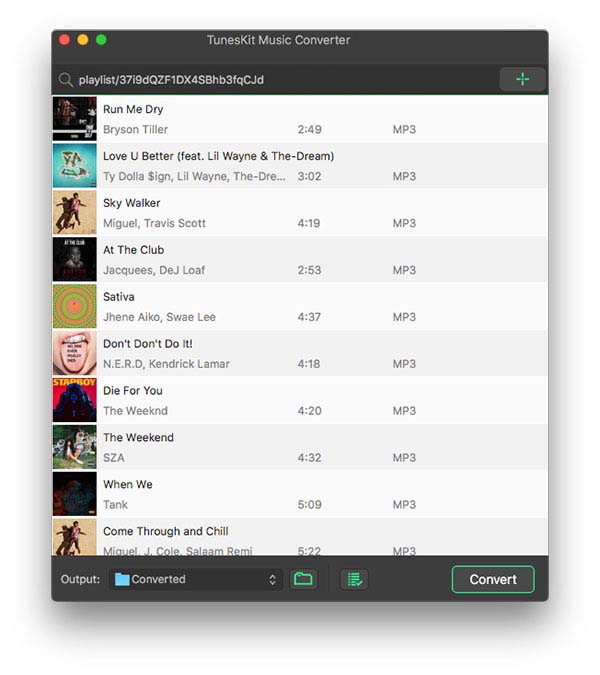 Download and install Music Converter for Spotify on your personal computer. Then open Music Converter for Spotify and Spotify will be started automatically and immediately. Find music you want to download on Spotify and directly drag and drop your selected Spotify music to the main screen of the converter.
Step 2

Configure All Sorts of Audio Parameter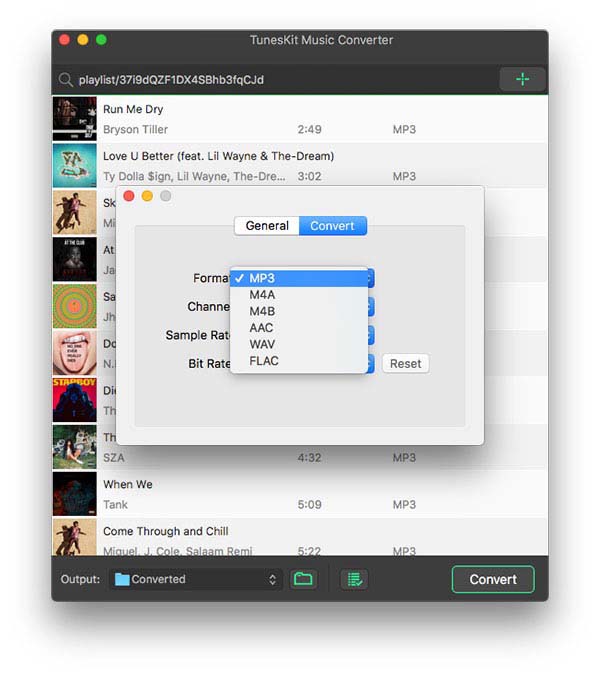 After uploading your selected Spotify music to the converter, you are prompted to configure all sorts of audio settings. According to your personal demand, you can set the output audio format, audio channel, bit rate, sample rate and more. Thinking of the stability of conversion mode, you should better to set the conversion speed as 1×.
Step 3

Start to Download Spotify Music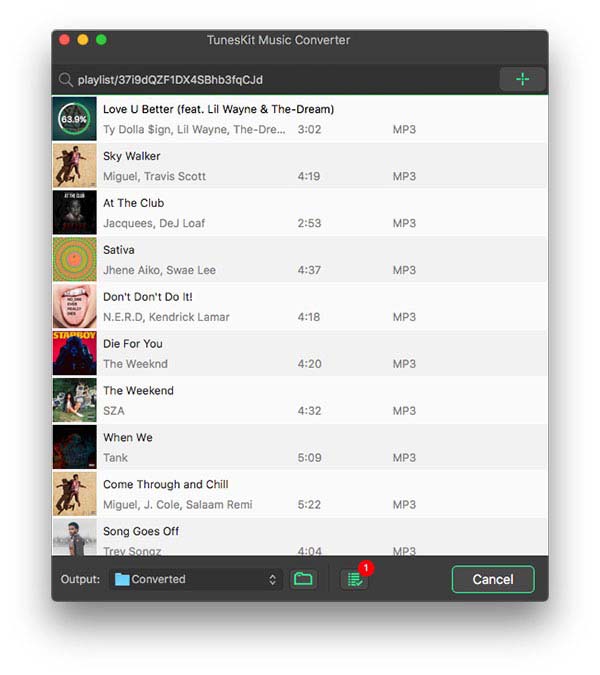 After all is done, you can click the "Convert" button to convert and download music from Spotify. Just wait for a while and you can get all DRM-free Spotify music. All music can be found in the local folder on your personal computer by clicking the "Converted" button. Note that you are allowed to convert and download Spotify music no more than 100 in one time.
Step 4

Import Spotify Music to SoundCloud

Open SoundCloud in a webpage and click the "Sign In" button in the upper right corner to log in. Then click the "Upload" button at the upper right and click it and drag and drop your tracks or choose files to upload by clicking the orange button. You need to select Spotify song you want to move to SoundCloud. After a few seconds, you can see that your Spotify music has been uploaded. Continue to click the "Save" button to save your songs on SoundCloud.
Way to Import SoundCloud Music to Spotify
All the soundtracks on SoundCloud are in the format of MP3, but SoundCloud supports a download option for few of the soundtracks. So, you have no right to download other than those MP3 tracks from SoundCloud. At this point, with the assistance of TunesKit Audio Capture, you can get all audio being played on your computer and save the recorded tracks in various popular formats with original quality preserved to the local folder on your computer.

TunesKit Audio Capture Key Features
Record any Spotify songs and playlists in high quality
Save recorded Spotify streams as MP3, AAC, M4A, WAV, FLAC, M4B
Capture any other sound being played on computer
Cut, trim and merge recordings flexibly
Here is the detailed guidance on how to migrate music from SoundCloud to Spotify.
Step 1

Run TunesKit Audio Capture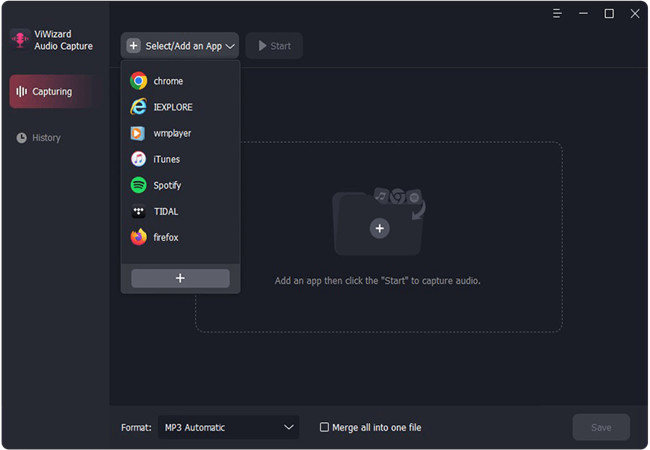 Upon launching Audio Capture, you'll view a list of some programs such as chrome, IE and more programs displayed in the opening window. If you don't see the icon of SoundCloud, you can simply click the "+" button to add SoundCloud program and then click the icon to launch the program.
Step 2

Set Audio Capture Parameters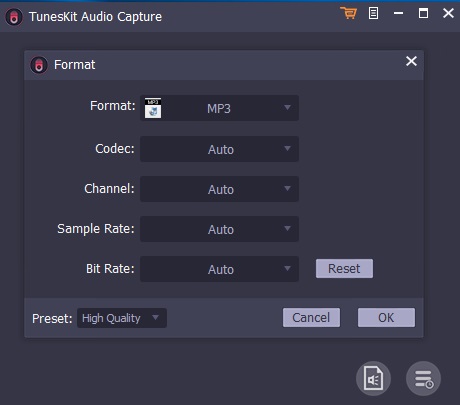 Click the "Format" icon at the bottom right corner and set the output preferences in the popup window. It supports common output formats including MP3, WAV, AAC, M4A, M4B, and FLAC. You can set the audio quality like codec, sample rate, bit rate and more to personalize the output audio according to your specific needs.
Step 3

Start to Capture Audio Tracks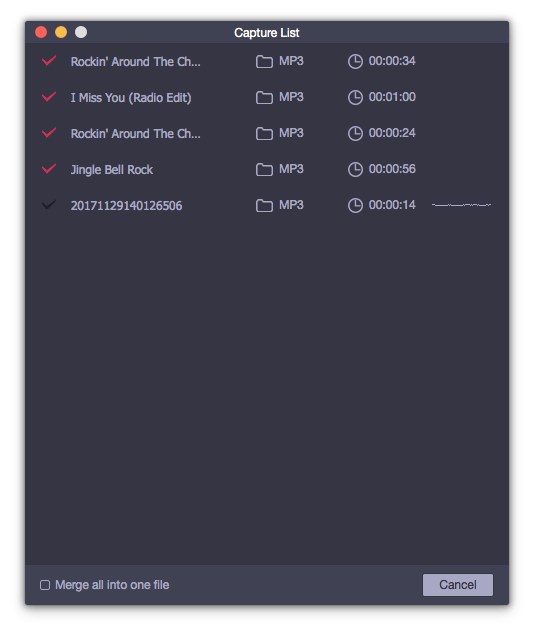 Go back to the media program or browser you just picked, locate the music or audio you want to capture and begin to play the tracks. Then you'll see a new recording task being created in the capture list of TunesKit window. It will begin to capture the audio in real time while you are playing the sound. To quit recording, simply stop playing the music and close the media program.
Step 4

Customize recorded Spotify tracks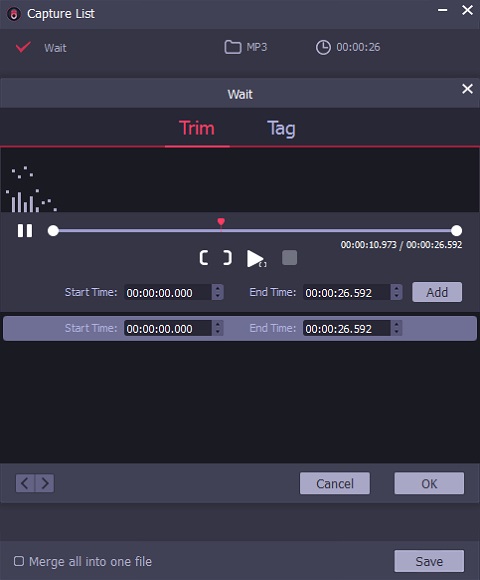 Once captured, click the "Edit" icon of each track to trim the audio tracks. If you are capturing multiple tracks simultaneously, you can also choose to merge different tracks into one through the merge function. After that, click "Save" button to export the records to the output folder. Then locate the captured audio files by clicking the "History" icon at the bottom of the window.
Step 5

Move SoundCloud Music to Spotify

Launch Spotify and then go to "Preference" tab. Scroll down to the "Local File" section and click "Add A Source" to select SoundCloud folder and click the "OK" button to start adding SoundCloud music to Spotify. You'll find them by clicking "Local Files" tab on the right panel. If you like, you can create a new playlist and add SoundCloud music to the created playlist.