As Christmas approaches, people around the world are preparing to celebrate Christmas from eating mince pies to dressing to the nines for the Christmas party. When it comes to Christmas party, music must be an important part. From the classical to the not-so-classic, we have summed up some Christmas playlists you need on Christmas party this year. Here are the 10 most-streamed Christmas playlists on Spotify.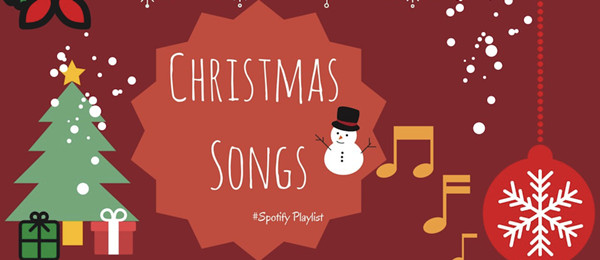 10 Best Christmas Playlist on Spotify
'Christmas Hits' is on our top list which is a collection of the biggest Christmas songs like 'All I Want for Christmas Is You', 'Santa Tell Me',' It's Beginning to Look a Lot like Christmas' and other great tracks. You could find one track you want to play looping return of from that Christmas pop music playlist.
Having been created by Spotify, this playlist is the best Spotify classic Christmas playlist. The songs such as 'Jingle Bell Rock', 'Rockin' Around The Christmas Tree', 'It's the Most Wonderful Time of the Year' and more have get popularity all of the time. There must be one track could be coming along for you when the clock strike midnight on Christmas Eve.
If you're not a huge fan of traditional Christmas songs, 'Christmas Pop' is a compilation of the greatest Spotify Christmas hits including 'Mistletoe', 'Holly Jolly Christmas', 'Like It's Christmas' and 'Santa Baby' among other great tracks. This playlist is guaranteed to make you feel all warm and fuzzy at Christmas party.
Perhaps this is the season to settle in with a warm cup of coffee and these stripped-down Holiday tunes. This Spotify Christmas playlist gives you tracks like 'Have Yourself a Meery Little Christmas', 'I'll Be Home For Christmas', 'Baby, It's Cold Outside' and so forth. Even though you are alone at home, you could still enjoy the joyful of Christmas.
'Christmas Peaceful Piano' gathers lots of calm and relaxing Christmas piano soundtracks. Perhaps this reminds you of soft thaw winds, warm sunshine, and nearly melted snow. Get it on Spotify and enjoy great tracks like 'Angles We Have Heard on High', 'The Holly And The Ivy', 'Christmas Time Is Here' and more on Christmas Eve.
Jazz music is performed at many dinner parties which allows you indulge your passion for music and holidays, and that this Christmas playlist is full of wonderful jazzy interpretations of some of most classic and beloved Christmas songs like 'It's Christmas', 'My Favorite Things', 'The Christmas Waltz' and other Christmas tracks.
You could celebrate the merriment of the holiday season with your favorite country artists, and this playlist collects most of country music tracks concerning Christmas theme like 'What Christmas Means to Me', 'The Christmas Song', 'White Christmas', 'Please Come Home for Christmas' and others.
Christmas party is an important part of celebrating Christmas, and this Spotify Christmas party playlist will soundtrack your whole Christmas. Get it down with those beautiful Christmas songs from renowned artist like Ariana Grande, Michael Bublé, Mariah Carey, Leona Lewis and others as you dance at Christmas party with your close people.
The playlist featuring Brooke Annibale, Damien Rice, Joseph, Beta Radio and other renowned artists will bring you into an acoustic Christmas. By diving into all of the Christmas songs in this playlist, you will have yourself a folksy little Christmas. It's time for you to flip your stereos to a Christmas-centric playlist.
A collection of soul, rnb and gospel flavored takes on the most beloved Christmas songs where you could find your favorite Christmas songs. From 'This Christmas' of the artist Donny Hathaway to 'Give Love on Christmas Day' of the artist John Legend, you could find plenty of the soulful Christmas songs in this playlist.
The Bottom Line
When you are in the environment with Wi-Fi, you could freely switch those Christmas playlists at home or at your Christmas party. However, without a Wi-Fi or cell network signal, you could not listen to them. Since you can download Christmas songs in advance and utilize offline mode automatically as well as manually, it's a great way to stay connected to your Christmas music wherever you are.
As we all know that the feature of downloading Spotify music for offline playback is only available for the current Spotify Student, Spotify Premium, or Premium Family subscribers. If you want to download Christmas songs, you must subscribe to Premium plan on Spotify. However, in this case, a third-party tool like ViWizard Spotify Music Downloader can enable you to download these Christmas playlists even though you are using a free account and save all Christmas songs as the plain audio formats like MP3.
What's more, the ViWizard Spotify Converter software is now on sale at up to 40% off. If you like it, just seize this chance while there is still time!

Why you need ViWizard Spotify Converter?
Convert Spotify music to MP3, WAV, AAC, FLAC, M4A, and M4B
Download any Spotify songs, playlists or other content without premium
Keep lossless sound quality and full ID3 tags
Support up to 5× faster conversion speed
Easily organize tracks by albums or artists

Matt Smith is an amateur writer engaged in ViWizard in 2013. He is a movie lover who write a lot of movie reviews for many websites and blogs.