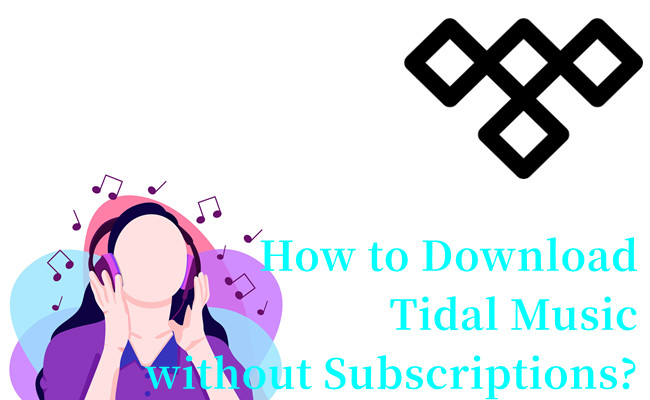 Downloading music on Tidal provides various benefits such as playing music tracks offline without an internet connection. Tidal now offers three types of subscriptions: Tidal Free, Tidal HiFi ($9.99/month), and Tidal HiFi Plus ($19.9/month). If you are on the free tier, can you download Tidal music for free?
For starters, you should be aware of the fact that Tidal's offline mode is only available on mobile app for paid subscribers. If you want to download music on Tidal, you'll need a subscription of HiFi or HiFi Plus and a mobile device including Android smartphone and iOS or iPadOS devices.
Since Tidal doesn't provide an option for desktop users to download music within the desktop app, users will need a workaround to download music from Tidal as music files instead. Both users on the free tier or free trial of Tidal HiFi can take advantage of this workaround to download Tidal music for free!
Part 1.

How Can I Download Tidal Music for Free?

Downloading Tidal music is only allowed within the mobile app. Meanwhile you'll need to make sure you have an eligible subscription. Until recently, Tidal offers a free trial period for 30 days, during which you can have the access to all the features of the subscription, including the downloading feature. To access Tidal for free, you can sign up for a trial subscription and enjoy the downloading feature of the platform during the trial period. Both Tidal and HiFi Plus offer a 30-day free trial. However, once the trail ends, you would need to pay the subscription fee to continue using the download feature.
Can I download Tidal music on free tier?
However, Tidal does offer a free tier for users to stream over 100 million songs in good sound quality up to 160Kbps. If you're on the free tier and wish to find an ultimate way to download Tidal music for offline playback, you don't have to upgrade to HiFi or HiFi Plus to access the downloading feature. This free workaround would be try downloading your favorite Tidal music tracks to supported devices but as playable music files, such as MP3. Then you can transfer the downloaded Tidal music to even all your devices to play them offline.
All you need is a professional Tidal music downloader called ViWizard Tidal Music Converter. With ViWizard, you gain the ability to download Tidal music including songs, playlists, artists, albums and more offline. You just need to pick ViWizard Tidal Music Converter, then Tidal's download feature would also be available to free members.
Part 2.

Best Solution to Download Music from Tidal without Subscriptions

If you are looking for the best solution to download Tidal music on the free tier, look no further than our ViWizard Tidal Music Converter. It's designed for all Tidal members to download Tidal music for free without a subscription. You can add a selection of Tidal music tracks to ViWizard and adjust their format to MP3, M4A, M4B, WAV, AAC, and FLAC. The popular options would be MP3, WAV, and FLAC. After that, the conversion will start within a click and the downloaded music will be stored on the hard disk in selected format.

During the conversion, the lossless audio and full ID3 tags will be kept with each downloaded Tidal music tracks, which ensures a positive listening experience. You then unlock the use of downloaded Tidal music across devices offline! Whether you choose to cancel your subscription or maintain the free tier, the downloaded Tidal music won't disappear.

Key Features of ViWizard Audio Converter
Free Trial
Free Trial
* Security verified. 5, 481,347 people have downloaded it.
Convert songs, albums, and playlists from Apple Music to MP3
Remove DRM protection from Apple Music, iTunes, and Audible
Save the converted audios with the original quality and ID3 tags
Support the conversion of up to 100 audio formats to others
To download Tidal music tracks with ViWizard, ensure to download and install the correct version of ViWizard to either Windows PC and Mac computer. Meanwhile, the Tidal desktop app is required to ensure the access to Tidal's catalog and personal music collection.
Tutorial: How to download Tidal music with ViWizard
Please Note: It's important to note that the downloaded Tidal music should be only used personally.
Step 1

Select Tidal music tracks

To select Tidal music tracks, launch ViWizard Tidal Music Converter and then agree to launch or relaunch the Tidal desktop app. You can then access Tidal's catalog and personal music collection with the free account. Navigate to the tracks to download, and drag and drop them to the ViWizard's main interface. ViWizard will display a list of added Tidal music tracks.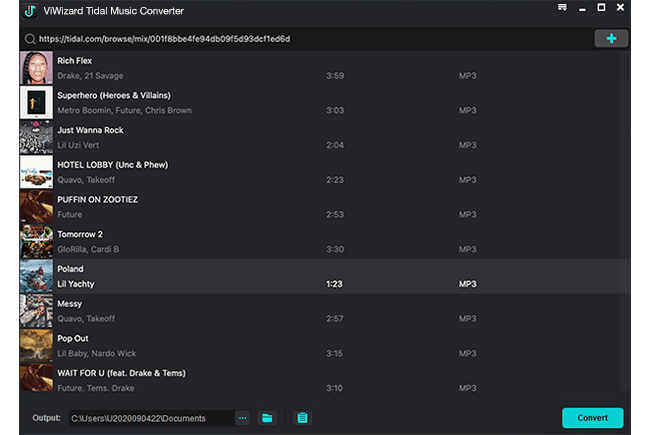 Step 2

Adjust music format

To adjust music format, click on the menu icon from the upper-right corner of the screen > Preferences. Go to the Convert tab and look for the Format option under the Output Format section. From here click on the chevron down icon and select a format like MP3, M4A, M4B, WAV, AAC, or FLAC. You can also adjust bit rate, sample rate, channel and more here. Once it's set, click OK to save.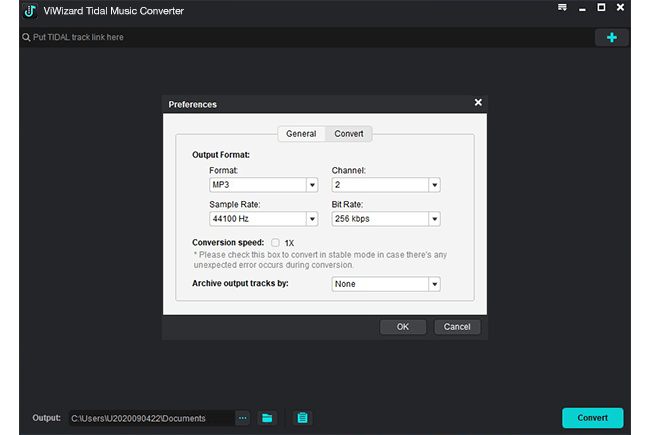 Step 3

Download Tidal music

To download Tidal music within ViWizard, back to the main interface and click on the Convert button. ViWizard will start and finish the conversion at a super faster speed. Once the conversion is complete, click on the Open button to open the folder that contains all the downloaded Tidal music.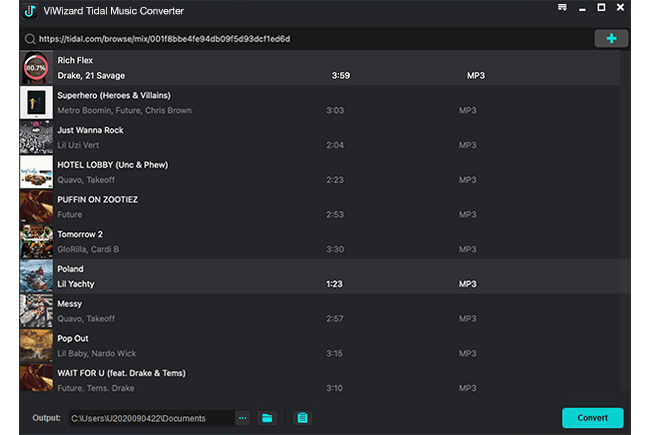 Conclusion
With the best solution provided in this post, now Tidal Free members can download Tidal music tracks for offline use. What's more, the downloaded Tidal music can be used with even the most common device since it's in a universal format such as MP3. How can I download Tidal music for free? The answer would be using ViWizard Tidal Music Converter.