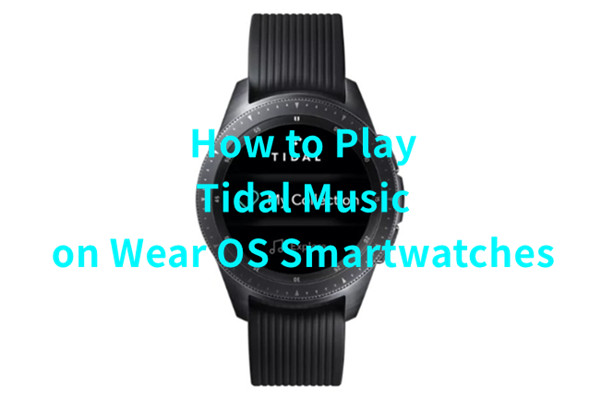 Wearable technology is changing the way we connect with our world, and Wear OS smartwatches are leading the charge. Meanwhile, Tidal's pristine music streaming service is captivating listeners worldwide with its high-quality tunes.
In this post, we'll show you how to combine the best of both worlds. You'll learn how to seamlessly play Tidal music on your Wear OS smartwatch, putting your favorite tracks within arm's reach. Whether you're a fitness fanatic looking to elevate your workouts with a motivating soundtrack, or simply want the freedom to enjoy your music library wherever you go, we've got you covered.
Part 1.

How to Add Tidal Music to Wear OS Smartwatches

The primary challenge Tidal users face when trying to listen to music on Wear OS is the lack of an official Tidal app for the platform. While there are apps for smartphones and computers, Wear OS has been left out of the loop. As a result, streaming music directly from Tidal to your smartwatch is an option only using an alternative method.

The good news is that Wear OS smartwatches allow you to store music files locally. This means you can have your favorite tracks ready to play without relying on an internet connection. However, to make this work with Tidal music, you'll need to convert your Tidal tracks to a format that's compatible with your smartwatch.
Tool Required: ViWizard Tidal Music Converter
Meet ViWizard Tidal Music Converter - your ultimate solution for unlocking the full potential of your Tidal music library. This versatile tool empowers you to convert your Tidal songs into widely compatible formats like MP3, ensuring they can be played on a variety of devices, including Wear OS smartwatches. But that's not all. ViWizard goes the extra mile to preserve the exceptional sound quality you love from Tidal, so your tracks sound just as amazing as they do on the streaming platform.
What sets ViWizard apart is its attention to detail. When converting your Tidal songs, it doesn't mess with the song's essential information. Every element, from the artist's name to the song title and album details, is kept intact. This meticulous preservation ensures you have a smooth and organized listening experience, with all the critical song information readily available. With ViWizard, you're in complete control of your Tidal music, free to enjoy it on your Wear OS smartwatch with ease and impeccable quality.

Key Features of ViWizard Tidal Music Converter
Free Trial
Free Trial
* Security verified. 5, 481,347 people have downloaded it.
Download any Tidal content, including songs, albums, playlists, and artists
Support exporting Tidal music to MP3, AAC, FLAC, WAV, M4A, and M4B
Preserve a whole set of ID3 tag information in the downloaded Tidal songs
Handle the conversion of Tidal music up to 5× faster speed and in batch
Part 2.

How to Download Tidal Music to Wear OS Smartwatches

In this part, we'll provide you with detailed step-by-step instructions to make the conversion and downloading process easy and straightforward with a few steps away.
Step 1

Choose Your Tidal Music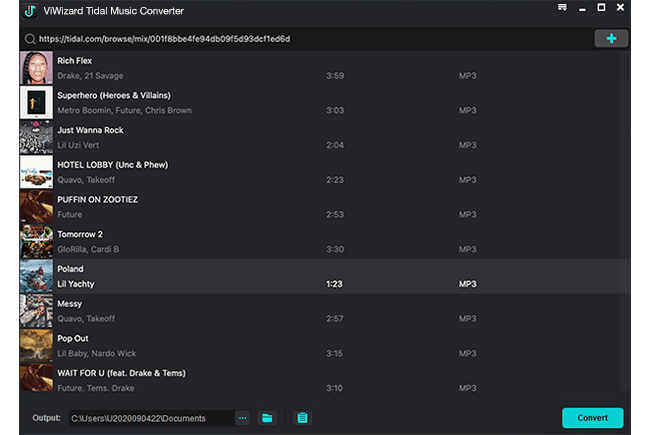 Start by downloading and installing the ViWizard app on your computer, whether you're using Windows or Mac. Open the ViWizard application. Make sure your Tidal desktop app is running on your computer to access your Tidal music collection. Now, to select the Tidal tracks you want to download, it's as easy as drag and drop. Just drag your chosen Tidal music files into the main ViWizard app.
Step 2

Customize Your Output Format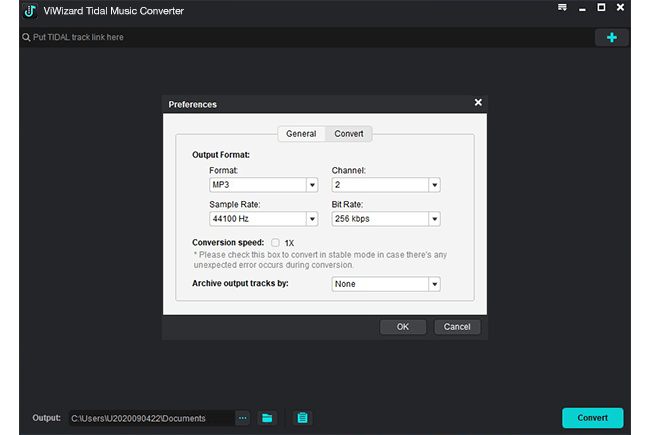 After adding your Tidal tracks, find the menu icon at the top right of the ViWizard app and click on it. In the menu, select "Preferences." Within the Preferences window, navigate to the "Convert" tab. Here, you can change the format of your Tidal tracks. Simply pick from MP3 - this format compatible with a wide range of devices. If you're particular about sound quality, you can fine-tune settings like bit rate, sample rate, and channel to match your preferences. Once you're satisfied with your choices, click "OK" to save your settings.
Step 3

Convert and Download Your Tidal Music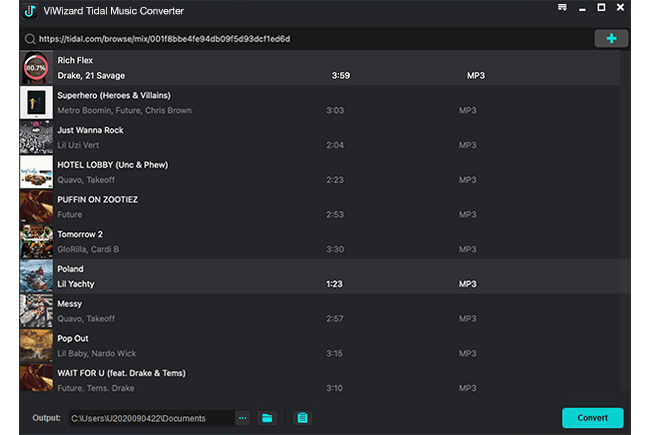 Head back to the main ViWizard app interface, where you'll see the list of your selected Tidal tracks. To kick off the conversion process, all you need to do is click the "Convert" button. ViWizard will get to work, converting your chosen Tidal tracks into the format you've selected (MP3). Once the conversion is complete, you'll have your actual music files ready for download. Now, it's a breeze to sync these converted files to your Wear OS smartwatch for offline listening, giving you the freedom to enjoy your favorite Tidal tunes on the go.
Part 3.

How to Play Tidal Music on Wear OS Smartwatches

As mentioned earlier, you can transfer the ViWizard-converted Tidal music tracks directly to your Wear OS smartwatch using alternative apps or your current devices. We'll walk you through the process using a Samsung Galaxy Watch as an example: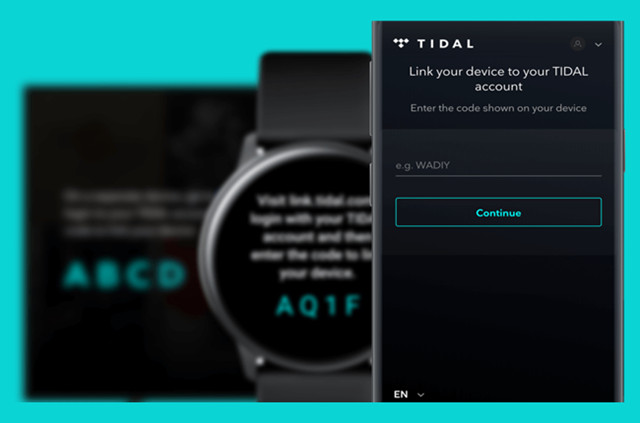 Step 1

Add Tidal Music Tracks via Galaxy Wearable
Ensure that your Samsung Galaxy Watch and your smartphone are paired via Bluetooth.
Tap SETTINGS > Add content to your watch. This option allows you to add content to your watch, including Tidal music tracks.
Tap Add tracks.
Select the Tidal music files you want to transfer and tap DONE. You can choose the Tidal music tracks you wish to enjoy on your watch. Make sure the music files are downloaded or stored on your mobile device.
Step 2

Play Tidal Music Files on Your Galaxy Watch

Now that you've successfully transferred the Tidal music files to your Samsung Galaxy Watch, it's time to listen to them without needing a connection to your mobile device.
On the Apps screen of your Galaxy Watch, tap the Galaxy Apps icon.
Browse and download a music app in the Galaxy Apps. You can search for and install a compatible music app for your Galaxy Watch.
Launch the music app on your watch to play the imported Tidal music files.
Once the music app is installed, open it, and you'll be able to play the Tidal music files you've transferred. You can control playback directly from your watch.
By following these steps, you can easily enjoy your Tidal music on your Samsung Galaxy Watch, even when your mobile device isn't connected. Make sure that the Tidal music files are stored on your mobile device for a seamless transfer to your watch.
Conclusion
Despite the absence of a native Tidal app on Wear OS smartwatches like Samsung Galaxy Watch, we've shown you how to bridge the gap seamlessly. With ViWizard Tidal Music Converter and a few straightforward steps, you can have your cherished Tidal tunes at your wrist, ready to accompany you on your adventures.