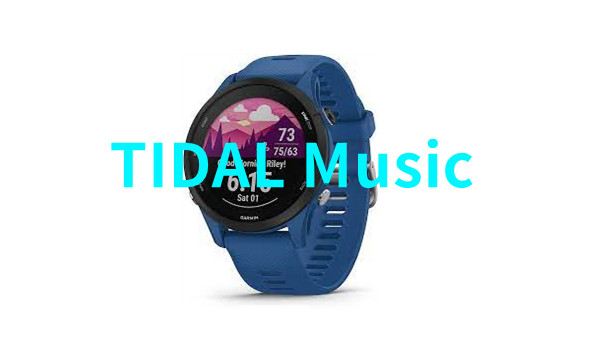 Imagine being out for a run, hike, or even just a leisurely stroll with your Garmin watch, and all you want is to groove to your favorite Tidal tracks. Sounds fantastic, right? Unfortunately, as of now, that isn't quite as straightforward as it should be. In the following sections, we'll introduce you to a solution, ViWizard Tidal Music Converter, that empowers you to convert and download Tidal music for seamless playback on your Garmin watch, ensuring your musical companionship during your outdoor adventures, workouts, and more.
Part 1.

Can I Play Tidal Music on Garmin Watch?

Unfortunately, Tidal hasn't made an official app for Garmin watches, which means you can't easily play Tidal music on these smartwatches. Unlike popular services like Spotify or Apple Music, which work smoothly on Garmin watches, the lack of a dedicated Tidal app makes it impossible to play your favorite tracks directly from your watch.

But don't worry! If you're a Tidal fan and own a Garmin watch, there's a way to make it happen. You can use a handy tool called ViWizard Tidal Music Converter to convert and download your Tidal music, so it can be played on your Garmin watch without an internet connection.

ViWizard Tidal Music Converter is user-friendly, available for both Windows and Mac users. It allows you to download music directly from the Tidal desktop app, no matter what kind of Tidal subscription you have. You can choose your favorite songs to download and build up your offline music library without any restrictions.

With ViWizard, you can convert your Tidal songs into common formats like MP3 or WAV, which are compatible with various devices, including Garmin watches. For those who want the best sound quality, ViWizard keeps your Tidal tracks sounding just as amazing as they do on Tidal. Plus, it doesn't mess with the song details. Everything like the artist name, song title, and album info is kept intact, ensuring you have a smooth and organized listening experience.

Key Features of ViWizard Tidal Music Converter
Free Trial
Free Trial
* Security verified. 5, 481,347 people have downloaded it.
Download any Tidal content, including songs, albums, playlists, and artists
Support exporting Tidal music to MP3, AAC, FLAC, WAV, M4A, and M4B
Preserve a whole set of ID3 tag information in the downloaded Tidal songs
Handle the conversion of Tidal music up to 5× faster speed and in batch
Part 2.

How to Download Tidal Music to Garmin Watches
Step 1

Select and Add Tidal Music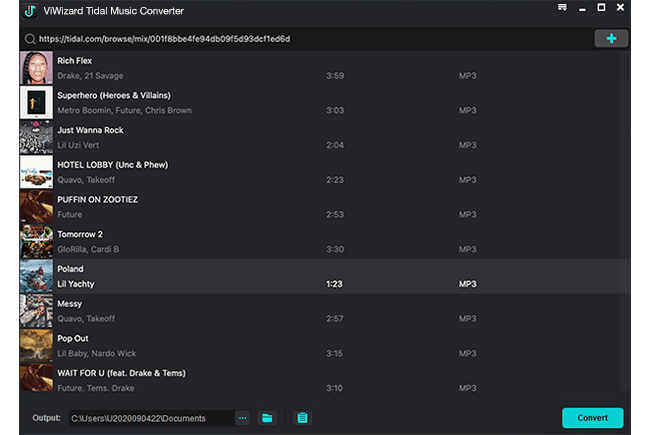 Start by downloading and installing the ViWizard app on your computer (compatible with both Windows and Mac). Launch ViWizard, and also make sure to start or restart the Tidal desktop app. This will allow you to access your Tidal music collection and explore Tidal's extensive music library. To choose and add the Tidal music tracks you want to download, simply drag and drop them into the main ViWizard app interface.
Step 2

Adjust Output Format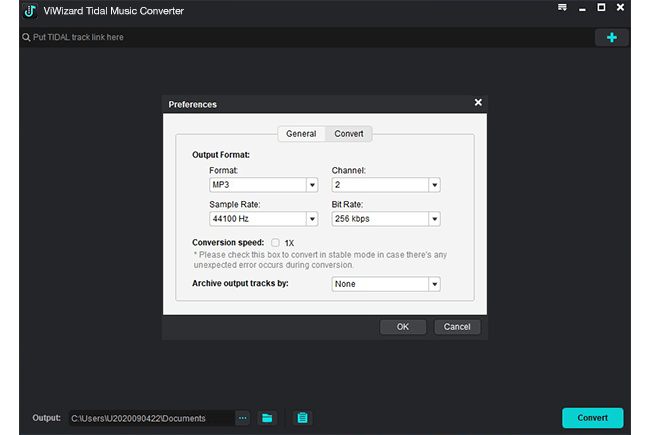 After adding your desired Tidal music, locate the menu icon at the top right corner of the ViWizard app interface and click on it. From the menu, select "Preferences." In the Preferences window, navigate to the "Convert" tab. Here, you can open the dropdown menu next to the current format and choose between MP3, WAV, or FLAC. These formats are compatible with a wide range of devices, including Garmin watches. If you're particular about the audio quality, you can further adjust settings like bit rate, sample rate, and channel according to your preferences. Once you're satisfied with your selections, click "OK" to save these settings.
Step 3

Convert and Download Tidal Music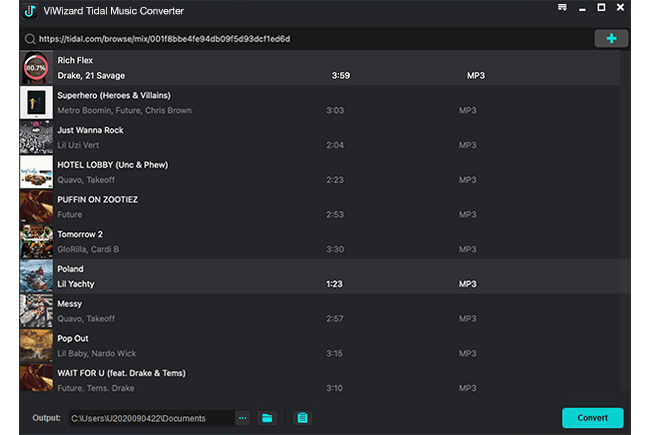 Return to the main ViWizard app interface, where you'll see the list of Tidal music you've added. To start the conversion process, simply click the "Convert" button. ViWizard will now convert your selected Tidal tracks into the format you've chosen (MP3, WAV, or FLAC). Once the conversion is complete, you'll have the actual music files ready for download. Now, you can easily sync these files to your Garmin watch for offline listening, ensuring you have your favorite Tidal tunes with you wherever you go.
Part 3.

How to Download Tidal Music to Garmin Watches

You can then transfer the downloaded Tidal music to your Garmin watches. First, you need to have Garmin Express installed on your computer. Before transferring the music files to your Garmin watch, use the USB cable provided with your device to connect it to your computer. Make sure your watch is turned on and set to data transfer mode.
Step 1

Install Garmin Express
If Garmin Express is not already installed on your computer, visit the official Garmin website and download and install the software. Ensure your Garmin watch is compatible with Garmin Express.
Connect your Garmin watch to your computer using the provided USB cable. Ensure your watch is powered on and set to data transfer mode.
Launch the Garmin Express application on your computer. It should automatically recognize your connected Garmin watch.
Step 2

Add Tidal Music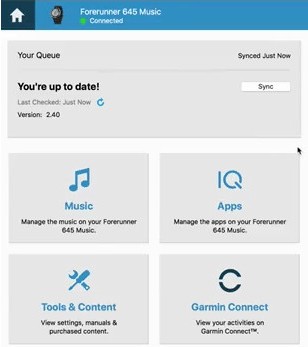 In Garmin Express, navigate to the "Music" or "Music & Media" section, depending on your software version.
Within the "Music" section, you'll find an option to "Add Music" or "Transfer Music." Click on this option.
A file browser window will open, allowing you to locate and select your downloaded Tidal music files on your computer.
After selecting your Tidal music files, click on a button that may say "Add" or "Transfer" to begin the transfer process.
Garmin Express will start copying the selected Tidal music tracks to your Garmin watch. The time required depends on the number of tracks and the transfer speed of your computer.
Once the transfer is complete, safely eject or disconnect your Garmin watch from your computer.
Step 3

Enjoy Tidal Music on Your Garmin Watch

You can now enjoy your downloaded Tidal music on your Garmin watch. Ensure you periodically sync your watch with Garmin Express to keep your music library up to date and enjoy your favorite tunes during workouts or outdoor activities.
Conclusion
By introducing you to ViWizard Tidal Music Converter, we've unlocked a pathway to your cherished Tidal tracks on your Garmin watch. It's a solution designed to bridge the gap, granting you the power to convert and download Tidal music in formats compatible with your Garmin watch. With ViWizard, you can take your music offline, liberating you from the constraints of an active internet connection.