Tidal is a music streaming service that offers tons of CD-quality lossless and Master streams. For users to play such high-quality music not only limited to the app, Tidal has introduced a feature called Tidal Connect. Tidal Connect offers an easier way to stream hi-res (or any quality) audio directly to Tidal Connect-compatible hardware so that you can play Tidal music on various devices. Here you can get some details about Tidal Connect and how to use it.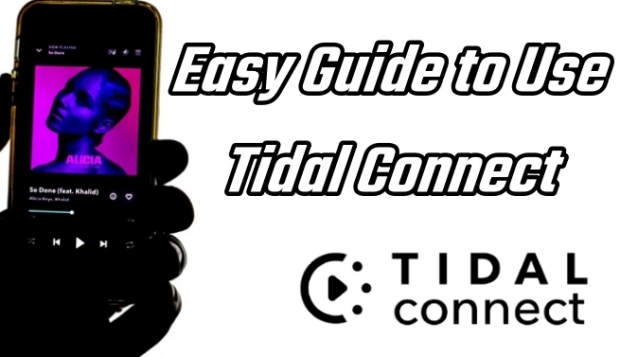 Part 1.

You Need to Know About Tidal Connect

Here is an overview of Tidal Connect, and you need to know some details like what is it, Tidal Connect supported devices, and prerequisites before using it.
1.1 What is Tidal Connect
Tidal Connect is a powerful feature that allows you to stream your Tidal catalog to any Tidal Connect-supported device over WiFi. With that feature, you can stream high-quality Tidal music on multiple devices by controlling your Tidal app on your mobile phone.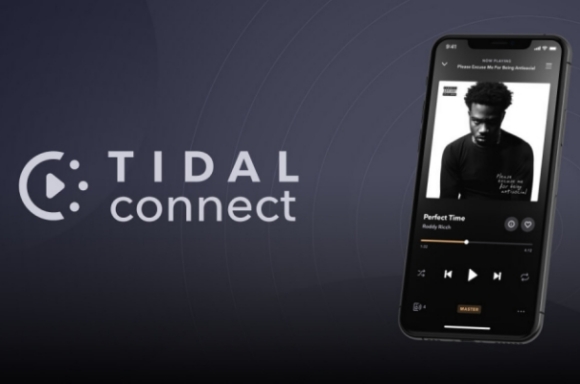 Compared to Bluetooth, AirPlay, Google Chromecast, and other connection types, Tidal Connect allows you to better experience MQA quality and Dolby Atmos. In other words, you can enjoy the best audio quality offered by Tidal in the most convenient way on various devices other than the mobile app. In addition to that, using Tidal Connect to play tidal music on other devices does not affect your use of other features on your phone.
1.2 Tidal Connect Supported Devices
To actually use Tidal Connect, you also need to ensure that your device is a compatible Tidal Connect device. Tidal Connect-compatible devices come in many forms including stereos, receivers, speakers, and more. Devices like Sony, Bluesound, and Sonos are all compatible with Tidal Connect. The most comprehensive list of devices compatible with Tidal Connect is listed on the Tidal official website, where you can search to make sure your device is supported.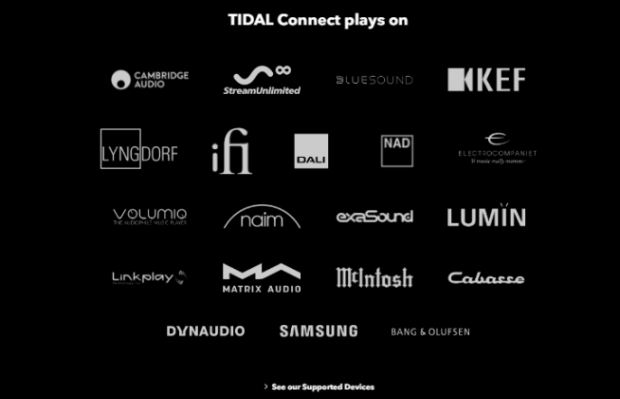 1.3 Preparation Before Using Tidal Connect
It is worth noting that before using Tidal Connect, you also need to ensure the following conditions to better enjoy the high-quality music by Tidal Connect.
A valid subscription: Tidal Connect is only available for Tidal HiFi and Tidal HiFi Plus subscribers. It is not accessible for free users.
Latest Version of the app: Check and make sure the Tidal app on your mobile phone is the latest version. The latest version of the app allows you to avoid some potential bugs when using the Tidal Connect feature. By the way, Tidal on the web player doesn't have Tidal Connect.
A Tidal Connect-enabled device: Most devices support the Tidal Connect feature as mentioned above, and you need to make sure that the device you are going to use is compatible with Tidal Connect.
Stable and same network for both devices: As mentioned earlier, Tidal Connect is a feature that connects two devices over WiFi, so you need to have a stable internet environment and the same wireless network for both devices.
Part 2.

How to Use Tidal Connect

With the preparation mentioned above, you can easily use Tidal Connect on your device. Just a few simple steps below will enable you to use the feature.

Step 1. Head to the Tidal app on your phone and choose a song to play.

Step 2. Tap on the Now Playing bar to a page that pops up.

Step 3. Tap on the device selector icon given in the top right corner. (The device selector icon on the desktop is at the bottom bar.)

Step 4. Then choose one Tidal Connect-enabled device to stream your desired music.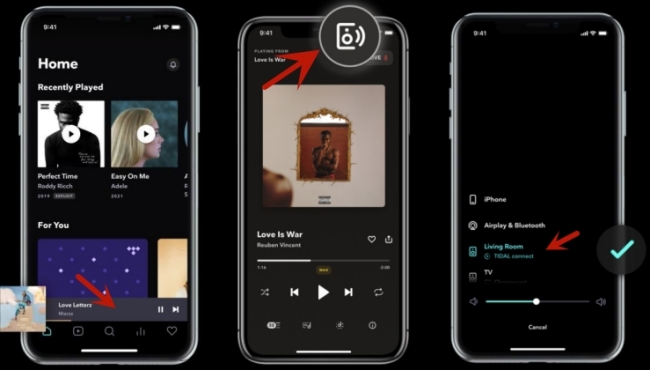 After that, you can feel free to enjoy your Tidal music on the Tidal Connect-enabled device with high audio quality.
Part 3.

How to Solve Tidal Connect Not Working

Anyway, Tidal Connect is a feature that needs to connect two devices for high-quality music playback. Therefore, there might be some network issues or device problems that can cause Tidal Connect to not work. If you are encountering this issue, there are several solutions below you can take to have a try.

Solution 1. Check the status of your network and reconnect it if available.

Solution 2. Force-stop your Tidal app and restart it.

Solutions 3. Reinstall your Tidal Music app. Then try again to connect your mobile phone and device.

Solutions 4. Reboot your Tidal Connect-enabled device and try the connection again.

Solutions 5. Log out and into your Tidal account. Head to the Settings given in the top right corner to implement this operation on your mobile phone. Click the three dots next to your Profile to achieve log out.
Bonus Tip:

Tidal Connect Best Alternative

If all the above solutions can't solve your problem, maybe you can try the best alternative for Tidal Connect to enjoy the same features. ViWizard Tidal Music Converter is a smart tool that has the same features as Tidal Connect. ViWizard can convert and download Tidal music to six popular file formats like MP3, AAC, FLAC, M4A, M4B, and WAV losslessly, and then you can transfer them to other devices to play offline via a USB cable. This not only breaks the device support limitation of Tidal Connect but also breaks the limitation of subscription. In other words, you can download and convert all the Tidal music you want to listen to even if from a free version, and play them on more devices than Tidal supports.

Key Features of ViWizard Tidal Music Converter
Free Trial
Free Trial
* Security verified. 5, 481,347 people have downloaded it.
Download any Tidal content, including songs, albums, playlists, and artists
Support exporting Tidal music to MP3, AAC, FLAC, WAV, M4A, and M4B
Preserve a whole set of ID3 tag information in the downloaded Tidal songs
Handle the conversion of Tidal music up to 5× faster speed and in batch
It's also worth mentioning that if you're a Tidal subscriber and want to convert MQA, Dolby Atmos, Sony 360 Reality Audio, and HiFi quality, ViWizard also can retain the original lossless audio to the greatest extent possible. Therefore, if you are a regular tidal user, ViWizard is a product you can't miss. The simple steps to use ViWizard are listed below for you to try out.
Step 1

Add Tidal Tracks to ViWizard

Download and launch ViWizard on your computer, then your Tidal app will be opened automatically. Head to your music library on the Tidal app to browse and choose the desired songs. After that, drag and drop your selected tracks to the main interface of the converter. Besides, you can copy and paste them to the search bar.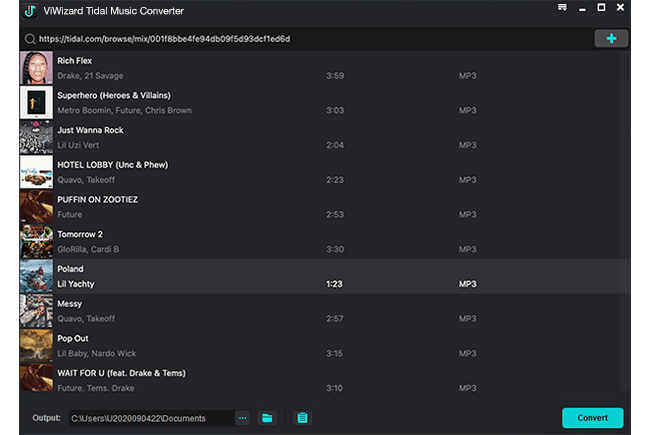 Step 2

Personalize the Output Format and Parameters

Now, you can personalize the output format and parameters of your added Tidal tracks. You can implement this operation by clicking the menu icon in the upper-right corner, then choosing Preferences and Convert on the pop-up window. Click the OK button to save your settings directly.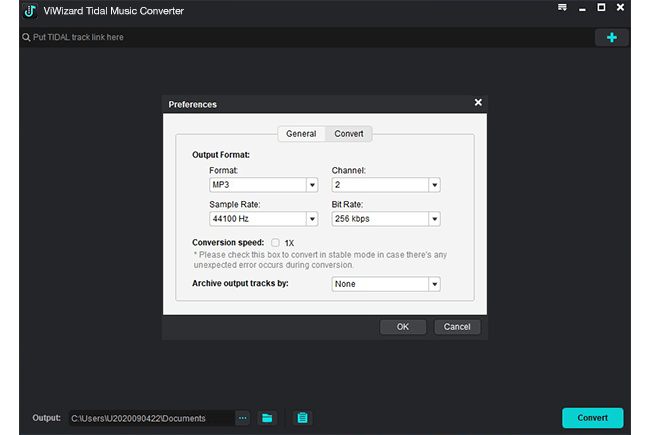 Step 3

Download Tidal Tracks on Your Computer

Once the settings are complete, click the Convert button to initiate the conversion. Then ViWizard will convert Tidal tracks in your select format and save them on your computer. Now you can transfer them to your desired supported device.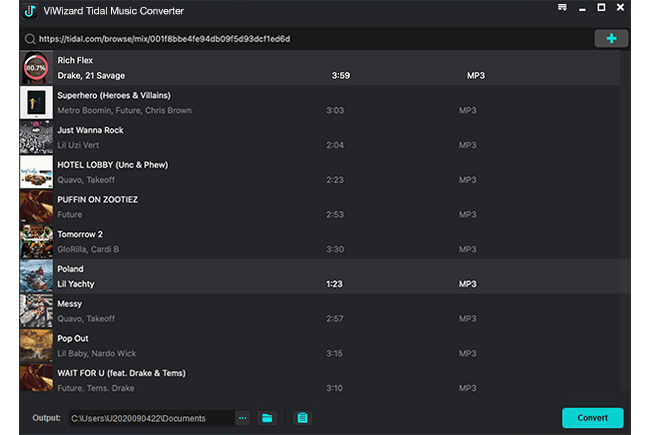 Final Thoughts
The steps to use Tidal Connect are simple and easy to get. As long as Tidal Connect doesn't cause any problems during your usage, you will enjoy using this feature. However, even if there are issues you also can solve them according to the common solutions mentioned above. Of course, ViWizard Tidal Music Converter is highly recommended for you if you frequently encounter problems with Tidal Connect.