What's your plan for Christmas? Have you began to search for some holiday music for the parties or some Xmas episodes for your kids? If you have no idea what kind of TV shows to watch together with kids and family during this Christmas season, take a look at the following article which is going to show you the best holiday TV episodes, including the top 10 bestselling Christmas specials, best all-time classic holiday TV shows, etc. with a brief story line provided for each episode that will help you easily get into the spirit of Christmas.
Top 10 Christmas Specials for Kids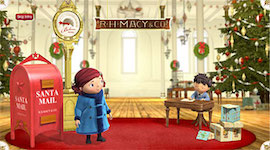 No.10 Yes, Virginia
It tells a story about a little girl named Virginia O'Hanlon who loves Christmas more than anything else in the world embarks on a quest across the city to prove Santa Claus is real. Finally her father inspires her to write a letter to the New York Sun newspaper, claiming "If you see it in the Sun, it's so." Based on the true story of the most famous newspaper editorial of all time, Yes, Virginia is a heartwarming tale about believing in the true spirit of Christmas.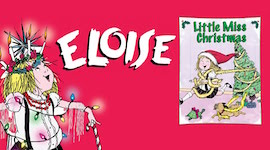 No.9 Eloise: Little Miss Christmas
Eloise is based on the Eloise series of children's books drawn and written by Kay Thompson and Hilary Knight. In the episode of Little Miss Christmas, it's Christmas Eve in Plaza, Eloise and her friends have decided to put on a holiday show. At the last minutes, the show is required to be canceled. But finally the kids find a way to save their show and in the end learn that the true spirit of the season is having the people you love all happy and together.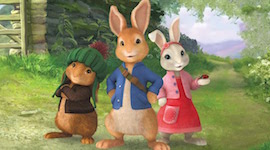 No.8 Peter Rabbit's Christmas Tale
Peter Rabbit is based on the character of the same name from the Beatrix Potter children's books. The series debuted in 2012 with the holiday special, Peter Rabbit's Christmas Tale. In this special, Peter and his cousin Benjamin brave a blizzard to deliver food to the Valley's residents. Along the way, they need to hold on to their list while they try to avoid mean Mr. Tod, the sneaky fox who'd like nothing better than rabbit for his holiday supper.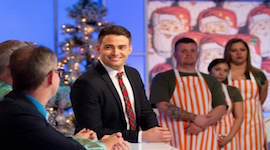 No.7 Cake Wars: Christmas
Hosted by Jonathan Bennett, Cake Wars: Christmas is a six-week battle for holiday glory which brought together seven teams of the best-ever food artists, each set to face off for the $50,000 prize. Along with a rotating roster of special guests, Master Baker Sherry Yard and design expert Charles Phoenix are on hand to judge the competitors. From hilariously festive ugly Christmas sweaters to over-the-top gingerbread houses, who will win the $50,000 prize?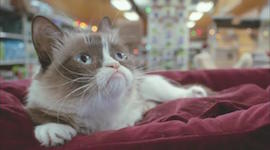 No.6 Grumpy Cat's Worst Christmas Ever
This Christmas TV episode directed by Tim Hill and stars the Internet celebrity Grumpy Cat tells the story of a lonely feline living in a pet shop with a sour outlook on life until one day during the holidays, a very special 12-year-old girl name Chyrstal acted by Megan Charpentier. Chyrstal is the only person who can hear this unique cat talk, and the two develop a close friendship during the holiday rush.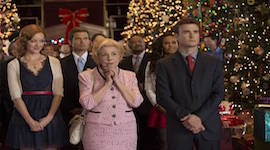 No.5 Twelve Trees of Christmas
Aired on Lifetime in 2013, Twelve Trees of Christmas is the story of local librarian who's ecstatic to celebrate the holiday season until she learns a real estate developer has plans to demolish her library. She rallies her neighbors to help save the library with a Christmas tree decorating contest. Not to be deterred, the developer joins the competition and recruits a professional interior designer to help him win the contest.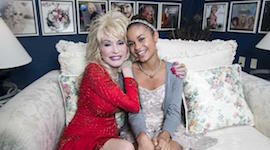 No.4 A Country Christmas Story
It's a not-to-be-missed TV film about a young Appalachian girl who pursues her dream of becoming a country singer against the wishes of her mother. Her journey takes her to a singing competition at Dollywood hosted by none other than multiple Grammy Award winner Dolly Parton. There, she also reunites her with her musician father and uncovers the musical legacy of African Americans in the world of country music.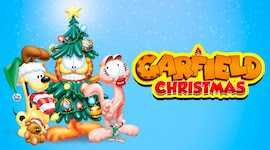 No.3 A Garfield Christmas
A Garfield Christmas Special is a 1987 animated TV special based on the Garfield comic strip. It featured Lorenzo Music as the voice of Garfield. In this TV special, it's Christmas Eve and Garfield, Jon and Odie are going to Jon's grandmother's house to celebrate Christmas, where Garfield finds a present for Grandma. This Christmas special has always been ranking high in top list of best family holiday specials.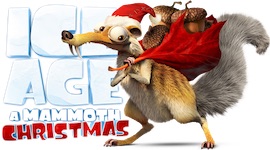 No.2 Ice Age: A Mammoth Christmas
Ice Age: A Mammoth Christmas is a 2011 computer animated television special and part of the Ice Age franchise, produced by Blue Sky Studios and directed by Karen Disher. The story begins when Sid accidentally destroys Manny's Christmas traditions and he's told will be on Santa's naughty list. He then leads a hilarious quest to the North Pole to make things right and ends up making things much worse.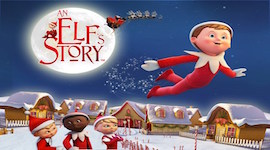 No.1 An Elf's Story
An Elf's Story is the inspirational tale of Chippey, the young scout elf who is assigned by Santa to restore the nine-year-old Taylor's belief in Christmas magic. When the boy breaks the number one Elf on the Shelf rule, Chippey loses his Christmas magic, the entire McTuttle family loses its scout elf, and both Taylor and Chippey lose their self-respect. It's is filled with fun, music and the timeless mesage that Christmas is something we carry in our hearts.
10 All-Time Bestselling Classic Christmas TV Shows
If you also like to watch some classic family-friendly TV shows of Christmas, you can refer to the top 10 bestsellers of classic Christmas specials listed as below.
1. Dr. Seuss' How the Grinch Stole Christmas - In this live-action adaptation of the beloved children's tale by Dr. Seuss, the reclusive green Grinch decides to ruin Christmas for the cheery citizens of Whoville. Reluctantly joined by his hapless dog the Grinch comes down from his moutaintop home and sneaks into town to swipe everything holiday-related from the Whos. However the bitter grump finds a hitch in his plans when he encounters the endearing Cindy Lou Who.
2. A Charlie Brown Christmas - It perfectly embodies Charles M. Schulz's beloved characters as it celebrates the Yuletide season. In a simple but beautifully told story of Charlie Brown's search for his missing holiday cheer, its universal message of hope and goodwill still resonates today. It's a Christmas tradition your family will love to share for years to come.
3. Peanuts Holiday Classics - This timeless collection includes six of your favorite Peanuts holiday specials, all in high-defination!
4. Frosty the Snowman - Do you remember when the children made a snowman in the schoolyard on Christmas Eve and named him Frosty? Karen placed a top hat on his head and everyone's favorite snowman magically came to life? Look at Frosty go!
5. The Year Without a Santa Claus - This is a 1974 Rankin/Bass stop motion animated television special based on Phyllis McGinley's 1956 book of the same name, illustrated by Kurt Werth. Santa, disillusioned by children's lack of belief in him and in the spirit of giving, decides not to deliver toys this Christmas Eve, despite the arguments by Mrs. Claus and two of his helper-elves, Jingle and Jangle. They decide to provide Santa with some proof that children still believe and that they still deserve toys from Santa.
6. The Original Christmas Classics - The tales in this special collection are some of the most beloved Christmas stories of all time. Featuring timeless songs and the voices of Fred Astaire, Mickey Rooney, and many more legendary stars, it's a fun-filled reminder of the season's magic.
7. Frosty the Snowman Holiday Collection - Do you still remember the snowman Frosty who comes to life after Karen puts a top hat on his head on Christmas Eve, and the other funny things happen between them? Now why not experience the magic again in this special collection?
8. Santa Claus Is Comin' to Town - Starring Fred Astaire, Mickey Rooney, Keenan Wynn and Paul Frees, this TV special tells the story of how Santa Claus and several Claus-related Christmas traditions come to be.
9. I Want a Dog for Christmas, Charlie Brown - It's one of the Peanuts made-for-television specials telling the story about Linus and Lucy's younger brother Rerun who wants a dog for Christmas. Then they find Snoopy's brother Spike may be the answer...
10. 'Twas the Night Before Christmas - This 1974 animated holiday special adapted from the famous poem by Clement Moore is narrated by actor Joel Grey. It's a story to explore yuletide traditions around the world in animated comic-book form.
How to Get those Best Christmas TV Shows
So if you found some of the TV episodes just meet your taste for the Christmas and would like to buy them, where will you get them? Actually there are many different sources you can buy those great Christmas TV specials, including the online websites as well as some retail outlets, like super market or DVD stores. When it comes to online sources, there are some popular ones you can't miss, such as Apple iTunes store, Amazon, etc. If you don't know much about those online digital stores, you can simply visit this comparison among some best digital stores to find out where to get digital movies and TV shows online: Best Places to Buy Digital Movies Online >>
Tips for iTunes Users to Bypass DRM from Protected Christmas TV Episodes
If you are using iTunes service to get the online digital copies for the Christmas TV shows, you should know that the iTunes TV shows are protected by Apple and can't be played on non-Apple-approved devices and platforms. This could be troublesome if you want to watch those holiday episodes purchased from iTunes on Android or other non-Apple devices. There could be no better way to get it done unless the DRM protection is removed from the iTunes TV shows.
Now we are talking about TunesKit DRM Media Converter for Mac/Windows, an ultimate iTunes DRM removal solution to help you easily and permanently remove DRM lock from iTunes TV series as well as movies and protected music videos. It's specially developed to bypass the iTunes DRM restriction by losslessly converting the DRM-ed M4V files to unprotected MP4 videos at 30x faster speed. It's able to keep the original audio tracks, AC3 5.1 surround sound, subtitles, etc. For the complete guide to unlock DRM from iTunes M4V TV shows and movies, please view this tutorial: How to Losslessly Remove DRM from iTunes Movies and TV Shows >>

Matt Smith is an amateur writer engaged in Tuneskit in 2013. He is a movie lover who write a lot of movie reviews for many websites and blogs.