[UPDATE] We are glad to notify you that TunesKit for Windows is now fully compatible with the latest iTunes 12.7. You may download the newest version 2.8.9 of TunesKit for Windows to remove iTunes FairPlay DRM protection from M4V movies and TV shows rented or purchased from iTunes 12.7 with ease now.
Most TunesKit for Windows users have found the problem that TunesKit can't launch iTunes properly to add or convert any iTunes files at all after upgrading to the latest release of iTunes 12.1 a few days ago. If you are facing such a problem, please simply follow the tutorial in this article to fix it in a quick manner.
Firstly, please kindly note that such kind of problem appears because TunesKit for Windows doesn't support the new full 64-bit iTunes 12.1. But don't worry. Our R&D team are working on it now and will fix it ASAP. And once the new version of TunesKit is available, our support team will notify customers who have encountered this error via emails.
Before the new version of TunesKit for Windows is released, please follow the steps below to downgrade iTunes 12.1 to the older version 12.0.1 in order to get TunesKit to work as smoothly as before.
Step 1. Completely Uninstall iTunes 12.1
If you are using 32-bit Windows, open Control Panel and click "Uninstall a program" in the Programs section. Find the five components of iTunes 12.1 shown in the below image and uninstall all of them completely. The five components are including: Apple Application Support, Apple Software Update, Apple Mobile Device Support, iTunes and Bonjour.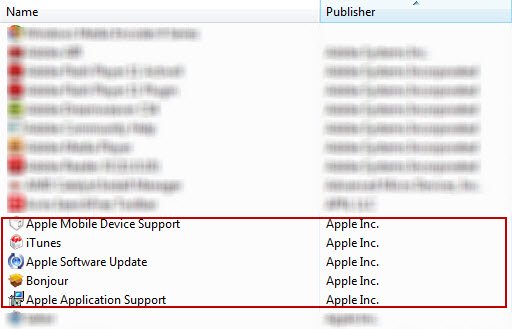 If you are running on 64-bit of Windows, you may find you have different iTunes components as the following image shows. Then you should uninstall Apple Application Support(64-bit), Apple Application Support(32-bit), Apple Mobile Device Support, Bonjour, Apple Software Update and iTunes.

Step 2. Download and Install iTunes 12.0.1
Once you've uninstalled all iTunes 12.1 components, you can reboot your computer and then install the older iTunes 12.0.1 version from the links provided below:
Please download iTunes 12.0.1 (32-bit) from the following link:
Please download iTunes 12.0.1 (64-bit) from the following link:
Note: While installing iTunes 12.0.1, please remember to uncheck the auto update of iTunes as it shows below: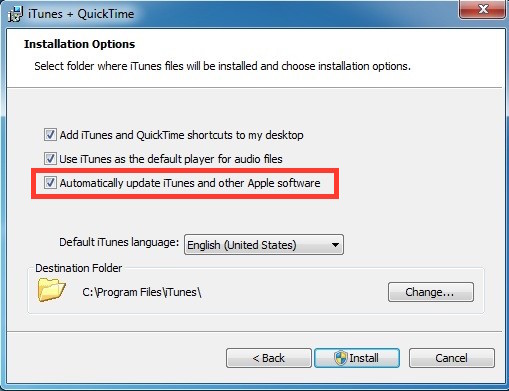 More Tips
If the above method doesn't solve your problem, please contact us at: support@viwizard.com and we will submit your problem to our R&D team for further analysis.

Dan Miners is the PR manager of TunesKit since 2012. He is in charge of all public relations, advertising, affiliate, etc for TunesKit.