Most of the time, streaming music from Amazon Music is a pleasant experience. You might expect Amazon Music to stream your favorite music without a pause or crash, but that not always the case in the world of streaming music services, like Amazon Music.
On Amazon Music, all the issues are about Amazon Music not working, including Amazon Music keeps stopping and the "Error 200 Amazon Music" on the app's download page. But we're here to offer continuous help to figure out what's wrong with another problem - "Amazon Music not playing".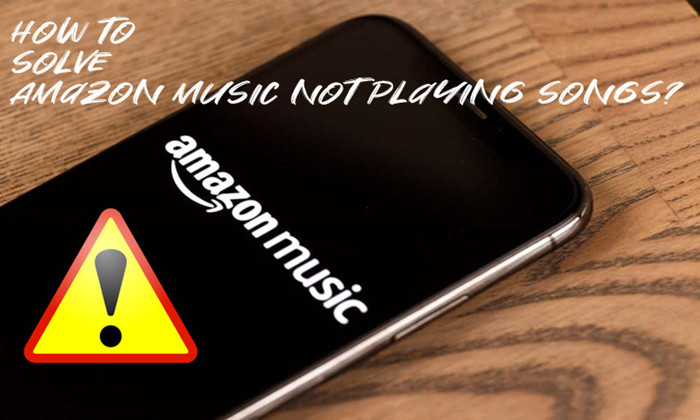 In this article, we'll tell what the 2 different situations about "Amazon Music not playing" are, and other common problems we've noticed. We even found some possible fixes to the most common Amazon Music not playing problem.
Part 1. Why Amazon Music Not Playing Songs
Why isn't my Amazon Music playing? Why can't I play Amazon Music on my phone? For starters, you should ensure you have tried all the normal troubleshooting steps for the most common "Amazon Music not playing" issue - restart the device, force stop and reopen Amazon Music app, clear Amazon Music cache, uninstall and install Amazon Music app…
If all the common steps fail, here we tell the 2 situations for identification - "for Amazon Music most songs won't play" and "for Amazon Music some songs won't play". Basically, the former answers "Why isn't my Amazon Music playing?" and the latter answers "Why can't I play Amazon Music?". Reading on to identify the problems and use the fixes provided.
For Amazon Music Most Songs Won't Play:
1. Network Connection
To stream most songs from Amazon Music on phone devices, both a solid internet connection and the correct Amazon Music app settings for cellular should be capable. Confirm the network is connected to Wi-Fi or a mobile network.
You can confirm the app settings for cellular. Also, the usual speed to stream most songs from Amazon Music should be between 10-20 Mbps, if the network speed is suspicious, a speed text with a reliable software from the app store or search engine can text the network's speed within just a few seconds.
2. Amazon Music Update
Sometimes for Amazon Music not playing songs, the app just needs a new update or the fixes which are included in an available update. If the "Amazon Music not playing" happened right after a previous Amazon Music app update, unfortunately it was a bad update and brought this trouble. If there's no a new Update option, users are kept waiting for an available update or for an extra fix from Amazon Music.
Open the app store that install the app from, search for Amazon Music and open its detail page. If an update is available, an Update option can enable a new released version.
For Amazon Music Some Songs Won't Play:
1. Audio Quality Limitation
If the songs are in HD or Ultra audio quality, then Amazon Music can be stuck. To steam HD and Ultra music with Amazon Music Unlimited, both a strong Internet connection and the device capable of HD and Ultra playback are needed.
First to check on the audio quality of the song that is stuck, open the Amazon Music app and go to the Now Playing page, where HD or Ultra HD badging displays. If there's no network issue and the song is in HD or Ultra HD, switch to other audio quality or use an external DAC that supports processing a bit depth of 16-bit and a sample rate of at least 44.1 kHz, which is capable of HD and Ultra HD requires can work.
2. Amazon Music Services Limitation
Sometimes for Amazon Music not playing songs, Amazon Music services are to blame, aka subscription for Amazon Music. The streaming service are accessible within Amazon Music's most plans, including Amazon Prime Music, Amazon Music Unlimited, but these 2 plans have different access to music from Amazon and the on-demand listening may be only available with a certain service, thus for Amazon Music some songs won't play.
You can switch to a different subscription plan if it is for the Amazon Music services limit, or to check to see whether the streaming service has expired. Also, there are times when the streaming service is under maintenance or the servers are down. You can search for an online website monitor to check if the service is not available.
Part 2. How to Play Amazon Music Songs without Limits
For most Amazon users, the problem is not about the Amazon Music subscription service or several limitations, the "Amazon Music not playing" issue just need an immediate fix no matter from Amazon Music or a third-party tool.
Fortunately, a useful tool like ViWizard Amazon Music Converter can offer the immediate help to solve this problem forever to stream Amazon Music without any limit. Just a click on the Download button below for the free Windows or Mac version can start to download music songs from Amazon. Also, you can customize or improve the listening experience by changing the output parameters of Amazon music tracks in ViWizard. Lossless audio quality and full ID3 tags can also be saved.

Key Features of ViWizard Amazon Music Converter
Download songs from Amazon Music Prime, Unlimited, and HD Music
Convert Amazon Music songs to MP3, AAC, M4A, M4B, FLAC, and WAV
Retain the original ID3 tags and lossless audio quality of Amazon Music
Support customizing the output audio parameters for Amazon Music
Step 1

Select and Add Amazon Music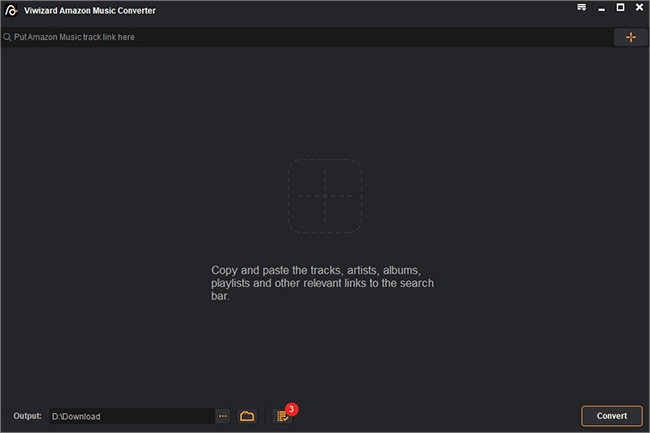 Launch ViWizard Amazon Music Converter with the correct version on the computer. Also a pre-installed Amazon Music app is needed. When it is detected, it will be launched or relaunched every time ViWizard is open for stable conversion. Sign into your account for Prime or Unlimited to get the instant access to your playlist. Now you can select and add Amazon Music including tracks, artists, albums and playlists by a simple drag and drop to the center screen of ViWizard.
Step 2

Customize the Listening Experience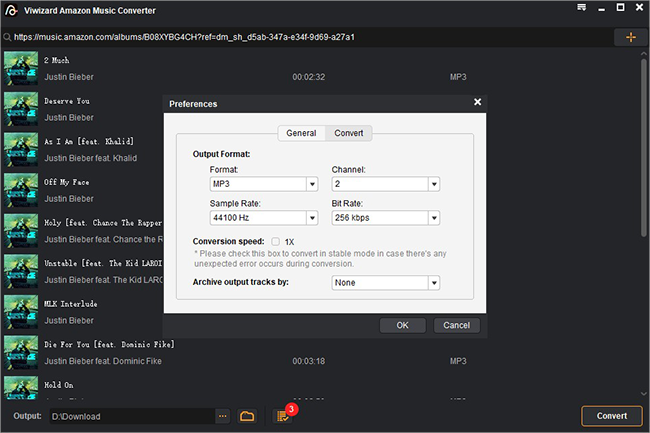 Just a click on the 'Convert' button can start to download all the added songs but, parameters of the songs are recommended to be set for an improved or unique listening experience. Now click the menu icon and click 'Preferences'. On the new window, click 'Convert' and the output format, channel, sample rate and bit rate can be set as you want. To stream Amazon Music without an issue, MP3 for the output format are recommended. The usual bit rate can be set as the default 256kbps - the same as Amazon Music - or improved to 320kbps for better listening experience. Remember to click the 'OK' button to save these settings.
Step 3

Download and Convert Amazon Music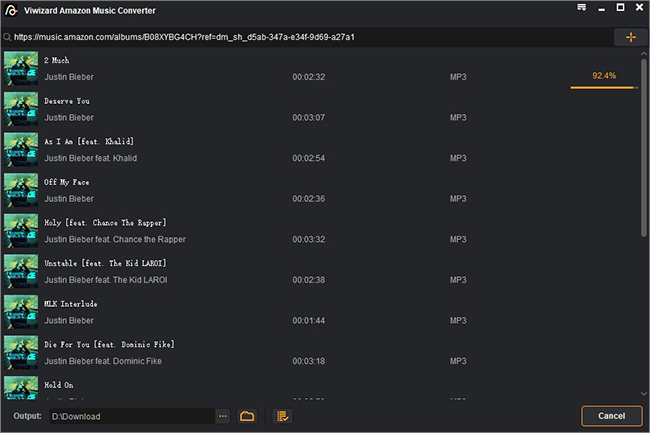 Also notice the output path at the bottom of ViWizard's center screen, showing where the music files will be saved after the conversion. A simple click on the three-dot icon next to it can start to select the output folder. Now Click the 'Convert' button and the conversion will be finished within a few moments at a 5x speed. Click the file icon next to the three-dot icon, now the downloaded files are all safe on the computer.
Conclusion
Now the downloaded music songs should work without limits on Amazon Music. If such issue as Amazon Music not playing happens again, you know what's faster than the fixes from Amazon Music. Have a try, and you'll find out.
More Amazon Music Tips & Tricks