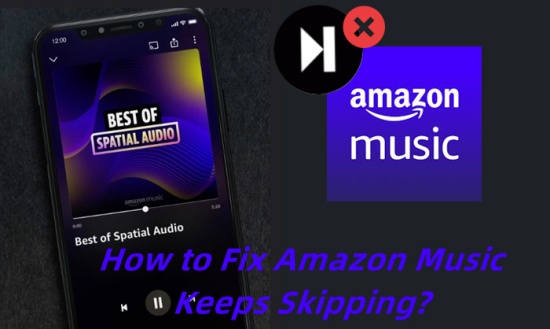 While Amazon Music continually strives to enhance its services, some users have encountered persistent issues within its app, notably the problem of song skipping. Numerous users have reported experiencing interruptions where songs on the platform skip either midway or after just 30 seconds, a situation that can prove to be not only frustrating but also irritating.
Experiencing the frustration of Amazon Music continuously skipping songs is a common playback issues on Amazon Music. It can arise for various reasons, including unstable internet connection, corrupted cached files, and device operating system incompatibility. Fortunately, there're proven steps you can take to resolve this issue and enjoy uninterrupted music streaming on Amazon Music:
Method 1.

Check Your Internet Connection

Song skipping can occur if your device has a poor or unstable internet connection. As streaming music on Amazon Music requires a stable and consistent connection to work smoothly. Ensure that you are connected to a reliable Wi-Fi network or have a strong mobile data signal before using the Amazon Music app.

Alternatively, try a different network to identify if the problem is specific to your current connection. If you confirm the skipping issue on Amazon Music is network-related, switch to a different Wi-Fi network or switch from Wi-Fi to mobile data (or vice versa) and see if the issue persists.
Method 2.

Close Background Apps

When Amazon Music is playing songs, other apps running in the background can consume system resources and interfere with the Amazon Music app's performance. You should close all the background applications, including the Amazon Music app and restart it.
Method 3.

Update the Amazon Music App

Outdated app versions may contain bugs or compatibility issues that can lead to problems like song skipping. The outdated version of the Amazon Music app may include bugs and glitches that cause playback issues. Please visit your device's app store (Google Play Store for Android or Apple App Store for iOS) and check for updates for the Amazon Music app. If an update is available, install it.
Method 4.

Clear App Cache and Data

Cached data can sometimes become corrupted and cause playback issues. If you're using an Android device, clearing the cache and data can help resolve this. In your device's settings, navigate to the Amazon Music app, select Storage, and then choose "Clear Cache" and "Clear Data." This will reset the app, so you may need to log in to the app again with your Amazon account credentials.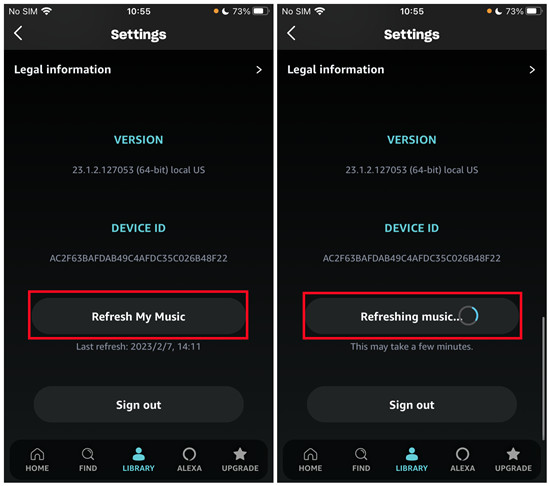 If you're using an iOS device such as your iPhone, open the Amazon Music app and go to the app's settings. Find the "Refresh My Music" option at the bottom of the app's settings.
Method 5.

Restart Your Device

Rebooting your device can resolve minor software glitches that may be causing song skipping. Simply power off your device and then turn it back on. This can refresh the device's system and close any background processes that might be interfering with the app.
Method 6.

Switch Online to Offline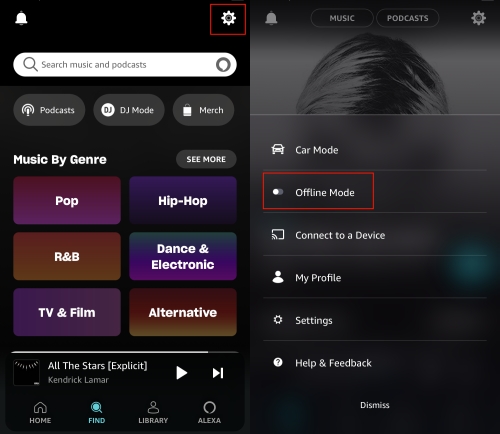 If you are streaming music on Amazon Music and songs keep skipping, try downloading them offline to your device. After downloading, enable the "Offline Mode" feature in the app's settings and play the downloaded songs.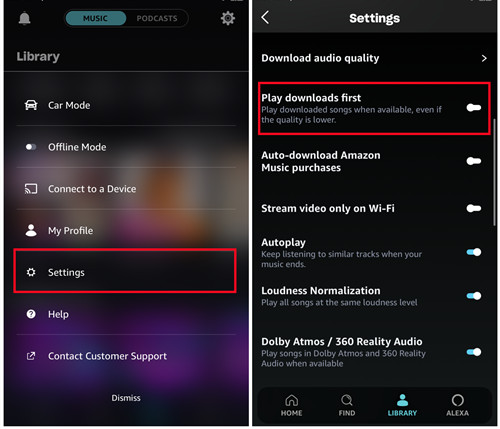 You may also want to make sure the Amazon Music app access your downloads first. If so, open the Amazon Music app find the "Play downloads first" option under the playback settings within the app to play downloaded songs when available.
However, while downloading songs in the Amazon Music app, you might occasionally encounter issues where downloads stop or the feature appears to stop working. This can result in corrupted offline downloads that may cause playback problems, including the song skipping. If the songs that're skipping are downloaded already, it's essential to ensure that your downloaded songs are intact. You should delete any problematic downloads and re-download the songs again to ensure they are not corrupted.
Method 7.

Choose Lower Audio Quality
Depending on your internet connection speed and stability, you can modify the streaming quality to reduce the chances of song skipping. Lowering the quality can help maintain a smoother playback experience, especially on slower connections. Open the Amazon Music app and access the app's settings. Look for the "Streaming Audio Quality," and choose a lower audio format such as "Standard." After that, check if you're still experiencing buffering or skipping.
Method 8.

Update Device OS

An outdated device operating system can cause compatibility issues with the Amazon Music app. Update your device's operating system to the latest version available for better compatibility with the Amazon Music app. After the update is complete, your device will be better prepared to work seamlessly with the Amazon Music app, reducing the likelihood of interruptions like song skipping.
Method 9.

Reinstall the Amazon Music App

If you're still experiencing song skipping issues after trying the previous steps, consider reinstalling the Amazon Music app. This can help resolve any potential app-related glitches or problems. Long-press the app icon and select "Uninstall" or "Remove." Alternatively, go to your device's settings, then "Apps" or "Applications," finding Amazon Music, and selecting "Uninstall."
Method 10.

Convert Amazon Music to MP3 for Playing

While the previous fixes aim to minimize song skipping issues within the Amazon Music app, there is an alternative solution that ensures a flawless listening experience with complete control over your music library. By using ViWizard Amazon Music Converter, you can convert your Amazon Music downloads to various formats, including MP3, M4A, M4B, AAC, WAV, and FLAC. This method eliminates the risk of songs skipping in the middle or after 30 seconds and offers greater flexibility with your music content.

Key Features of ViWizard Amazon Music Converter
Free Trial
Free Trial
* Security verified. 5, 481,347 people have downloaded it.
Download songs from Amazon Music Prime, Unlimited, and HD Music
Convert Amazon Music songs to MP3, AAC, M4A, M4B, FLAC, and WAV
Retain the original ID3 tags and lossless audio quality of Amazon Music
Support customizing the output audio parameters for Amazon Music
Step 1

Add Music from Amazon

On Windows or Mac, launch the ViWizard Amazon Music converter to connect the Amazon Music desktop and your Amazon Music account. In the pop-up Amazon Music for desktop, select songs from the MUSIC section to add to ViWizard via drags-and-drops.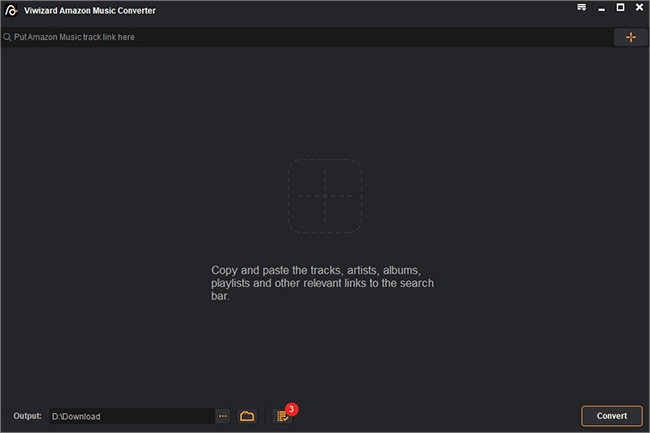 Step 2

Customize Output Format

Return to ViWizard, open the app menu at the top to Preferences. In the Preferences setting, set the output format as MP3. You can also set the codec, sample rate, bit rate and channel here, then click OK to save these customizations.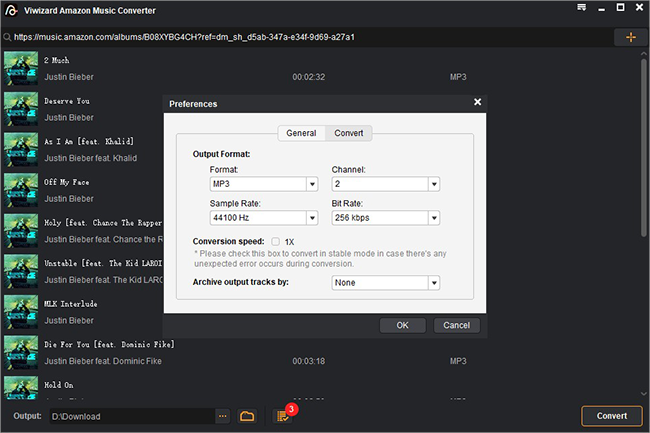 Step 3

Download Amazon Music

Now click on the Convert button at the bottom to download all the added Amazon Music contents in ViWizard. After the conversion, the output folder will pop up to browse all the converted files!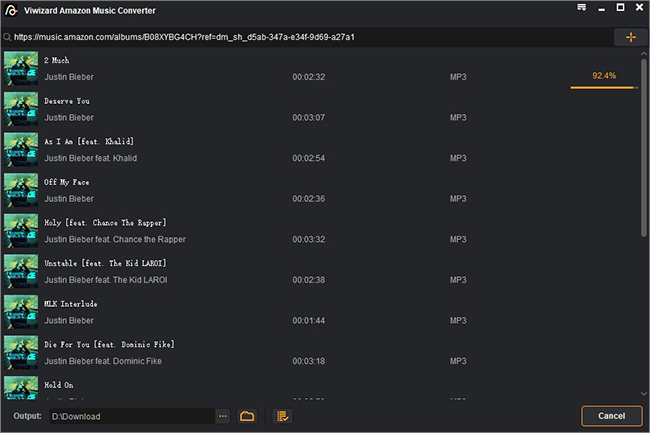 Conclusion
By using ViWizard Amazon Music Converter, you can transform your Amazon Music downloads into the format of your choice, ensuring a seamless and uninterrupted listening experience, free from issues like song skipping. This method empowers you to take full control of your music and enjoy it on various devices and platforms with ease.