For gamers, both PlayStation and Xbox are good choices for gaming, but it can do so much more. When it comes to playing music as background on the consoles, it's a pain to have Amazon Music on PS5 while Xbox One seems to be a better choice.
The Amazon Music app has been available on the Xbox One but excluded on PS5. On the Xbox One, Microsoft allows customers to install Amazon Music app via its App Store and find and stream favorite music from Amazon, which means Amazon Music users don't have to switch to other supported streaming music services like Apple Music.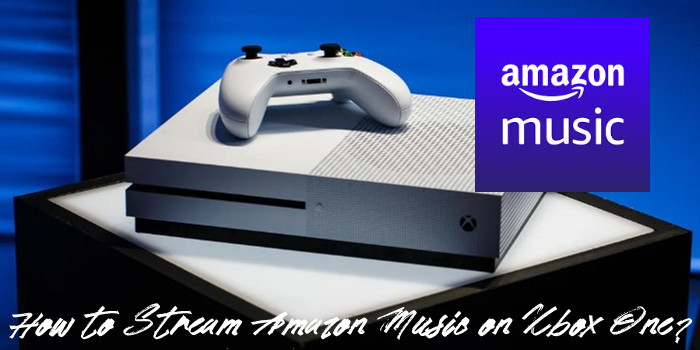 For Amazon Music fans with Xbox One consoles, there has never been such a great time to listen with their Prime membership or get more with Amazon Music Unlimited on Xbox One. For those who want to know how to play Amazon Music on Xbox One, this article will tell 2 ways to help.
Part 1. How to Play Amazon Music on Xbox One via Xbox App
At this moment, Amazon Music offers 2 million songs for Prime members at no extra cost and 90 million songs for Music Unlimited subscribers on Xbox One. To play Amazon Music on Xbox One, you should first install Amazon Music app. Follow the step-by-step guidance can install Amazon Music on Xbox One with ease.

1. Power the Xbox One and go to the Home screen.
2. On the Home screen, scroll down to find 'Browse Apps' and select it.
3. Tap the 'all apps' button and further filter apps by Music to find Amazon Music app. Or click the search icon and input 'Amazon Music'.
4. Once Amazon Music app is found, it will be taken to its store page, just press the 'install' button to install Amazon Music app on Xbox One.
Next time to open Amazon Music app, for a normal use, to open the 'My Games & Apps' section of the Xbox One. Or for a more often use, highlight the Amazon Music app to pin and press the Options button on the Xbox One controller, and then highlight 'Add to Pins' and press A button to find the Amazon Music app in the Pins section on the Home screen.
Tips: From the Start menu, it's nice to skip to the next song rather than having to go all the way into the Amazon Music app from your game.
Part 2. Two Problems about Amazon Music App on Xbox One
But there are some things that don't quite feel right. For now there are two main problems about Amazon Music Xbox One - playlists don't sync on the Xbox Amazon Music app One is and no Amazon Music HD on Xbox One.

3.1 Playlists Won't Sync on Amazon Music Xbox One
Sometimes it's desperate to see your playlists on Xbox One seems to take forever to sync when you add or remove a song from Amazon. You are sure there is a problem with the Amazon Music Xbox One because your playlists work fine on your phone and PC, but there's still no fixes from Amazon Music.
3.2 No Amazon Music HD on Xbox One
For Amazon Music Unlimited subscribers this problem can be fatal. It confuses a lot that Music HD/Ultra HD service as part of Amazon Music Unlimited subscription but seems not available because there is no such Amazon Music HD on Xbox One.
As stated in the Amazon Music Unlimited HD FAQ, Which Windows device support Amazon Music HD? - PC support for HD/Ultra HD playback depends on the built-in audio player and DAC which varies by device. Please check your manufacturer specifications. Therefore, for now there is still no quality badge to get Ultra UD tracks when streaming Amazon Music.
Considering that Amazon Music app has such a high quality music service for Music Unlimited subscribers, it disappoints a lot not to get Amazon Music HD Xbox One. Also it is inconvenient not to sync the playlists.
Fortunately, it's a pain but there is a better choice to solve the two problems about Amazon Music on Xbox One - to download all the music from Amazon Music with an adjusted sample rate and bit depth with ViWizard Amazon Music Converter, which will ensure a better listening experience.
Part 3. How to Improve Listening Experience of Amazon Music on Xbox One
ViWizard Amazon Music Converter is a professional and powerful tool that enables Amazon Music users to download music from Amazon for an improved and unique listening experience on Xbox One.
One Amazon Music account with subscription - Amazon Music Prime or Amazon Music Unlimited can ensure music tracks to be downloaded with an adjusted standard 256kbps or HD Music's 320kbps in ViWizard. Besides, ViWizard can convert the music tracks into several universal formats, including MP3, M4A, MAB, MAV, AAC and FLAC, among which MP3 access will need an extra cost from Amazon Music Digital Store. What's more, the conversion will be at a 5x super faster speed and the full ID3 tags will be saved.

Key Features of ViWizard Amazon Music Converter
Download songs from Amazon Music Prime, Unlimited, and HD Music
Convert Amazon Music songs to MP3, AAC, M4A, M4B, FLAC, and WAV
Retain the original ID3 tags and lossless audio quality of Amazon Music
Support customizing the output audio parameters for Amazon Music
Step 1

Select and Add Amazon Music Tracks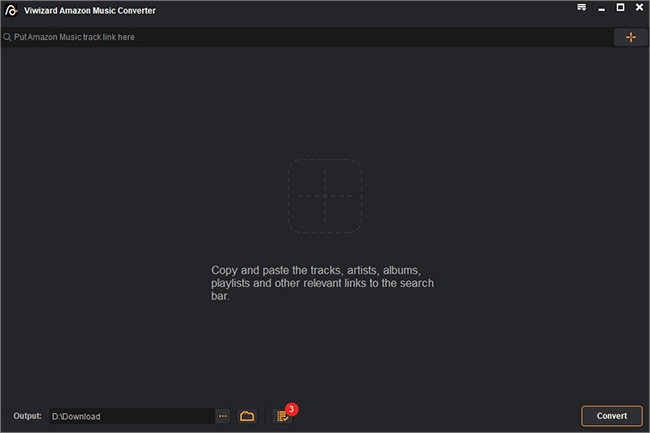 Click the 'Download' button to download the correct version of ViWizard Amazon Music Converter and install it to the computer. Once the program is launched, it will detect and launch the pre-installed Amazon Music desktop app for better conversion. Please make sure the Amazon Music account with available subscription has signed in, now a simple drag-and-drop can add your playlists or everything you want from Amazon to download in ViWizard Amazon Music Converter.
Step 2

Set the Supported Format for Amazon Music PS5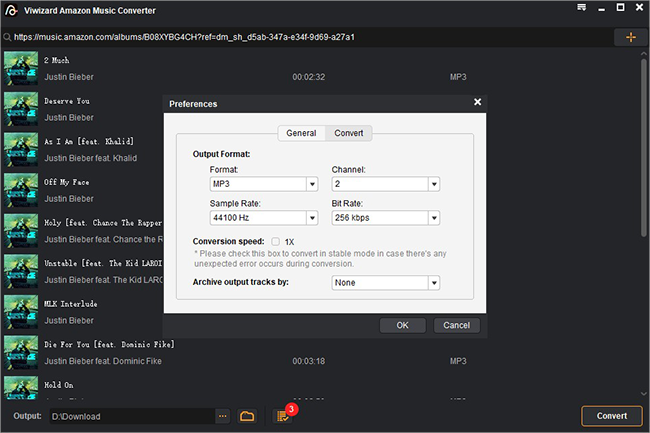 To set the output parameters, click the menu icon and select 'Preferences' to open a new window. On the Preferences window, click 'Convert' to see what parameters can be set for all added Amazon Music tracks, including output format, channel, sample rate and bit rate (or bit depth for WAV and FLAC). For the Xbox-supported music format, either MP3 and MAV can be set in the 'output format'. For a better audio quality, either MP3's 320kbps for Amazon Music HD Xbox One or 256kbps for standard Amazon Music Xbox One is recommended in the 'bit rate'. Also notice the output tracks can be archived for sorting out. Don't forget to click the 'OK' button to save all the settings.
Step 3

Convert and Download Amazon Music PS5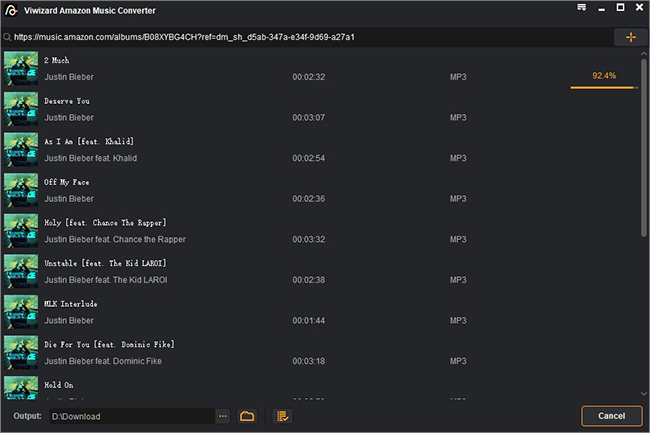 Check the settings in 'Preferences' again to make sure the music tracks are adjusted. A click on the song's title can rename its output name. Noted that there's the output path at the bottom of the screen, showing where the downloaded files will be. Now click the 'Convert' button to download and convert the music tracks at a 5x speed.
Part 4. How to Play Amazon Music on Xbox One from USB Drive
Since now all the music tracks from Amazon Music has been downloaded and converted into the correct formats with all the adjusted parameters, reading on to learn how to play Amazon Music on Xbox One from USB drive.
4.1 Transfer the Downloaded Amazon Music Tracks to a USB Drive
1. On the ViWizard Amazon Music Converter, click the file icon at the bottom to navigate to the output folder.
2. Connect the USB drive to the computer and move the downloaded Amazon music tracks onto it (see "Note").
3. Eject the USB drive from the computer and connect it to one of the USB ports on the Xbox One.
Note: The USB drive should be formatted in FAT16, FAT32, exFAT or NTFS. If you use a Windows PC, your USB drive will work on your Xbox One as long as your Windows PC can read it. If you use a Mac, make sure to format the drive as exFAT rather than a HFS+.
4.2 Listen to the Downloaded Amazon Music tracks via Xbox Media Player App
1. On the Home screen of the Xbox One, head to 'My Games & Apps' and click Apps and select Find more in the Xbox Store.
2. Search for 'Media player' and install the Media Player app on the Xbox One.
3. Open the Media Player app and the connected USB drive will be an option.
4. In the Control Center, select the Music icon.
Note: The Xbox controller will enable you to control the playback of Amazon Music tracks under the USB Drive.
Conclusion
Now with the help of ViWizard Amazon Music Converter, you can have the perfect listening experience with the songs streamed in the background on Xbox One.
More Amazon Music Tips & Tricks