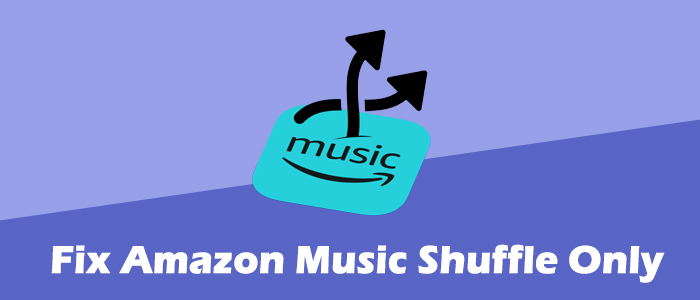 With its huge music library and curated features, Amazon Music has a lot going for it in this diverse streaming services market. Amazon Music not only opens its entire catalog for Amazon Music Prime but also offers different modes for playing including Car Mode, Offline Mode, Exclusive Mode, and Shuffle Mode. When diving into Amazon Music, some users find Amazon Music only shuffles and they are prevented from playing songs at will. Why that happens and what should do to solve it? This post will give you your wanted answers.
Part 1. Why Does Amazon Music Shuffle Only
At the end of 2022, Amazon Music announced Amazon Music Prime can access its entire library of over 100 million songs, but they can only stream the full music catalog in shuffle mode. So for Amazon Music Prime, it is normal that Amazon Music only shuffles when they're not in All-Access Playlists. If you want to stop Amazon Music from shuffling only, head to Part 2 to have some workarounds.
While Amazon Music Unlimited can pick Amazon Music for playing on-demand, and they can freely decide whether songs shuffle or not. When you're in this Unlimited service but still encounter the issue of Amazon Music shuffling only, you'd better check if your subscription is expired or you turned on the shuffle mode inadvertently. No matter which process is wrong, Part 3 will tell you how to troubleshoot Amazon Music shuffle only.
Part 2. How to Fix Amazon Music Shuffle Only for Prime
As we said above, Amazon Music Prime can only play playlists or albums at random other than All-Access Playlists. Fortunately, here we find ways to help you get rid of the shuffle mode. In these ways, the issue of Amazon Music shuffling only can be resolved.
Method 1. Enjoy All-Access Playlists
Although Prime listeners can't play the entire library as they want, Amazon Music has created the All-Access Playlists where they play songs or playlists on-demand and download them for offline listening. If you have no idea how to find and download All-Access Playlists on Amazon Music, you can check our previous post: How to Find Amazon Music All-Access Playlists on Prime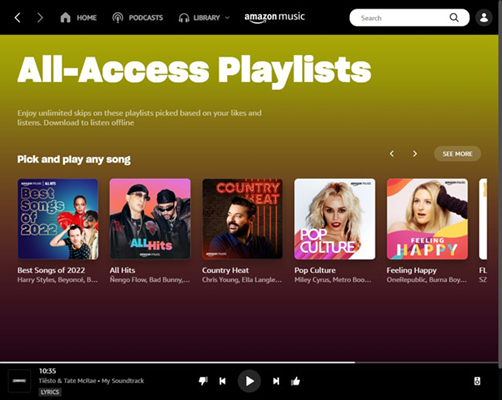 Note: If you opt to play Amazon Music on Echo devices, All-Access Playlists will also play in shuffle mode.
Method 2. Upgrade to Amazon Music Unlimited
If you want to play your favorite songs at will and download them without restriction, grabbing the Amazon Music Unlimited Plan is the most straightforward way. Upgrade to Amazon Music Unlimited, you are eligible to get all of the great features and functionality. It offers millions of tracks in lossless HD and Ultra HD quality and supports downloading and switching any song at will.
As a Prime member, you can join Amazon Music Unlimited for $8.99/month for a monthly subscription or $89/year for an annual subscription.
Method 3. Play Amazon Music On-Demand via ViWizard
One more thing you should know: even though you've download All-Access Playlists for offline listening on-demand, you can only listen to them on Amazon Music. That is, they are unplayable on other media players since they are come in cache files and protected by DRM. So if you are still frustrated about the limited service with your Amazon Music Prime membership, this smart tool ViWizard Amazon Music Converter can help you download music from the whole Amazon Music catalog and play them on-demand.
ViWizard Amazon Music Converter is designed for Amazon Music Prime to download and convert songs from Amazon Music to MP3, AAC, WAV, FLAC, M4A, and M4B simultaneously retaining the original sound quality and ID3 tag info. Moreover, it works automatically and supports batch conversion at a 5x speed. After conversion, you can freely get access to an unlimited of your favorite music tracks or playlists and switch between them at will.

Key Features of ViWizard Amazon Music Converter
Download songs from Amazon Music Prime, Unlimited, and HD Music
Convert Amazon Music songs to MP3, AAC, M4A, M4B, FLAC, and WAV
Retain the original ID3 tags and lossless audio quality of Amazon Music
Support customizing the output audio parameters for Amazon Music
Step 1

Upload Amazon Music songs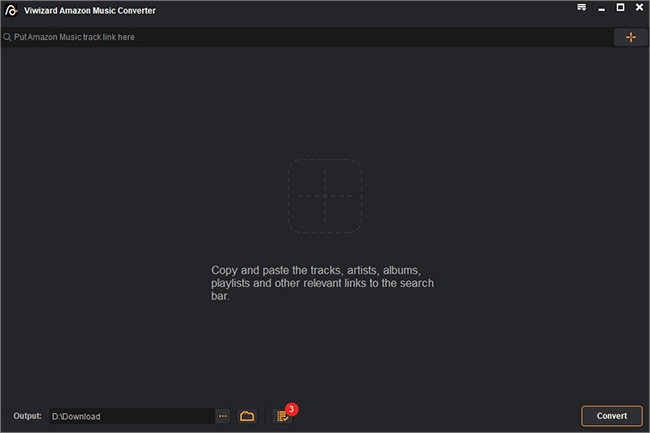 Make sure you've installed Amazon Music and ViWizard Amazon Music Converter on your computer. Copy the link of a track, playlist, album, or artist on Amazon Music, and paste it into ViWizard's search bar. After that click the + icon to input your Amazon Music songs. Also, you can just drag and drop your favorite songs to ViWizard.
Step 2

Adjust parameters for Amazon Music songs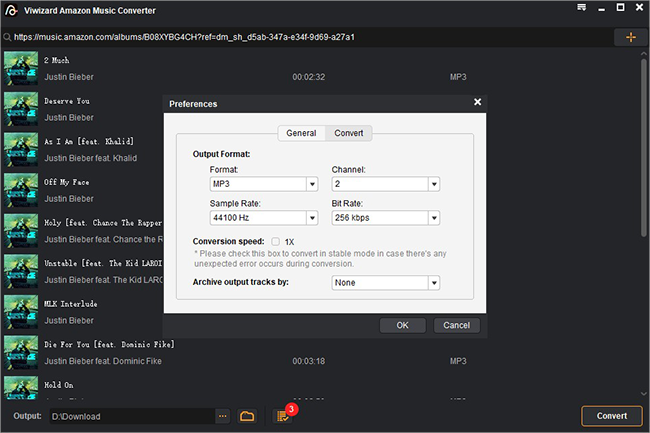 After importing songs from Amazon to ViWizard you have the freedom to customize some parameters. To make those adjustments, click the Menu icon featuring three lines at the upper right corner and select Preference. On the new window, turn to the Convert tab to change the output format, channel, bit rate, and sample rate. Lastly, click OK to save your settings.
Step 3

Download Amazon Music songs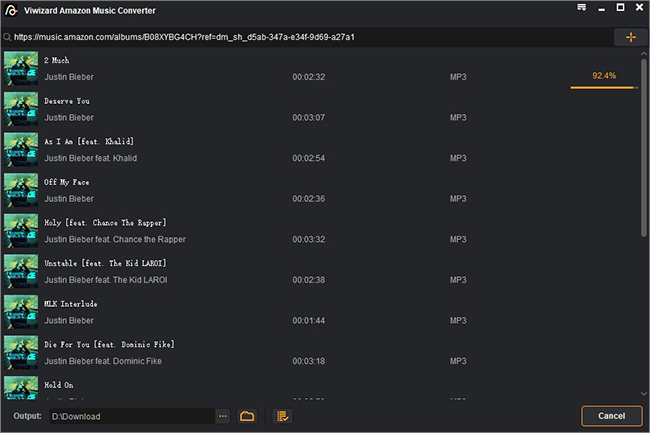 Before converting, you can change the output location by clicking the three dots next to the Output panel at the bottom. Now, click Convert at the bottom right corner to download Amazon Music songs to your computer. After conversion, it is easy to view all your converted songs on the Converted interface and locate them in your local folder.
Part 3. How to Fix Amazon Music Shuffle Only for Unlimited
If you find Amazon Music shuffles only when you access Amazon Music Unlimited content, then there is something wrong. Here we give you solutions below to solve this problem.
Method 1. Disable the Shuffle Mode
For Amazon Music Unlimited, once encounter the problem of Amazon Music shuffling only, the first thing you should do is to check if the shuffle mode works. If you enable the shuffle mode on your device, undoubtedly, songs will be played randomly. Hence, to fix Amazon Music shuffle only, you're required to turn off the shuffle mode.
Step 1. Pick any song to play on Amazon Music.
Step 2. On the Now Playing box, check if the Shuffle button is highlighted.
Step 3. To turn off the shuffle mode, just hit on the Shuffle button.
Step 4. Once the shuffle mode is off, Amazon Music will play songs by your wanted order.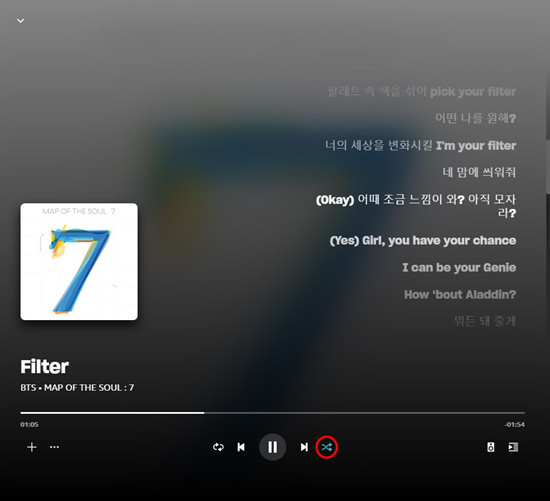 Method 2. Clear Amazon Music Cache
Once your Amazon Music caches and glitches accumulate to some extent, they can make conflict with the app and cause several problems including Amazon Music only shuffling. Therefore, it is necessary to get the cache Amazon Music produced cleared.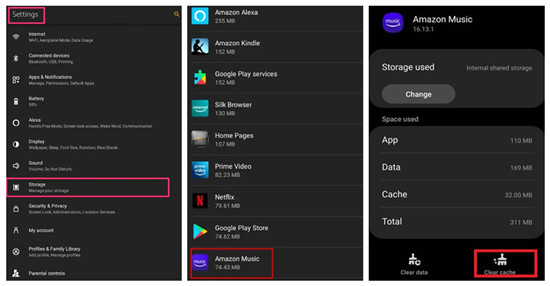 On Android devices, go to Amazon Music and then Settings found in the upper right corner. Select Storage and tap Clear cache.
On iOS devices, there is no option to clear the cache of Amazon Music, you can only remove the app to clear all data.
On the desktop, just sign out of your current account to delete the cache and sign in to refresh.
Method 3. Uninstall and Reinstall the App
On rare occasions, the issue might be with the Amazon Music app itself. Due to a bug, Amazon Music shuffles only. In this situation, the most common and straightforward way is to remove the app.
On mobile devices, long press the Amazon Music app icon on your home screen, and then select Uninstall or Remove App.
On Windows, select Start > Settings > Apps. Locate Amazon Music and click More to hit on the Uninstall option.
On Mac, head to Finder > Applications. Find the Amazon Music icon to right-click it and select Move to Trash. After that, back to Finder and select Empty Trash.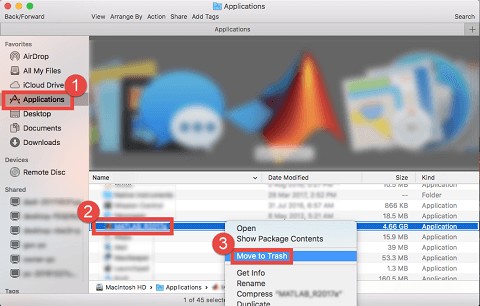 After that, mobile users should go to Google Play Store or App Store to download it again, and desktop users can open a browser to visit the Amazon Music download page to get the app.
Summary
With regard to Amazon Music shuffle only, the above solutions deserve to have a try. Hope all of you can stream music as you like. In short, Amazon Music Prime customers are limited to playing songs at will which are not displayed in All-Access Playlists. If you are eager to play your favorite songs in your wanted order and download them, ViWizard Amazon Music Converter's got you covered and help you achieve that with ease.
More Amazon Music Tips & Tricks