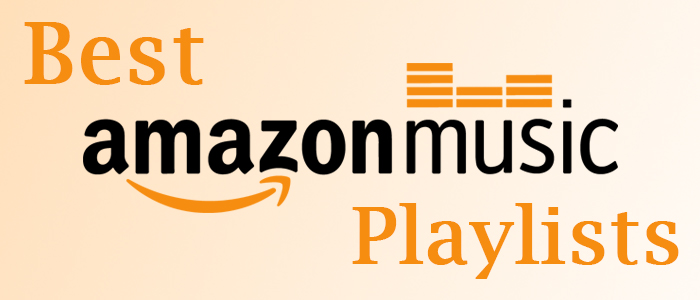 It is transpired that Amazon Music is a music streaming service. With more than 100 million songs and a wide range of playlists, it is popular in many countries. But have you felt daunted to find your favorite precisely in a large number of curated discoveries? Even though the discoveries on Amazon Music renew every day, every week. Now, moving away from the Amazon genre-specific playlists, go to the best Amazon Music playlists. Let's scroll down!
Part 1. 15 Best Amazon Music Playlists for Listening
Music is essential in daily life, and most of us can't live without music. In different situations, you would like to choose different kinds of music for satisfying your needs. There is a selection of best Amazon music playlists you can vibe with, no matter before sleep time, in workspace, in studying, at parties, or in exercise.
No.1 Best Sleep Amazon Music Playlists
It ranks first in the best Amazon sleep music playlist. If you are haunted by insomnia for a long time, you might as well listen to rain sounds, which is really helpful. Studies have shown that rain sounds can help to slow down breathing, soothe and caress your mind, then can improve sleep quality. This playlist, encompassing many sounds of falling rain, gives you better sleep quality.
As its' description, these dreamy lullabies help you ease off into dreamland. Soft and mellow lullabies in this playlist balm your ears and make you relaxed before you sleep, which helps you fall asleep quickly, isn't it?
From this playlist's name, it's not hard to see it helps you drive away nightmares and throws you into a state of being emotionally and mentally at peace. All you need to do is to close your eyes to groove on the music, and let it bring you into a sweet dreamland.
No.2 Best Work Amazon Music Playlists
This best work amazon playlist is perfect for your weekdays, especially for Monday. If you are fidgety at the beginning of the weekday, try this! It decompresses with relaxing scores, which reassures you and heals your frown.
It gathers relaxing and upbeat vibes for getting the job done. If those light and peaceful songs are not suitable for your energetic working day, this best Amazon Music playlist provides all sorts of progressive electronic music, maybe which is what you want.
It's a collection of clean versions of pop favorites, and you can feel free to share it with your colleagues in your workspace. Then you will find the office is not full of stress or depression any more, it is brimming with relaxing and passion after you sharing.
No.3 Best Studying Amazon Music Playlists
If you're studying and in need of focus, we highly recommend this for you among all the top best Amazon playlists for studying. This classical music mix helps you concentrate on what you're doing and boost your brainpower.
This 5-hour mix is filled with instrumental piano covers. It is good for your learning state. Immerse yourself in this wonderful world of piano music, and not only your anxiety is removed, but also your spirit is sublimed.
Most people feel distracted when studying, and that surely impairs learning. When it comes to studying, white noise always reduces stress levels, at the same time increases focus levels. So when you can't focus and there are distractions, you might as well try this best Amazon playlist for studying.
No.4 Best Party Amazon Music Playlists
Feel the song I wanna dance with somebody in this playlist, "Oh wanna dance with somebody, I wanna feel the heat with somebody." The rhythm of the music, melody, and the excitation of it all foil a dance atmosphere. Just now, let's dance with the melody on the party and celebrate!
Disco is a genre of dance music. It features with four-on-the-floor beats, syncopated basslines, string sections, brass and horns, electric piano, synthesizers, and electric rhythm guitars. So if you hold a dance party, this playlist is perfect for your needs, and helps you warm the party entirely.
This playlist offers tremendous choices for you whether you hold a party or attend a party. It lasts 6 hours, you can fully enjoy various artists and styles, there must exists one that fits you perfectly.
No.5 Best Workout Amazon Music Playlists
All exercise needs warm-up. When you warm up with video tutorial, you may feel bored for its' only one background sound. At this time, why not open the Amazon music app and tap this playlist? It gives you a different warm-up experience, and then helps psych yourself up for the next physical training.
Running while listening to music, especially those dynamic songs, help you boost your pace. Good music lets you keep pace with it involuntarily and regulates your respiration. This playlist puts enthusiasm and passion into you, let's run absorbedly!
Chris Pratt's Workout Playlist
It is the top result of the Amazon Music Workout playlist. Understandably, it gains popularity. Chris Pratt is an American actor, if you're his loyal fan, this playlist is the best option. Listening to these streams when you work out, it seems that you are working out with your idol. How fancy it is!
Part 2. How to Download Best Amazon Music Playlists
After knowing the above best Amazon Music playlist, now we will tell you how to get access to download those playlists in this part. As you know, Amazon Music Unlimited users can download tracks for offline listening, and Amazon Music Prime listeners only save the All-Access Playlist, while Amazon Music Free customers are not capable of downloading. Therefore, if you want to download Amazon music for offline playing, here are our methods for you.
For Amazon Music Unlimited
For downloading music from Amazon, Music Unlimited can download the tracks for offline listening, and play them in shuffle mode. If you're a loyal Amazon listener with an unlimited subscription, you can download the above best Amazon Music Playlist at any time. But pay attention that you are limited to listening to when your subscription is expired. Now, try the following tool, then you can save tracks or playlists forever and enjoy them on any device.
For All Amazon Music Users
ViWizard Amazon Music Converter is a splendid music converter for all Amazon Music users, no matter you subscribe a premium plan or a free plan. It can download and convert songs from Amazon Music to MP3 simultaneously retaining the original sound quality. Then you can freely enjoy these best playlists. Follow the following steps to download your favorite playlist by applying this easy-to-use tool.

Key Features of ViWizard Amazon Music Converter
Download songs from Amazon Music Prime, Unlimited, and HD Music
Convert Amazon Music songs to MP3, AAC, M4A, M4B, FLAC, and WAV
Retain the original ID3 tags and lossless audio quality of Amazon Music
Support customizing the output audio parameters for Amazon Music
Step 1

Drag Playlists from Amazon to ViWizard Software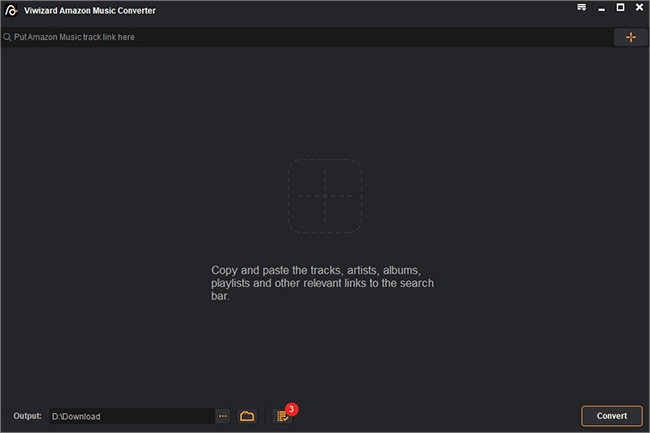 Before converting, ensure you have downloaded the latest version of Amazon Music on your computer. And then you can drag the playlist to the ViWizard search bar, or copy the link from Amazon and paste it to the top of ViWizard Software.
Step 2

Adjust the Preferences for Amazon Music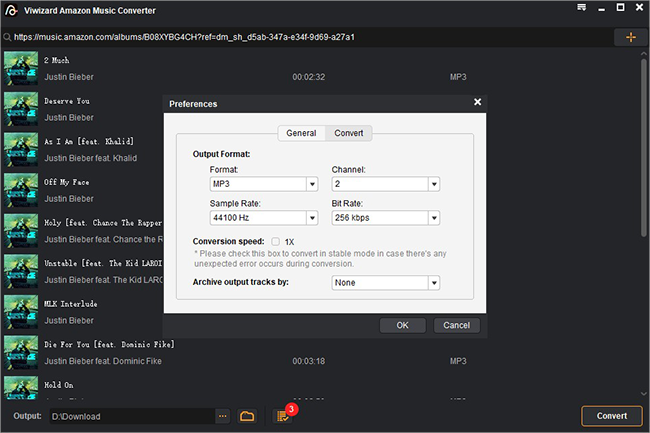 ViWizard Amazon Music Converter offers options for you so that you can customize output songs as you want. Just click the top right corner, you will find the Menu icon, then you will see the Preference option. Click the Convert icon on the preference interface. Now you can adjust some parameters, such as the format, channel, sample rate and bit rate. We recommend MP3 as the output format, because it is the most common audio format.
Step 3

Start Converting Amazon Music to Local Files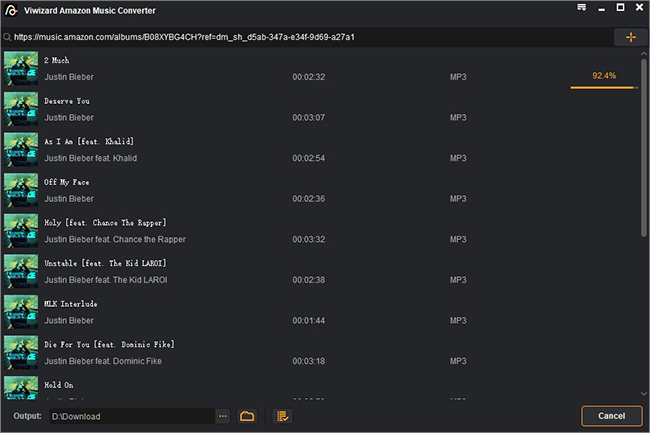 Click the Convert button, you can download the above best Amazon Music Playlist as MP3. And then you can enjoy them even when you remove the Amazon app or your subscription is due. After conversion, click the bottom Converted icon to browse the downloaded songs. Or, you can find them in the local folder.
Conclusion
In the dizzy curated playlist interface, when you feel confused to find the music you want, try these best Amazon Music Playlists, in which you can find your favorite songs accurately. If you like the above playlist, download them by ViWizard Amazon Music Converter for offline listening.