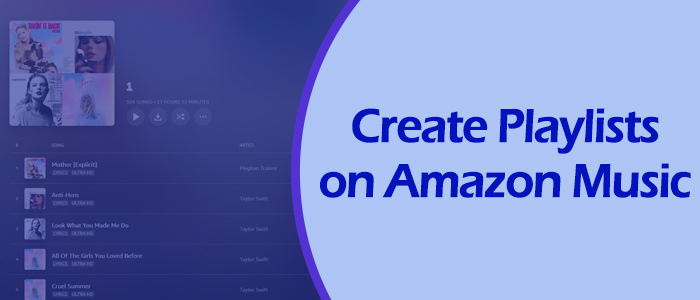 Amazon Music has won its seat in this booming market of streaming services for its library and curated features. Apparently, it's easy to access your favorite mixes on Amazon Music in its library of more than 100 million songs. Also, Amazon Music gives uses real-time recommendations for providing personalized experiences. When listening to Amazon Music, however, have you been overwhelmed by its diverse recommendations? If yes, it is time to make your own playlist based on your preference. So today we will introduce how to create a playlist on Amazon Music. Here we go!
Part 1. How to Create a Playlist on Amazon Music on iPhone/Android
Creating a playlist is so fabulous that you can easily organize and enjoy your desired music. Once you populate your new playlist with songs you like, you can stream them in a continuous loop and take a spin at any time. Creating anhttps://music.amazon.com/d editing a playlist on the Amazon Music app for mobile is pretty easy. For iOS users, before going to create an Amazon Music playlist, please enable the Online Music Mode because any changes made in Offline Mode can not be saved.
Method 1. From any song's overflow menu
Step 1. Launch Amazon Music and select a song you want.
Step 2. Tap the three vertical dots beside the song.
Step 3. Tap Add to Playlist > Create New Playlist.
Step 4. Enter a name for your new playlist and save.
Method 2. From the playlist's interface
Step 1. Head to My Music on the Amazon Music app.
Step 2. From the top menu, select Playlist > Create New Playlist.
Step 3. Type the playlist's name and tap Save.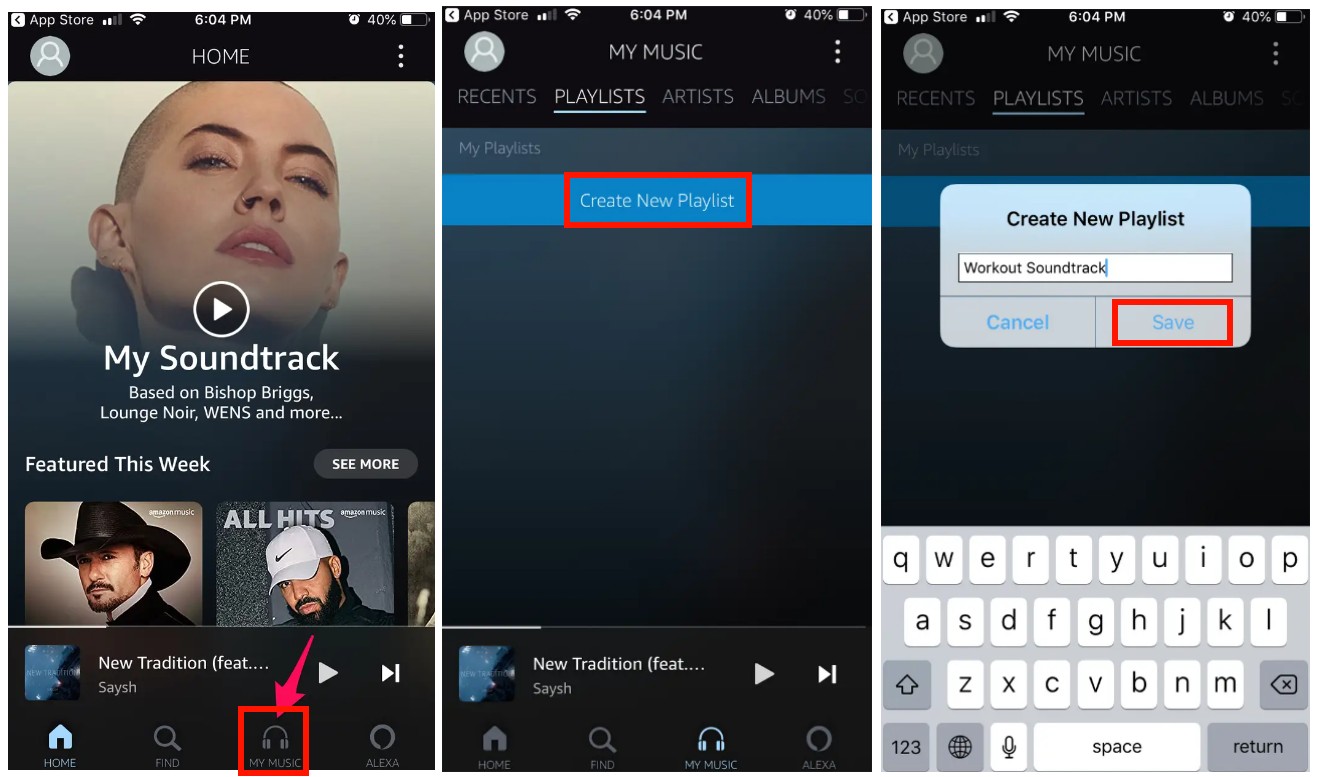 Part 2. How to Make a Playlist on Amazon Music for Desktop
On a desktop, you can easily get Amazon Music service on its cloud player if you haven't installed the app. You can also browse and listen to Amazon Music as long as you signed into a valid account. Of course, making a playlist on a desktop is as simple as on a mobile. Here's how to.
Step 1. Go to the Amazon Music website or the Amazon Music app.
Step 2. Search for your desired track and click the three horizontal dots next to it.
Step 3. Select Add to Playlist > Create Playlist.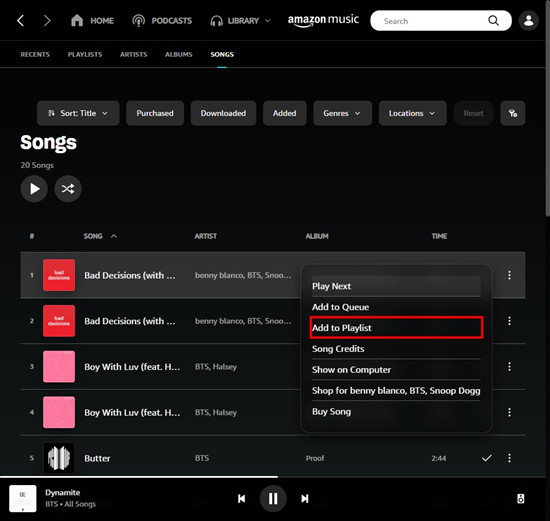 Step 4. Enter the name and click Save.
For desktop app users, there is another easier way: drag the song to the sidebar. On the sidebar, you will see Create A New Playlist button. Just drop the song here, and it will guide you to enter the playlist's name and save the new playlist.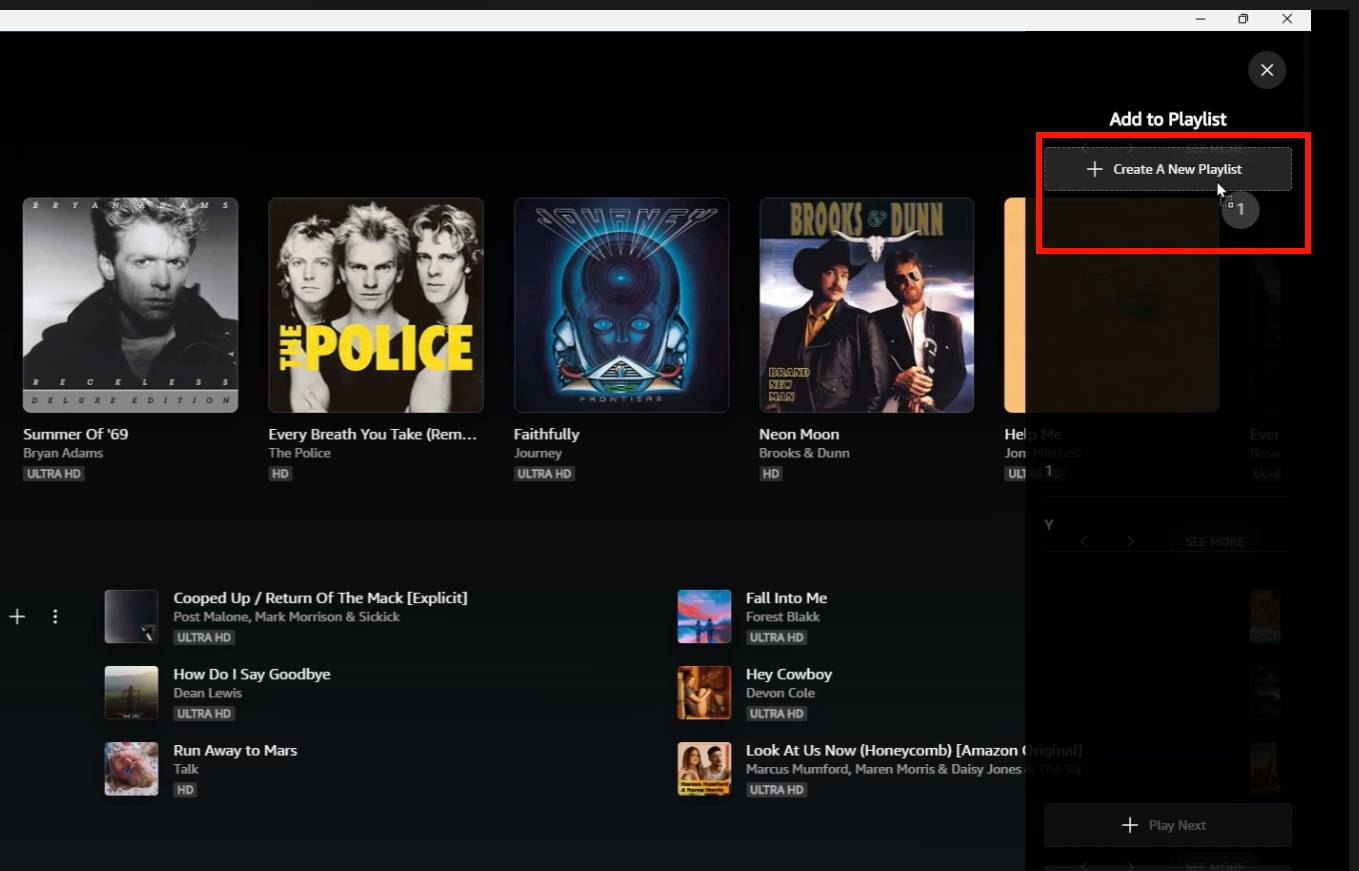 Part 3. How to Create Amazon Music Playlist for Alexa
If you're an Amazon fan, you probably own an Amazon Echo at home. This intelligent device offers great convenience for users to apply services with voice commands to free their hands. Combining Amazon Music with Echo, and looping your favorite music into a certain playlist, you can expose to the best experience. There are two ways for you to create an Amazon Music playlist for Alexa, you can set up the playlist manually or with voice prompts.
Method 1. With the Alexa app
Step 1. Launch the Alexa app on your device and tap More at the bottom right corner.
Step 2. Go to Music & Books > Amazon Music.
Step 3. Select My Music > Playlist > Create Playlist.
Step 4. And give your playlist a name and save.
Method 2. With the voice commands
To create an Amazon Music playlist on Alexa with voice commands, just say "Alexa, create a new playlist." And Alexa will ask you to name this playlist. Or, you can directly say "Alexa, create a [Playlist Name] playlist."
Part 4. How to Download the Amazon Music Playlist Locally
After creating your unique playlist, do you want to download it for offline listening? You're allowed to save a playlist to your device unless you're subscribing to Amazon Music Unlimited. There still exist other limitations. Once your premium plan is expired, you're prohibited from listening to any downloaded music. Moreover, all downloaded songs are not playable on any media player other than Amazon Music. The reason for this is that Amazon Music tracks are encoded by DRM technology to protect them from unauthorized distribution or modification.
To eliminate the above barriers, here we give you a workaround. That is to use ViWizard Amazon Music Converter to download all songs from your created Amazon Music playlist without DRM protection. ViWizard Amazon Music Converter is a marvellous Amazon Music downloader designed to convert songs from Amazon Music to MP3 and other common formats. No worries, it preserves the original audio quality and works automatically.

Key Features of ViWizard Amazon Music Converter
Download songs from Amazon Music Prime, Unlimited, and HD Music
Convert Amazon Music songs to MP3, AAC, M4A, M4B, FLAC, and WAV
Retain the original ID3 tags and lossless audio quality of Amazon Music
Support customizing the output audio parameters for Amazon Music
Step 1

Input Your Created Playlist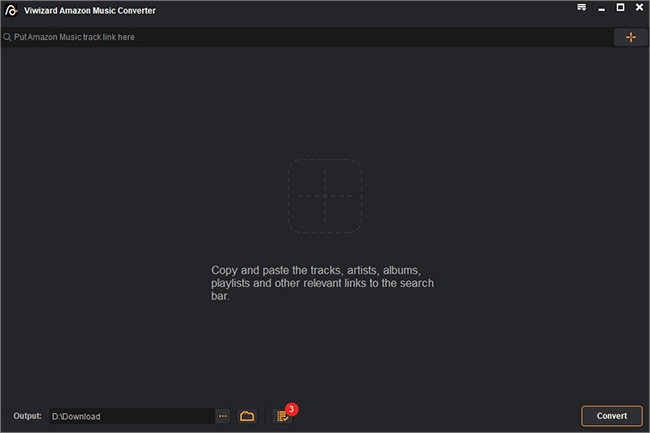 Launching the ViWizard Amazon Music Converter will automatically load the Amazon Music app. So, ensure the current version of Amazon Music is on your computer. And then you can copy the link of the playlist from Amazon Music and paste it into ViWizard's search bar. Also, you can drag and drop the playlist to ViWizard.
Step 2

Set the Output Format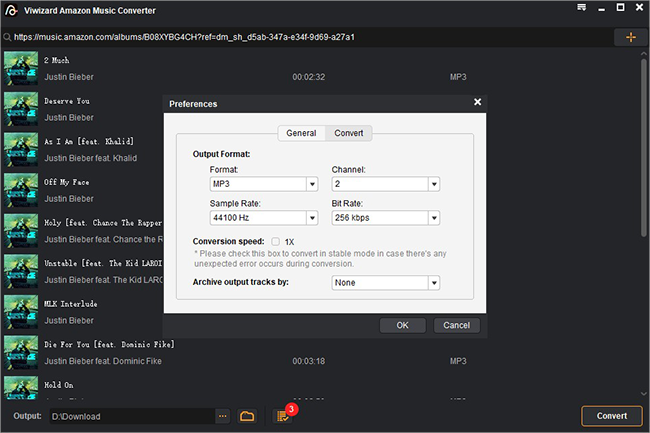 ViWizard Amazon Music Converter offers personalized choices for you so that you can customize output tracks to your heart's content. Just click the three-line Menu icon at the upper right corner, then select Preference > Convert. Now you can adjust parameters, such as the format, channel, sample rate, and bit rate. Whether you prefer to listen to it without Amazon Music or stream it on other platforms, the defaulted MP3 format that can meet your needs.
Step 3

Start Downloading the Entire Playlist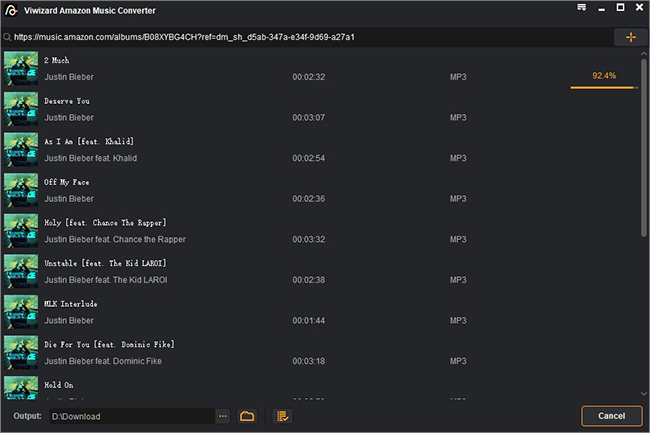 To download and convert the Amazon Music playlist to MP3, just one-click the right bottom Convert button. And then you can enjoy them on any player, on any occasion, and with no need for the Amazon app. After conversion, click the bottom Converted icon at the bottom, and you can easily locate and organize all downloaded songs.
Frequently Asked Questions about Amazon Music Playlist
Q1. Can I make a playlist on Amazon Prime Music?
A: Yes. All listeners are eligible to create playlists on Amazon Music. But Prime users can only download All-Access Playlist. If you want to download the entire playlist, either upgrade your subscription to Unlimited or try ViWizard Amazon Music Converter.
Q2. How do I edit my Amazon Music playlist?
A: To change the order of songs in your playlist, on your desktop website, select the playlist, then drag and drop the song's title in your desired order; on your mobile app, tap and hold the three horizontal lines beside the title, then drag and drop in the desired order.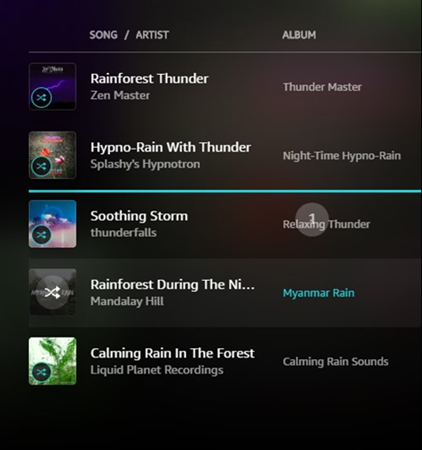 To delete or rename the playlist, just click the three dots next to the playlist to select Delete Playlist or Rename Playlist.
To make the playlist public or private, tap the overflow menu in the playlist, you will see the option at the bottom: Make Playlist Public or Private.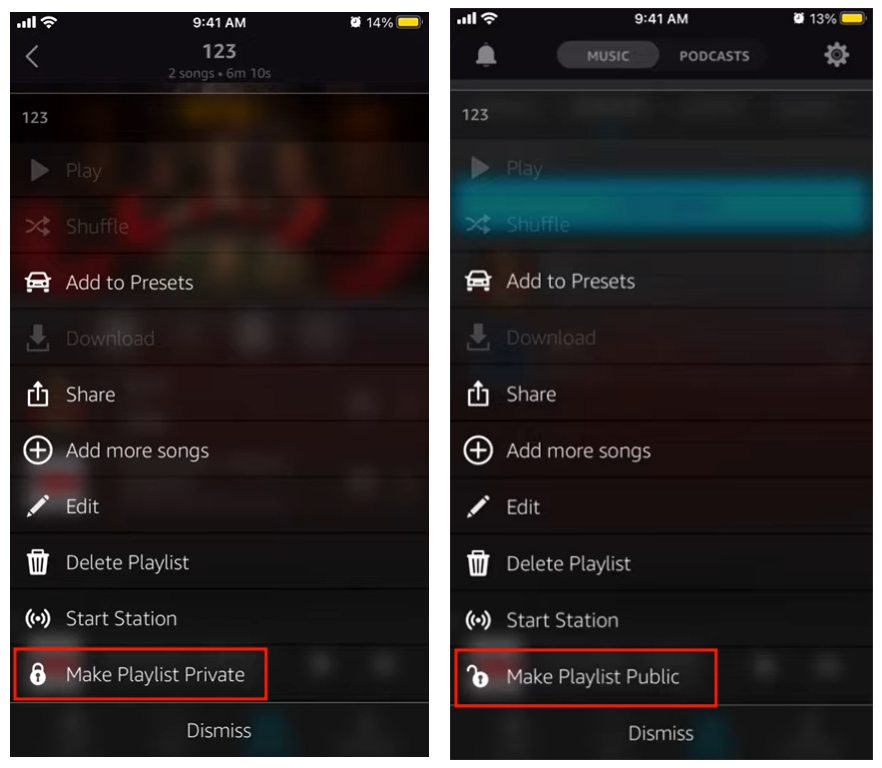 Q3. Why can't I add songs to my Amazon Music playlist?
A: Here are some reasons for you to check: if you add too many songs that have close to the playlist limits; if your subscription has been invalid; if you turn on the Offline Music Mode that can't save your changes.
Q4. Why does Amazon Music keep removing songs from my playlist?
A: Amazon Music regularly censors all content. Sometimes, due to the licensing agreements with music labels, Amazon Music would remove songs from the whole library. Obviously, when it displays just in your playlist, it would be grayed out or disappear.
Q5. Does a Playlist have a limit?
A: Of course, an Amazon Music playlist has a 2500-song limit.
Summary
It's such a joy creating a unique playlist full of favorite music and playing them all day. To download the complete Amazon Music playlist for offline listening, you can give a try for ViWizard Amazon Music Converter. Thanks to this tool, you are free to enjoy Amazon Music without any hassle.