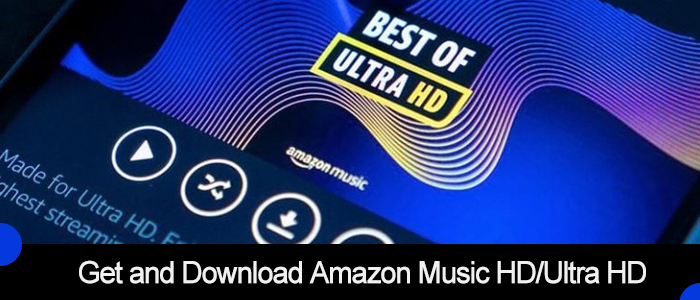 When it comes to musical experience, we all opt to pursue high sound quality to get more satisfaction. When you navigate around Amazon Music, you must have found songs labeled HD and some songs Ultra HD. In addition to Tidal HiFi, Amazon Music as another well-known streaming service provides HD and Ultra HD quality. Those who subscribe to Amazon Music Unlimited are allowed to stream Amazon Music in HD and Ultra HD at no extra cost. This time, we are going to guide you to download Amazon Music HD and Ultra HD in two ways. Scroll down to see how.
Part 1. Things You Need to Know about Amazon Music HD/Ultra HD
Amazon Music offers 100 million tracks in lossless HD and more than 7 million songs in Ultra HD. Newcomers to Amazon Music, sometimes, are unfamiliar with or even don't know about Amazon Music HD/Ultra HD. This part will give you full information.
Amazon Music HD and Ultra HD Format
They respectively refer to Amazon Music High Definition and Ultra High Definition. Both are encoded with lossless FLAC codec and come with no compression. For that reason, it will take up a lot of space on your device after downloading.
Amazon Music HD and Ultra HD Audio Quality
HD audio quality is more than double the quality of standard quality streaming services and Ultra HD audio quality is up to 10 times. Amazon HD Music streams 16-bit audio at a bit rate of 850kpbs and a sample rate of 44.1kHZ (close to CD quality). Additionally, Ultra HD tracks are 24-bit audio with sample rates ranging from 44.1 kHz up to 192 kHz, and an average bit rate of 3730kbps.
Amazon Music HD and Ultra HD Compatible Devices
You can listen to HD and Ultra HD music on Echo devices (2nd generation and later), Sonos speakers, all Fire Tablets, Fire TV (2nd generation and later), iOS (running iOS 11 and later), Android (being released after 2014), Desktop, and more.
Amazon Music HD and Ultra HD Price
Since Amazon Music HD launched in 2019, Amazon Music Unlimited can get HD and Ultra HD at no extra charge. Amazon Music also offers 3 months free trial for new subscribers. After the free trial, continue for the monthly price of $14.99 ($12.99 for Prime members) if you'd like to enjoy Amazon Music HD/Ultra HD.
Part 2. Download Amazon Music HD/Ultra HD via the APP
You can play Amazon Music tracks in HD/Ultra HD as long as you set the audio quality as HD/Ultra HD in settings. If you want to download tracks or playlists in Amazon Music HD/Ultra HD, the Amazon Music app is required, not the web player. So ensure you have installed the right version of Amazon Music on your device and enable a stable internet connection.
Step 1. Launch Amazon Music and sign into your Unlimited account.
Step 2. Go to Settings found on the dropdown menu of Profile.
Step 3. Click Download Settings and select Best Available (HD/Ultra HD).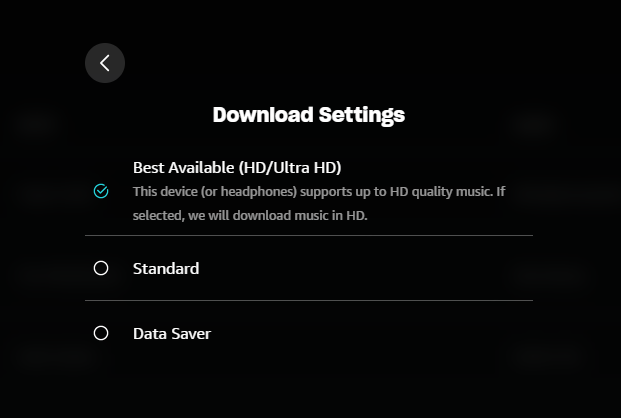 Step 4. Now, go back to the Home page or Library, and locate your desired songs.
Step 5. Click the three vertical dots next to the song and hit Download.
After downloading, you can see and stream the downloaded HD music by clicking the Downloaded button.

Part 3. Download Amazon Music HD/Ultra HD via ViWizard
Downloading your favorite songs in HD or Ultra HD for offline listening sounds good. However, you need to be aware that once your subscription is expired or is canceled, it is not possible to access those downloaded HD tracks anymore. What's more, we know that not all tracks are in Ultra HD. That means, Amazon Music can not give you what you want if you are obsessed with the highest audio quality.
So we recommend a third-party tool for you to solve the two troubles above --- ViWizard Amazon Music Converter. It can help you download songs from Amazon Music in FLAC and other common formats. Also, you are able to adjust the sample rate up to 19.2kHZ and the bit rate up to 24-bit same as Amazon Music Ultra HD. Put another way, you can switch some songs from HD quality to Ultra HD quality.
If you merely want to download Amazon HD/Ultra HD Music for offline listening without Amazon Music on your device, ViWizard Amazon Music Converter also meets your needs. Amazon HD and Ultra HD tracks are protected by DRM and come in FLAC format, and you can only listen to them on the Amazon Music app. But with the help of ViWizard, you can download Amazon Music songs to FLAC and play them freely.

Key Features of ViWizard Amazon Music Converter
Download songs from Amazon Music Prime, Unlimited, and HD Music
Convert Amazon Music songs to MP3, AAC, M4A, M4B, FLAC, and WAV
Retain the original ID3 tags and lossless audio quality of Amazon Music
Support customizing the output audio parameters for Amazon Music
Step 1

Input Tracks from Amazon to ViWizard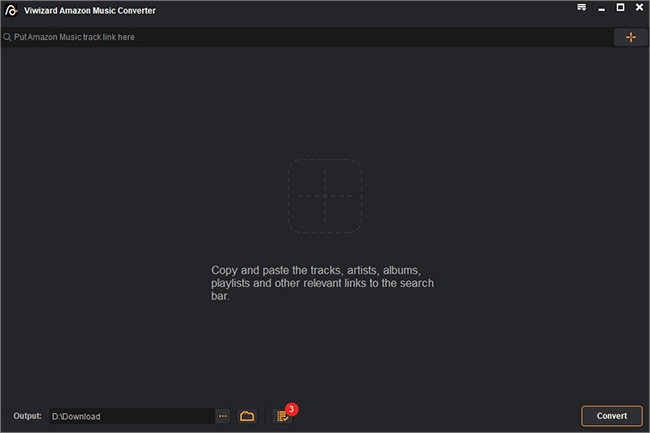 Opening ViWizard on your computer will automatically launch Amazon Music. Next, copy the link of a track or playlist from Amazon Music and paste it into ViWizard's search bar. Click the + button to upload the Amazon Music files. Sure, you can also drag and drop songs to ViWizard.
Step 2

Set the Output Format for Amazon Music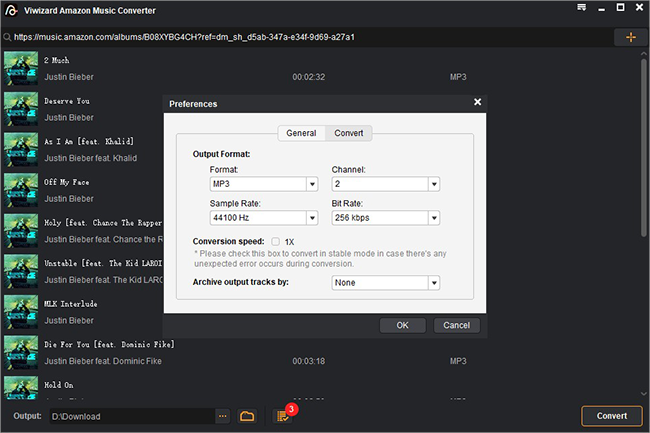 Then click the top three lines icon, select the first option Preferences on the dropdown menu, and then switch to the Convert box. Here, select the FLAC as the output format and set the maximum sample rate and bit rate. Which is the perfect choice for fans of the highest sound quality and provides the best experience. After customizing, don't forget the OK button to save your settings.
Step 3

Download Amazon Music in High Quality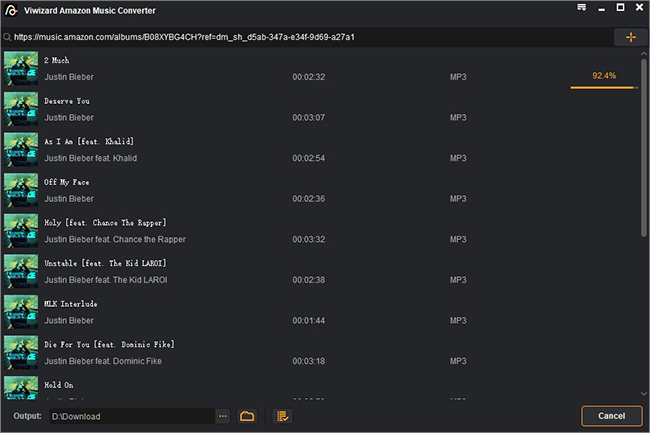 Now, just one-click the Convert button at the bottom right corner. It will download and convert automatically at 5X speed. After conversion, you're able to browse your converted history on the Converted window. And you can use the search icon beside the converted song to locate it in your local folder. If you are not satisfied with the defaulted location, just change the output path at the bottom left corner.
Summary
Being surrounded by the highest quality music brings the acme of enjoyment. After finishing the post, try to download Amazon Music HD and Ultra HD using the two methods above. Overall, downloading via the Amazon Music app exists limitations, while ViWizard Amazon Music Converter is an all-in-one tool not only helping you download them in lossless FLAC locally for offline listening with ease. Give it a shot!