Amazon Music is one of the most popular streaming music platforms for music fans. All commercial-free, millions of songs are accessible for Amazon Music Prime members and Amazon Music Unlimited subscribers on multiple devices - of course on phone devices.
Let's take a look at how Amazon Music works on mobile devices like Android and iOS - and, perhaps most importantly, how to download Amazon Music to phone for offline listening or more individual uses.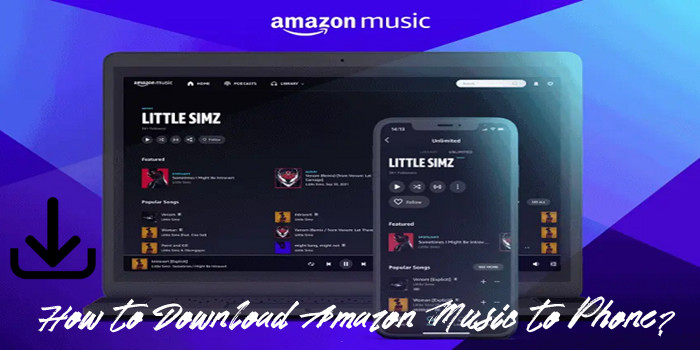 Part 1. How to Download Amazon Music to My Phone
Can this article tell how to download Amazon Music to my phone? Of course, but for starters, Amazon Music won't tell an Amazon Music Prime membership or subscription for Amazon Music Unlimited is needed. From there the Amazon Music mobile app for the device - iOS device or Android device is needed. Reading on to learn how Amazon Music download to phone.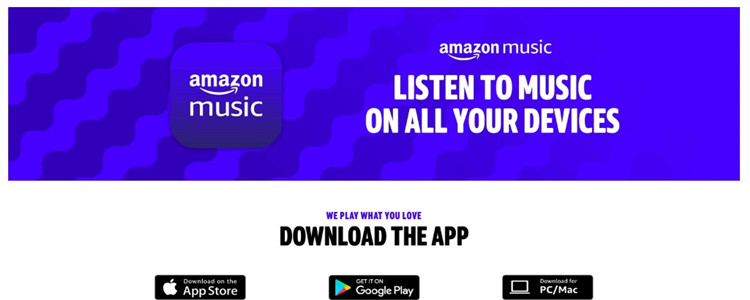 To download Amazon Music to phone should be familiar to users who know how to install an app from the app store on the device. For iOS users, go to the Google Play Store and search Amazon Music to let Amazon Music download to phone. For Android users, go to the App Store and search Amazon Music to and tap 'install'.
From here, not just download Amazon Music to phone, also a latest version of Amazon Music app for better performance can be abstained. From time to time, check the available Update icon in the app store. The latest updates should improve Amazon Music listening experience and issues at hand.
Now launch the app. If your Amazon Music account hasn't been signed into, you need to do so or the music songs on Amazon Music app are not supported to stream. Once the music songs are accessible with the membership or subscription, now streaming music should be fast and simple.
Part 2. How to Download Music from Amazon to Phone
However, what the other powerful feature available on phone devices is downloading music. As long as there is a membership or subscription, downloading music from Amazon shouldn't be too hard.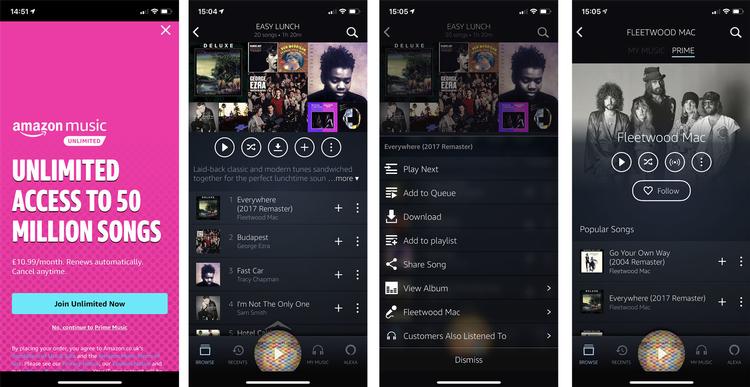 On the Amazon Music app, select a song, album or playlist you want to download to the phone, and then tap the More option (three-dot button) and tap Download. This process is the same on iOS and Android and enable users to listen to Amazon Music offline.
One more thing to mention is that it's hard to locate the downloaded files because of the DRM protection that Amazon Music adopts. However, you still can manage to find them on Android or iPhone with the methods provided, but encoded in DRM. This means the downloaded files won't enable more individual uses like set as ringtone, alarm on the phone device.
Part 3. How to Download Songs from Amazon Music to Phone as Local Files
Don't despair. There's a method to turn the table. In this part, we'll introduce a powerful tool that download songs from Amazon Music to phone and kept as local files, which will support multiple individual uses. The whole process is rather simple but needs a PC or Mac.
Thing You'll Need: ViWizard Amazon Music Conveter
On Windows version or Mac version, ViWizard Amazon Music Converter is the same powerful to download music tracks from Amazon for Amazon Music users. With an Amazon Music account for Prime or Unlimited, all the accessible music tracks can be downloaded to the computer and then transferred to phone.
Besides, music tracks from Amazon Music can be converted in formats like MP3, M4A. M4B AAC, WAV and FLAC. Also, the listening experience can be improved with the output settings in ViWizard rather than an "coming soon" app latest update.

Key Features of ViWizard Amazon Music Converter
Download songs from Amazon Music Prime, Unlimited, and HD Music
Convert Amazon Music songs to MP3, AAC, M4A, M4B, FLAC, and WAV
Retain the original ID3 tags and lossless audio quality of Amazon Music
Support customizing the output audio parameters for Amazon Music
Choose a correct version to install to the computer device. Besides, a pre-installed Amazon Music desktop app is also required for ViWizard Amazon Music Converter to build a connection for download.
Step 1

Add Amazon Music Tunes to Download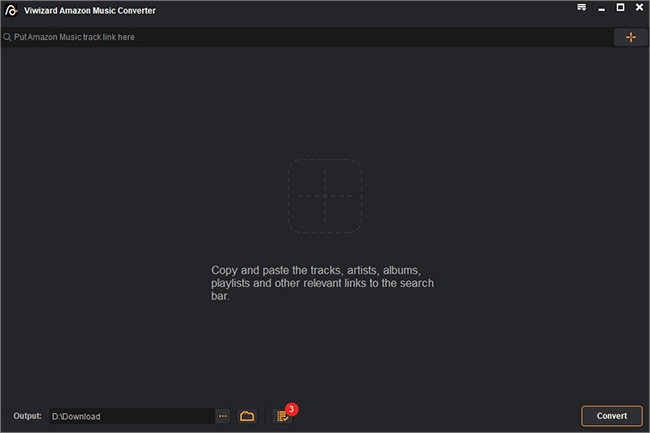 On the computer device, launch the correct version of ViWizard Amazon Music Converter and it will launch or relaunch Amazon Music. Please make sure the Amazon Music account has been signed into to have the access. Now a simple drag-and-drop can add Amazon Music tunes to ViWizard to download. All the added songs will be listed and information like title, artist, duration, output format will be displayed for confirmation.
Step 2

Improve Listening Experience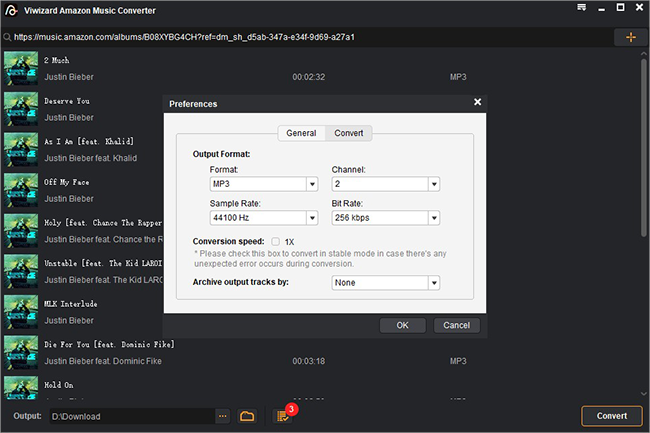 Click the menu icon and select 'Preference', choose the output format, sample rate, bit rate and channel in the output settings. For output format, the universal MP3 is recommended to enable more individual uses. Or for a specific use, set it as M4A, M4B, AAC, WAV or FLAC. To improve the listening experience, the bit rate can be set as standard 256kbps or maximized to HD Music's 320kbps.
Step 3

Export Amazon Music to Computer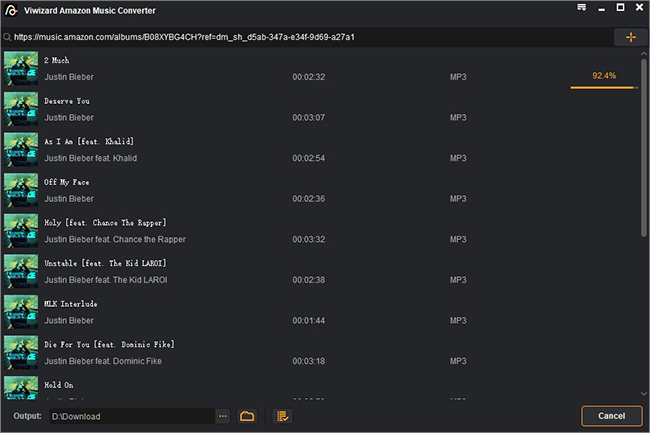 Click the 'Convert' button to start the conversion. At a 5x super faster speed, all the songs will be downloaded to the computer device within a few moments. You can click the file icon at the bottom of ViWizard Amazon Music Converter to navigate to the output folder, where all the downloaded music files are saved. Or before that, you can prepare a USB stick to connect your phone with the computer.
Step 4

Transfer Amazon Music to Phone

Now it's time to transfer all the downloaded music files to phone devices like Android or iOS with a USB stick. On the phone, you should find or create a music file and move the music files to it.
Conclusion
Now you have learnt how to download music from Amazon Music. However, if you want to spend less on the purchased MP3s from Amazon, the best method is to use ViWizard Amazon Music Converter to download music from Amazon with your Amazon Music Prime or Music Unlimited account. Give it a shot!
More Amazon Music Tips & Tricks