Q: "I am thinking about buying a Fitbit Versa mainly for listening to music while I play basketball. But I need to know if there is a way to download the Amazon Music app onto it? If there is not a way to download Amazon Music onto it, then it would be awesome if you made a way to download it! Or have it built right in to the watch in a new update! Thanks for all your help and Fitbit please keep up the good work in creating your amazing watches!" -- from the Fitbit Community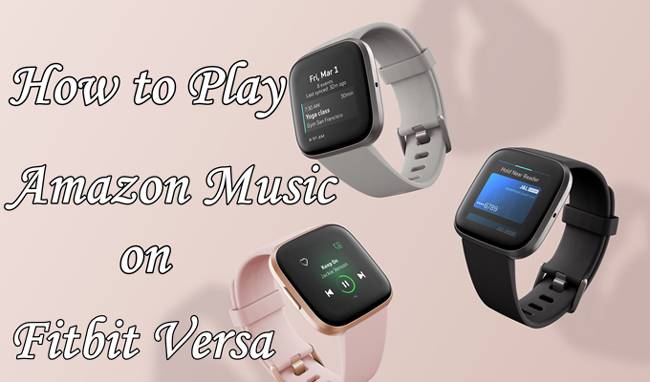 Why more and more runners and avid gym-goers choose fitness trackers? It is because that fitness trackers can help anyone maintain a healthy lifestyle, providing accurate data on everything from steps to sleep to heart rhythms. What's more, some fitness trackers supports the music feature during your exercise. Fitbit Versa is a good option for those sport lovers who want to enjoy music while working out. How about listening to Amazon Music on Fitbit Versa? In this article, we are going to tell you how to play Amazon Music on Fitbit Versa 2 or other models.
Part 1. Can You Play Amazon Music on Fitbit Versa 2/3?
Can you listen to Amazon Music on Fitbit Versa 2 or other models? The answer is negative. In fact, Amazon Music has not reach any cooperation with Fitbit watches. This means that you cannot install the Amazon Music app on those Fitbit smartwatches for playing your favorite songs directly.
Currently, Fitbit only supports using those streaming music services, such as Deezer, Pandora Music, and Spotify. You can access all kinds of music and podcast from Deezer, Spotify, and Pandora. In addition, Fitbit provides the Music app on your Fitbit watch, allowing you to play several hours worth of songs stored on your watch.
Part 2. Best Way to Download Amazon Music to Fitbit Versa
Now you have known that you are not able to use the Amazon Music app on your Fitbit watch to access music. Therefore, you'll need to search for a way to play Amazon Music on Fitbit Versa. As we all know, almost Fitbit watches including Fitbit Versa are equipped with enough storage space for storing music files. Thus, you can think about moving Amazon Music songs to your Fitbit Versa for listening.
2.1 What You'll Need: ViWizard Amazon Music Downloader
You can download various kinds of music and podcast to your Fitbit watch for playing with the preinstalled Music app. Fitbit supports playing those audio files including MP3, WMA, and M4P files. Note that those streaming music songs cannot be transferred due to copyright protections - known as DRM encryption.
All songs from Amazon Music are encoded with DRM protection, which prevents you from moving songs to those unsupported devices for playing. To remove DRM from Amazon Music, you can use an Amazon Music converter like ViWizard Amazon Music Converter. It can help you download and convert songs from Amazon Music to MP3 or other plain audio formats. Then you have the ability to move Amazon Music songs to Fitbit Versa.

Key Features of ViWizard Amazon Music Converter
Download songs from Amazon Music Prime, Unlimited, and HD Music
Convert Amazon Music songs to MP3, AAC, M4A, M4B, FLAC, and WAV
Retain the original ID3 tags and lossless audio quality of Amazon Music
Support customizing the output audio parameters for Amazon Music
2.2 How to Download Songs from Amazon Music to MP3
Now go to try using ViWizard Amazon Music Converter to download your liked songs from Amazon Music. First, download and install ViWizard Amazon Music Converter and Amazon Music on your computer. Then, follow the below steps to download and convert Amazon Music songs to Fitbit Versa.
Step 1

Select Amazon Music Songs to Play on Fitbit Versa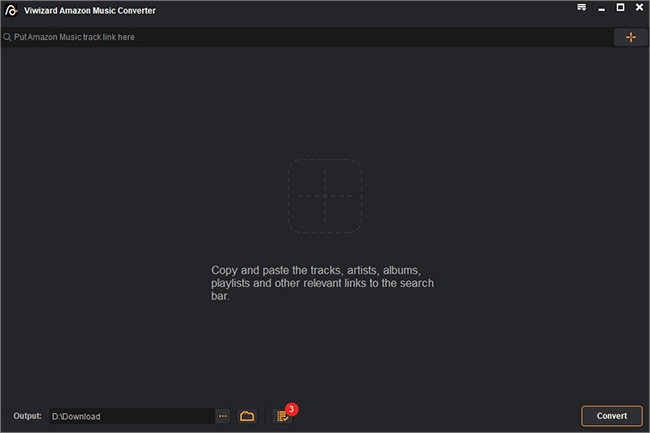 Don't open the Amazon Music app at first. Once you launch ViWizard Amazon Music Converter, it will immediately load the Amazon Music app. Then go to browse any track, album, or playlist you want to download in Amazon Music and copy the music link. To add your preferred songs to the converter, paste the link into the search bar and click the Add + button on the converter.
Step 2

Set MP3 as the Output Format and Other Parameters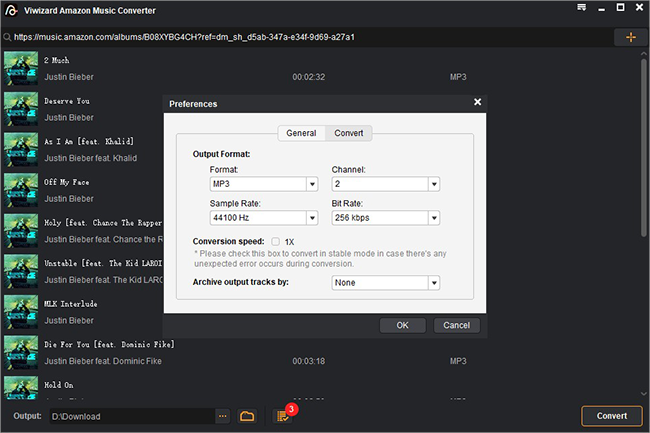 The next steps is to customize the output audio parameters of Amazon Music. As Fitbit Versa supports MP3 files, you can choose to download Amazon Music songs to MP3. Simply click the menu bar, select the Preferences option, and you'll see a pop-up window. Here you can select MP3 as the output format. For better audio quality, you can adjust the bit rate, sample rate, and channel.
Step 3

Start to Download and Convert Amazon Music to MP3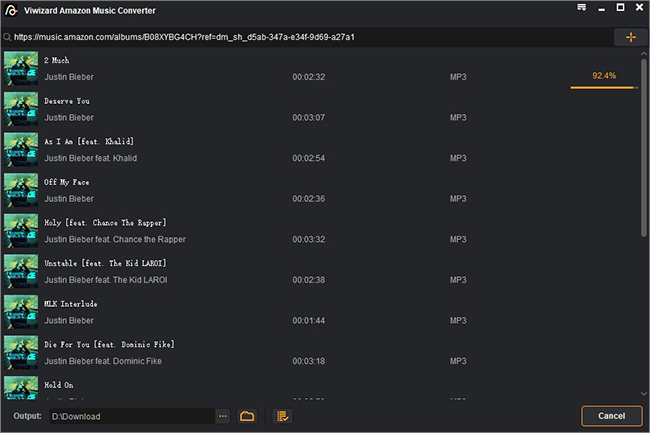 Now come into the last step. That is to initiate the downloading and conversion of Amazon Music songs by clicking the Convert button at the lower bottom. Then ViWizard Amazon Music Converter will download and convert songs from Amazon Music to MP3 at a faster speed of 5×. After conversion, you can check those converted songs in the history list by clicking the Converted icon.
Part 3. How to Get Amazon Music on Fitbit Versa 2/3
Depending on the operating system of your computer, you can transfer MP3, WMA, and MP4 files to the watch on a PC or MP3 files and MP4 files on a Mac. And you have converted all the songs from Amazon Music to MP3, you can transfer them to your Fitbit watch whether you are using a PC or Mac. Here's how to move the music to your watch.

Step 1. Make sure that your computer and watch are connected to the same Wi-Fi network.
Step 2. On your computer, go to fitbit.com/global/us/setup and install the Fitbit Connect app.
Step 3. Plug your Fitbit watch into the charger and then open Fitbit Connect on your computer.
Step 4. In the Fitbit Connect window, choose Manage My Music and click Personal Music.
Step 5. Go back to your watch and open the Music app then tap Transfer Music.
Step 6. Follow the on-screen instructions on the computer and select the playlist you want to transfer to the watch.
Step 7. Tap the music controls icon and start playing those Amazon Music songs you've transferred.
Also, if you are using a PC, then you can upload your Amazon Music songs to iTunes and share them with your watch via iTunes. Simply launch iTunes and go to Edit > Preferences > Advanced then select Share iTunes Library XML with other applications and tap OK.
Conclusion
If you need to listen to Amazon Music on Fitbit Versa while working out, do not hesitate to use ViWizard Amazon Music Converter. With the help of ViWizard software, you can easily download songs from Amazon Music and then transfer those songs to Fitbit Versa for playing. Have a try, and you'll find it out.
More Amazon Music Tips & Tricks