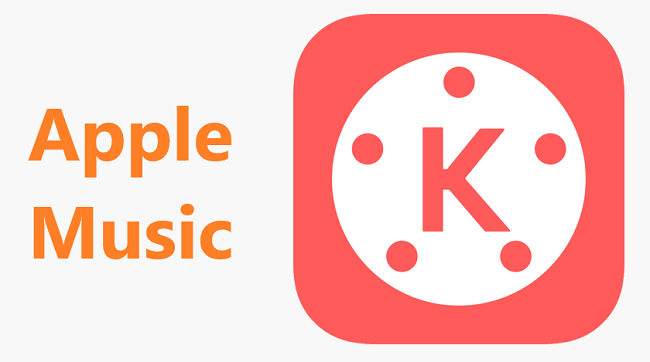 Which is the best video editing software for iPhone? You may answer iMovie, Splice, or InShot Video Editor. But for me, the best one is KineMaster. KineMaster enables users to edit videos on iPhone, iPad, or Android phones. And users can upload videos they make with KineMaster to YouTube, TikTok, Instagram, Facebook, and more platforms.
With KineMaster, you do not bother to open your computer to edit videos. You can clip, cut, add transitions, add effects, music, and filters on your phone with KineMaster easily. As for adding music, any users do not want to be limited to the music library of KineMaster. Is it able for them to add Apple Music to KineMaster? Sadly, until now, we can see no sign for Apple Music to integrate with KineMaster. So does Spotify. Does that mean you have to give up this wonderful thought? No! We find a way to add any Apple Music tracks to KineMaster without limitations now.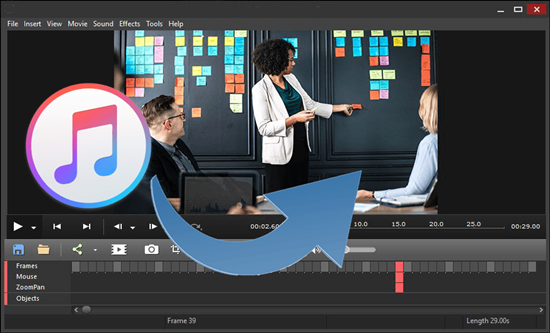 Part 1.

How Can I Add Apple Music to KineMaster?

Adding your favorite Apple Music tracks to KineMaster can enhance your video editing experience, but it's not as straightforward as it may seem. This is mainly due to Apple's DRM (Digital Rights Management) protection, which restricts the usage of their music beyond their ecosystem.

Apple Music, like many streaming platforms, is protected by DRM, which limits your ability to use it in third-party applications like KineMaster. Without a suitable solution, you'll encounter limitations when attempting to import Apple Music into your video projects. For using your music as BGM in your projects, KineMaster operates most effectively with specific audio file formats like MP3, M4A, and WAV. Regrettably, your Apple Music, in its original form, typically formatted in M4P, which doesn't align with KineMaster's preferences.

To bridge the gap between Apple Music's DRM protection and KineMaster's supported file types, we'll be using a powerful tool called ViWizard Apple Music Converter. This tool enables you to convert Apple Music tracks into the preferred file formats that KineMaster can seamlessly work with, such as MP3.

But the ViWizard Apple Music Converter offers even more. It extends its capabilities beyond Apple Music to include content like iTunes music, audiobooks, podcasts, Audible audiobooks, and even your personal uploaded files. What's truly remarkable is that this transformation occurs while preserving the full integrity of ID3 tags and upholding lossless audio quality, ensuring that your audio remains unaltered during the conversion process and later the importing process within KineMaster.

Key Features of ViWizard Audio Converter
Free Trial
Free Trial
* Security verified. 5, 481,347 people have downloaded it.
Convert songs, albums, and playlists from Apple Music to MP3
Remove DRM protection from Apple Music, iTunes, and Audible
Save the converted audios with the original quality and ID3 tags
Support the conversion of up to 100 audio formats to others
Part 2.

How to Convert Apple Music for Importing on KineMaster

Now, I will introduce how to convert Apple Music to KineMaster. You can follow this guide and operate your conversion.
Step 1

Download ViWizard Software and Add Apple Music Songs

First, please follow the green Download button above to download and install the right version of ViWizard Apple Music Converter on your computer. You are required to download the Apple Music songs you want to convert in advance. Then open the ViWizard program on the desktop and drag and drop the songs downloaded from Apple Music or purchased from iTunes Store to the ViWizard interface.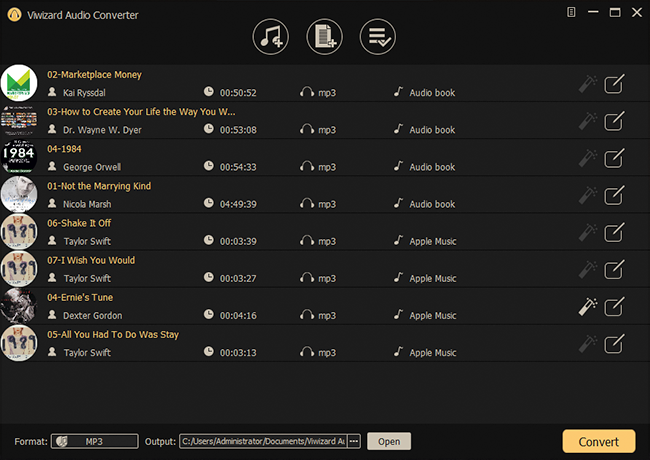 Step 2

Set the Output Format for Apple Music

Next, press the Format button on the bottom left corner and select an output format among MP3, WAV, AAC, and M4A. They are all supported by KineMaster. You can also personalize the audio parameters such as codec, sample rate, channel, and bitrate according to your requirements.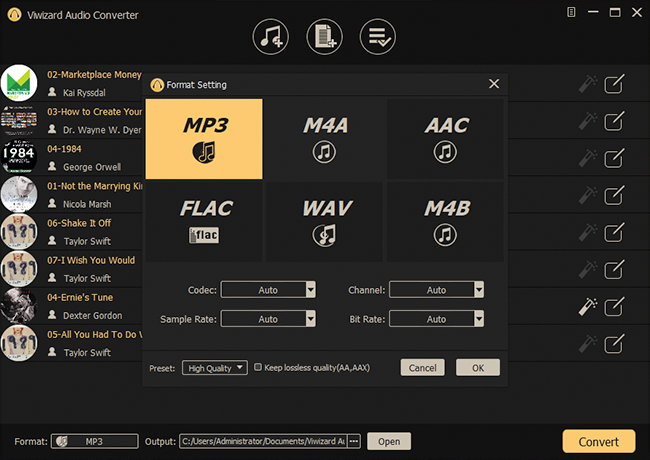 Step 3

Convert Apple Music to KineMaster

Now you can click the Convert button at the bottom right corner to start the conversion of Apple Music tracks. The ViWizard program will remove the protection of Apple Music and convert all your Apple Music songs to MP3, WAV, AAC, or M4A as you set. A few minutes later, you can find all these converted Apple Music files on the local folder of your computer or just click the Converted button to find them.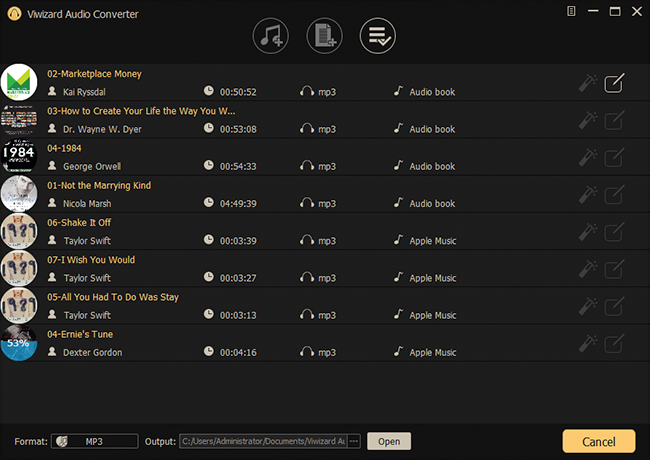 Part 3.

How to Import Converted Apple Music to KineMaster

Now your Apple Music tracks have been converted to common music by you. So the uploading method is the same as that of common music. Here is how to import Apple Music to KineMaster. Before you start to add Apple Music to KineMaster, make sure you have transferred your Apple Music tracks to your device.
Step 1

Create or Open a KineMaster Project
Begin by launching the KineMaster app on your mobile device. If you don't have KineMaster installed, you can download it from your device's app store or the official KineMaster website.
If you're starting a new project, tap on the "New Project" or "Create Project" option within KineMaster. For an existing project, select it from your project list. Ensure your project is ready to receive your audio.
Step 2

Add Apple MP3 Music to the Timeline

In your KineMaster project, find the "Timeline" or "Layer" section where you'll work with audio. To add your converted Apple Music tracks: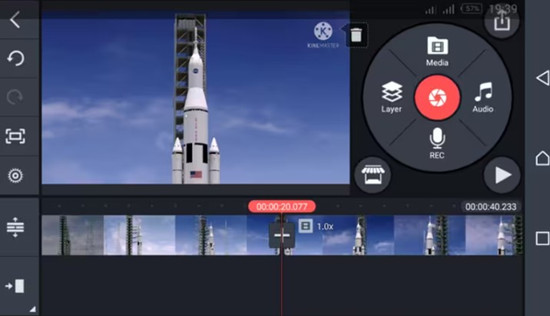 Tap on the "Media" or button to import files into your project.
Under the "Media Browser" section, browse your device's storage to locate the Apple Music songs you've converted with the ViWizard Apple Music Converter.

Under the "Audio Browser" section, select the desired song(s) and tap "Add" (the "+" icon) to insert them into your project's timeline.
Step 3

Customize Audio Settings

Once your Apple Music track is on the timeline, fine-tune the audio settings to match your video:
Tap the added music track on the timeline.
Access the audio settings or properties, allowing you to adjust the volume, apply fade in/out effects, and configure other audio parameters.
Make the necessary adjustments to ensure your audio complements your video seamlessly.
Once you're satisfied with your project, it's time to save your project within the KineMaster app to keep your progress. After rendering is complete, your video with the integrated Apple Music is ready for sharing with your audience.
Conclusion
Actually, ViWizard can do more than converting Apple Music to KineMaster. After the conversion, you are able to put Apple Music on any other video editors such as DaVinci Resolve, Final Cut Pro, InShot, Premiere Pro, and more. So, there are much more possibilities of ViWizard Apple Music converter are waiting for you to discover.