Apple Music is one of the greatest music streaming platforms in the world. It makes available to subscribers millions of songs. Given the ever-growing number of users, Apple Music is without doubt a phenomenal streaming music service in the world.
However, like every other manmade service, Apple Music is not perfect. For example, its Android app has a few glitches that make it hang and sometimes collapse. There are also a few other music services that outshine Apple Music when it comes to their overall offering. For instance, Tidal offers the highest CD level music quality that Apple Music does not have. It is therefore understandable that for one reason or the other you are considering Apple Music alternatives.
Luckily, there are thousands of music streaming services you can select from if you want an alternative to Apple Music. However, given the high standard that Apple Music has set you will want a platform that is close to or surpasses Apple Music in what is on offer. Some of the top Apple Music app alternatives you should consider are:
1. Last.fm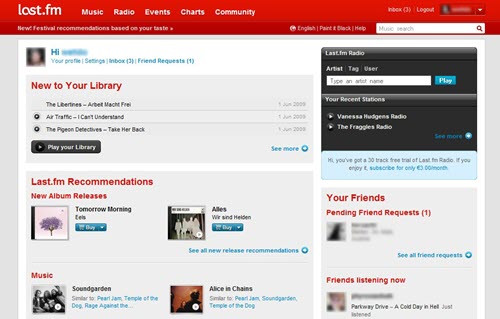 Last.fm is one of the best Apple Music alternatives. It is available on both android and iOS operating systems and thus perfect for users of both android smartphones and iPhones. It allows users to access and stream millions of songs, curated playlists, and live radio shows. This give users a chance to select and listen to millions of great songs at a small fee every month. The app also seamlessly integrate with music players for other streaming services such as Tidal and Spotify making accessing music easy and giving the user a great experience.
Key Features
It uses artificial intelligence to help you discover new songs and artists
It integrates with Spotify and YouTube music players
It has lots of tools such as radio shows, and curated playlist to give you the best music listening experience
Pros:
• It has a free version which enables you test the app before subscribing
• It is available on both android and iOS devices
• It uses AI to make smart recommendations
Cons:
• There are no radio stations on the free version
2. Deezer
Deezer is another great Apple Music app alternative you should consider. it is available for iOS, Windows, android and web. Deezer music streaming service has over 35 million songs and is available in 180 counties. It is thus a perfect music streaming services if you travel a lot. The music catalogue is also quite diverse with many local songs, which makes it easy for you to find great local songs whenever you travel.
Key Features
It has many tools such as Hear this, New Releases Top playlists and My Music to help you discover new songs
It is available in both the free version and the premium version
One can sign in using different alternatives such as Google+, email and even a facebook account.
Compatible with many music players
Pros:
• Has a large music library of over 35 million songs
• Displays lyrics for the songs played
• You can upload your own songs to the platform
• Has great interface and is easy to use
Cons:
• Free version does not allow downloading of music to listen to offline
3. Spotify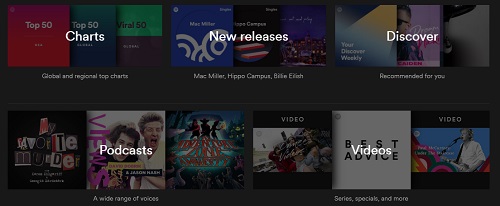 Spotify is the best known Apple Music app alternative. The music streaming services was launched in 2006 becoming one of the earliest music streaming services in the world. It has over 30 million songs ad also boosts of a host of audiobooks, podcasts, and other audio files that users can listened to. It offers to plans for users: the free plan, which is supported by advertisement, and the premium plan, which offers additional features as us downloading music for listening offline and repeat feature. Given the fact that it is one of the earliest music streaming services it is by far the most popular service with over 180 million users.
Key Features
It has a large extensive library
It's compatible with a wide range of devices such as iPhones, android phones, home speakers and even apple watch
It's able to stream a wide range of popular songs
It has a free version with ads in between songs
It offers users a chance to pause and resume playing songs
Pros:
• The family plan is just $14.99 for a large family of six individuals
• It works perfect on a wide range of gargets
• It has a great user interface that makes operation easy
• It's available in many countries across the world.
Cons:
• The free version has lots of limitations that makes it difficult for people to enjoy the music
4. Tidal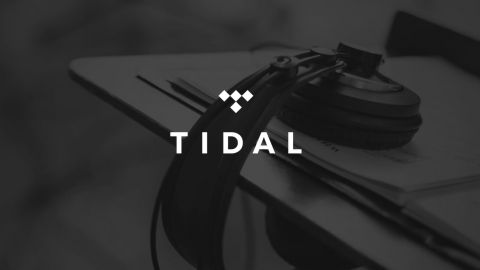 Tidal is one of the most popular alternatives to Apple Music in the United States thanks to the fact that it has the backing of some of the most popular artists in the country such as Jay Z, Kane West, Rihana, and Beyonze among others. It offers the best music quality you can find on any music-streaming platform in the world. This has made it quite popular among people who want CD quality songs. It has over 45 millions songs and do offer great exclusive albums and songs from some of the big names in the hip hope world.
Key Features
It has the HiFi streaming which is CD level quality streaming for music
It offers exclusive content which is basically songs and albums released exclusively on the platform
It has lots of features including weekly playlists to help you discover new songs
Pros:
• It has the highest quality songs
• It has a large library of songs
• It offers lots of videos and exclusive content
Cons:
5. Pandora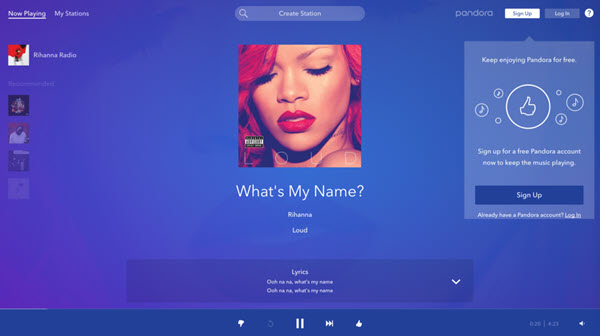 Pandora is one of the top music streaming services in the world and therefore a fitting Apple Music alternative. The platform gives you access to over 30 million songs from different artists and in different genres. In addition, it allows you add your own songs to the platforms, even create, and share your own unique playlists. You can access the music streaming service on different platforms such as a personal computer, the iPhone, android phones, and Roku among others. It has both the free and premium plans, which makes it available for everyone.
Key Features
It has over 30 million songs
It has unlimited offline playback
It allows you to customize your playlists
It's available on both Android and iOS devices
Pros:
• It is quite pocket friendly going for $4.99 for the Pandora plus service and $9.99 for the Pandora premium plan
• It is easy to create and customize your unique playlists
• It's available on many devices
• It gives you the power to skip unlimited number of tracks
Cons:
• It is only available in three countries: the United States, Australia, and New Zealand