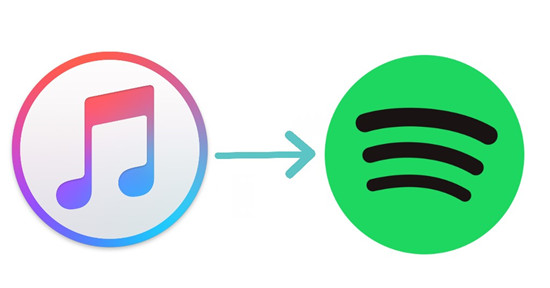 For music lovers, iTunes, Apple Music, Spotify, are all good choices to listen to music. Sometimes, you may want to transfer a song from one to another when you find that you cannot find this song on the music app that you usually use. When you make up your mind to stop using one and turn to the other, you may also need to transfer the songs you listen to in the previous app to the new one.
However, you will find that the transferring of your playlists and songs is surprisingly hard like transferring songs between streaming music services. But for the others, transferring is pretty easy. If you want to transfer iTunes Playlist to Spotify, you will find that it is much easier than import Apple Music to Spotify and we even get 2 methods for you.
Part 1. How to Transfer iTunes Playlist / Library to Spotify
As it stands now, the button to enable iTunes in the Spotify desktop app (iTunes under the Shows songs from tab in Settings) has disappeared, however, the function is still existing to support a transfer of iTunes Library to Spotify Library, while in a more secret manner.
Tips: There're several instructions require the iTunes app and the Spotify app.For a better performance, we do recommend updating these 2 apps to their latest versions.
Step 1. Allow iTunes Playlist / Library with Spotify
For starters, there are some settings in iTunes that needs to be activated for further sharing with other applications like Spotify.
To Activate iTunes Share with Spotify:
For Windows and Mac:
1. On desktop, open iTunes app.
2. At the top menu, click Edit button and then Preferences to access more advanced settings.

3. In the Advanced Preferences window, click on Advanced option from the top.
4. Tick the Share iTunes Library XML with other applications.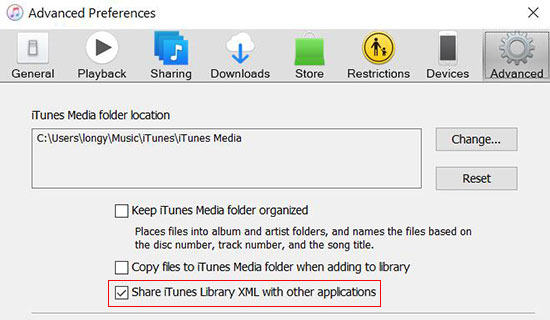 5. Click OK to save this advanced setting.
To make this setting function well, it's better to restart the iTunes app.
With the activated settings in iTunes, it's simple to have iTunes content in Spotify with the available button. However, if there is an available XML file on desktop, it's even up to users to select some of the iTunes content in Spotify instead of the whole iTunes - for example a iTunes playlist.
Step 2. Export iTunes Playlist / Library from iTunes
For Apple Music users, it's supported to export a single iTunes playlist or all the iTunes playlists - iTunes Library in iTunes from an Apple ID in use. As the advanced settings has been activated to share iTunes with another app, now one more thing is needed - the XML file with the iTunes Playlist or iTunes Library.
Note: When the iTunes playlist or iTunes Library is exported, the actual songs aren't included - just the information about them for personal management, including transferring to another application.
To Export iTunes Playlist:
1. Once the iTunes app has been restarted, see the Music Playlists section in the side menu.
2. Under Music Playlists section, select and highlight the playlist you want to export.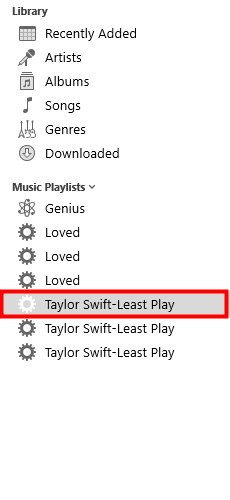 3. When the playlist is selected, click the File button at the top.
4. In the options menu, select Library.
5. Choose Export Playlist to export a single playlist.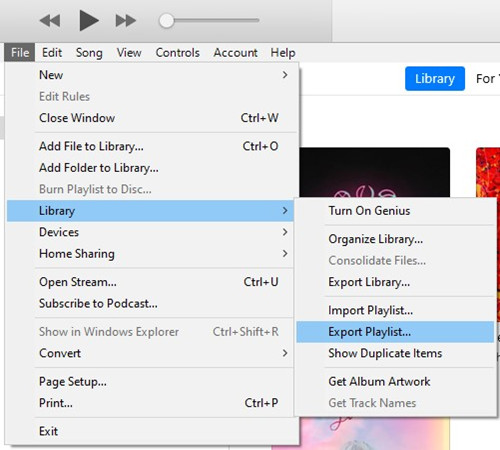 6. In the pop-up, the file name should be the same as the selected playlist to export.
7. See the Save as type and choose XML from the Format pop-up menu.

8. Click Save to save the XML file with the selected iTunes playlist.
To Export iTunes Library:
1. Restart the iTunes app, repeat the steps to go to File button at the top and then Library.
2. Choose Export Library to export the whole iTunes library packed with all of the iTunes playlists.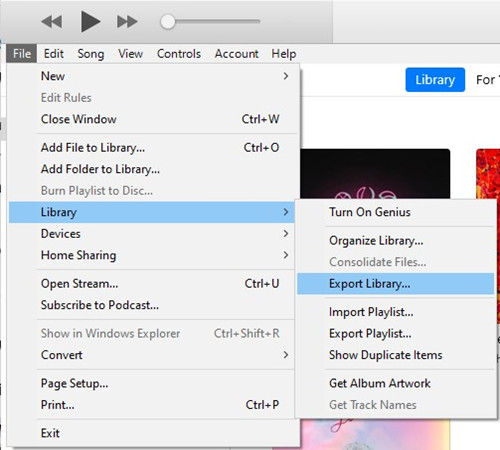 3. To Export Library to save copies of all playlists, the exported information is saved in a default XML format. You don't have to set this correct as XML file with a selected iTunes playlist.

4. Click Save to save the XML file with the whole iTunes Library.
Now the XML file should be on the location.
Step 3. Import iTunes Playlist / Library to Spotify
Now it's done with the iTunes app. Let's turn to another app and start to import iTunes to Spotify with the exported XML files with iTunes Playlist and iTunes Library.
To Transfer iTunes to Spotify:
1. On desktop, open the Spotify desktop app.
2. Click on the chevron down icon next to the profile, then go to Settings.
3. In the Settings, scroll down to the Local Files to switch it on (green) to show more options.
4. Under Local Files, now see the iTunes button to switch it on.

Note: If there's no iTunes button, restart the app to make the advanced settings in iTunes to function.
To Import iTunes Playlist / Library to Spotify
1. Repeat the steps to go to Local Files tab in Settings.
2. In addition to the available options, also see the Add a source button.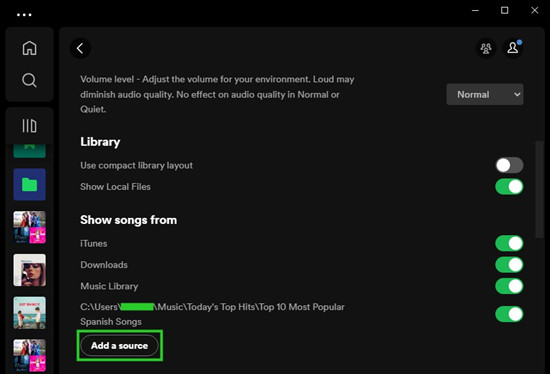 Yes, it's up to users to add the XML files with a single iTunes playlist or iTunes library as local sources to Spotify.
3. Click on the Add a source button to add a source from the computer.

4. In the pop-up, navigate to the location where the XML files are saved (for example: Desktop or Music, iTunes folder), select it and then OK.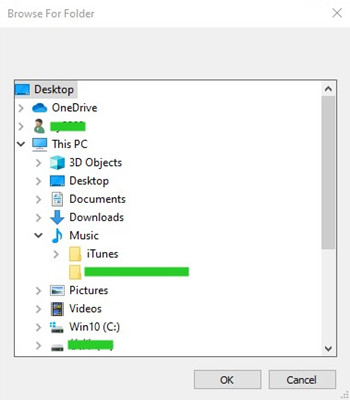 5. Once the location has been added a source, restart the app.
Tips: You can muti-add more than 1 sources to access them after a restart of app. However, once a source is added, there's no delete option until a uninstallation and reinstallation to reset the whole Settings to a default one. Or source, the source can be switched off. Keep it or leave it.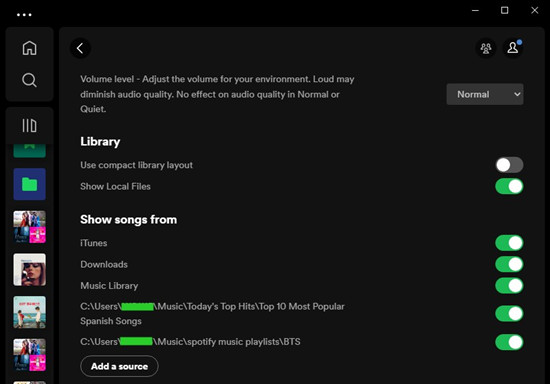 Step 4. Access Transferred iTunes Playlist / Library in Spotify
With either the iTunes or the XML files location set as a local source, the iTunes content can be accessed in Your Library section.
1. Open the app again, click on Your Library in the side menu.
2. In the Your Library view, find the Local Files section to open it.

3. Based on the added source, the iTunes content are different.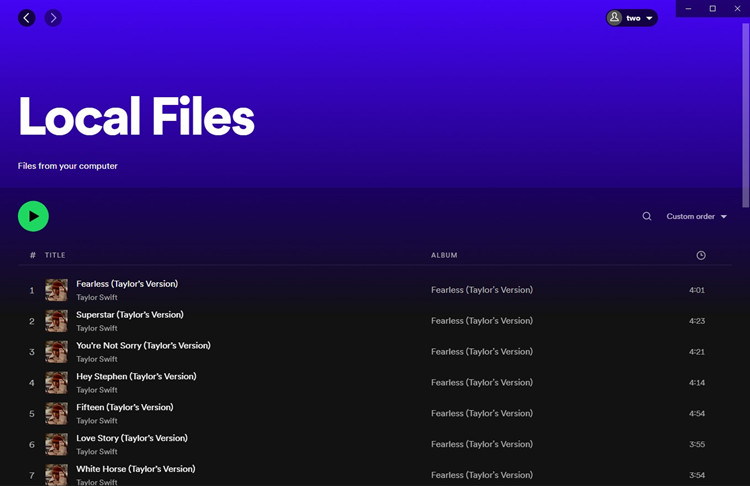 Congratulations! You import iTunes library to Spotify successfully!
Part 2. How to Add Song to Spotify from iTunes
Yes, chances are that even with the XML files added as the local source, some songs included can't be accessed. As stated, the XML file do help to import iTunes playlist to Spotify, however, doesn't include the actual songs.
In addition to the limitations from Apple Music to Spotify, it's normal for these music streaming services to protect their own music with the DRM-protection, which should have been known as a great headache because it prevent users to have more control of their accessible music from music catalog with subscriptions. Not to mention when it comes to choosing a service, it's a close race between these two music services, thus causing more inconvenience.
Users can access their personal local collection from iTunes which is limited to the supported MP3, M4P or MP4.
As the Apple Music completes its music services with a perfect combination of local music collections and Apple Music catalog, it's hard for those have a vast personal music collections in iTunes. As for the purchased from iTunes Store, it doesn't make senses that the 256Kbps in AAC can support more individual uses, including sharing with another application, well, until a powerful converter convert them into MP3.
Exclusives to Benefit From: ViWizard Audio Converter

ViWizard DRM Audio Converter Key Features
Convert Apple Music songs to MP3, M4B, AAC
Download and play Apple Music songs without limitations
Play Apple Music offline without subscription
Retain 100% original quality and ID3 tags
Convert at 30X faster speed
ViWizard Audio Converter supports to convert iTunes songs, audiobooks of iTunes, Apple Music, Audible audiobooks, and other unprotected audios into the compatible MP3. You can download it for free with a click on the Download button! Give it a shot!
More DRM removal tips for streaming music