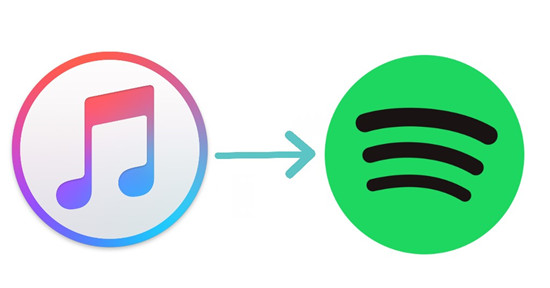 For music lovers, iTunes, Apple Music, Spotify, are all good choices to listen to music. Sometimes, you may want to transfer a song from one to another when you find that you cannot find this song on the music app that you usually use. When you make up your mind to stop using one and turn to the other, you may also need to transfer the songs you listen to in the previous app to the new one.
However, you will find that the transferring of your playlists and songs is surprisingly hard like transferring songs between streaming music services. But for the others, transferring is pretty easy. If you want to transfer iTunes Playlist to Spotify, you will find that it is much easier than import Apple Music to Spotify and we even get 3 ways for you.
Way 1:

Manual Transfer iTunes Playlists Using Spotify's Built-in Search

If you want to recreate your iTunes playlists in Spotify with the same songs in the exact order, you can do it manually. This method works best on a computer where you have both iTunes and Spotify installed.
Step 1

Identify Songs in Your iTunes Playlist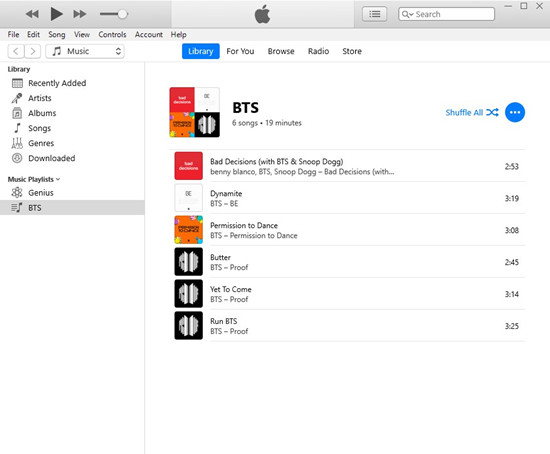 Open iTunes on your computer and make sure you're in the "Music" section.
In the "Playlists" section, locate the iTunes playlist you want to recreate in your Spotify library.
Click on the playlist to view the songs it contains. You might want to take screenshots for reference.
Step 2

Add Songs to Your Spotify Playlist

Adding songs to your Spotify playlist is easy with the built-in search tool in the Spotify desktop app. Follow these steps:
In Spotify, go to the "Playlists" section and right-click to create a new playlist. You can also rename the playlist by right-clicking on it and selecting "Rename." Give it a name matching your iTunes playlist.
Open the Spotify playlist you created and locate the built-in search field for that playlist (Find more or the Search icon).

Click on the search field and type the name of the song you want to add. Spotify will display various results.
Find the matching song in the results list and click "Add" to add it to your playlist.
To discover more similar songs for your playlists:
If your iTunes playlist includes similar songs or tracks by the same artist, use the "Recommended" tab under your Spotify playlist.
In the side menu, select your playlist and click on "Recommended."

Explore the recommended songs and click "Add" next to the ones you want to include in your playlist.
By following these steps, you can manually recreate your iTunes playlists in Spotify while maintaining the same song order and customizing them to your liking.
Way 2.

Automated Transfer iTunes Playlists Using Soundiiz

Soundiiz is a powerful online tool that simplifies the process of transferring your iTunes playlists to Spotify. It's a great option if you prefer an automated solution and want to save time. Here's how to use Soundiiz effectively for this purpose:
Step 1

Select iTunes Playlists to Export

Soundiiz is a web-based platform that allows you to transfer playlists between various music streaming services, including iTunes and Spotify. It streamlines the process by automatically matching and transferring songs from your iTunes playlist to your Spotify account.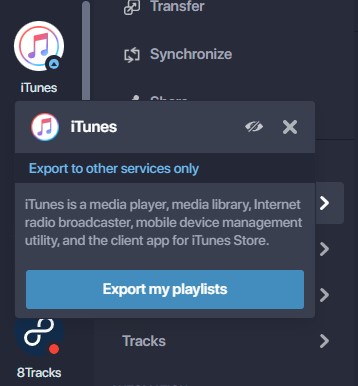 Start by choosing the iTunes playlists you want to transfer.
Visit Soundiiz and pick one of the methods to log in.
To transfer your iTunes playlist, select "iTunes" and then "Export playlists."
On your Windows or Mac computer, open the iTunes desktop app and locate the playlist you want to transfer to Spotify.
Step 2

Export iTunes Playlists to URLs or Text Files
Depending on the songs in your iTunes playlist, you may have different options. For Apple Music playlists, click on the "More" button > "Share Playlist" > "Copy Link." For iTunes Files playlists (include local files), highlight the playlist in iTunes, then choose > "File" > "Library" > "Export Playlist." To save the playlist as a .txt file, select "Text files (*.txt)" from the "Save as type" drop-down menu and click "Save."

Return to Soundiiz and specify which playlist you want to export: For Apple Music playlists, paste the copied playlist URL. For iTunes Files playlists, click "Select .txt file" and locate the .txt file you saved on your computer.
Once you've imported the playlist, Soundiiz will display its contents.
Click "Save Configuration."
Step 3

Transfer iTunes Playlists to Spotify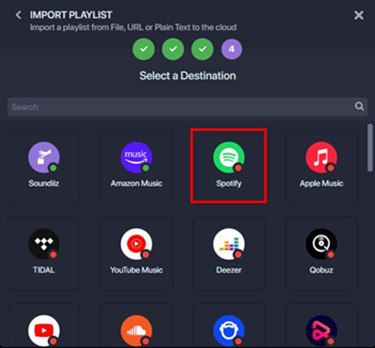 Choose "Spotify" as the destination and sign in to your Spotify account.
After the conversion is successful, go to Spotify and find the playlist.
Please Note: While Soundiiz is a helpful tool for transferring iTunes playlists to Spotify, it may not work perfectly in all cases, especially if some of your playlists contain local files. These Spotify playlists won't be available offline unless you have a Premium subscription, which costs $10.99 per month.
Furthermore, the items in your transferred playlists may not be 100% matched to the originals due to differences in music sources. This means you may notice some variations in the music and even the album art. If you want to transfer the original iTunes playlist without any differences, you can use a powerful tool called ViWizard Apple Music Converter.
Way 3.

Manual Transfer iTunes Playlists Using Apple Music Converter

Unlike some online tools, ViWizard Apple Music Converter makes it easy to transfer your iTunes playlists to Spotify while keeping the music files on your computer. This means you have full control over your music without relying solely on streaming services.
Why Choose ViWizard Apple Music Converter?
ViWizard is designed to be simple and user-friendly. It seamlessly moves your iTunes playlists into Spotify by downloading them in a format that Spotify understands. This way, you can enjoy your iTunes playlists as local files on Spotify, no matter if you're using a computer, a mobile device, or any other Spotify-enabled devices.

Key Features of ViWizard Audio Converter
Free Trial
Free Trial
* Security verified. 5, 481,347 people have downloaded it.
Convert songs, albums, and playlists from Apple Music to MP3
Remove DRM protection from Apple Music, iTunes, and Audible
Save the converted audios with the original quality and ID3 tags
Support the conversion of up to 100 audio formats to others
Downloading iTunes Playlists to Computers as Local Files:
With ViWizard, there's no need to worry about complicated steps or losing control of your music collection. Begin by downloading the ViWizard software and converting the iTunes playlists you want to transfer to Spotify.
Step 1

Select iTunes Playlists to download

Launch ViWizard and wait until it launches or relaunches the iTunes desktop app. To add iTunes playlists to download, head to iTunes' Playlists section and drag any playlists to ViWizard.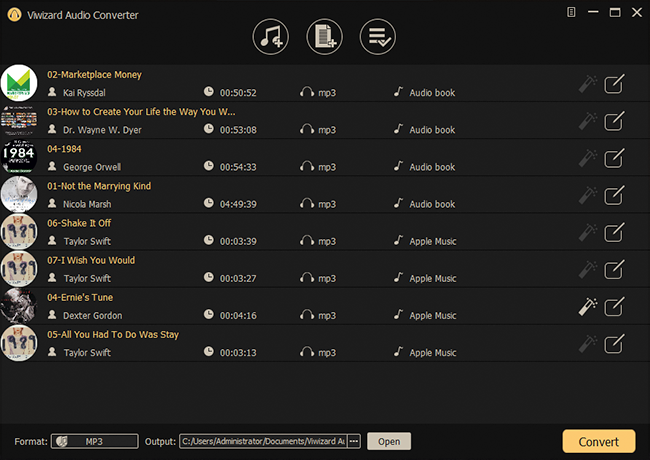 Step 2

Customize output format

To make your iTunes playlists compatible with the Spotify desktop app, click the Format tab at the bottom of ViWizard. Click MP3 or M4A and click OK.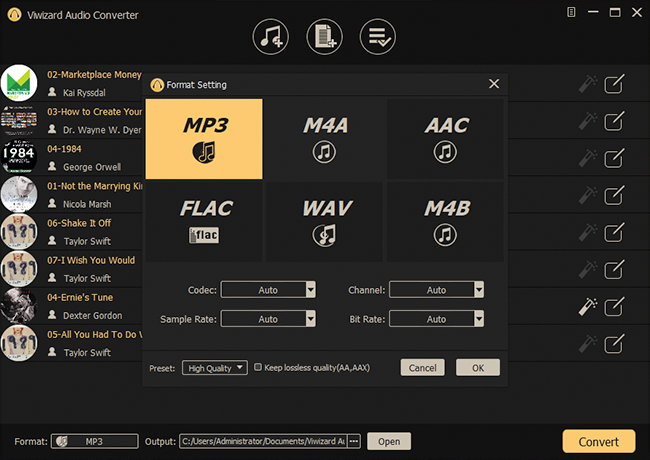 Step 3

Convert and download iTunes Playlists to local

Back to ViWiard's main interface and click on Convert to start the conversion. Once the conversion is successful, head to the output folder to check those music files.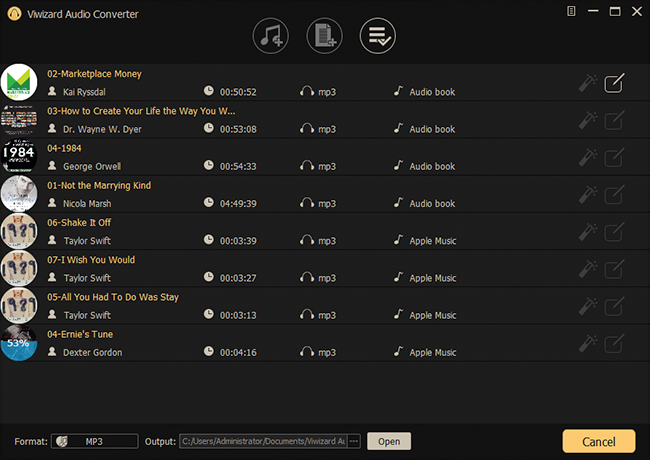 Adding iTunes Playlists to Spotify as Local Files:
Now that you have your own iTunes collection stored on your computer, follow these steps to add those files to the Spotify desktop app as local files:
Step 1

Enable Local Files Feature on Spotify
Open the Spotify desktop app.
Navigate to "Settings" and then "Local Files."
Toggle "Show Local Files" to enable this feature.
Under "Show songs from," you can toggle options to make local files visible or invisible as needed.
Step 2

Add Music Folder to Spotify
To add your iTunes playlists to Spotify as local files, click the "Add a source" button under "Show songs from."

Locate the folders you've prepared for your iTunes playlists on your computer.
Select the appropriate folder and click "OK." The selected folder will be added as a source under the "Show songs from" section. You can toggle off other options for better organization.
Step 3

Recreate iTunes Playlist in Spotify as Local Files
In Spotify, go to "Your Library" and select "Local files."
Here, you can start adding the matched items to your Spotify playlists.
If you've organized your music folders based on your iTunes playlists, it's easy to recreate the playlists in Spotify.
Hold down the CTRL key and select multiple items, then drag and drop them into your Spotify playlist.
Conclusion
As the Apple Music completes its music services with a perfect combination of local music collections and Apple Music catalog, it's hard for those have a vast personal music collection in iTunes to transfer different types of playlists to other platforms such as Spotify. But with ViWizard, not only you can transfer your iTunes playlists to Spotify successfully, you also have the access to them as local files for offline play. In addition to iTunes playlists, other Apple Music contents can be downloaded and transferred to Spotify with ViWizard. Download ViWizard.