"Which virtual DJ software can play Apple Music? I am a subscriber to Apple Music and have a lot of music on my iPhone, but I can only play music I purchased not the music in my library which I just downloaded."- User from Quora
Virtual DJ, short for VDJ, is a music mixer software DJs use to remix songs and create something cool. Virtual DJ is the best choice for most of the DJs, for it has maintained the champion among all DJ software for the past 20 years, with no other competitor comes close. Apple Music has a abundant resource of songs so many VDJ users asking if they can add Apple Music to Virtual DJ to mix. The answer will be no but yes.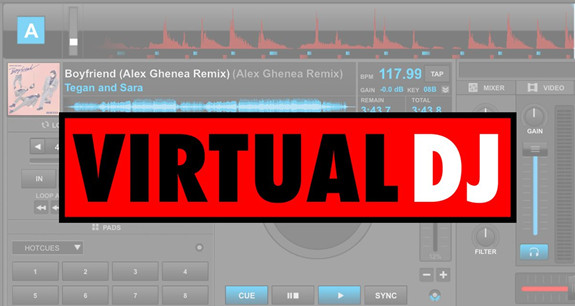 Why You Can't Add Apple Music to Virtual DJ Diretly
If you've ever tried to import Apple Music into Virtual DJ, you will find that though those files can be recognized, they cannot be played. To answer these two questions, the information of FairPlay has to be brought in. FairPlay is a digital right management scheme launched by Apple Inc. to protect the copyright of their media contents on iTunes and Apple Music. Apple Music is in M4P, a DRM-ed audio format, and M4P format cannot be played on any non-licensed media player other than Apple Music. That's the exactly why you can't directly play Apple Music on Virtual DJ. You may consider taking a detour- using ViWizard DRM Audio Converter.
By detour, I mean you can use ViWizard to convert Apple Music songs to non-DRMed format like MP3, WAV, AAC, FLAC, etc., and then you can import them to VDJ. ViWizard is a top leader in DRM removal field, providing removal solution that helps you easily bypass DRM. ViWizard DRM Audio Converter can remove DRM from Apple Music songs, iTunes audiobooks and Audible audiobooks and convert them to common format. With the audio settings, you can also modify the output Apple Music audio by sample rate, bit rate, channel, codec and others. With the leading technology, ViWizard Audio Converter can finish the conversion at 30x faster speed. The following section will present you how to mix Apple Music songs with Virtual DJ.

ViWizard Audio Converter Key Features
Convert Apple Music to formats supported by Virtual DJ like MP3
Retain 100% original quality and ID3 tags
Built-in Editor for you to edit the music before DJ with it
Can also convert Audible audiobook & iTunes audiobooks
Support 30x faster conversion speed
How to Mix Apple Music with Virtual DJ
In this part, you can follow the guide to convert Apple Music to Virtual DJ using ViWizard Audio Converter. First you can click the download link to install ViWizard on your Windows or Mac computer. And make sure the iTuens app has been installed on your desktop. Now let's dive in.
Step 1 Add Apple Music to ViWizard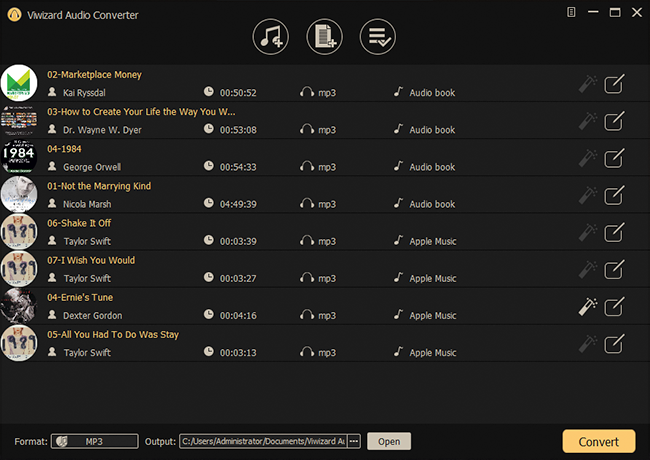 First, download ViWizard from the above link and please confirm that Apple Music works well in your computer. Before started, you need to make sure the Apple Music songs you are going to convert could play well on your computer. Otherwise please authorize to play those audios in advance. Launch ViWizard and Apple Music both and you will find three icons on the central top of the converter.
1)

This music note icon is to add DRM audios to the converter.
2)

This icon is to import non-DRM audios to ViWizard.
3)

This is where you can find the converted audio files.
4) Besides that, you can directly drag files from the Apple Music media folder to the ViWizard as well.
Step 2 Change Output Format and Output Path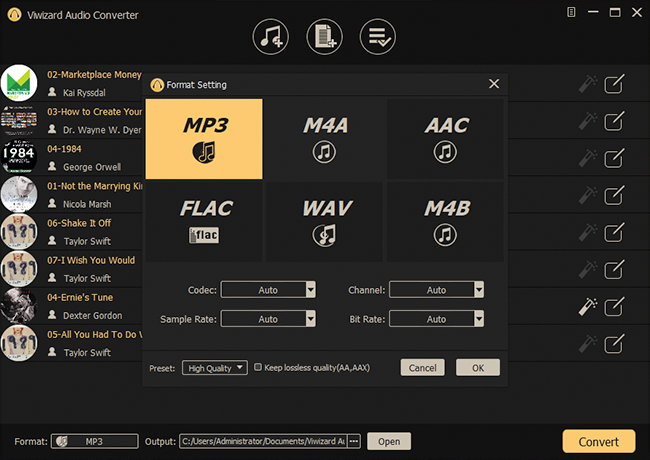 Once all the audios are loaded, open the Format panel to select an output format for your audio files. Virtual DJ supports MP3, WAV, CDA, WMA, ASF, OGG, M4A, AAC, and so on. We suggest you choose MP3 as the default format. Right next to the "Format" is the Output Path option. Click on

to relocate your converted songs wherever you want rather than the default file destination.
Step 3 Edit the Output Songs with Extra features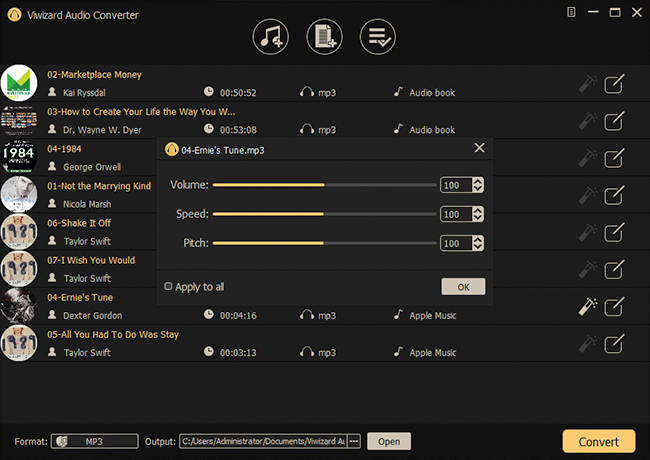 Format and Output Path are the basic settings. As a DJ lover, we know you would want more than that. ViWizard prepares many extra features for you to edit and trim your output audios.
1) Under the "Format" panel, you can fine-tune the codec, channel, sample rate, bit rate and quality of the audio files. You can also change the audio volume, speed and pitch.
2)

This magic stick icon on the right of each column is to adjust the volume, speed, and pitch of the converted songs.
3)
This edit icon on the right of each column enables you to tailor the tags and split the audios.
Step 4 Convert Apple Music to DRM-free Format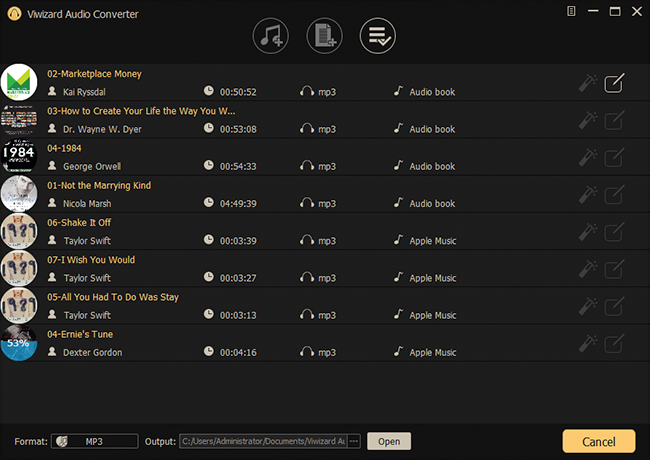 When all the parameters and the output folder are set ready, you can begin to convert the DRM-ed Apple Music by pressing the "Convert" button. Once the conversion finishes, you can locate the DRM-free audio files in the folder you selected.
Step 5 Mix Apple Music Songs to with Virtual DJ

Now all the converted songs are saved to local document, you can add them to Virtual DJ and use them to mix music. Here are the steps:
1) Launch Virtual DJ on your computer
2) Find the browser panel at the left bottom
3) Find the folder that saves the converted Apple Music songs
4) Drag and drop the music file from the browser panel's center column directly onto the virtual turntable of your choosing.
Which Music Services Does Virtual DJ Support
Although Virtual DJ does not officially support Apple Music, it does give DJs with a variety of choices. Here are some music sources that Virtual DJ may use.
iTunes: Virtual DJ can read the iTunes Library, and you can use iTunes songs in Virtual DJ. It will display every iTunes playlist in the Folder list's dedicated Root element.
Deezer: Virtual DJ allows the usage of Deezer as well as various other online music providers. With a membership and an internet connection, you may utilize them with this DJ software.
SoundCloud: Virtual DJ supports SoundCloud as a music supplier. It may be found in the Folder List's Online Music folder. Sign in by right-clicking it.
The Bottom Lines
Now you may know how to connect Apple Music to Virtual DJ. There are some rumors about Virtual DJ may implement Apple Music in the future update. Whether the rumors will come true or not, ViWizard Audio Converter is a convenient and efficient solution for you to dj with Apple Music. Go get one for yourself and you will like it.
More iTunes music DRM removal tips