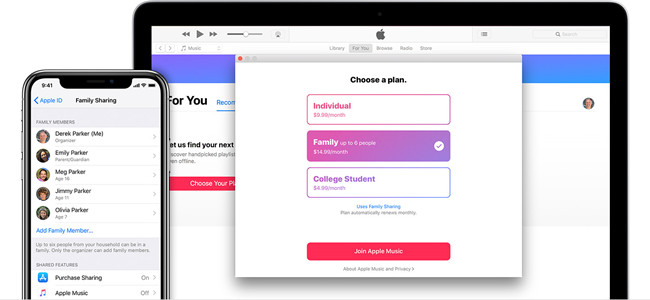 Music is an indispensable part of the life of many people. If you are trying to find out the music service that suits you best, you must know about the cost of this music platform. This passage is aimed to give some information on the cost of Apple Music. There are mainly two parts in this passage: How much does Apple Music cost and how to stop paying for Apple Music.
How Much Does Apple Music Cost?
Apple Music monthly cost: $9.99 per month for Individual Plan, $14.99 per month for Family Plan, and $4.99 per month for the student. To stream music of Apple Music, you need to subscribe to Apple Music. Unlike some streaming music platforms like Spotify, Apple Music does not have a free version. It means you cannot use this tool for free. But you still can use the 3-month free trial of Apple Music to have a try.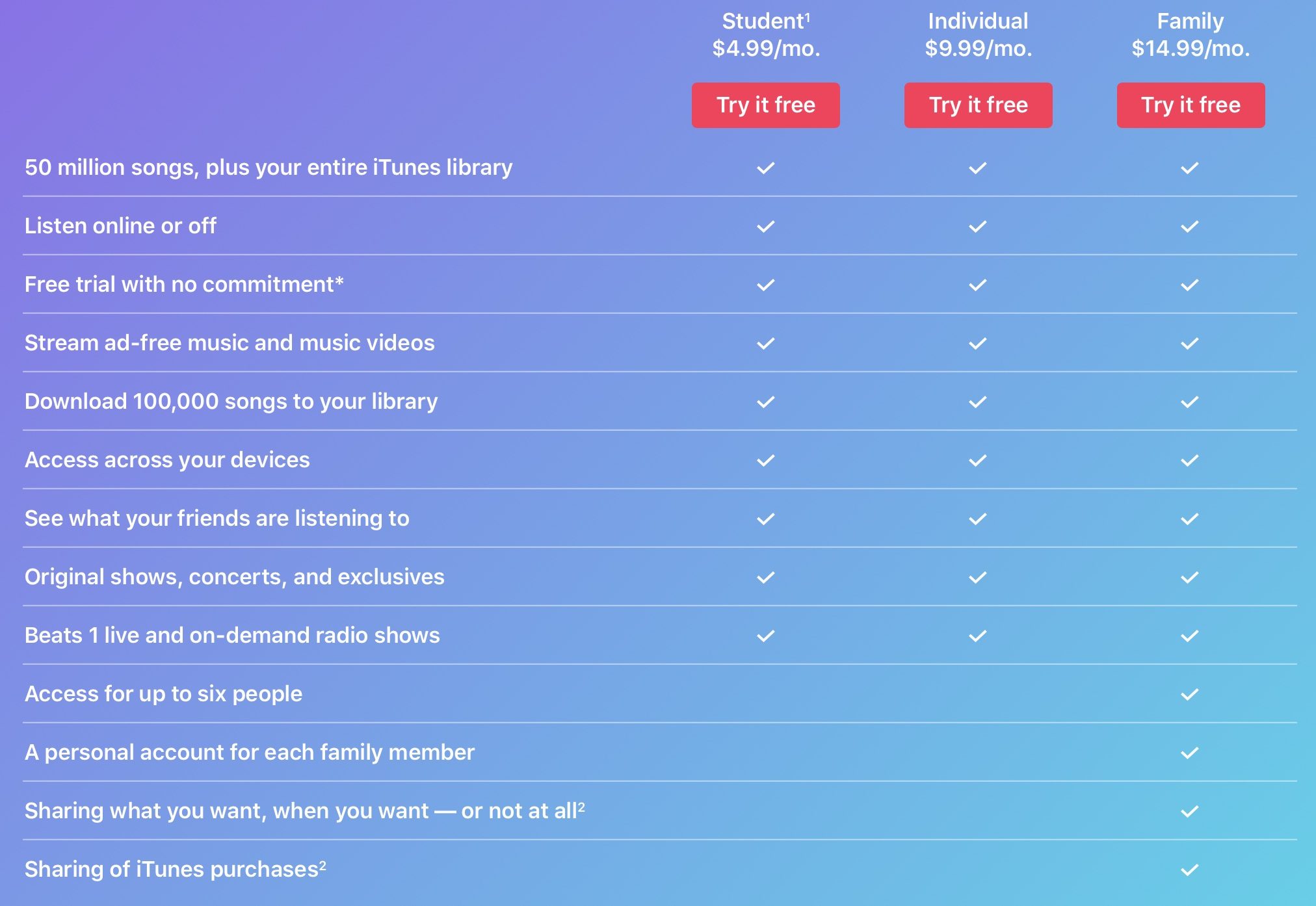 Apple Music Family Plan Cost
If the Individual Plan is not satisfying for you, Family Plan sounds more tempting than Individual Plan since it costs $14.99/mo. for up to 6 people. If some people in your family or your friends use Apple Music, you can choose this plan without hesitation. If you and these people all choose the Individual Plan, Apple Music costs nearly $60 every month in total. But if you choose the Family Plan, cost of apple music is only $14.99/month.
However, the 6 Apple IDs need to link to one credit card. In other words, any purchases in Apple Music, Apple Books, App Store of these 6 IDs will charge the same credit card. You must think twice before choosing this plan.
Apple Music Student Cost
If you are a student, you can gain a reasonable price compared with others. Apple Music offers a discount for college students. Students only need to pay $4.99 per month to enjoy the same Apple Music features and benefits as individual members after the student status is verified by university. But they can only use this plan for 4 years at most. After four years, the cost of Apple Music will return to $14.99/month.
Apple Music Subscription Cost for a Year
So, let's do some calculations and see how much does Apple Music costs you for a year. If you an Individual Plan subscriber, then the Apple Music subscription will cost you $119.88 a year. In 2017, Apple quietly launched an annual subscription at $99. Not many people know about this. You can save more than $20 every year under this annual plan, but that's not a deal for those who don't like to pay in advance.
Cost of Apple Music and Other Music Services

With Google, it's not hard to find out, the monthly fee for mainstream music streaming services are basically the same. Spotify, Pandora, and many others cost $9.99 per month for Individual Plan, $14.99 per month for Family Plan, and $4.99 per month for the student. Apparently, switching to other music services does not help you save more than Apple Music. Can we find another method to save money on listening to music? Indeed, there is a method to enable you to stop paying for Apple Music.
How to Stop Paying for Apple Music?
Streaming service is, to some extent, a false image. A low flat fee for hordes of media content? $9.99 a month for access to 50 million songs? You never count how many songs you won't be listening to and the fact is that 99% of all music streaming comes from just 10% of available songs. Actually, we don't have so much time to listen to all the songs. Usually, we just listen to the songs of our favorite singers or our own playlists again and again.
So, downloading that 10% of songs offline can save you a lot of money and that's the answer to how to stop paying for Apple Music. And an Apple Music converter will unlock the protection and restriction and convert Apple Music songs to MP3 or other formats so that you can listen to the songs on any device you want. ViWizard Audio Converter is the most recommended for its great audio quality and 30X faster converting speed. It also supports iTunes songs and audiobooks, Audible audiobooks, and common audios. After you convert Apple Music songs, you can save them for listening permanently.

ViWizard Audio Converter Key Features
Convert Apple Music and iTunes songs to MP3, M4B, AAC, M4A, FLAC, WAV
Convert Audible audiobook & iTunes audiobooks with high quality
Convert M4P to MP3, AAC, WAV, FLAC, M4A, M4B
Retain high quality and ID3 tags of original audio
Convert Apple Music to MP3 and Save them Offline
There are 3 steps you need to convert Apple Music to MP3. To start everything, you need to download your favorite Apple Music songs to your computer.
Step 1 Download and Import Apple Music to ViWizard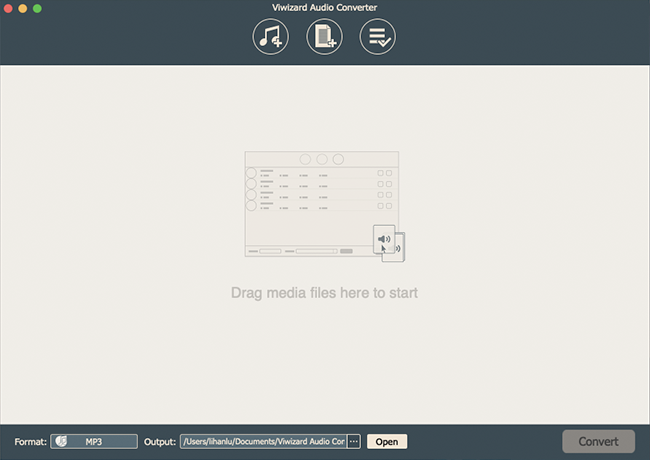 Launch ViWizard Audio Converter and import the downloaded songs to it. You can drag and drop the files to finish the process. Remember to end iTunes completely before you open ViWizard and let ViWizard launch iTunes for you.
Step 2 Adjust Output Settings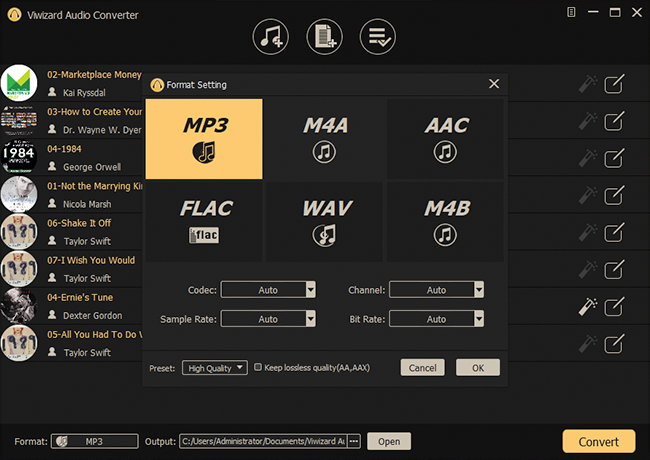 Click the "Format" panel at the bottom left and all the settings will be present in the pop-up window. For most people, staying with the default output settings is fine. The default output format is MP3. It's also easy to change the settings to your wishes. Except for MP3, there are other 5 formats for you to choose and you can customize the codec, sample rate, channel, and bit rate.
Step 3 Convert Apple Music M4P to Common Format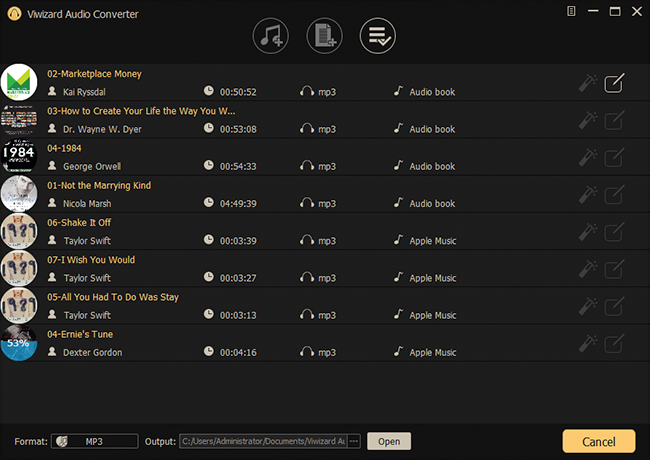 Before the conversion, you can check the two buttons at the right hand of each column of the track. One for "Effect", one for "Edit". Use them if needed. And when they are all set, you can hit on the big "Convert" button and start converting M4P songs to MP3, M4A, AAC, FLAC, WAV, and M4B.
The Final Thought
If you start to feel that Apple Music costs you too much and hesitate about starting to use it or keeping paying for it, ViWizard Audio Converter can help you download and save the songs you love to save money for you.