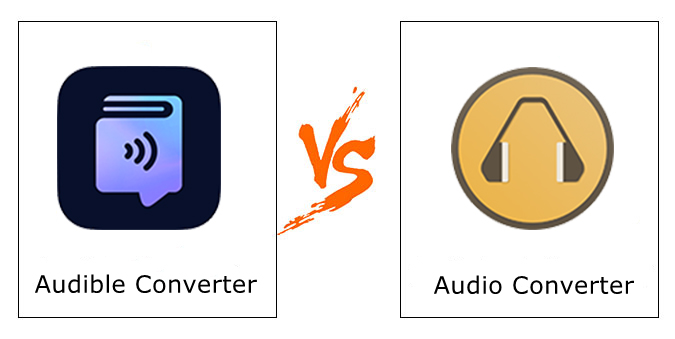 It is known that audiobooks usually come with DRM copyright protection and the common solution to remove DRM from audiobooks and play them on more devices without restrictions is to use a software to crack DRM. However, there are too many audiobook software to convert audiobooks nowadays, some people may find it really hard to distinguish the difference and how to choose a right one.
As the top DRM removal solution provider, ViWizard offers different kinds of audiobook DRM removal software including Audible AA/AAX Converter and Audiobook Converter. They seem to be very similar though they are designed to meet the requirements of different customers. It is a little hard to tell which one is better. In this post, I will review the two tools and explain the differences between them both in details to help you understand which one could fit your needs better.
Audible AA/AAX Converter VS Audiobook Converter: Speed, Formats
1. Both ViWizard Audible AA Converter and ViWizard Audiobook Converter cost $34.95. But regarding the speed, the Audible AA/AAX Converter could convert at up to 100X faster speed while the conversion speed of the Audiobook Converter is 30X faster. As for the speed, we don't feel great difference because both run super fast when converting audiobooks, though AA/AAX Converter is faster to some extent.
2. ViWizard Audible AA/AAX Converter was developed for Audible users only so that it only supports Audible AA and AAX audiobook files. At the same time, it supportss to output almost all popular audio formats, such as MP3, M4A, AAC, AC3, OGG, AIEF, APE, FLAC, WAV, WMA, M4B, M4R, MKA, AU, etc. ViWizard Audiobook Converter supports to input both Audible and iTunes audiobook files M4B, M4A, AA, AAX and output MP3, AAC, M4B, M4A, WAV, FLAC. Another big difference between the two is that Audible AA/AAX Converter supports exporting the audiobooks to lossless audio format by preserving the 100% original quality, including bit rate, codec, audio channel, etc., which Audiobook Converter cannot.
As for the supported formats, Audiobook Converter is doing better than Audible AA/AAX Converter on input formats, as it supports to import both iTunes and Audible audiobooks. But on the contrary, ViWizard Audible AA/AAX Converter take the upper hand as it supports more output formats than Audiobook Converter.
Audible AA/AAX Converter VS Audiobook Converter: How They Work
ViWizard Audible AA/AAX Converter comes with a grey tone main screen. After launching the software, you can simply drag your Audible audiobooks to the software screen and start to convert by doing a few clicks only. It's easy and convenient for anyone to use, even those who are not skillful to computer. ViWizard Audiobook Converter is different though. It looks much more bright and you are required to install iTunes in order to make the program work. You should import and authorize the audiobooks with your iTunes or Audible account you used to purchase the audiobooks before you can start the conversion. In a word, the Audiobook Converter will require you install iTunes to work together, while Audible AA/AAX Converter won't.
By the way, ViWizard Audible AA/AAX Converter is also integrated with some extra features over Audiobook Converter, including splitting large audiobook to small segments via chapters or time frame, adjusting the audio volume, speed, pitch, etc.
Audible AA/AAX Converter VS Audiobook Converter: Interface & Screenshots
You can have a look at the following screen captures of those two audiobook DRM removal tools.
main screen comparison

output format settings screen comparison

converting screen comparison

other feature comparison

Audible AA/AAX Converter VS Audiobook Converter: Tech Specs Comparison
| | | |
| --- | --- | --- |
| | ViWizard Audible AA/AAX Converter | ViWizard Audiobook Converter |
| Supported OS | Mac & Windows | Mac & Windows |
| Supported Input Formats | Audible aa/aax audiobooks | Audible aa/aax, iTunes m4a/m4b audiobooks |
| Supported Output Formats | Lossless audio, mp3, m4a, aac, ac3, ogg, aief, ape, flac, wav, wma, m4b, m4r, mka, au | mp3, aac, m4a, wav, flac |
| Require iTunes | No | Yes |
| Conversion Speed | 100X | 30X |
| Audio Spliting | Yes | No |
| Adjust Parameters | Yes | Yes |
Conclusion
Above are the main differences, except which the Audible AA/AAX Converter and Audiobook Converter are almost the same in other aspects, like similar setup process, compatibility, and output quality, etc.
In a word, Audible AA/AAX Converter is a specific tool for converting Audible audiobooks with better performance, while Audiobook Converter is a more all-around tool which support both Audible and iTunes audiobooks. Concerning to the question which tool is better, it totally depends on what you need. To find out more differences, you are welcome to download both software to try them out by yourself.
If you only need to convert Audible audiobooks, it is better to use ViWizard Audible AA/AAX Converter. You can download the free trial versions as below:
If you want to convert both Audible and iTunes audiobooks, then you should choose ViWizard Audiobook Converter here:
Last but not least, as you can see, when reviewing the software, I'm using the Windows versions. But please kindly note that the Mac versions work exactly the same way. In case you still have questions about ViWizard Audible AA/AAX Converter for Mac or ViWizard Audiobook Conveter for Mac, you can go back to the relevant product page to learn more details or contact our support team at [email protected].