Audible app or alternative on Linux? So I have a pretty large library of audio books on audible and I was wondering if there is an audible app for Linux and if not is there and alternative that I can just transfer my library over too?
-- From Reddit.
Like Windows and Mac, Linux is also an operating system. It is supported on almost every major computer platform, making it one of the most widely supported operating systems. Likewise, as the most widely used audiobook platform, Audible is an awesome place where you can listen to the world's best storytelling and enjoy a myriad of audiobooks. So quite a few users may wonder if there is an Audible app for Linux or how to get Audible on Linux. If you have no clue, then you come to the right place. Scroll down and you will get wanted answers.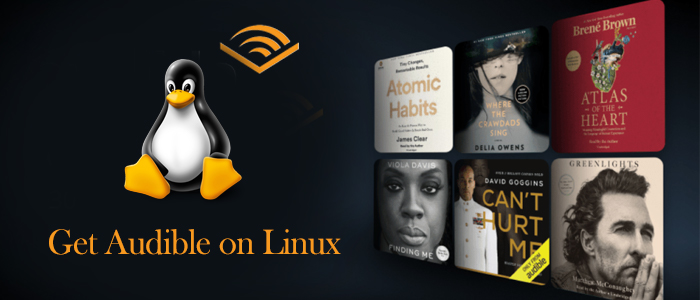 Part 1.

Is there an Audible App for Linux?

For the questions "Is there an Audible app for Linux" and "Can Audible books be used with Linux", definitely, the answer is negative. Audible has developed its official app for Android, iOS, and Fire Tablets, so you can download it from your device's app store with absolute ease. But unfortunately, there is no Audible Linux app. What's worse, Linux users do not have the ability to use the Audible Cloud Player. Put simply, if you try to access Audible through the Linux Audible player, it is impracticable.

But fear not! In the following parts, we will introduce 2 available methods to listen to Audible on Linux. One is syncing Audible files after converting Audible to MP3, and the other is using a third-party software. Let's kick off!
Part 2.

How to Play Audible Files on Linux via a USB Drive

Have you tried to transfer your downloaded Audible files to Linux for listening? In truth, it is impossible. All audiobooks from Audible are AA/AAX files and are encoded with DRM, so you cannot directly play Audible files on your device, let alone transfer them to Linux. To make Audible playable on most devices including Linux, all you need is an Audible DRM removal.

ViWizard Audible Audiobook Converter is a powerful converting tool equipped with the top-leading decryption technique. Hence, while converting Audible books to MP3, M4A, M4B, AAC, FLAC, WAV, and more unprotected formats, ViWizard cracks Audible DRM. After conversion, all Audible books are saved to your computer locally and then you can transfer Audible books to Linux for listening without DRM restriction. Using this tool, the lossless quality and ID3 tags can be retained so you can keep the original listening experience even on Linux.

Key Features of ViWizard Audible Audiobook Converter
Free Trial
Free Trial
* Security verified. 5,481,347 people have downloaded it.
Convert Audible audiobook to unprotected audio formats like MP3
Split Audible book into several smaller segments by chapter or by time
Support playing Audible audiobooks on any device or media player
Handle the conversion of Audible audiobooks up to 100× faster speed
The only drawback is that ViWizard Audible Audiobook Converter is available on Windows or Mac. So you have to install and utilize it on your Windows or Mac and then transfer converted Audible books to Linux for playing. Let's take a look.
Step 1

Add Audible Files to ViWizard

Before starting, download the audiobooks you want to listen to on Linux. After that, launch the ViWizard program and click the top left plus icon where you can upload several files at once. Another easier way is to drag and drop the files into the ViWizard software. If you'd like to change the audio speed, split the audiobook, or edit tags, just click the Edit icon next to the title to open the built-in editor.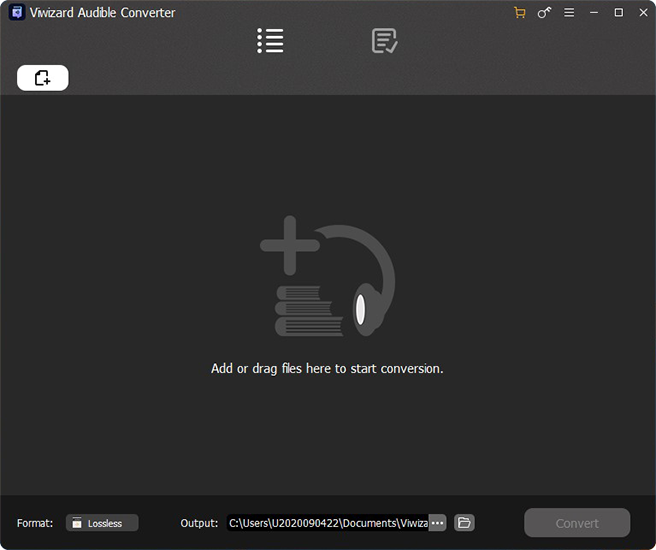 Step 2

Configure the Output Format for Audible Books

Once the Audible files are loaded into ViWizard, you can customize parameters according to your needs. Just click the bottom left Lossless icon, and some options are available, such as output format, codec, channel, sample rate, and bit rate. After finishing the adjustment, don't forget to click the OK button. To get Audible on Linux, the MP3 format should be the target format.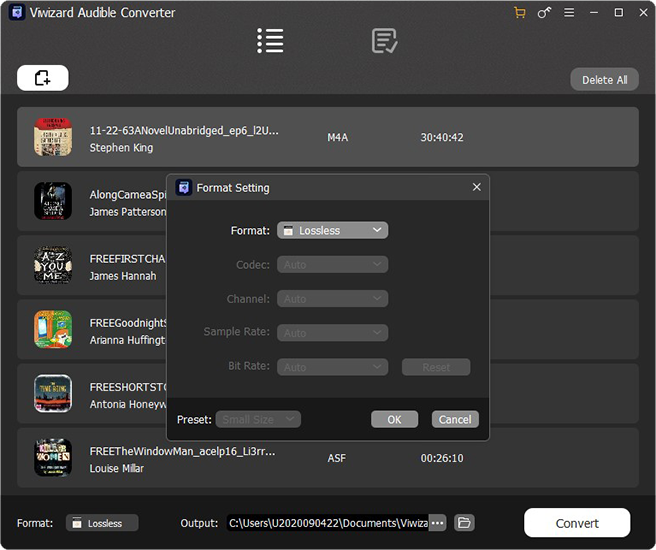 Step 3

Download Audible Books for Linux

Now, click the bottom right Convert button and ViWizard will start converting Audible files at a 100x faster speed. Once the conversion is complete, go to the Converted interface, you can easily browse your converted files, otherwise, you can search some certain files after batch conversion. With its amazing built-in player, you are allowed to enjoy the converted audiobooks in the ViWizard.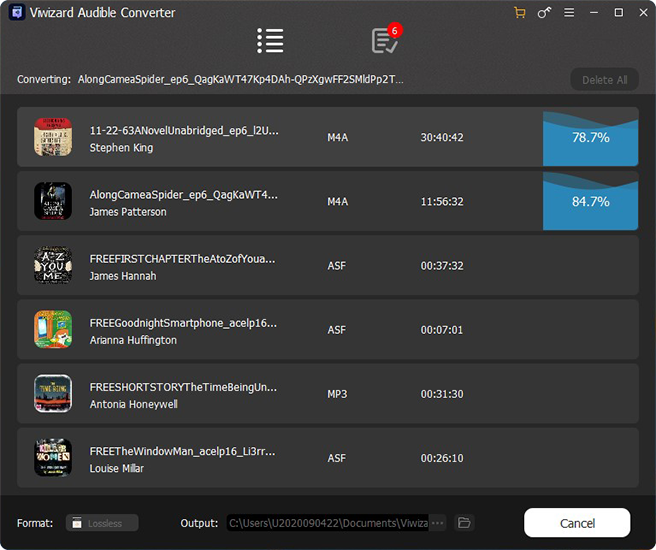 Step 4

Transfer Audible Books to Linux via USB Drive

To copy Audible files from your computer to Linux, a USB drive is needed. And the drive needs to be exFAT which works on Windows/Mac/Linux. Firstly, plug the USB drive into your computer and then move the converted Audible files or the whole folder to the USB drive. Subsequently, insert the USB stick and Linux should see it and mount it automatically. Then it is much easier to drag the Audible books from the USB drive to Linux for saving and playing.
Part 3.

How to Get Audible Books on Linux via OpenAudible

There is a third-party application for organizing Audible books Linux. That is OpenAudible. With OpenAudible, you can download your Audible books, convert Linux Audible to MP3, and trim Audible titles. Note that it is not free anymore since version 2.0 updated and sometimes the downloading process fails. If you still want to have a try, here we also offer a step-by-step tutorial.

Step 1. Go to the OpenAudible download page from a browser on Linux, and then click the Linux button to install OpenAudible on your Linux.

Step 2. Launch OpenAudible and click Controls from the top bar.

Step 3. Select Connect to Audible to log into your Audible account.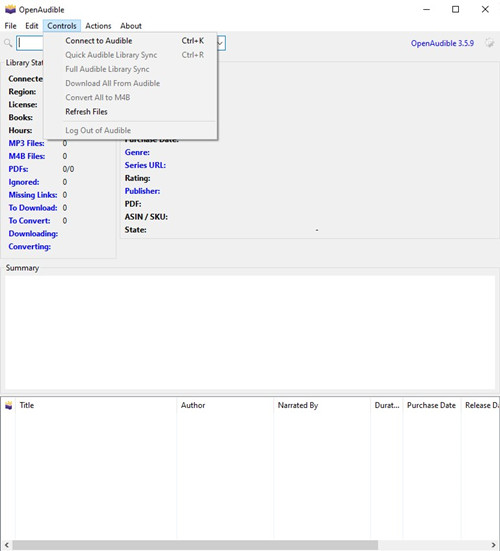 Step 4. Once logged in, your Audible library is available.
Step 5. Back to the top menu bar and hit on Controls. From the dropdown menu, you can select Download All from Audible or Convert All to MP3 based on your needs.
Step 6. If you choose to download, OpenAudible will start downloading and you can view the progress. When done, the Audible Linux books are saved in AAX format. If the downloading fails, try again to download.
Step 7. If you choose to convert, then Audible Linux books are in MP3s after conversion.
Conclusion
Although there is neither the Audible app for Linux nor the Audible player for Linux, ViWizard Audible Audiobook Converter and OpenAudible are feasible methods to achieve your goal. Generally speaking, OpenAudible is the most direct way to get Audible on Linux. But some users are frustrated about the unsuccessful downloading process. Hence, using a USB drive to transfer Audible books from ViWizard Audible Audiobook Converter to Linux for playing is what we recommend.