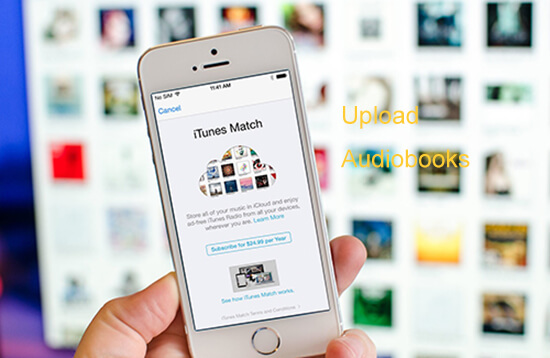 "I have already subscribed to iTunes Match. But when I tried to upload converted Audible audiobooks with MP3 extension to iCloud Music Library, I keep getting the error message that the item is not eligible for iCloud. I want to put all my Audible audiobooks and iTunes music on my iCloud together. Anyone know the magic to solve this issue?" - Asked by Evelyn Carter.
Although Audible has already provided the Audible Manager for IOS users to listen to Audible audiobooks, many iTunes Match users still want to sync their audiobooks to iCloud instead so that to enjoy them easily. It does require an extra bit of work and sometimes it is easy to come across the same problem like Evelyn Carter mentioned. Here I will help you explore the causes of this issue and offer a perfect solution to it.
Why You Can't Upload Audiobooks with iTunes Match
iTunes Match is part of the Apple's Cloud service which allows users to upload their entire music collection to iCloud Music Library and access them via any Apple devices with the same Apple ID. If songs are already in the iCloud Music Library, they will be matched or enhanced with a higher bit rate version. For the songs which don't exist on iCloud Music Library, they will be uploaded directly.
But why it prompts the error 'This item not not eligible for iCloud sometimes'? In general, this is mostly related to the parameter of your audiobooks is not supported. To sync files to iCloud via iTunes Match, they need to meet some specific criterion as follows.
1. iTunes Match only supports the file formats AAC, MP3, WAV, AIFF, M4A, M4P, H.264, Apple Lossless and so on. Songs encoded using AIFF, Apple Lossless or WAV are converted to 256Kbps AAC automatically.
2. iCloud doesn't support songs with a bit rate of 96Kbps or less, so please make sure your audiobook files with higher than 96Kbps bit rate.
3. iCloud has a 200mb size and 2hours length limit for each song, else the large files won't be recognized. Usually an audiobook is couples of hours long, you'd better split them to smaller files.
4. For the DRM songs which are downloaded from iTunes before, they will be replaced with DRM free versions. Other DRM files won't be matched.
What's more, iTunes Match is limited to 100,000 songs. iTunes purchases made with the same Apple ID are not counted towards the 100,000 song limit. Finally, Genius can't be turned off while using iTunes Match as Genius associates information about your iTunes library with your Apple ID.
Split Audible Audiobooks to Upload to iCloud Music Library
So in order to move your audiobooks to iCloud Music Library, you have to transform your audiobooks to the iTunes Match compatible files. As the largest audiobook producer and seller, Audible audiobooks are most wildly used in the world. I will take Audible audiobooks to illustrate you about how does it work. In short, you need a well-designed Audible audiobook converter to help you.
I have downloaded different software on and was frustrated that most of them lack all the features. Fortunately I found that the ViWizard Audible AA/AAX Converter for Mac/Windows work just well for me. It has has all related features to help you change the format, get rid of DRM copy protection, split audiobooks, adjust audible bit rate and much more. All the features are optimized so that it takes only a few clicks for you to encode your audiobooks. To find out how does it work, you can also download it to evaluate it yourself.
How to convert Audible audiobooks to sync to iCloud Music Library:
1

Download and import Audible books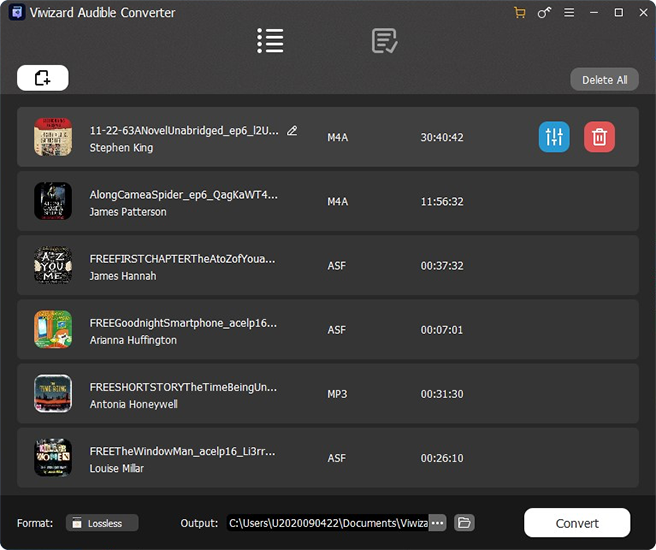 To get started, you have to download Audible AA or AAX files to your computers first. After that, you can either drag&drop to import the audiobooks to the Audible Converter main screen or click the 'Add Files' button to browse them easily.
2

Customize audible file settings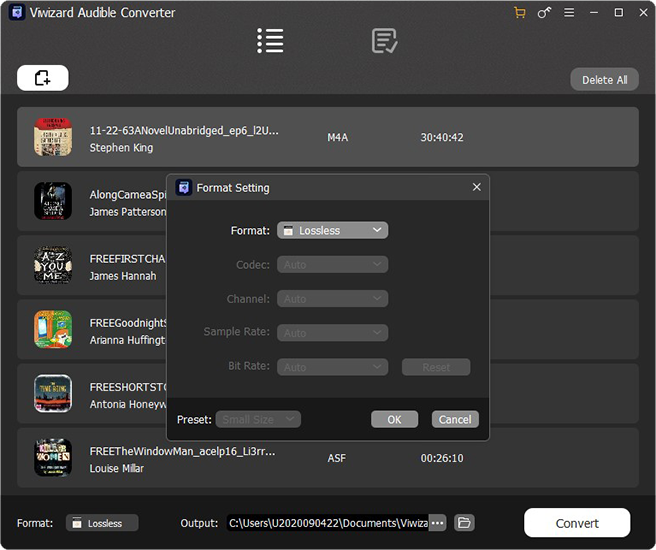 ViWizard software supports a lot of different output formats such as M4A, M4B, AAC, MP3 etc. for different scenarios. For iTunes Match, it is recommended to choose MP3, AAC, M4A which are supported perfectly. In addition, please make sure you select an output bit rate which is higher than 96Kbps.
3

Split Audible files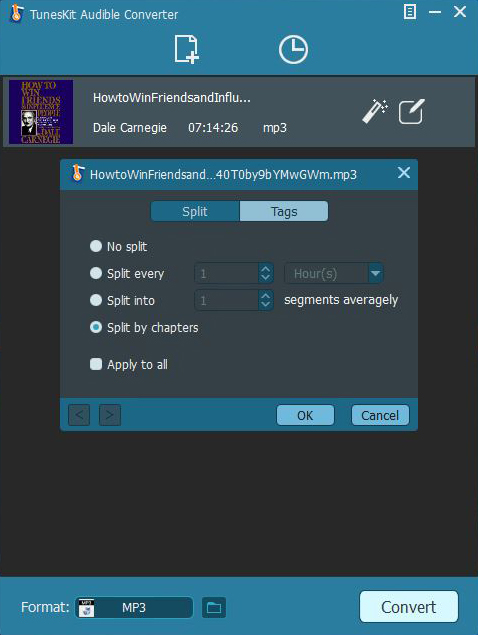 Since iTunes Match only supports the files of which the size is less than 200M and the length is shorter than 2 hours, you can choose the option 'Split by chapters' or other options to split by hour/minute etc. to transform the big files to small files.
4

Remove DRM from Audible audiobooks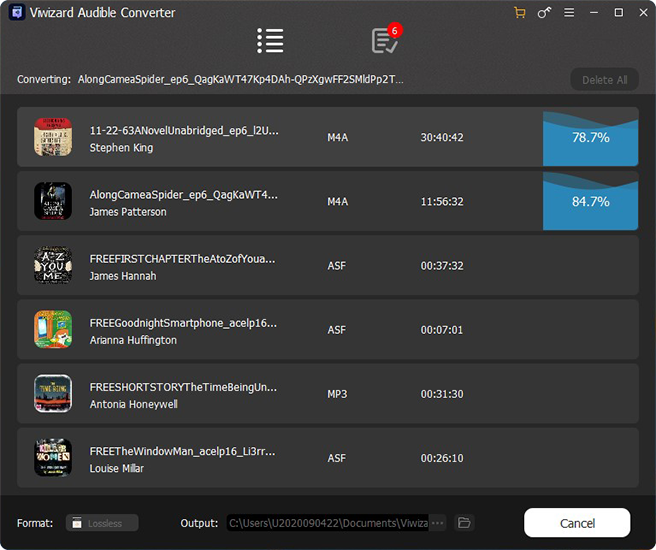 In the end, you just need to navigate to the bottom of the software and click 'Convert' to convert the audiobooks. ViWizard Audible AA/AAX Converter will apply all the changes you have defined as well as remove the DRM copy protection automatically during the converting process.
Tips to Upload and Listen to Audible Books on iCloud Music Library
If it is the first time you use iTunes Match, you can follow the steps to sync your audiobook files.
1. Turn on iCloud Music Library from computer and IOS devices. In an IOS device such a iPhone, you can click 'Settings' button > click 'Music' > Slide the toggle button on. On a computer, you can click go to the preferences of iTunes and make sure the 'iCloud Music Library' option is selected under general tab.
2. Import the converted audiobooks to iTunes. Click 'File' menu and then choose 'Add File to Library' to select your Audible files to import.
3. iTunes will automatically scan your iTunes library for matches. For the audio files which are not in the iCloud music library will be uploaded directly. It may take a while.
4. Listen to Audiobooks from iCloud. When the audiobooks are uploaded successfully, you can access them from any Apple devices. Take iPhone for example, you can launch the Music app and then tap the audiobook file you uploaded to start to enjoy. In addition, if you want to listen Audible audiobooks offline, you can also click the three-dot-icon and choose 'Make Available Offline'.