Developed by Apple, iTunes is a popular digital online store that sells movies, TV shows, music, audiobooks, etc. to people worldwide. It offers in-app purchases or subscription, so you can easily buy any media content from iTunes and use them on Apple devices or players. If you have been an iTunes fan for a period of time, you must have a long purchase history. Managing iTunes purchases can let you be aware that how much you've spend over the years, re-download the iTunes you've bought before, or check whether someone else has used your account to bought anything, etc. In this post, we will present you with a complete guide on how to view iTunes purchase history easily.
Part 1. How to Check iTunes Purchases on iPhone/iPad/iPod Touch
If you bought iTunes movies or music, etc. on your iOS devices, you can then view iTunes purchase history on iPhone, iPad or iPod touch with ease. The following is the quick tutorial for you.
Things you need to prepare:
1. An iOS device;
2. The Apple ID or password that you used to purchase content.
How to view iTunes purchase history on iPhone (iPad or iPod):
Step 1. Open your device and head to the Settings > [Your Name] > iTunes & App Store. Enter your Apple ID info if needed.
Step 2. Scroll download and tap on the "Purchase History". Now you can see the last 90 days purchases on your device. You can also select a data range to see specific purchases on iTunes.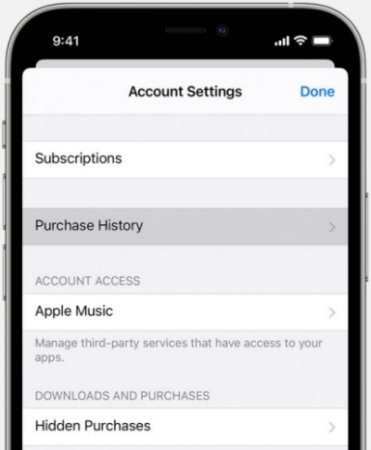 Part 2. How to View iTunes Purchase History on Computer
The second method to see your purchases on iTunes can be easily done on your Mac or Windows PC. You can follow the simple steps below to do it.
Things you need to prepare:
1. A Mac or Windows computer;
2. iTunes app installed on your computer;
3. Your Apple ID and passcode.
Procedures to check iTunes purchase history:
Step 1. Launch iTunes application on your Mac or Windows computer. Sign in iTunes with your Apple ID that used to purchase iTunes content.
Step 2. Go to the Account > View My Account option. Enter the right passcode when asked. You can then see the account info here.

Step 3. Scroll down the page to see the purchase history. Click on the "See All" text link and all your past purchases will appear.

Part 3. How Can I See My Purchases on iTunes without iTunes?
If you can't access iTunes, of course, you can use the first method above to view iTunes purchase history. But what if you don't have an iOS device? Here I'd like to share another solution to see iTunes purchases on any device without iTunes.
Things you need to prepare:
1. An device such as Mac/PC, iPhone/iPad/iPod, or Android device;
2. Your Apple ID and password.
Steps to iTunes purchase history without iTunes:
Step 1. Open the browser on your device and go to https://reportaproblem.apple.com.
Step 2. Enter your Apple ID and passcode to sign in and you will view the recent purchases here.
Note: This is used to report a problem in term of your purchases or ask for a refund. Plus, you can only see your recent purchases within 90 days.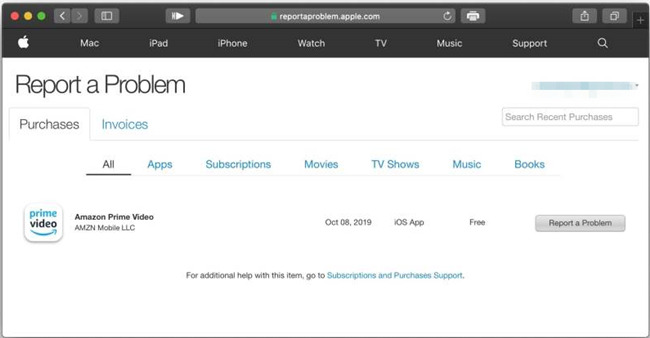 Summary & Extra Tip
Now you've got three ways to view iTunes purchase history. Have you ever shocked by the amount of iTunes movies or music you've bought? Actually, if you cancel your iTunes subscription, all your purchased movies or songs will be gone. Have you ever considered keeping iTunes movies or music forever?
It's not impossible. As you know, all iTunes movies or music are DRM protected and encoded in a special media format. As long as you have a useful tool to remove the DRM, you can then easily keep them forever, or share them with your families and friends. ViWizard M4V Converter can help you lossless get rid of DRM from iTunes movies and convert iTunes videos to MP4 format; while ViWizard DRM Audio Converter is capable of removing the DRM restriction and convert them to MP3, AAC or other popular audio formats. By doing so, you can then better enjoy your purchased iTunes movies or music on any device or player anywhere at any time.
Download ViWizard M4V Converter for free:
Download ViWizard DRM Audio Converter for free:

Dave Henry is a long-time ViWizarder who loves all technological things. In his free time, he likes reading about science and technology, writing for his blog, watching sci-fi films, and meditating.